The latest on what's happening in Special Collections at Bryn Mawr College
Updated: 3 hours 14 min ago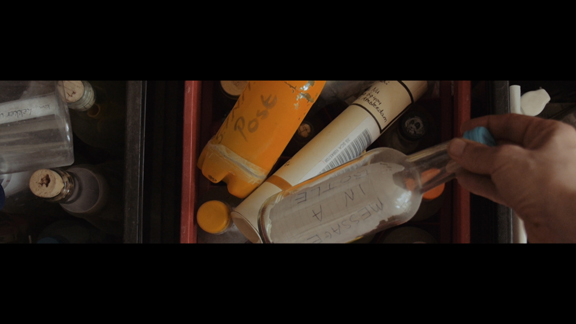 In collaboration with the Center for Visual Culture, Special Collections welcomes artist Ellie Ga to campus virtually (during the current school year) and in person with a residency (as soon as that is possible). While in residence, Ga will "comb" Special Collections in the process of producing a new work of art, commissioned for the College. Before then, she wants to connect with us by sharing her work and conversing with community members as she gets to know Bryn Mawr. 
The first virtual event is a screening of her piece, Strophe, A Turning (2017, 37 min.), with a virtual studio visit and conversation between the artist and Bryn Mawr faculty members Lisa Saltzman (History of Art) and Madhavi Kale (History).

Please visit our related website to learn more about all Ellie Ga related events and activities at Bryn Mawr College as they are scheduled.

Please also view Sayed, a work by Ellie Ga, made available by the artist and her gallery through the Center for Visual Culture's Virtual VIsual Culture event series.

***

Ellie Ga (b. 1976) is an American artist living in Sweden. Her work is included in collections at the Solomon R. Guggenheim Museum, Whitney Museum of American Art, and Bard College. Her most recent work, Gyres 1-3 (2019), was a commission for the Whitney Biennial and was reviewed in The New York Times and Artnews. Art historian Tom McDonough (SUNY-Binghamton) wrote about it for the fall 2019 issue of Osmos Magazine.

Ga works between memoir, travelogue, and visual essay connecting ideas and presenting them as multichannel videos or performances with live narration. Her recent film Gyres 1-3 (2019) looks at water as the site of political exile, religious pilgrimage, and forced migration across the Aegean Sea. Her working process is a kind of "beach-combing" that embraces chance encounter with artifacts and how they find their way to her. It involves extended periods of research, including conversations with people in roles, such as museum directors, scholars, or Arctic explorers. Her interests are interdisciplinary and cross-temporal. She speaks of her work as a collection of chance encounters, what is lost (and accrued) in translating between spoken and written words, and archaeological discovery.

Ga will be in residence at Bryn Mawr College twice during the 2021-22 academic year and virtually throughout the 2020-21 school year. Throughout this process, we hope you will join us in a collective note-keeping practice, responding to your own experience of Ga's work and the chance encounters you collect along the way. 
"Sew, Snip, Tie: Early American Children's Blank Books" will take place on Friday, October 30, 2020 at noon, via Zoom. Register to attend at https://brynmawr.libcal.com/event/7204459.
This is a hands-on workshop, during which participants make a simple blank book in the stye of early 19th-century children's homemade copy books.Campus community members will be able to pick up a kit of materials (first photo below). Off campus participants should gather materials before the event – see the second photo and list.
Campus community members who would like a kit of materials must register separately for the kit at https://brynmawr.libcal.com/event/7235349. You will be able to pick it up in Canaday Library from 9-4:30 Thursday,  October 29 or Friday morning before the workshop. We will send you an e-mail as soon as the kits are available (maybe a day or two early, depending on our suppliers).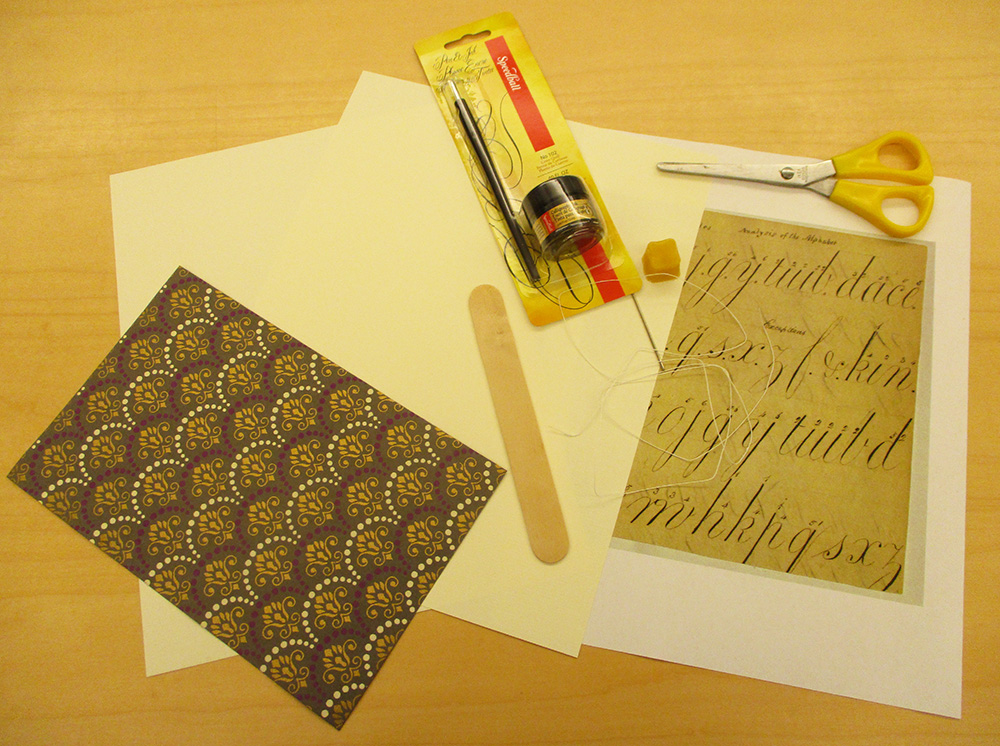 The kit includes:
2 sheets of 8 ½" x 11″ laid paper, for the pages
One half sheet of 8 ½" x 11″ heavy, handmade, decorated paper, for the cover
Needle to sew your book with. This will also be used to make holes in the paper for sewing
Bookbinder's thread – 1 yard
Beeswax to wax thread
A popsicle stick to use as a folder
Pen and ink to practice your alphabet. The first ten on-campus students who want them may have the pen and ink shown in the photo as part of their kit. The rest of us will need a calligraphy pen or any fine tipped pen or marker
Pages to copy (Alphabet_smaller, Running_Hand_recto, Running_Hand_verso)
You supply your own scissors
Off-campus participants will need the following items: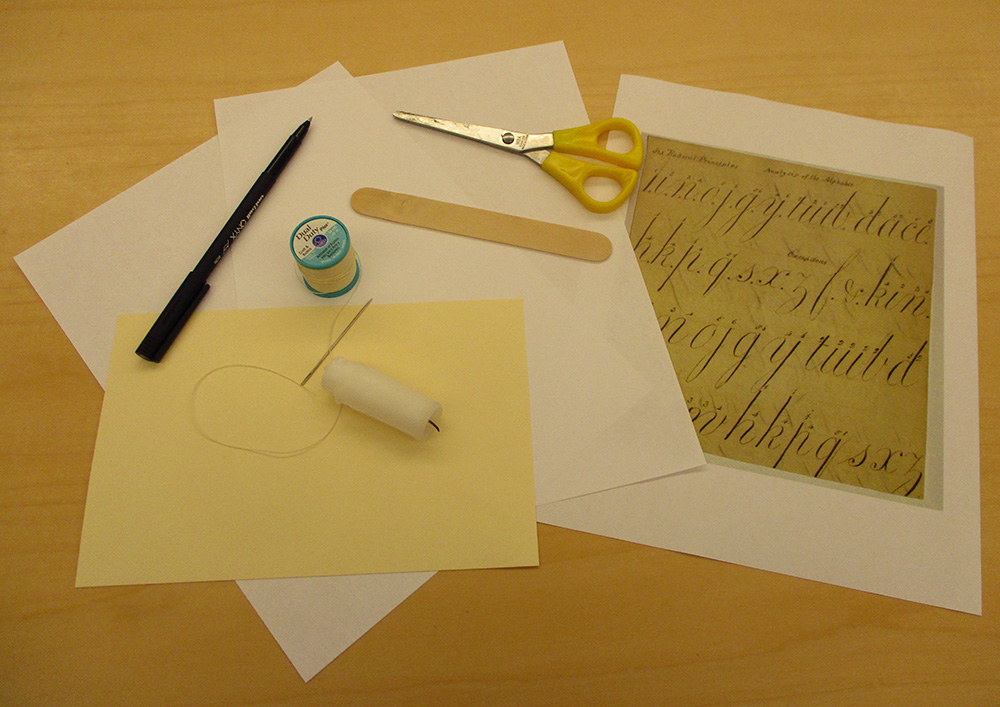 2 sheets of 8 ½ x 11 paper, for your pages.
One half sheet of 8 ½" x 11" heavier paper, for the cover (8 ½" x 5 ½"). shown here, a rectangle cut from a manila folder
Needle to sew your book with. This should be sharp and as heavy as possible. It is best if the eye is no wider than the main part of the needle
Thread for sewing. A heavy thread is ideal – buttonhole/carpet thread if possible. No more than a yard will be needed
Wax to smooth your thread with. Beeswax is traditional, but you can use any candle, or a  lip balm like ChapStick or Burt's Bees
Folder – something to press down the edge of the folded paper. You can use a popsicle stick or the handle of your scissors
Pen and ink to practice your alphabet. If you have a calligraphy pen, choose that. If not, any fine tip pen will work.
Scissors
Pages to copy (Alphabet_smaller, Running_Hand_recto, Running_Hand_verso)
We hope you will join us for this workshop – see you there!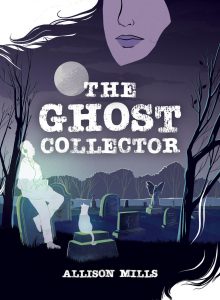 I grew up knowing I wanted to write for kids because children's literature is what made me fall in love with reading. I wanted to try to provide that experience for other people, but in particular I wanted to write the kind of books I wished I'd had as a kid—books about Indigenous characters who got to experience magic and adventure too.
That was one of my main goals in writing The Ghost Collector, which centers around a Cree girl, Shelly and her grandmother, who help lost souls transition to the next world by catching them in their hair. The version of the supernatural presented in The Ghost Collector is rooted to Cree culture. Shelly's experience of the world around her is tied to and influenced by her Indigeneity. It is an attempt to address what was lacking in the novels I read as a kid.
Children's literature is fraught territory for Indigenous people. Although many classic works in the genre include Indigenous characters, the ways in which we're represented are often harmful and problematic. They frame Indigenous peoples as a vanishing race, or happy to assimilate to European ways as a means to justify settler colonialism. Settler colonialism is a form of colonialism that seeks to replace the original population of a colonized territory with a settler society. The United States is a settler colonial nation.
You see this harmful depiction of Indigenous characters in Little House on the Prairie, where Native Americans are portrayed as violent and stereotypically "savage" in comparison to the "civilized" settlers; in Peter Pan stories, which positions Native Americans alongside fairies and mermaids; and in the Leatherstocking Tales, in which the white protagonist surpasses his Native guides in mastery of their own culture. These stories frame Indigenous characters as little more than props or set dressing for white protagonists. These works present us as violent and less than human, as mythical creatures, and as inherently inferior to European settlers.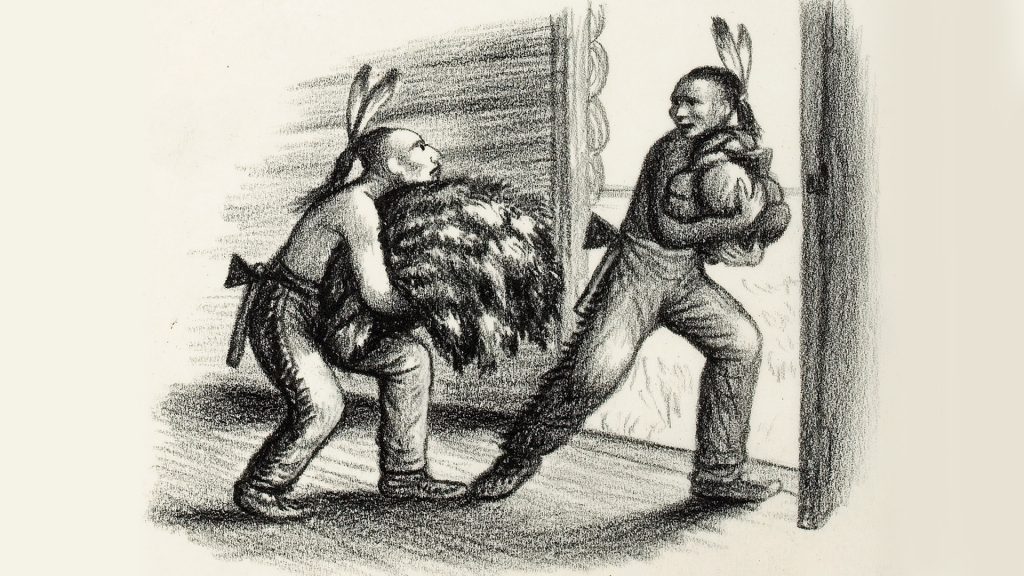 Even in the 90s, when I was a kid, there weren't a lot of children's books out there with good Indigenous representation and even fewer by Indigenous authors. My mother, who is a teacher-librarian in addition to being Cree, did her best, but the pickings were slim. This was especially true when it came to fantasy and sci-fi—my genres of choice. Science fiction in particular is notable for an emphasis on colonization narratives. For example, James Cameron's Avatar (2009) is essentially just The Last of the Mohicans in space. When books did include Indigenous representation, it was mostly misrepresentation. Sometimes we didn't exist as people at all, but as non-human characters (like the Na'vi in Avatar).
Either way, it was obvious the authors didn't consider an Indigenous audience when writing their books. The effects of this go beyond the pages of books to the real world. These portrayals normalize our absence and create a fictional tale of peaceful, inevitable settlement in North America that means settlers never need to confront their complicacy in the violent colonial history of the Americas. More often than not, when we pick up a book, we encounter a world we are not present in.
I have hope that this is beginning to change. In publishing—particularly in YA publishing—we've seen a push for greater diversity and more #OwnVoices books. People are becoming more aware of the need for better representation in children's books. Novels like Cherie Dimaline's The Marrow Thieves, Darcie Little Badger's Elatsoe, and Eden Robinson's Trickster Drift all present worlds in which Indigenous characters take center stage. Readers have access to criticism and scholarship by Indigenous academics and writers through social media and sites like American Indians in Children's Literature.
We're on the precipice of a potential sea change, but it requires a sustained investment in treating diversity as more than a trend from publishers and readers alike. Indigenous readers are here—we have always been here—and we're invested in making children's literature more representative. I hope, for the sake of future Indigenous kids, that non-Indigenous readers are turning up for more diverse voices too.
Allison Mills, College Archivist. Author of The Ghost Collector.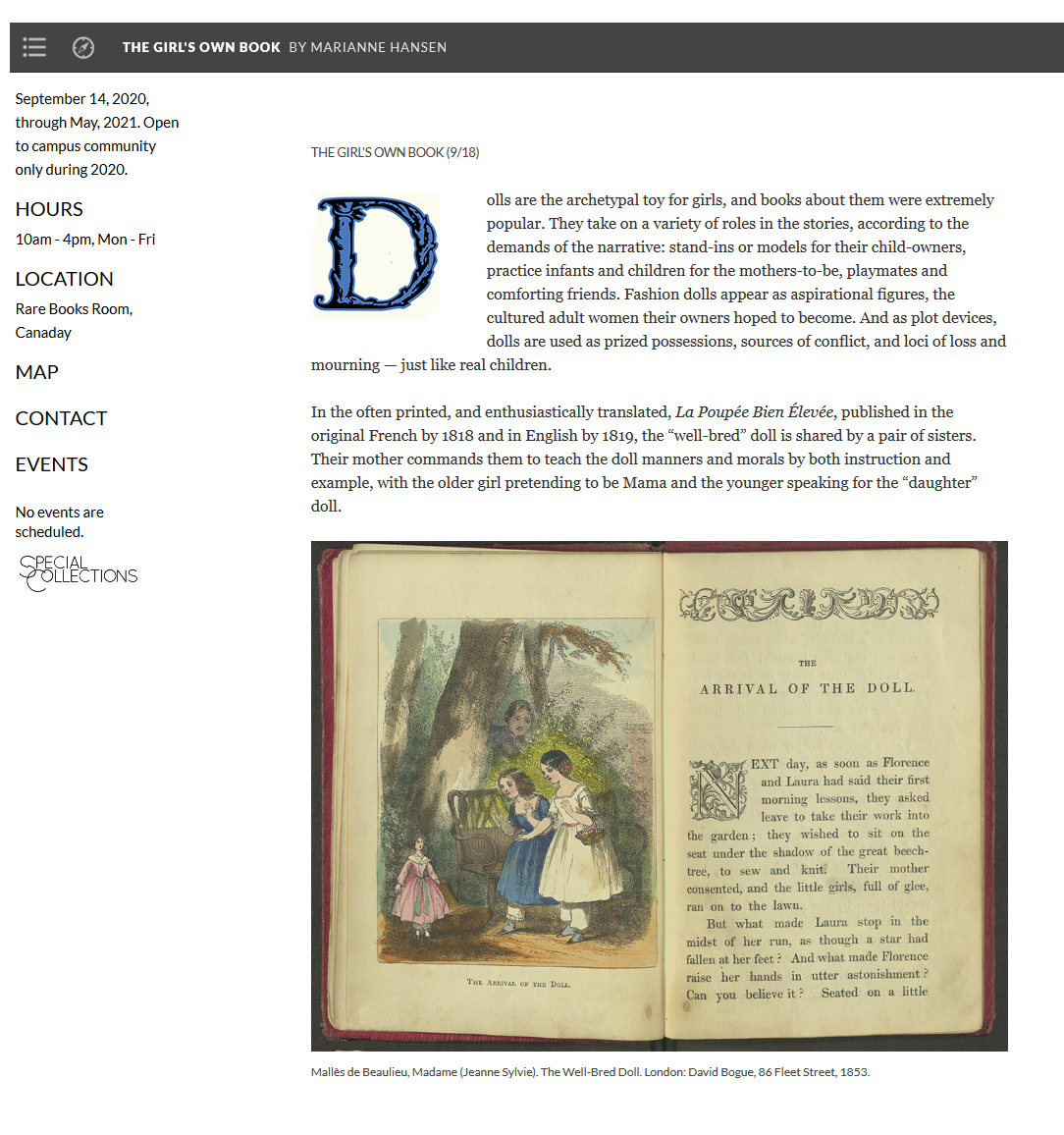 The Girl's Own Book is now open online at http://exhibitions.digital.brynmawr.edu/the-girls-own-book/index. We invite you to explore the digital exhibition.
The show will open in Canaday Library next Monday, September 14. It will be open Monday through Friday 10am – 4pm. Open to campus community members only through the Fall semester.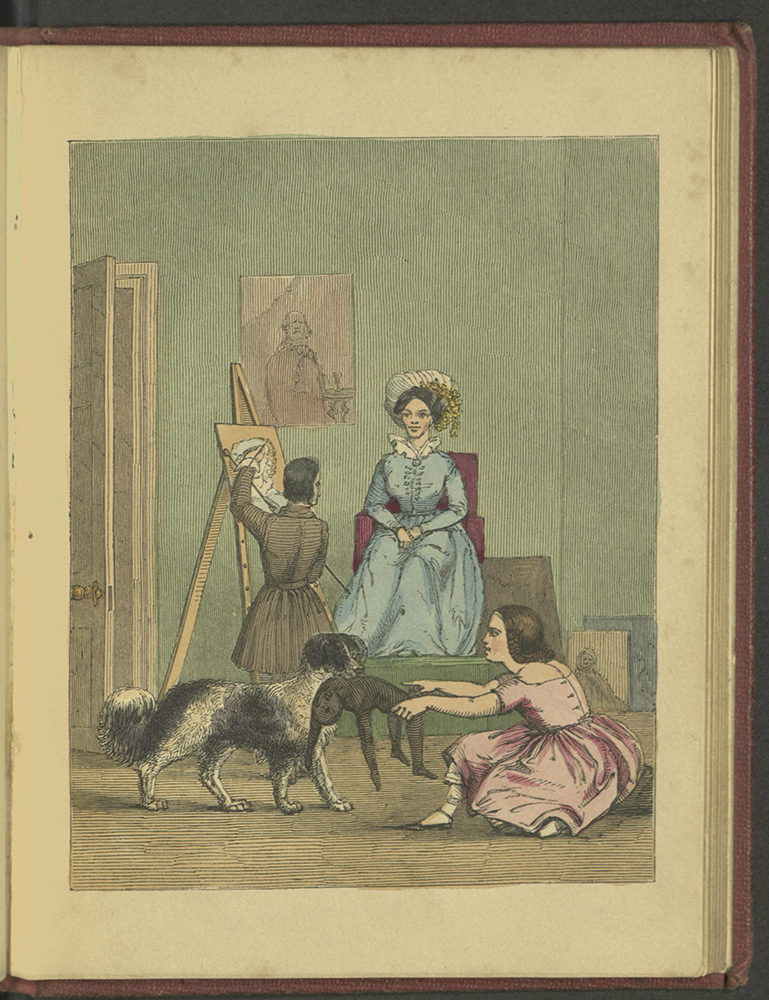 The London doll whose story is recorded in this book comes to consciousness in the home of a skillful but poorly remunerated maker of joined wooden dolls, Mr. Sprat. He, his wife, and their three children live in a rented top floor room, "the workshop by day and the bed-room at night." The work benches are along the side of the room with windows, the beds on the floor on the opposite wall. Mr. Sprat makes the wooden parts for the dolls. Mrs. Sprat paints the eyebrows and eyes or, in the case of more expensive dolls, inserts glass eyes. The two boys paint hair or attach wigs, and fit the arms and legs together with pegs, respectively. The little girl paints the blushing cheeks and sweet lips. This industrious family produces dolls in bulk, and one day Mrs. Sprat puts the heroine of this story in a basket with nine other dolls, each wrapped in silver paper and carries them to a doll shop in High Holborn.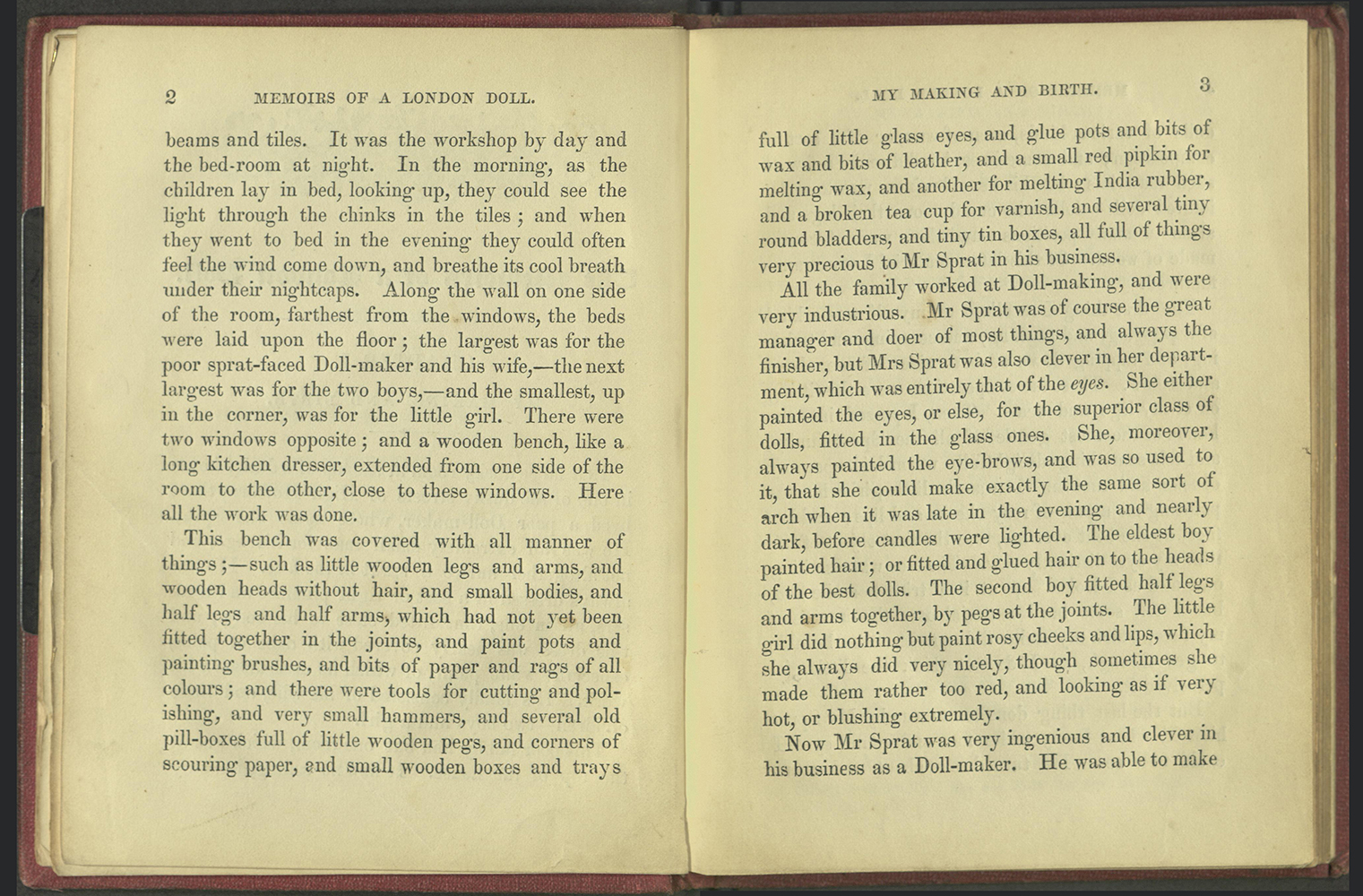 Although the doll longs to be put in the front window, she is stored on a high shelf for some time – "it seemed like years to me" –  in the back parlour where she has nothing to do but listen to the daughter of the owner read aloud popular children's books. One day, though, a boy arrives, asking to trade a fruit cake made for the Twelfth Night celebrations for a doll for his sister. He and the doll shop owner exchange increasingly laudatory descriptions of the objects they are negotiating over; the owner claims the doll, "of a very superior make," is worth twelve shillings, to which the boy responds that the going price for the cake in the shop of his grandfather, a pastry-cook, is fifteen shillings or more.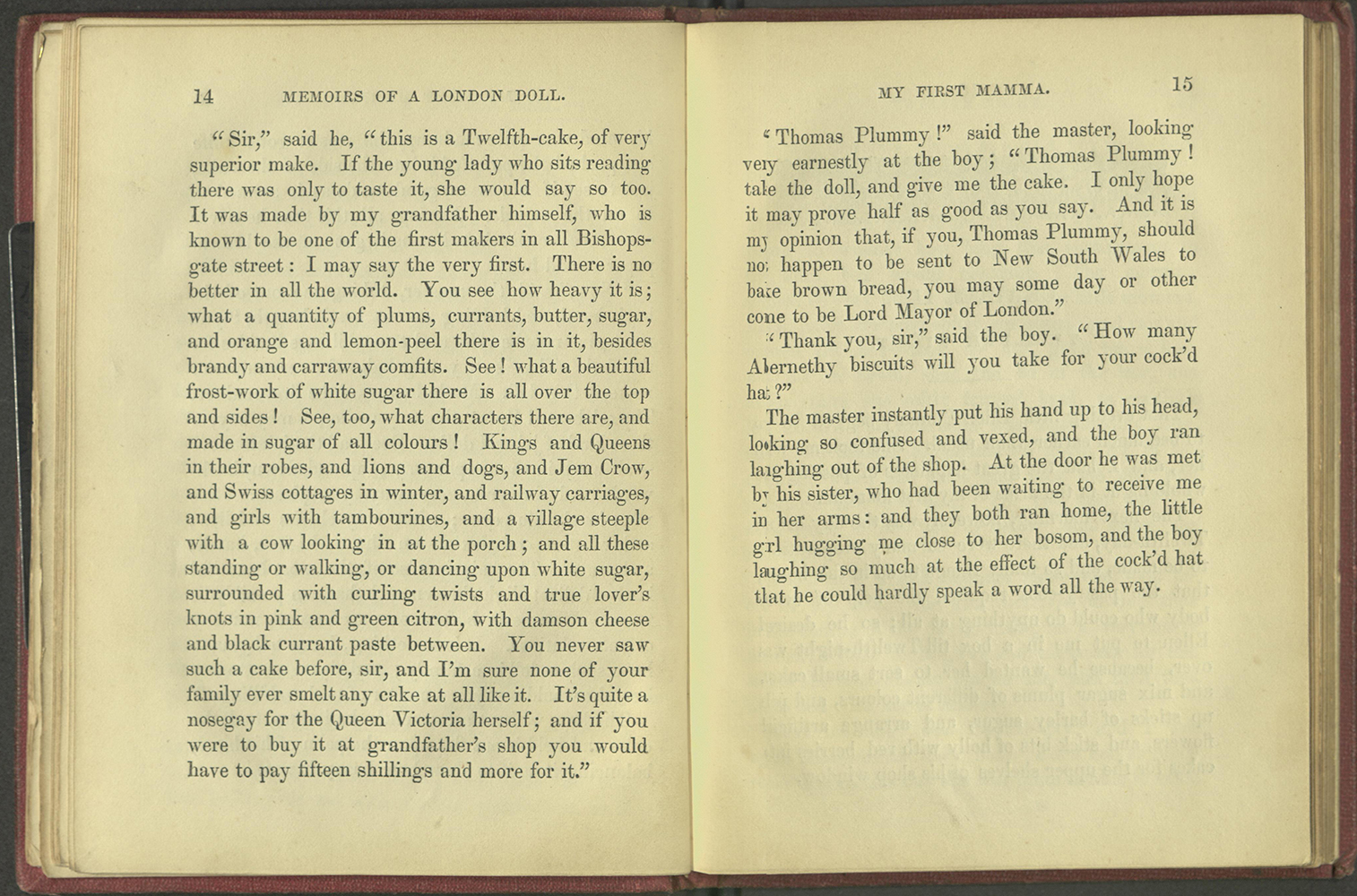 In the end, the boy gets the doll for his sister, Ellen, and they return to the pastry-cooks' house, where the old man asks the child to put the doll away, because he needs her to join in the work for the holiday: "to sort small cakes, and mix sugar plums of different colours, and pile up sticks of barley sugar, and arrange artificial flowers, and stick bits of holly with red berries into cakes for the upper shelves of his shop window." When Ellen finally brings her new toy down, the doll is astonished by what she drolly describes, in a foreshadowing of a recent catchphrase, as "the fine front shop with All the Cakes!"  Overcome by the beauty of the decorations, she faints.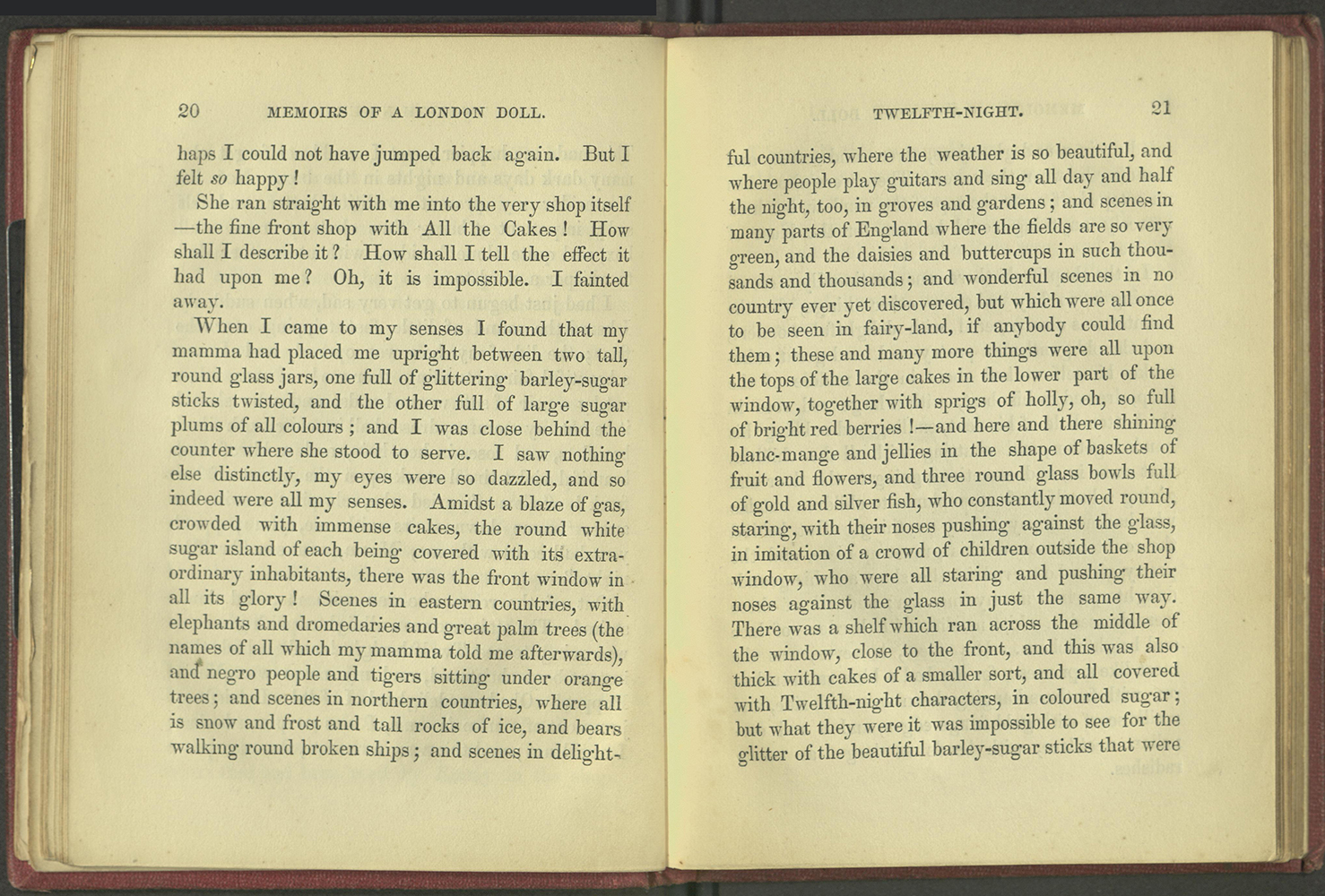 The doll is happy at the pastrycook's, but her seven-year-old "mamma" is soon sent to live with her aunt, a dressmaker. Aunt Sharpshins employs fifteen apprentices, of whom the next youngest is ten. They work from six in the morning until eight at night, with a half hour lunch break, and are exhausted and poorly fed. Under this regime, Ellen becomes ill, and she and her friend Nanny take advantage of her two sick days to finally make clothing for the doll, now christened Maria Poppet.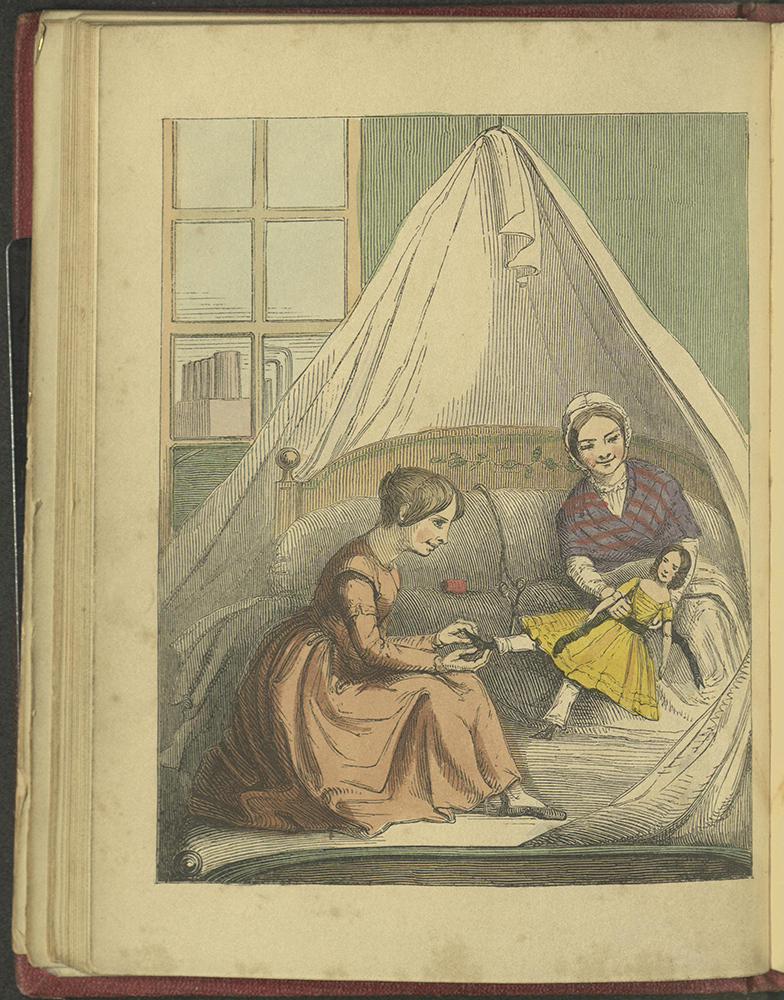 The story is too long to recount event by event, but by now it must be clear that the author has little interest in the sort of minor domestic incident one expects in stories about dolls, and a great deal of interest in the economic and employment situations in which children in London were living. In fact, Richard Horne's book was first published in in 1846, three years after he finished his work as a member of the Royal Commission of Inquiry into Children's Employment. The Commission interviewed children in factories, mines, and smaller industries and businesses, investigating their work conditions, their access to education, and their diet.The report was greeted by public outrage, and inspired poets and writers including Charles Dickens to write about children who were obliged to work to survive. Horne's Memoirs of a London Doll reflects what he learned as a member of the Commission, and reshapes the Report of the Commission into a palatable message for young readers about the hardships endured by children less affluent and less fortunate than themselves.
Horne was a friend of Dickens, and was employed by him as a sub-editor at the weekly magazine Household Words. The two men were part of a network of journalists, scholars, and philanthropists interested in understanding and improving the lives of the poor. Among the most interesting of these, from the standpoint of this book, was Margaret Gillies, a professional painter working primarily in watercolors and miniatures, who illustrated the story. She and her sister, the author Mary Gillies, resided in London and by 1841, they had been joined by the physician and sanitary reformer Southwood Smith (who lived with Margaret for the rest of his life). Among his other work, Smith examined and reported on the lives of child workers in the mines – boys and girls, who often started before they were ten, and whose work included opening and closing ventilation doors, running errands, and dragging loads of coal through tunnels too small for ponies to work in. In 1842, Gillies illustrated Smith's first report, on his inspections in Leicestershire and West Yorkshire.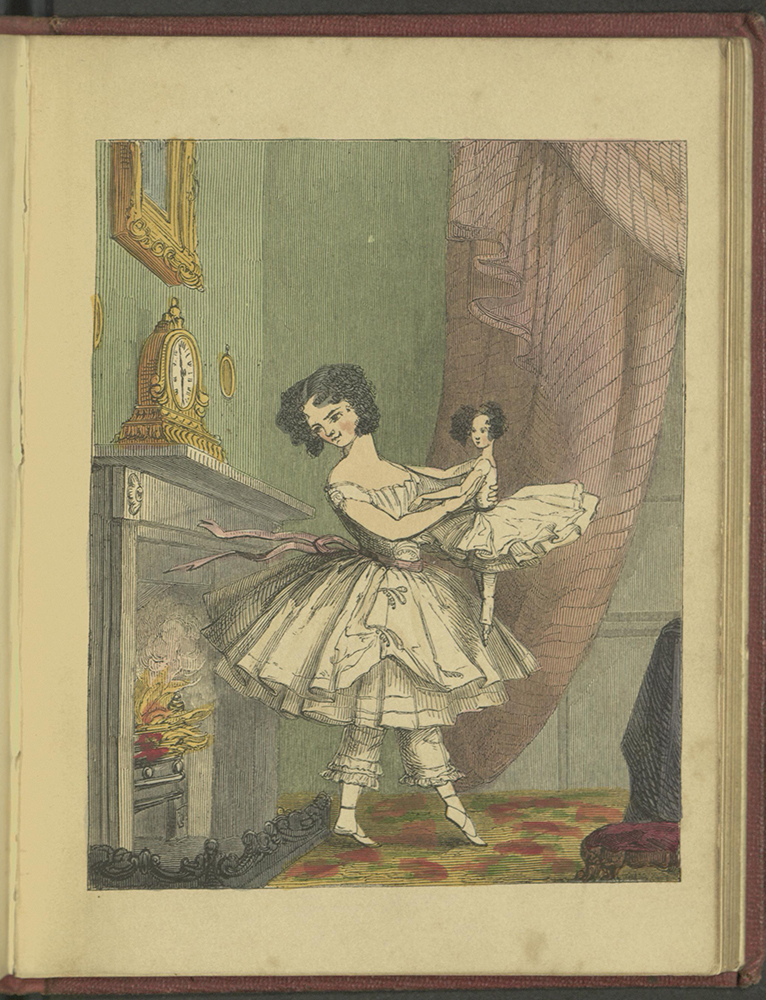 True to his interests, Horne led Maria Poppet through a rapid succession of adventures with "mammas" in different walks of life. After Ellen, she passes into the home of the spoiled and heedless Lady Flora, the daughter of a countess and a cabinet minister. Maria lives in luxury with a doll bed complete with mattress and her own dresser for an expanding wardrobe, enjoys shopping, goes to the zoo, and attends the Opera. A dangerous accident sends her to a different home.
She lives briefly with Mary Hope, staying with her aunt because her father, who is a clerk in a bank, has "seven other daughters, and a small salary." Mary drops her accidentally from a coach while watching a Punch and Judy show, and the doll is inadvertently exchanged for Punch's baby. The master of the show sells her to a street merchant who deals in used clothing. He sells her to a young Italian organ-grinder who scrapes a living for himself and his sister. The little girl plays with her as she would any doll, but business is business and the two performers also dress her in their (deceased) monkey's clothing and prop her up on top of the barrel organ. After several additional changes in status and position, Maria Poppet finally ends up at the country manor of a wealthy family, where she believes she has come to rest. She tells us that she has made the acquaintance of another doll whose life story she has heard, and that she hopes "at a future time that these 'Memoirs of a Country Doll' will be made public as mine have been."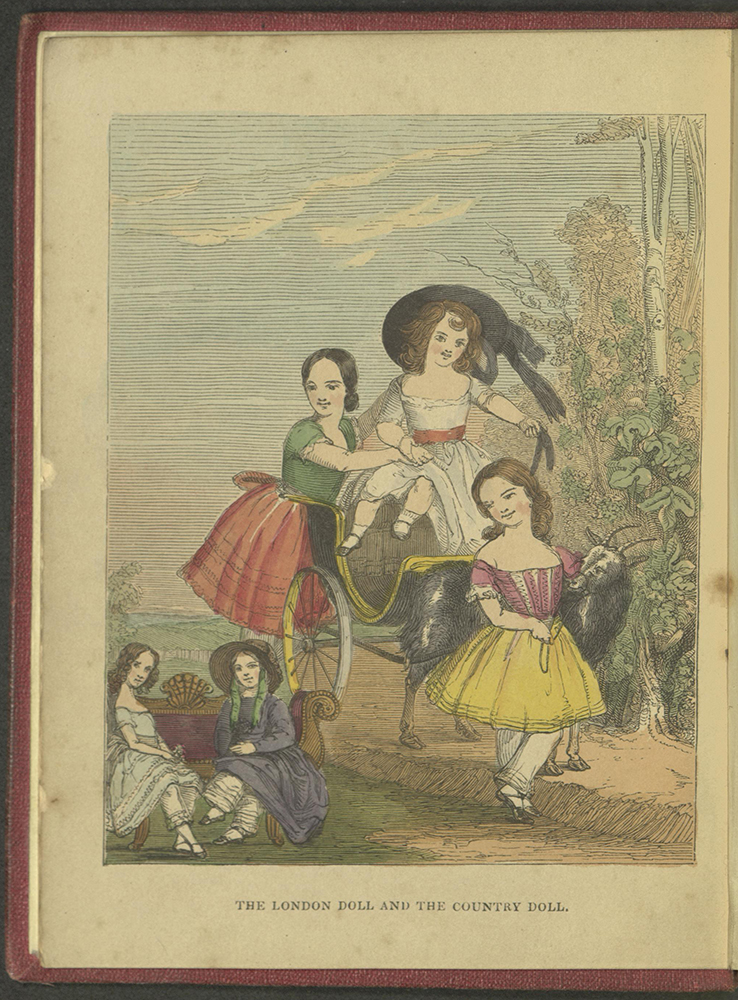 Horne never did write that sequel, and one doubts the ingenious journalist could have described the exhausting and grim lives of young rural workers and child miners in a sufficiently softened and light-hearted way for his juvenile audience. At the same time, it would have been a very interesting book. The Memoirs of a London Doll is quick-paced and full of fascinating detail. The reader who is not ready to plunge into the thousands of pages of Mayhew's London Labour and the London Poor (published in 1851 by another member of Dickens' coterie) could start here to ease into the harsh realities of the mid-19th-century metropolis .
Marianne Hansen, Curator of Rare Books and Manuscripts
Horne, R. H. (Richard H.) and Margaret Gillies, illustrator. Memoirs of a London Doll, Written by Herself. London: Henry G. Bohn, York Street, Covent Garden, 1855
Read our copy on the Internet Archive.
With the continuing closure of the Library, we are blogging regularly about books from the exhibition, The Girl's Own Book. Please follow us on Facebook or subscribe here for notices of new blog posts.