The latest on what's happening in Special Collections at Bryn Mawr College
Updated: 3 hours 48 min ago
For almost a year, we in Special Collections have been working on a statement documenting the ways in which we are trying to confront the legacies of colonialism and racism in our collections. In June 2020, Black students at Bryn Mawr and Haverford composed an open letter to the Bi-College community. Their letter, which demanded that Bryn Mawr Special Collections acknowledge the colonial racism present in Bryn Mawr's African Collections and, where possible, create a plan to repatriate objects, represents ongoing, student-led anti-racism efforts at the College—efforts that came to the fore again with the Student Strike in fall 2020. The effects of colonialism and racism in the collections are part of the historical and present-day forms of racism and inequity at Bryn Mawr College that we are committed to addressing, foregrounding, and remediating in the department and at the College as a whole. In response to student voices, the concerns of the wider college community and society, and our own professional ethics, we began working on this statement. 
Tied to College and LITS-wide efforts towards diversity, equity, inclusion, and anti-racism, our statement, Confronting the Legacies of Colonialism and Racism in Special Collections, is meant to serve as a starting point for conversation. It is by no means complete or final, and we plan to continue to modify the document as we identify additional ways in which we can address racism and colonialism in Special Collections. As we've worked on the statement, we have shared it with some internal stakeholders—the LITS Equity, Inclusion, and Anti-Racism Team, the BMC Collections Committee (which includes faculty and trustees), the President's Diversity Leadership Group, BMC Alumnae/i Relations and Development, and members of the Bryn Mawr administration. We hope to create a space that allows for on-going discussion, including hosting community-wide conversations about the document in the coming year. 
In the meantime, Special Collections staff are engaged in work aimed at addressing the on-going effects of racism and colonialism in our collections, and at increasing the transparency around them. This is a multi-part, long-term project. In addition to addressing our current collection and how we are presenting the material we currently have to the community, we also need to think about future collections. This means identifying and redressing harmful language in descriptions and metadata, actively and ethically acquiring material from a diverse range of voices, and recognizing that we have a professional and ethical obligation to do this work. Special Collections, comprised at Bryn Mawr of Rare Books & Manuscripts, Art & Artifacts, and the College Archives, is primarily intended to be a teaching collection. As educators and caretakers of these collections, we have a responsibility to continue to learn and grow, and we welcome interrogation, critique, and insight into how we can improve our practice. 
Read the statement: Confronting the Legacies of Colonialism and Racism in Special Collections 
Current, concrete efforts towards this work include: 
Support for the Perry House Oral Histories Project 
Removing portraits of M. Carey Thomas from display 
Collecting, preserving, and providing access to materials related to the 2020 Bryn Mawr Strike via the TriCollege Libraries Digital Collections website. 
Supporting and preserving Pensby Fellows research 
Ongoing improvements of catalog records for African Art & Cultural Artifacts, including identification and provenance research, donor biography research, and development of 2021 summer internship focused on integrating these collections with relevant papers in College Archives 
Ongoing development of resources page for researching African Material Culture, including timeline draft of Art & Artifacts collection history  
Developing websites to document previous exhibitions on campus, including Exhibiting Africa (2017) 
Auditing archival finding aids and digital collections description to bring description up to standards as laid out in the Archives for Black Lives in Philadelphia Anti-Racist Description Resources 
Identifying books with problematic themes, language, and/or art through use of subject headings and genre terms such as Racism in literature, Ethnic stereotypes, etc. 
Updating and improving the cataloging of historic books to illuminate unexamined facets of contemporary society 
Hosting Teach-In on Legacies of Colonialism in the Mineral Collection (with Selby Hearth and Ellie Ga) 
Hosting Teach-In on Race, Racism & Cultural Collections 
Deepening representation of work by Kris Graves in Art & Artifacts collection to include his most recent portfolio of photographs from protests in Richmond, VA (Summer 2020) 
Outreach and connecting with stakeholders and cultural representatives

Special Collections is committed to diversifying the representation of artists in its holdings. We announce the acquisition of six contemporary artworks all by African American women, purchased through the Seymour Adelman Fund. Next year, we aim to convene a committee of interested stakeholders in this initiative to recommend new acquisitions. We look forward to drawing on your collective experience, knowledge, and interest.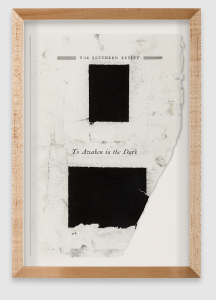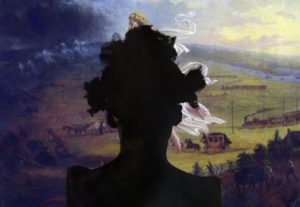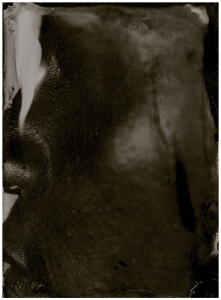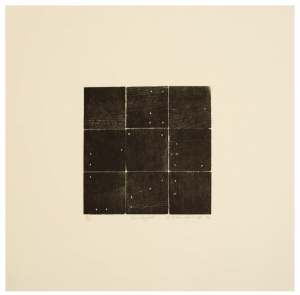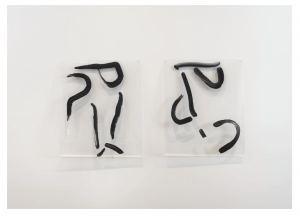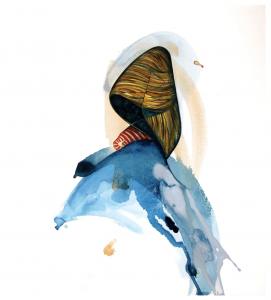 top, left to right
Bethany Collins Untitled (To Awaken in the Dark) (2020) Charcoal on found paper, 10 x 6 3/4″
Adama Delphine Fawundu Interrogations of Progress from series In the Face of History (2018) archival pigment print on cotton paper 31 3/4 x 24″
Myra Greene Untitled (Ref. #44) from Character Recognition (2006-7) Black glass ambrotype, 4 x 3″
bottom, left to right
Maren Hassinger Twilight (1990) Woodblock print, edition of 6, 21 1/4 x 21″
Steffani Jemison Same Time, 2020-2 (2020) Acrylic on Mylar, diptych, 20 x 25″ each
Marcia Kure The Renate Series: You Know Who and the Chambermaid VI (2013) Kolanut pigment, silver acrylic, pencil and watercolor, 22 1/2 x 18″
by Beck Morawski '21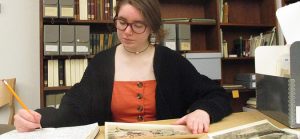 When I was brought on as a student curator to design an exhibit for the centennial of the Bryn Mawr Summer School for Women Workers in Industry last April, I could not have imagined the journey this project would take me on. In putting together a digital exhibit that centers the lived experiences of often-overlooked students, I was able to engage with the history of Bryn Mawr College in ways I never expected.
The Bryn Mawr Summer School for Women Workers in Industry, often abbreviated as the BMSSWWI, was a program that ran on Bryn Mawr's campus during the summer from 1921 through 1938. It was intended to use the empty campus buildings during the summer months to educate industrial workers—such as factory workers or manual laborers—who sought to continue their education, since often their life circumstances had prevented them from finishing it. The unique program allowed for a two month retreat to the secluded campus to study not only Economic Theory, but also topics meant to enrich life outside of the workplace including Literature, Astronomy, and Music Theory.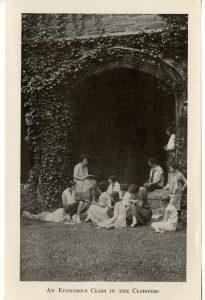 While classroom lessons and lectures were instrumental to the students in attendance, some of the most formative experiences they recounted in the Summer School literary magazine Shop and School were of exploring the campus and experiencing life away from the smog and cramped confines of cities and mills. It was exciting to get to read these students' stories and experiences attending college for the first time, and then to find a way to share them with the Bryn Mawr community today. By putting our current campus culture and experiences in conversation with our history, we can gain new understandings of how unique Bryn Mawr can be.
Developing a digital exhibit of photographs and documents was an interesting challenge to take on while working remotely. Working in Special Collections during my time at Bryn Mawr, I learned the importance and value of physical records to the day-to-day ongoings of campus and how they enliven history to those that study it. However, what does that look like when one can't work hands-on with the many photographs, letters, and books that we have saved from the Summer School? Luckily, the influence of the School was wide-reaching and impactful. Even without going into Canaday Library I could find material that explored the history of the School from unexpected angles. I was also able to participate in conversations around the digitization of parts of our collections, hoping to make our holdings more accessible to those who otherwise wouldn't be able to access the materials we hold.
My exhibit—For Roses, Too—provides an overview of the Summer School program and its history, while asking readers what lessons they can take from its history to apply to Bryn Mawr College today. The BMSSWWI exemplifies both what progress Bryn Mawr has historically sought to accomplish and what that vision can achieve when embraced by the community. It is my hope that this exhibit can start new and exciting conversations about our institutional identity and its place in history at large.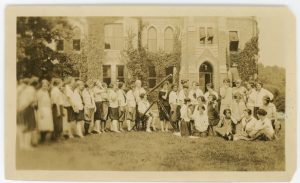 If you would like to make your own Temple of Fancy paper dolls, based on the examples in the Ellery Yale Wood Collection of Books for Young Readers, you can download pdfs and print out as many copies as you like. We previously blogged on the History of Little Fanny dolls, with useful photos of the dolls under construction, and you can check that blog post for more extensive instructions on the project.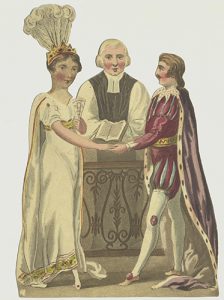 The following dolls are available:
The History of Little Fanny, Exemplified in a Series of Figures. 6t London: Printed for S. and J. Fuller at the Temple of Fancy, Rathbone Place, 1810.
Book – https://archive.org/details/historyoflittlefanny1810
DIY Dolls – https://archive.org/details/historyoflittlefanny1810dollstomake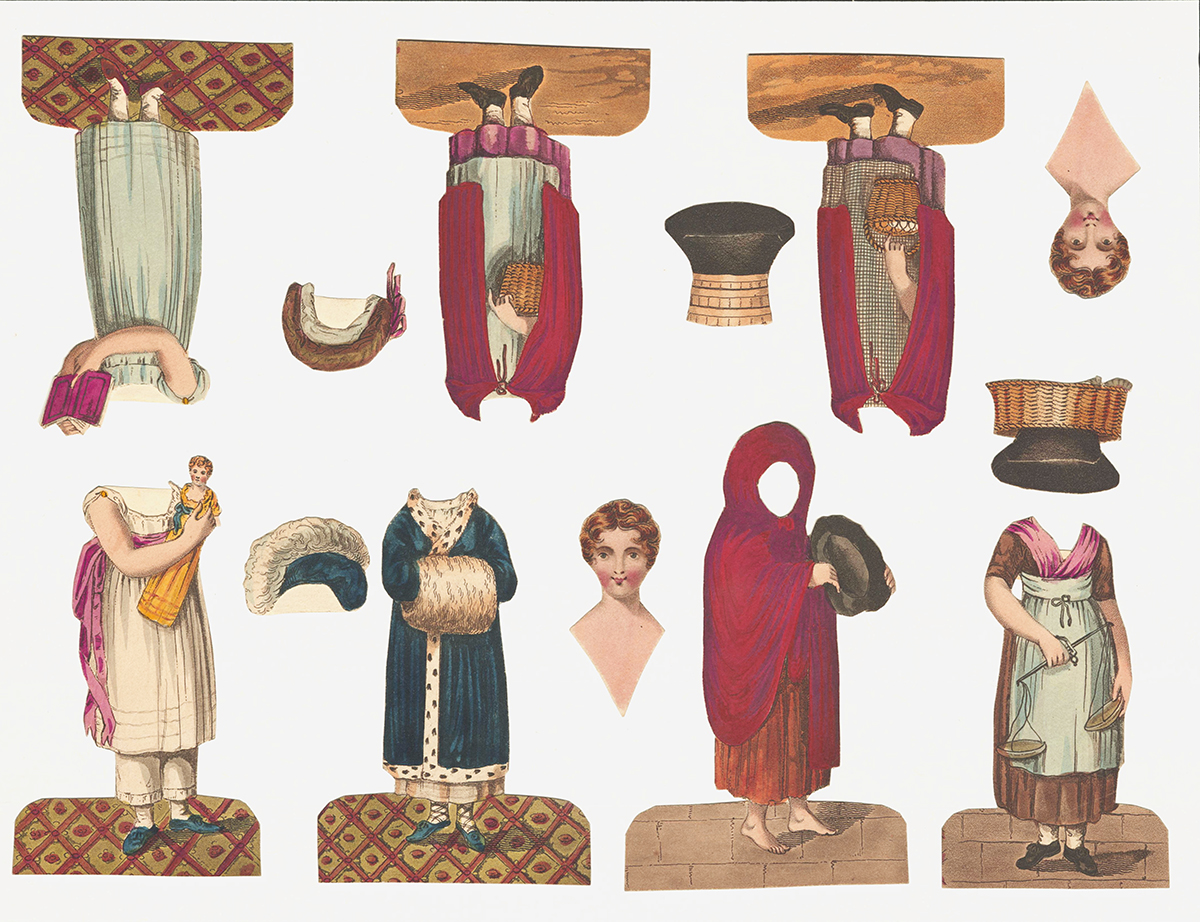 The History and Adventures of Little Henry, Exemplified in a Series of Figures. London : Printed for S. and J. Fuller at the Temple of Fancy, Rathbone Place, 1810.
Book – https://archive.org/details/history-and-adventures-of-little-henry-1810
DIY Dolls – https://archive.org/details/history-and-adventures-of-little-henry-1810-dolls-to-make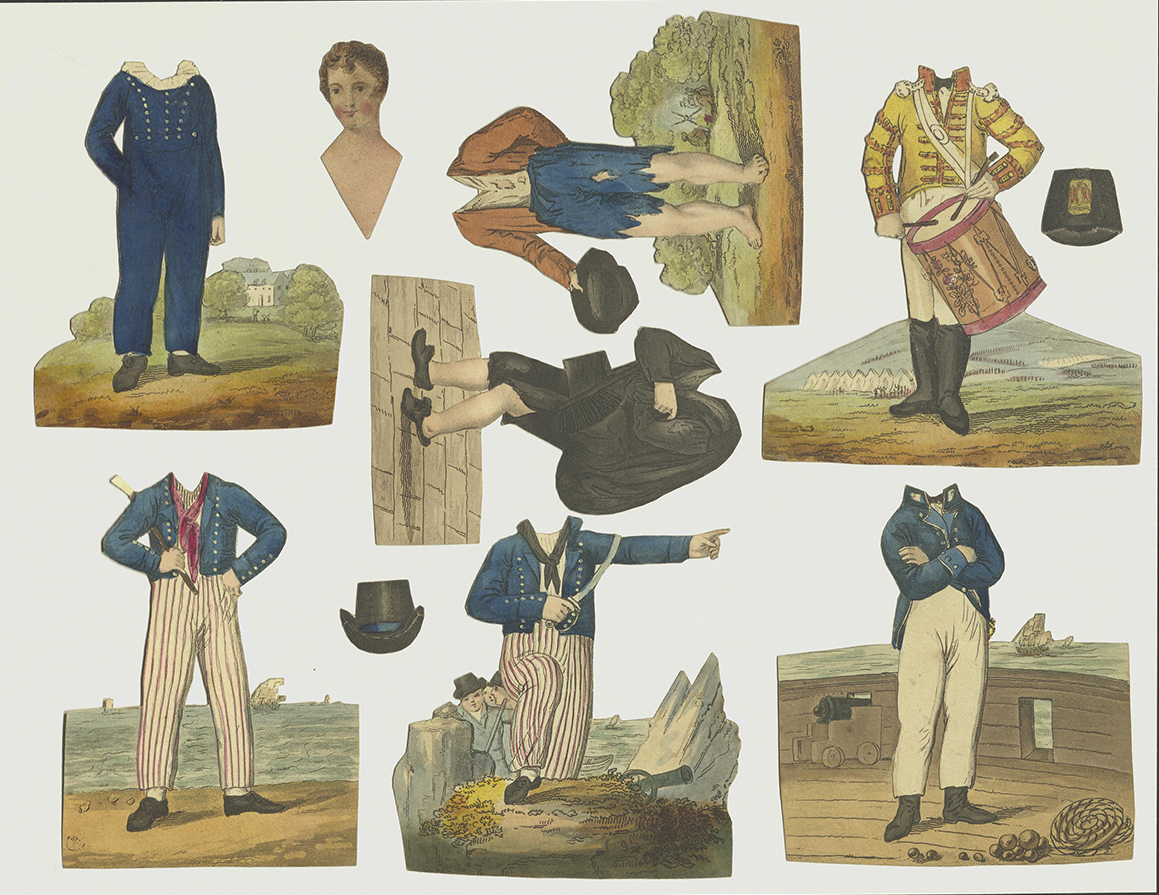 Ellen, or The Naughty Girl Reclaimed, A Story, Exemplified in a Series of Figures. London, Printed for S. and J. Fuller at the Temple of Fancy, Rathbone Place, 1811.
Book – https://archive.org/details/ellen-or-the-naughty-girl-reclaimed-1811
DIY Dolls (2 sheets) – https://archive.org/details/ellen-or-the-naughty-girl-reclaimed-1811-dolls-to-make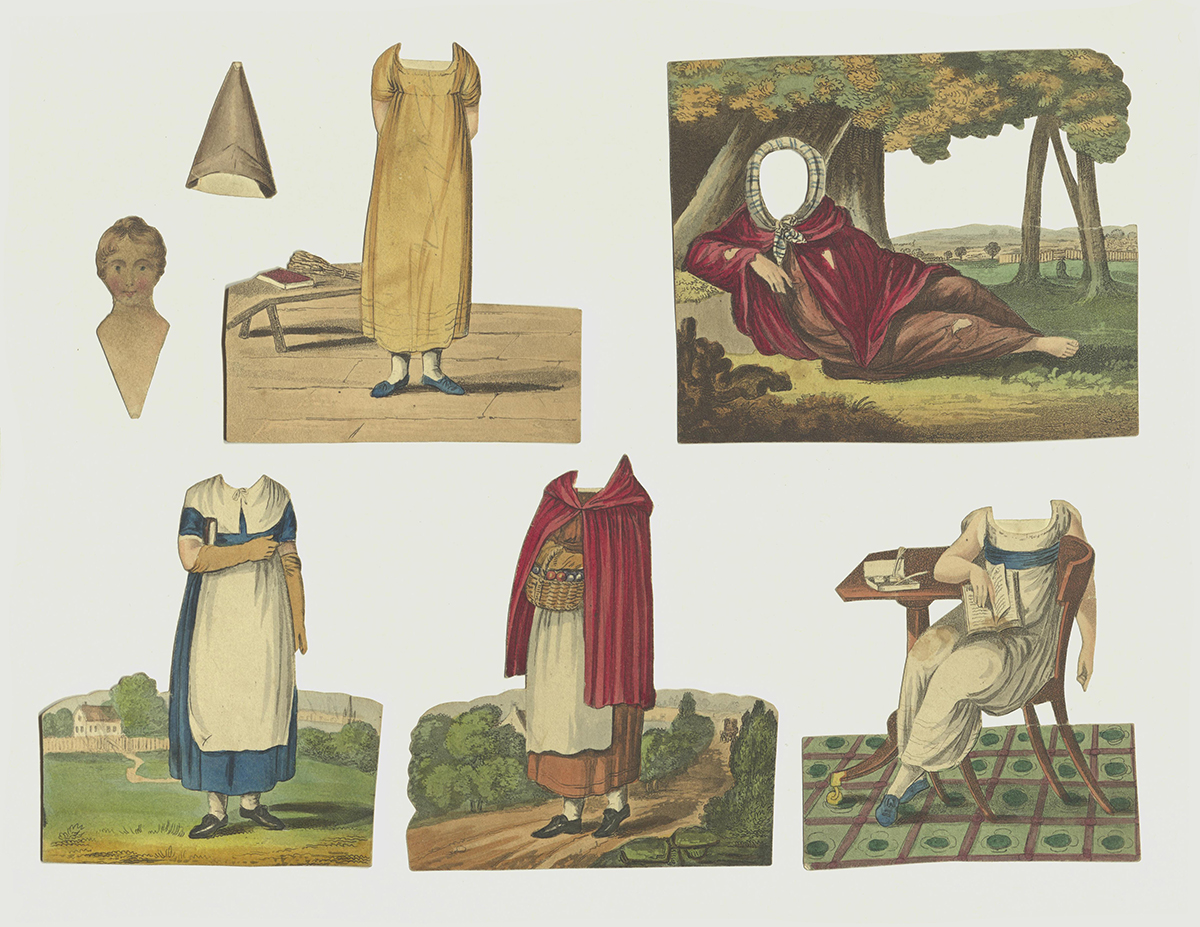 Cinderella, or, The Little Glass Slipper. London: Printed for S. and J. Fuller, Temple of Fancy, 1814.
Book – https://archive.org/details/cinderella-or-the-little-glass-slipper-1814/
DIY Dolls (2 sheets) – https://archive.org/details/cinderella-or-the-little-glass-slipper-1814-dolls-to-make/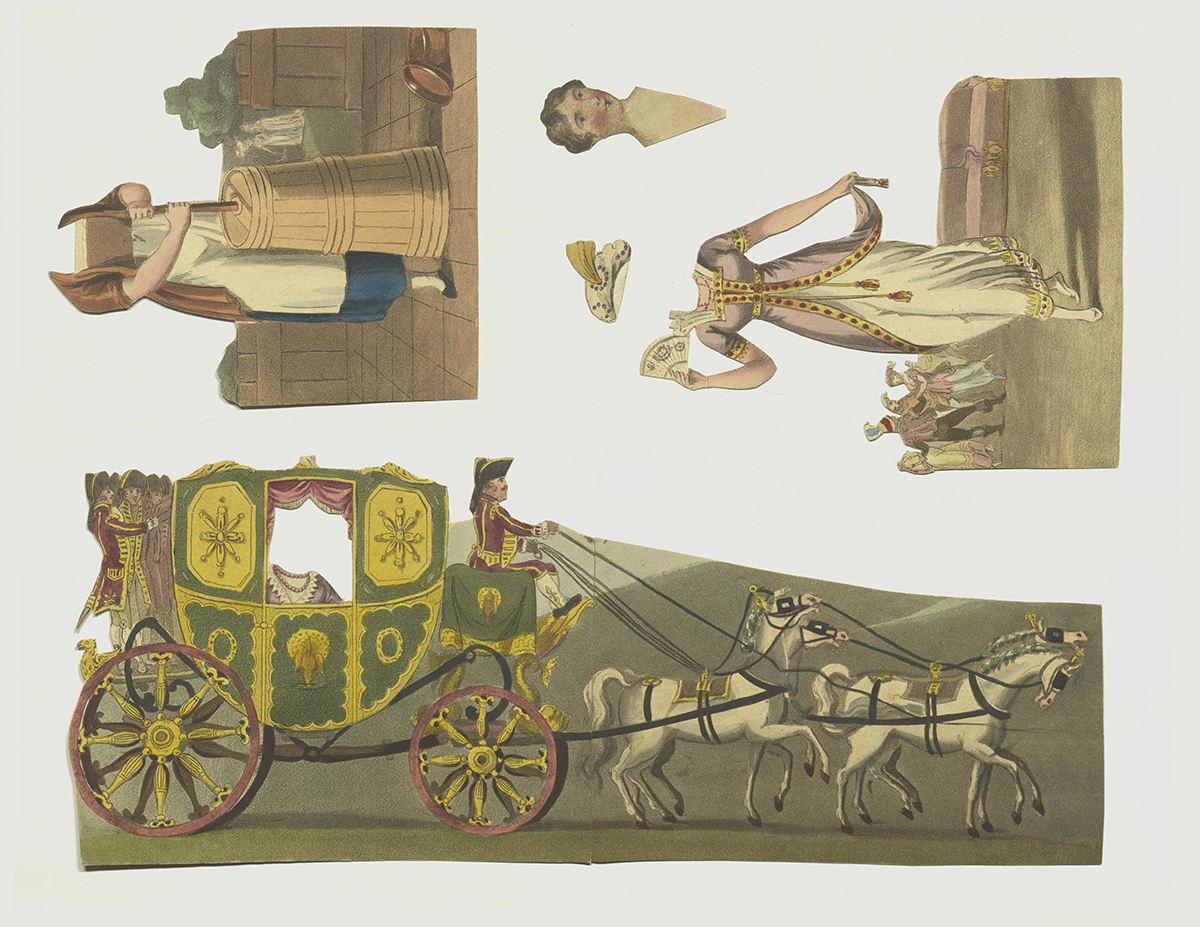 Frederick, or, The Effects of Disobedience: Exemplified in a Series of Characters. London: Printed for S. and J. Fuller at the Temple of Fancy, and Juvenile Museum, Rathbone Place, 1816.
Book – https://archive.org/details/frederick-or-the-effects-of-disobedience-1816/
DIY Dolls (2 sheets, and with the head from our copy of Little Henry) –  https://archive.org/details/frederick-or-the-effects-of-disobedience-1816-dolls-to-make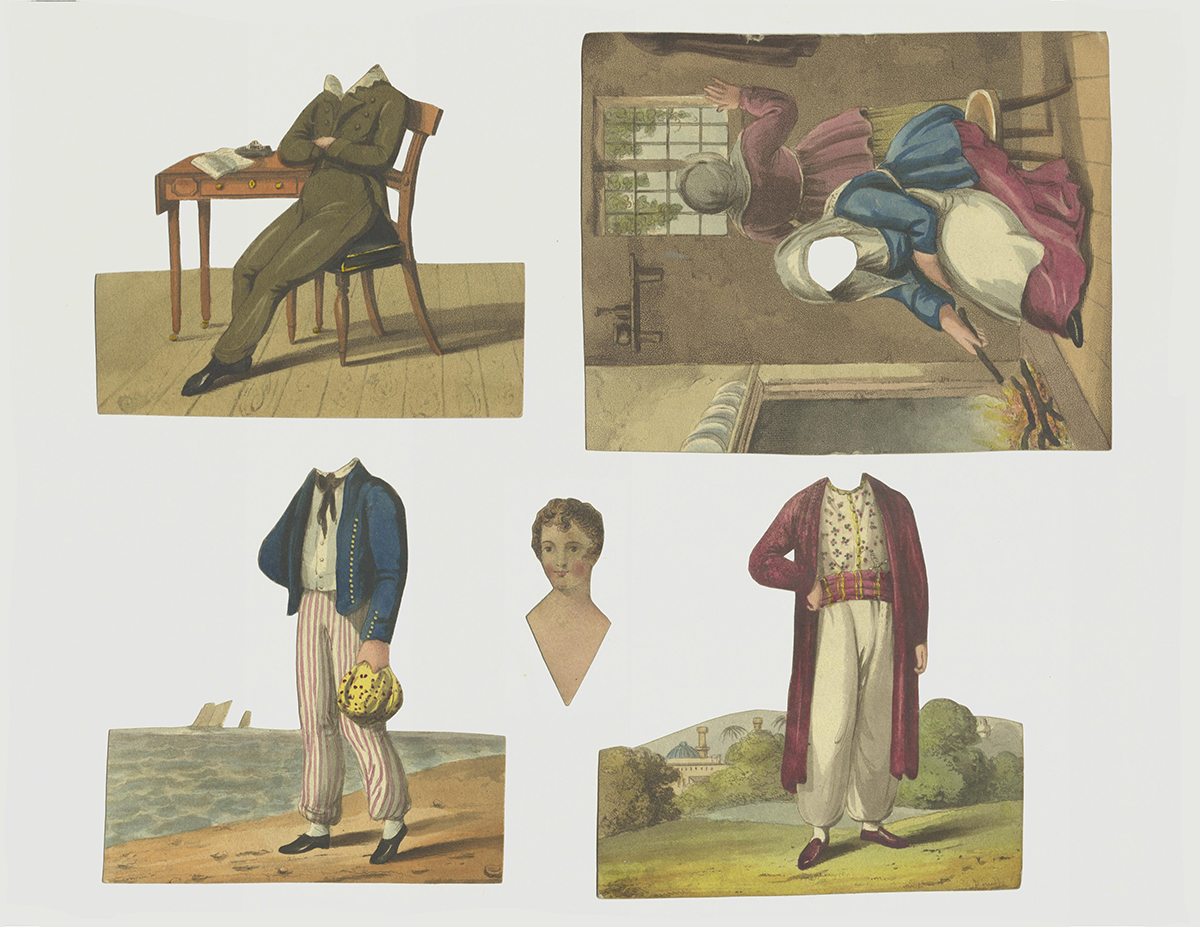 – Marianne Hansen, Curator of Rare Books and Manuscripts
As we all find ourselves continuing to live and learn in a largely remote and virtual environment, digital collections provide an opportunity to engage with primary source, historical materials in interactive and exciting new ways. In fact, digital collections allow for methods of interaction that are not possible with physical materials. With digital content, we can do things like zoom in on digital images to see details up-close, do a full-text search of books and newspapers, and listen and view audio-visual content while following along with synchronized transcriptions and captions. Digital content can also be downloaded or mined for data to be used in research projects, exhibitions, or visualizations.
This is why Special Collections is thrilled to announce the launch of our new TriCollege Libraries Digital Collections site–the new home for both digitized materials and born-digital content, like audio and video–to the Bryn Mawr College community in time for the spring 2021 semester. This new site–which currently holds over 40,000 records–has been a work-in-progress, and a joint-effort of the Bryn Mawr, Haverford, and Swarthmore College Libraries, over the past several years. Building the site involved the daunting task of migrating digital collections and their metadata (description) from the former Triptych (CONTENTdm) site into an open-source Islandora software framework that is better designed to facilitate the management and discovery of digital assets. Over time, we will continue to grow and consolidate digital collections in the new site, with the goal of making more and more of our collections discoverable while improving findability, search functionality, and accessibility.
The following are some examples of collections and items you will find on the new site:
The Bryn Mawr College Photo Archives is a growing collection of 5200+ images from the College Archives documenting students, faculty, staff, and events at the College since 1859.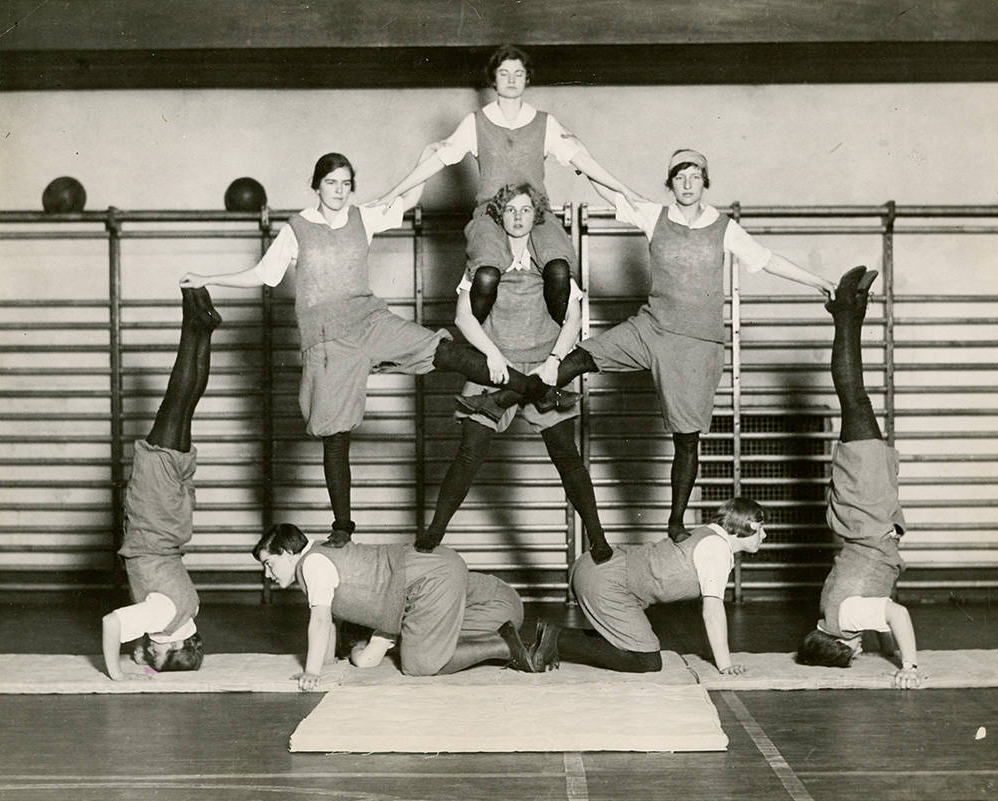 The Bryn Mawr College Scrapbook and Photo Album Collection includes 37 scrapbooks and photograph albums, dating from 1889 to 1952, assembled and donated by alumnae/i, documenting their years at the College.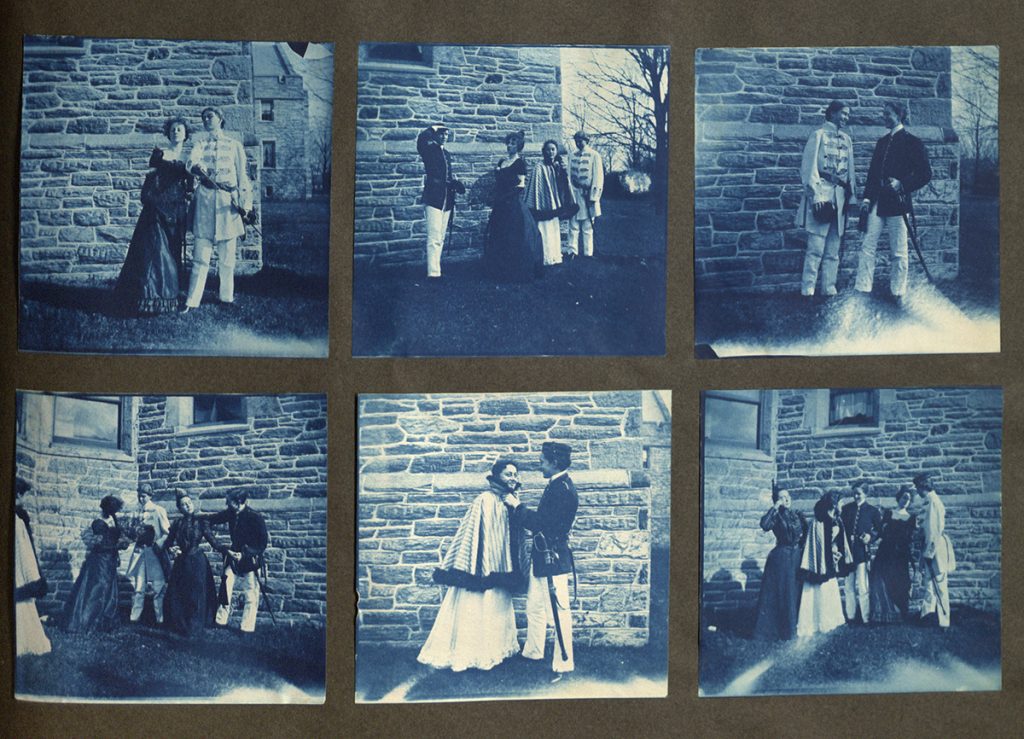 Explore the history of the Summer School for Women Workers in Industry, a residential summer school program that brought approximately 100 young working women—mostly factory workers with minimal education—to the Bryn Mawr College campus for eight weeks of liberal arts study between 1921 and 1938.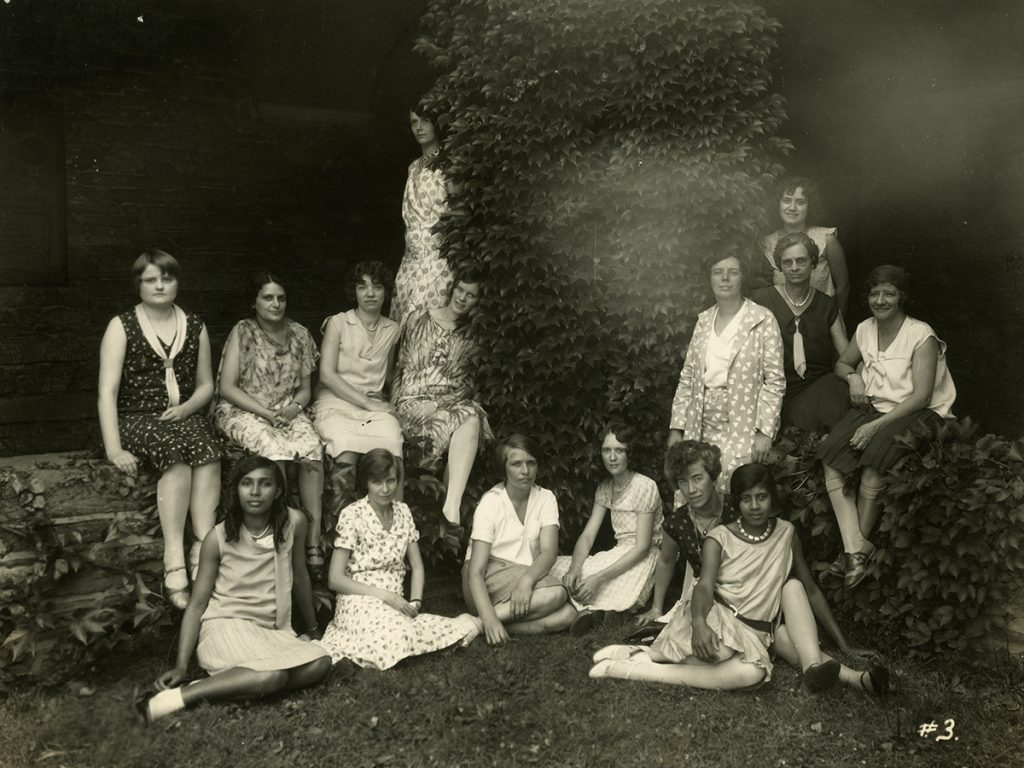 View photographs collected by internationally recognized suffragist, feminist, and political activist Carrie Chapman Catt, documenting the American and international women's suffrage movements.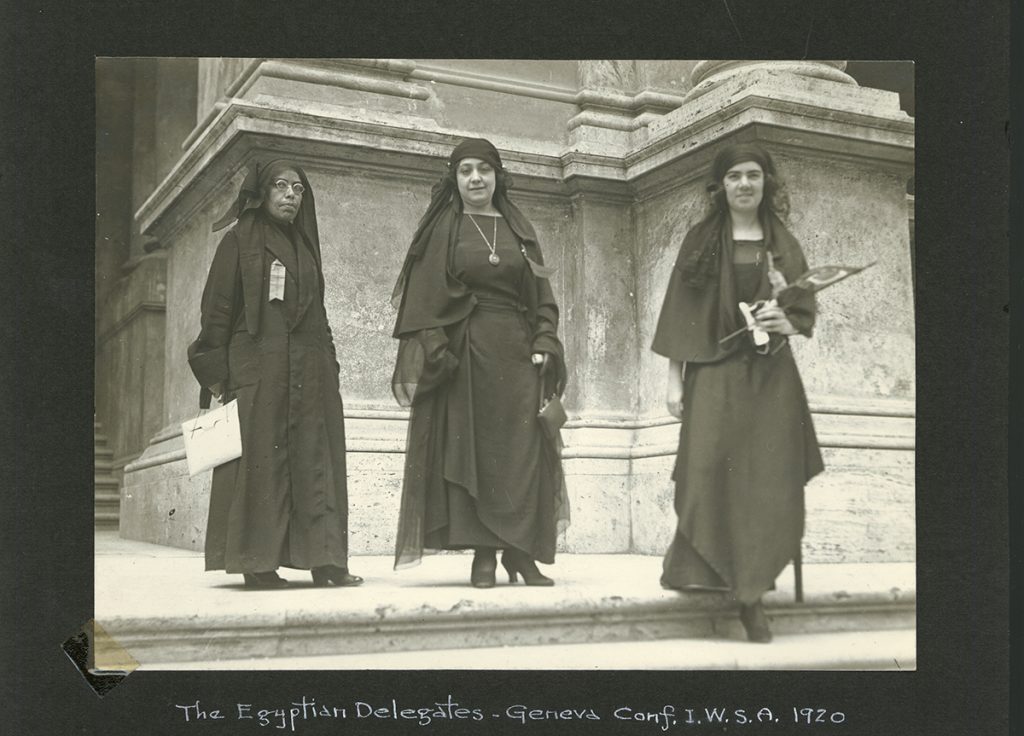 Explore College yearbooks from 1901 through 1949 (look for yearbooks through the late 1970s coming soon) and read all issues of the Bryn Mawr College News from 1914 through 1968.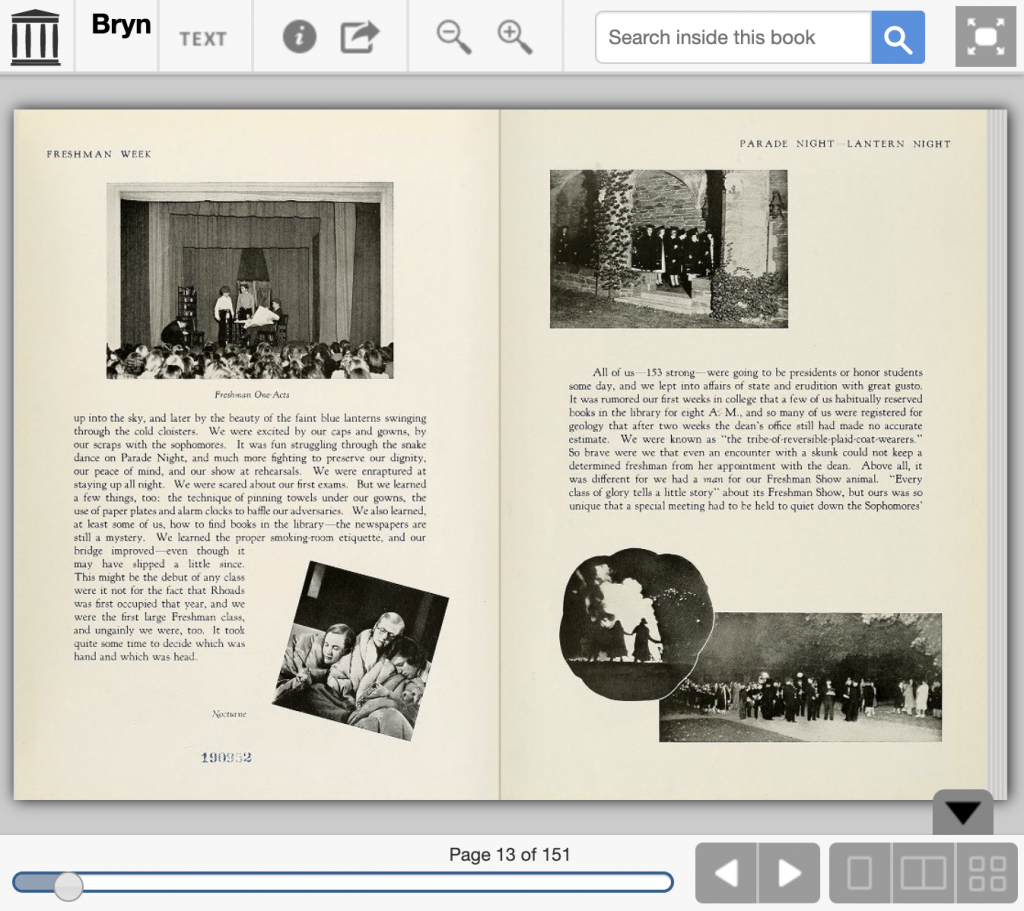 Read correspondence written by Bryn Mawr students during the 1918 Influenza Epidemic.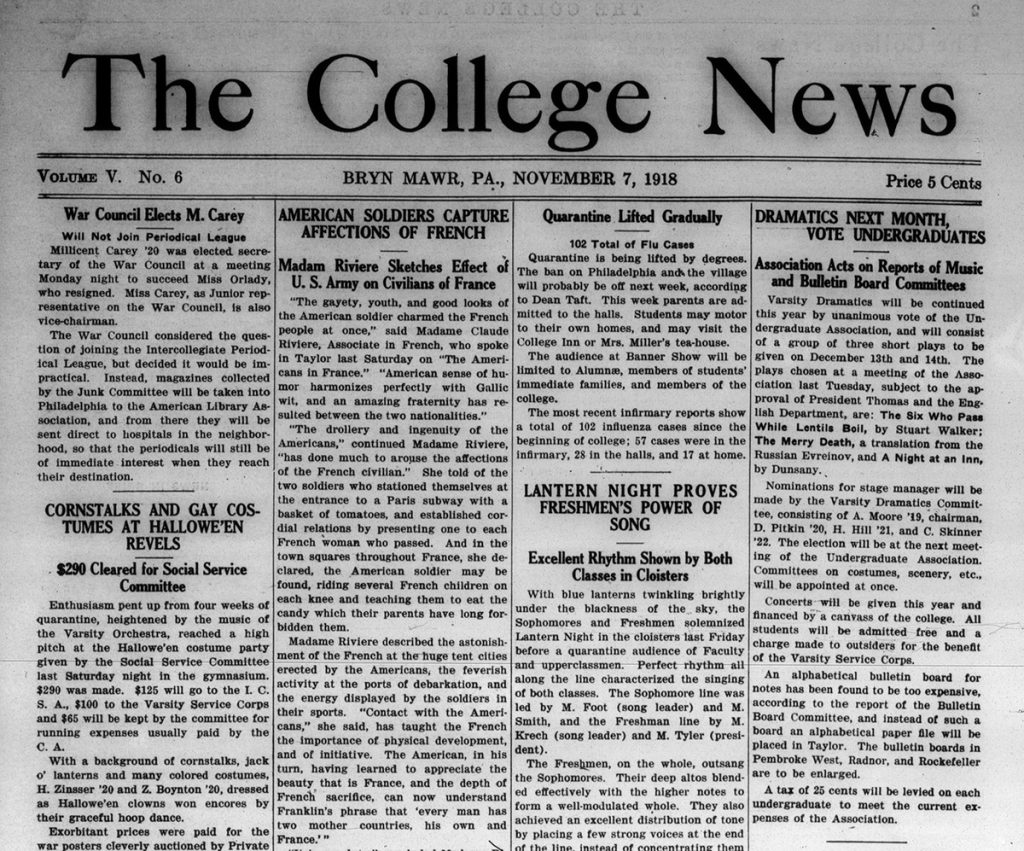 The new digital collections site isn't just a space for historical materials; you will also find new collections documenting current and recent experiences at the College. Documenting COVID-19 at Bryn Mawr College is a community-sourced archive of personal experiences and reactions to the pandemic. (You can submit materials to the archive here.) Over the next few months, look for more collections that document the 2020 Bryn Mawr College Strike and the history of Perry House, as well as oral histories with alumnae/i providing first-hand accounts of their experiences at Bryn Mawr.
We hope you will find TriCollege Libraries Digital Collections to be a powerful new tool in conducting research and exploring the history of the College.
Do you have questions or feedback about the new site?: Contact Special Collections via email or use this form.