The latest on what's happening in Special Collections at Bryn Mawr College
Updated: 1 hour 21 min ago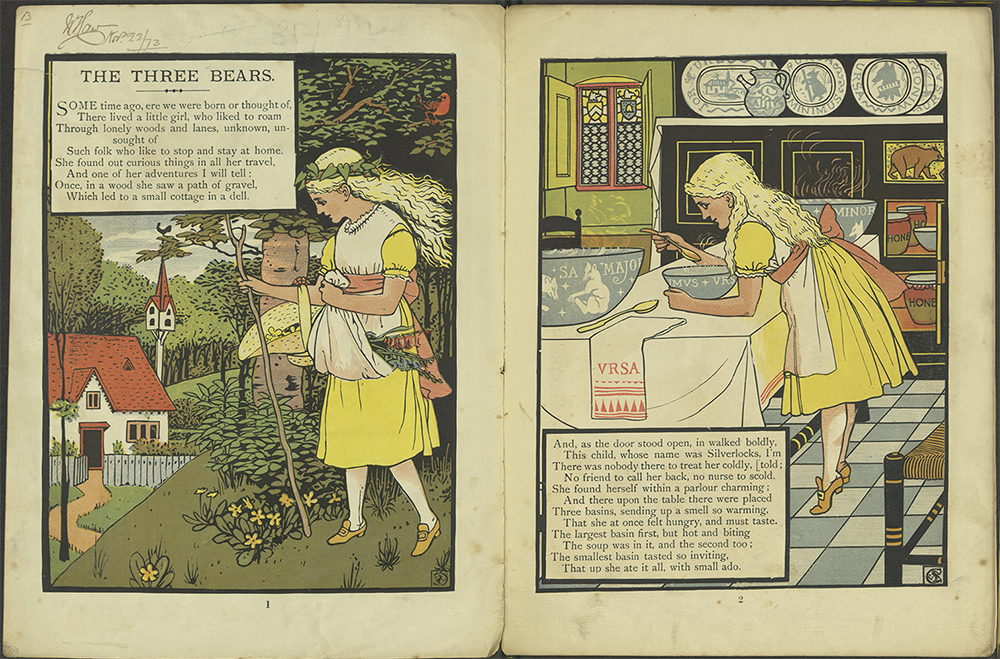 One of the books  Ellery Yale Wood collected was this glorious Three Bears, illustrated by Walter Crane in 1873. (Click on any image for a larger view.) It differs in a number of ways from the story of Goldilocks we all grew up with – and those differences are clues to the complex nineteenth-century history of this story.

The images Crane begins with are exactly what we expect – but the poem contains a surprise: the little girl is called Silverlocks. In the first printed version of the story (which seems to be a folk tale that was not recorded until after it took a literary form), the intruder is not even a child. England's Poet Laureate, Robert Southey, published "The Story of the Three Bears" in 1837. His intruder, who enters an unoccupied house, eats the occupants' food, breaks their furniture, and tucks herself into their beds, is an "impudent, bad old Woman," a vagrant who he says should be "taken up by the constable and sent to the House of Correction."
By the time Cundall's Treasury of Pleasure Books for Young Children appeared thirteen years later, the child trespasser was firmly in place in popular culture. He says the story is better known with "Silver-Hair" and he substitutes her into Southey's text. Thereafter a series of blonde girls, including Silver Locks, Golden-Hair, and eventually Goldilocks, imposed on the bears in an increasing number of illustrated books for children.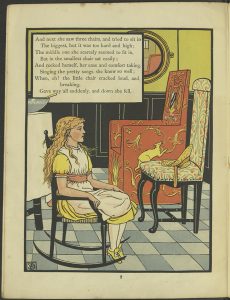 You probably remember that Goldilocks first tastes the porridge the bears have left on the table. She finds the first bowl too hot, the second bowl too cold, and the third bowl "just right." Similarly the chairs are too wide, too narrow, and "just right," and the beds too hard, too soft, and "just right." This pattern is nearly universal in both modern and older tellings of the story. In fact, the expression "Goldilocks principle" has come to be used for situations where a point in the middle of a spectrum is most desirable. For example, astronomers have the earth orbiting the sun in a so-called "Goldilocks zone" – a distance from a star in which a planet's temperature is neither too hot nor too cold for liquid water to exist.

But Crane's Silverlocks finds two of the soups "too hot and biting," two of the chairs uncomfortable in ambiguously different but not necessarily opposite ways, and two of the beds too hard. The reason for this is unclear. It is true that the story has been put into verse (by an unknown poet), but other versions in verse preserve the "two extremes and a compromise" pattern.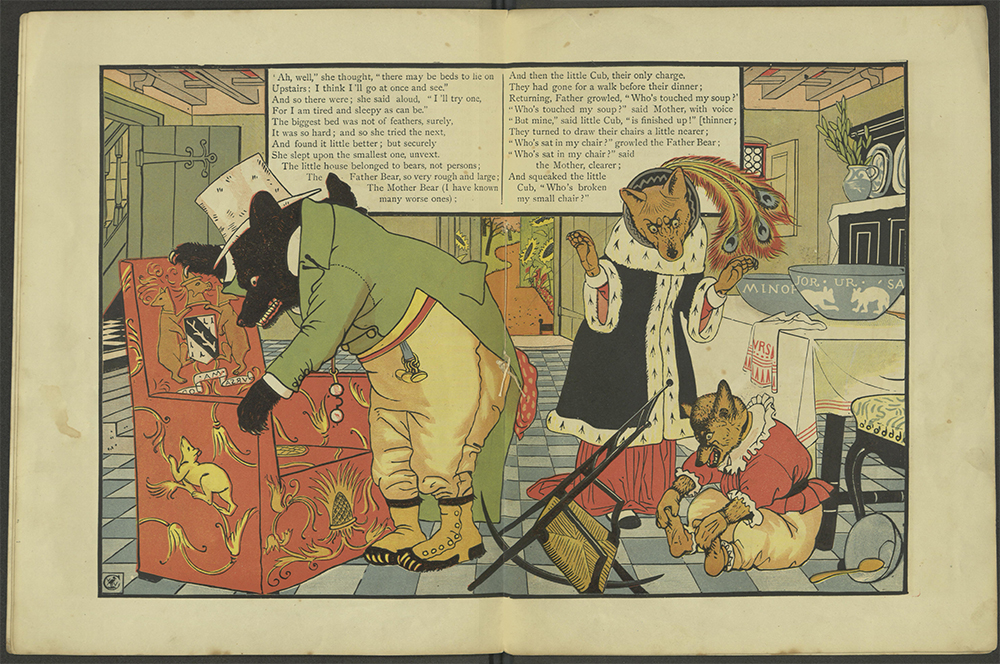 In this book it is only when the rightful inhabitants of the house return that we learn that they are "bears, not persons." In most re-tellings, the story starts with the bears and there is no surprise.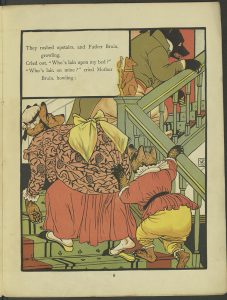 Of course Crane has been revealing this all along in his exuberant depiction of an Aesthetic Movement interior. The bears' coat of arms in the stained glass window and painted chair, the decorated cabinet, the table linens, the labeled blue and white bowls, and the newel post sculpture that references the heraldic ragged staff and bear of the Earls of Warwick, all point to the owners' nature.

In another way, though, Crane is firmly in line with modern practice. Southey's bears were a Great, Huge Bear; a Middle-sized Bear; and a Little, Small, Wee Bear and all of them were male. By the early 1850s they were often depicted as a large male, medium-sized female, and small cub, even when Southey's text was used. By the 1860s they were Father, Mother, and Cub, as they are in Crane's version.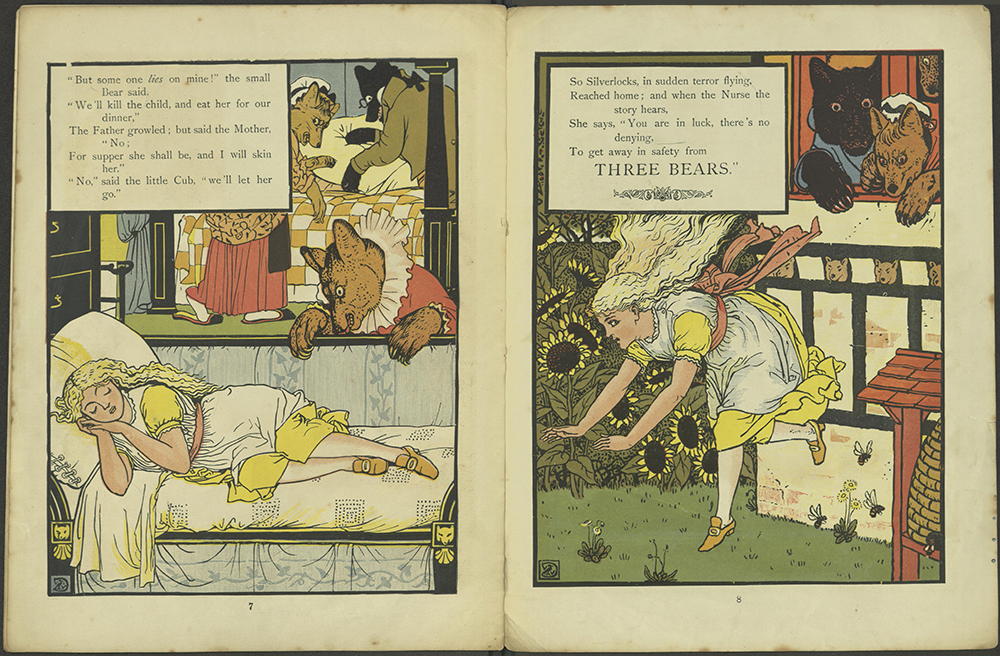 The frightening confrontation between the householders and the intruder was also in flux as the story settled into its modern form. Where Southey's bears stand and watch the old woman jump out the window as soon as she wakens, for the next 60 or 70 years, the ursine responses are less certain.

Crane's Mother and Father Bear dispute whether to eat Silverlocks for dinner or supper, and they are not alone among their contemporaries. In the 1893 Rays of Sunshine, for example, the bears intend to eat the intruder until they see she is a child, and become ashamed of their bloodthirstiness. The general trend is away from violence, but it is not a straight path, and in this book, Silverlocks' Nurse very reasonably tells her that she has had a lucky escape.
Crane, Walter, and Edmund Evans. The Three Bears. London: George Routledge & Sons, 1873.
Enjoy Crane's Three Bears on the Internet Archive. The College's copy of Southey's work is not digitized, but you can read his original story there as well.
With the continuing closure of the Library, we are blogging regularly about books from the exhibition, The Girl's Own Book. Please follow us on Facebook or subscribe here for notices of new blog posts.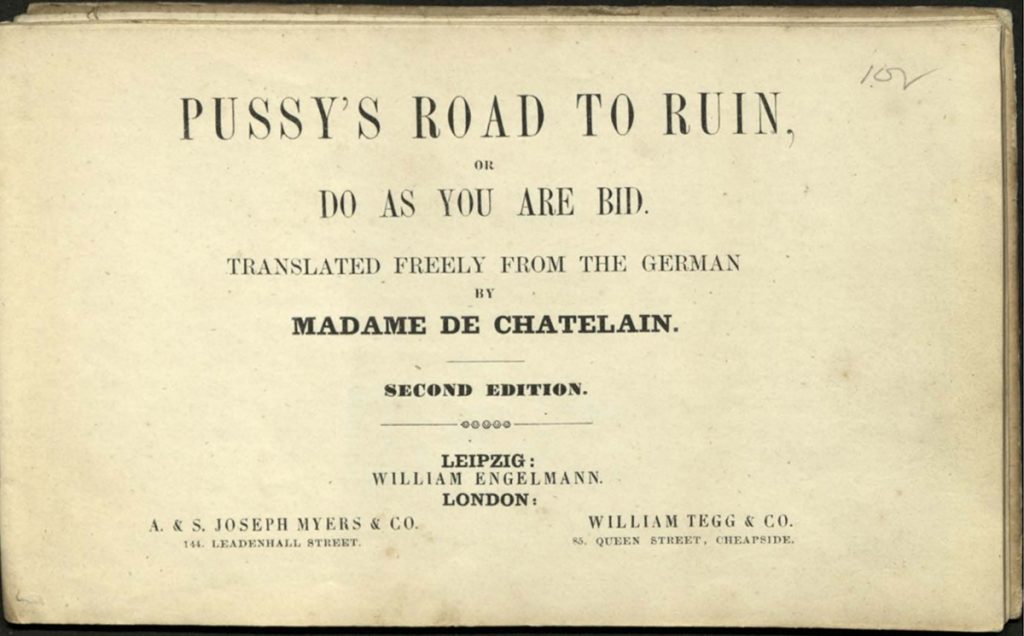 In a recurrent narrative arc in nineteenth-century literature, small acts of disobedience weaken the protagonist's moral resilience, lead to increasingly serious offenses, and then inexorably to crime and punishment. Boys tell fibs, are shunned by more ethical companions, join criminal gangs, and end their lives on the gallows. Young women play hooky from church, associate with undesirable and lower-class girls – then their even worse brothers – and end up pregnant, prostituted, and disowned. The defining characteristics of these tragic narratives are bad companions, downward social movement, degradation, and destruction,
With upper- and middle-class Regency and Victorian hesitation to discuss sex openly with girls and women, loss-of-purity narratives become loci of linguistic negotiation. Lydia Bennett's immoral connection with Mr. Wickham in Pride and Prejudice is characterized by her conventional sister Mary: "Unhappy as the event must be for Lydia, we may draw from it this useful lesson: that loss of virtue in a female is irretrievable — that one false step involves her in endless ruin — that her reputation is no less brittle than it is beautiful — and that she cannot be too much guarded in her behaviour towards the undeserving of the other sex." For younger readers, symbolism was more appropriate than even this circumlocution, and one common way to touch on charged relationships between adults was with stories about animals, especially cats.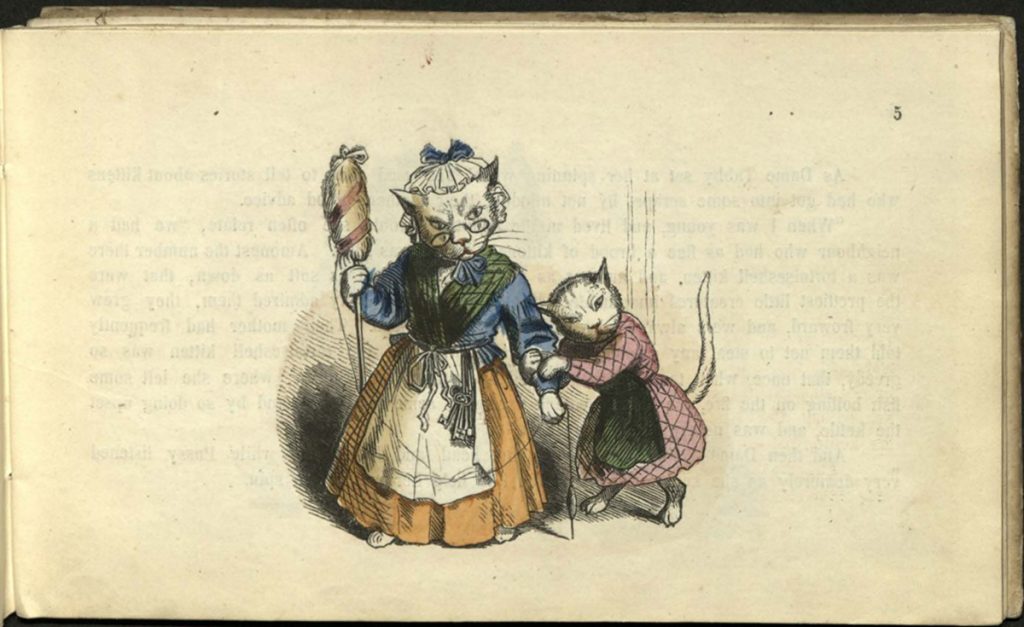 At the beginning of Pussy's Road to Ruin, Pussy is a model kitten. Her mother teaches her to purr when the children pet her, and absolutely not to scratch them. She helps with domestic work, and listens carefully to maternal good advice and cautionary stories about kittens who are disobedient, self-centered, and idle.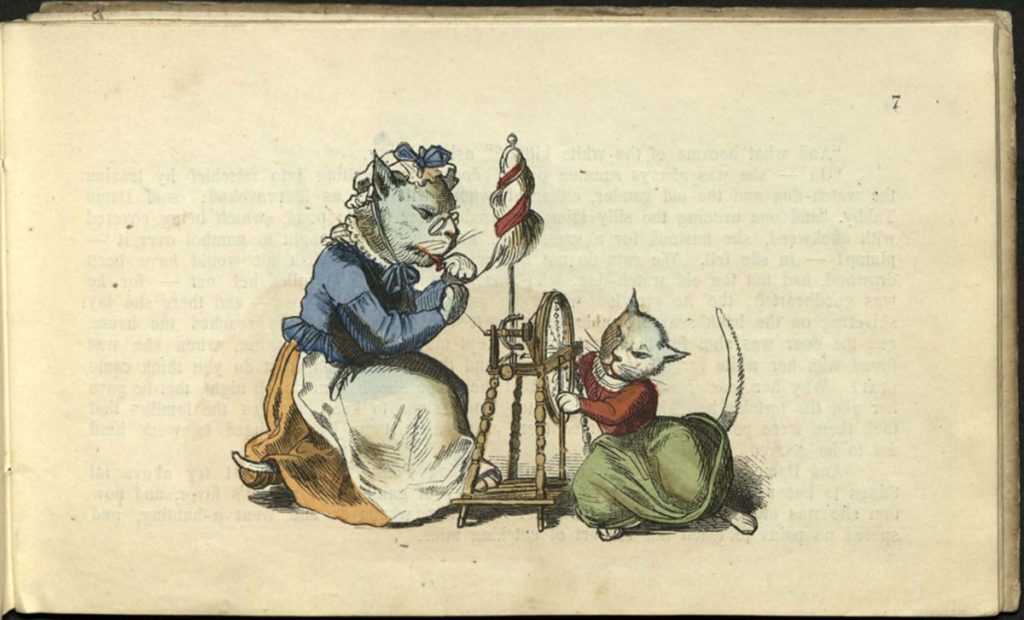 Above all, her mother teaches her to be industrious, to earn her place in the household, and to deserve the good opinion of their master by hunting mice.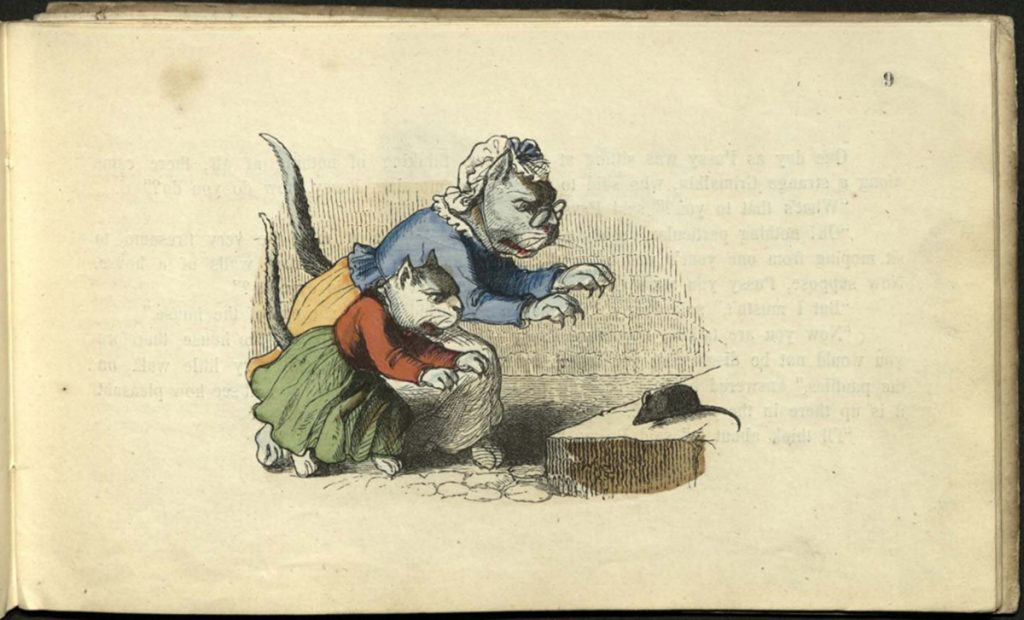 Unfortunately, Pussy is a typical teenager, and one day when she is wasting time on the stoop, a disreputable, older male cat ("a strange Grimalkin") chats her up.
Although she very properly rejects his casual familiarity to begin with, he invites her to meet him on the roof that evening. He begins his psychological assault by denigrating her style of life, disputing her interpretation of her mother's rules, and coaxing her with promises of enjoyment.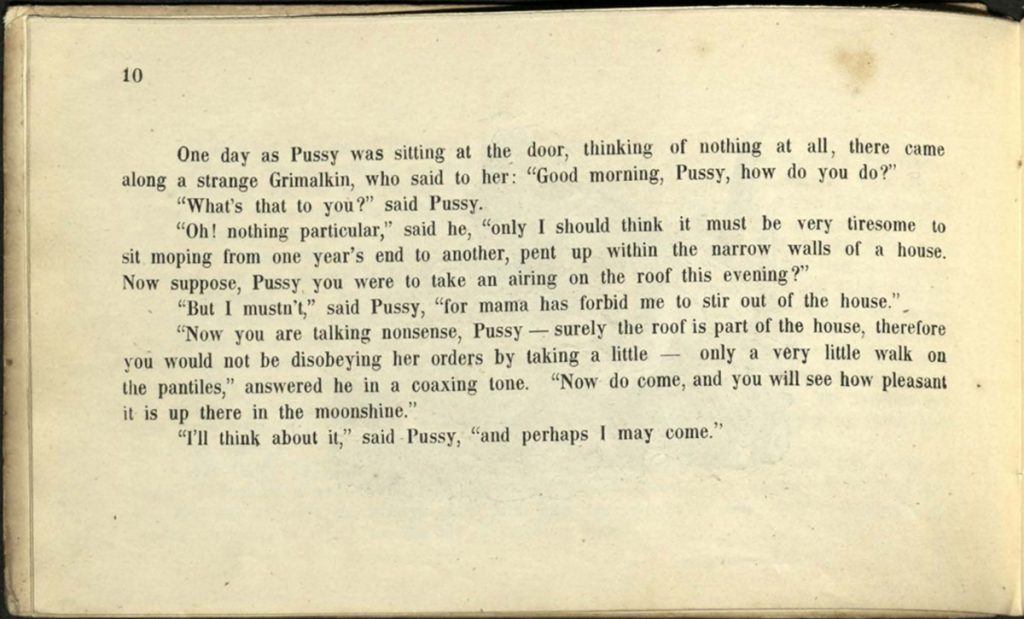 Pussy lets herself be persuaded, and they pass a pleasant hour, with the tomcat behaving like a gentleman.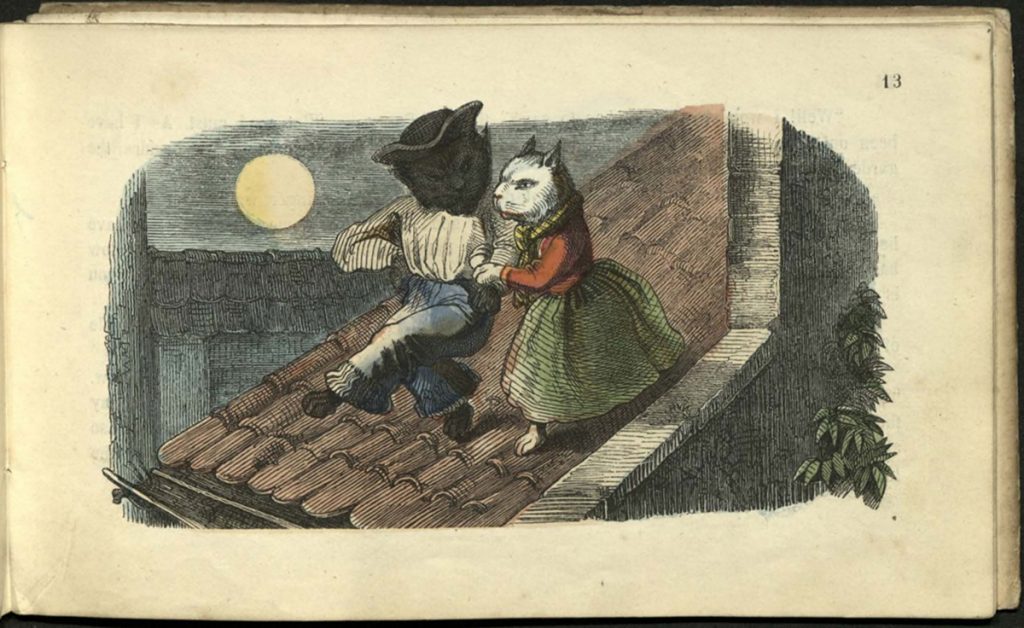 But like other manipulative males, as they part respectably, he sets Pussy up to comply with a less conventional request.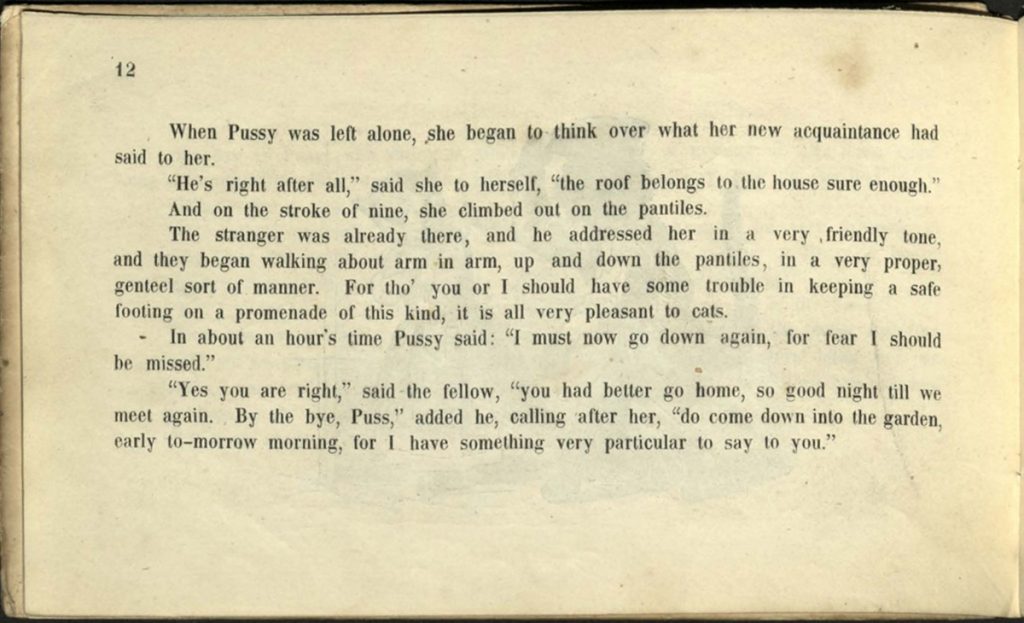 He induces Pussy to become his accomplice in killing a jackdaw. The following day,  guided by Grimalkin's advice on how tasty domestic chickens are, she undertakes two additional murders,.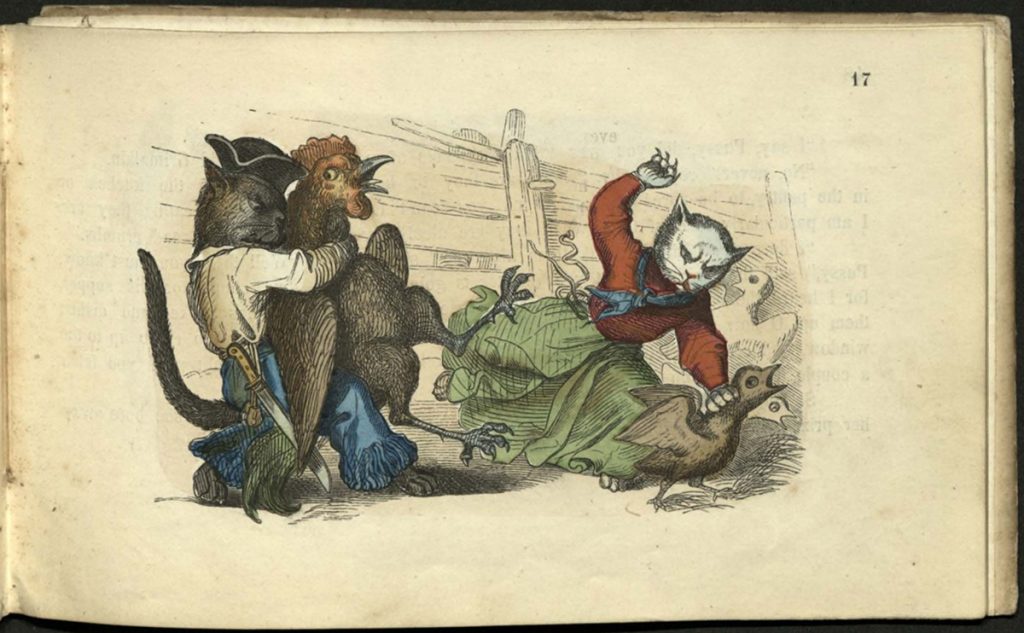 He convinces her to commit the more serious offense – his own role being to restrain the rooster – while claiming he is taking care of her well-being during this crime, imposing gratitude upon her and tying her to him emotionally.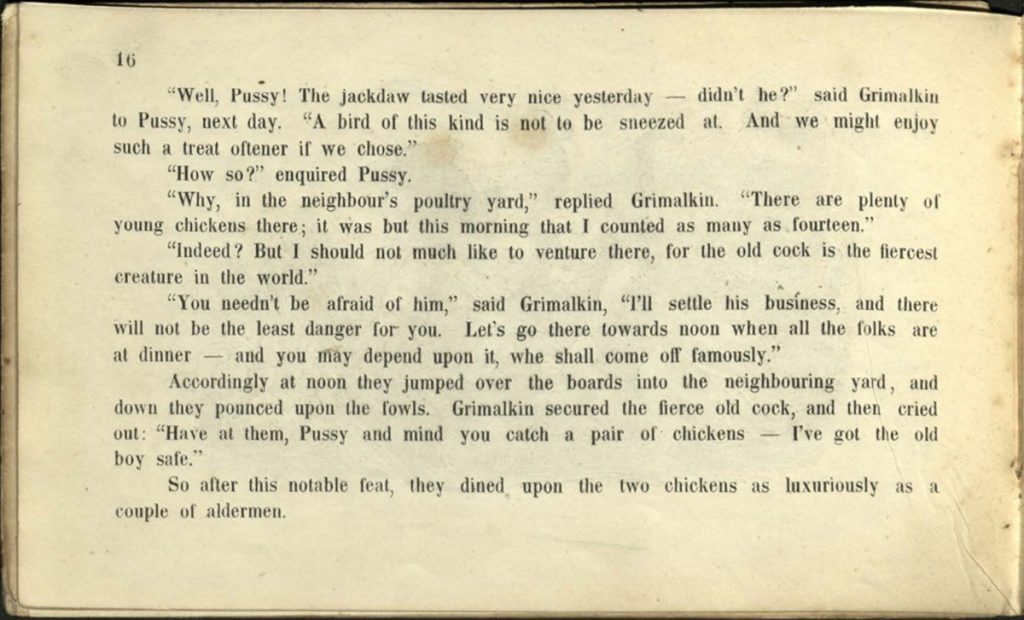 Next he suggests she take cooked mutton chops from the kitchen and later convinces her to steal a string of smoked sausages.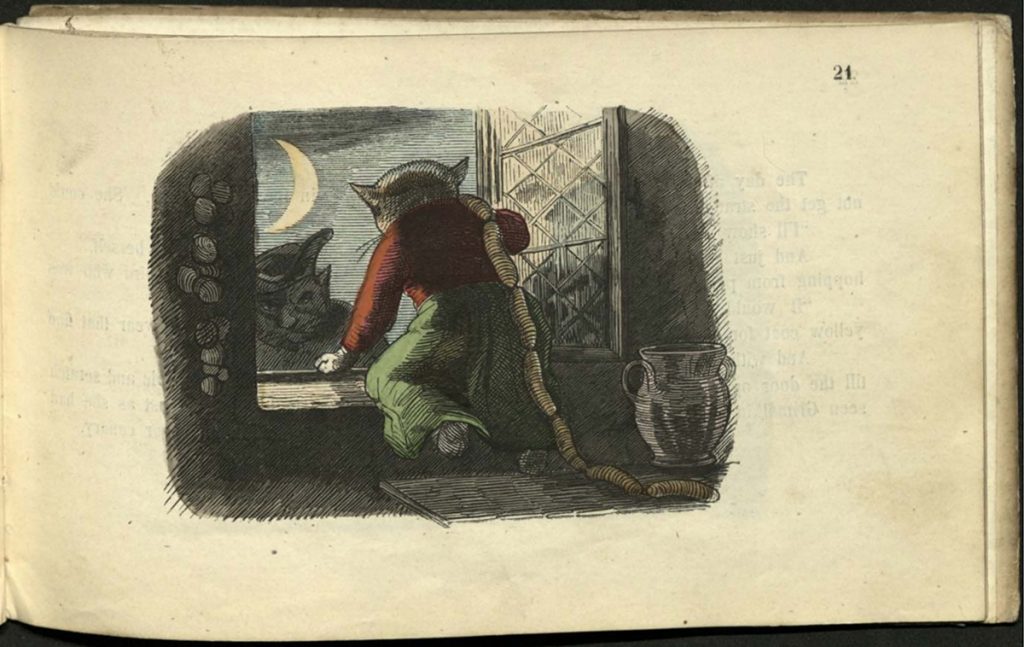 Meanwhile he establishes his authority by criticizing Pussy's knowledge and intelligence, and speaking abusively of her inexperience.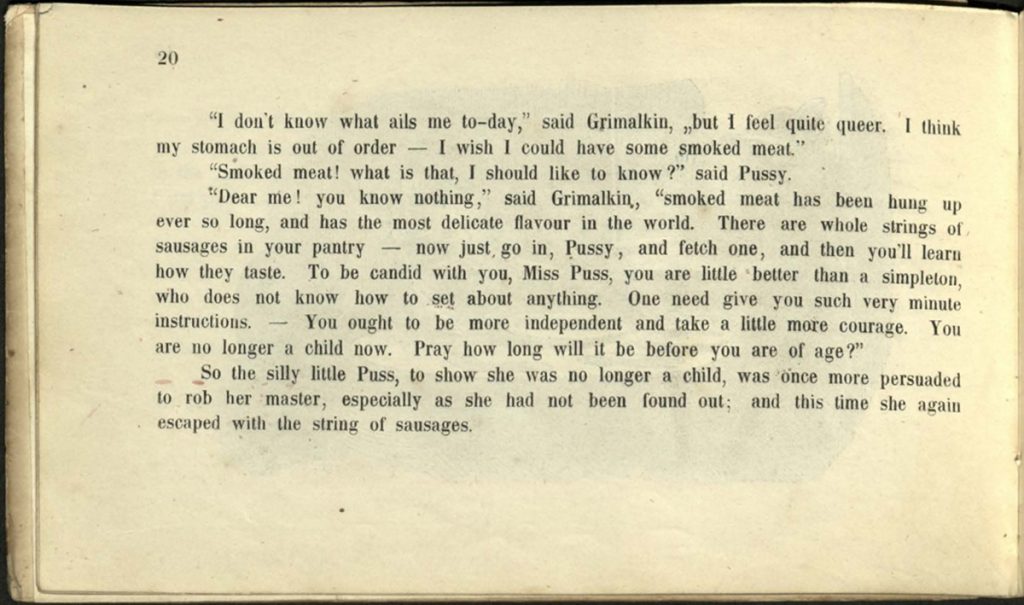 Like other young females, Pussy internalizes the criticism, and anxious to overcome her perceived inadequacy and gain his good opinion, she commits a crime on her own initiative, with only the recollected prompting of the unscrupulous Grimalkin.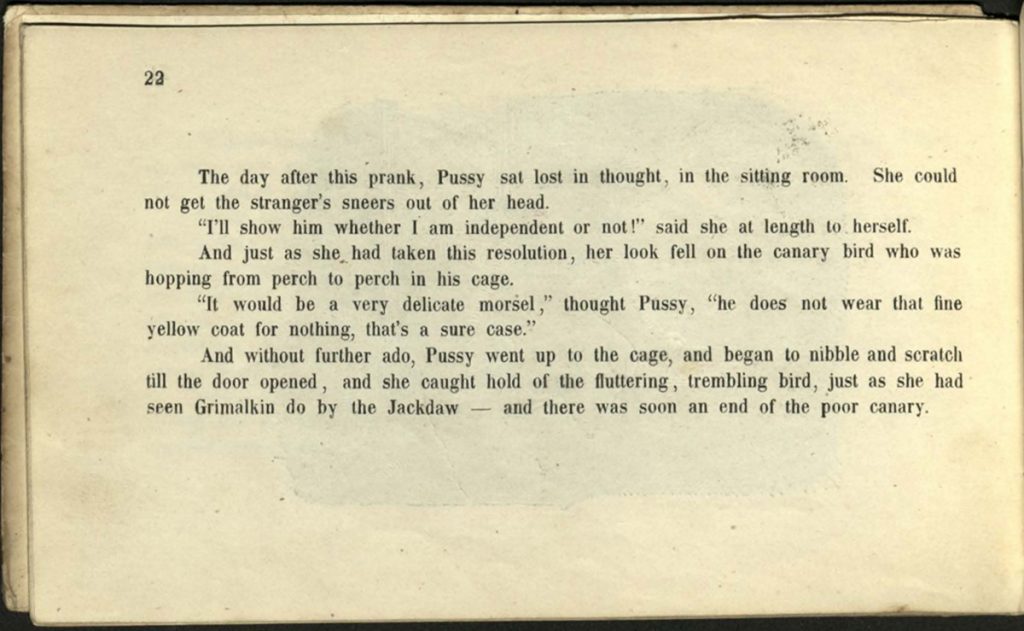 She kills the pet canary, perverting the skills her mother taught her to protect the household.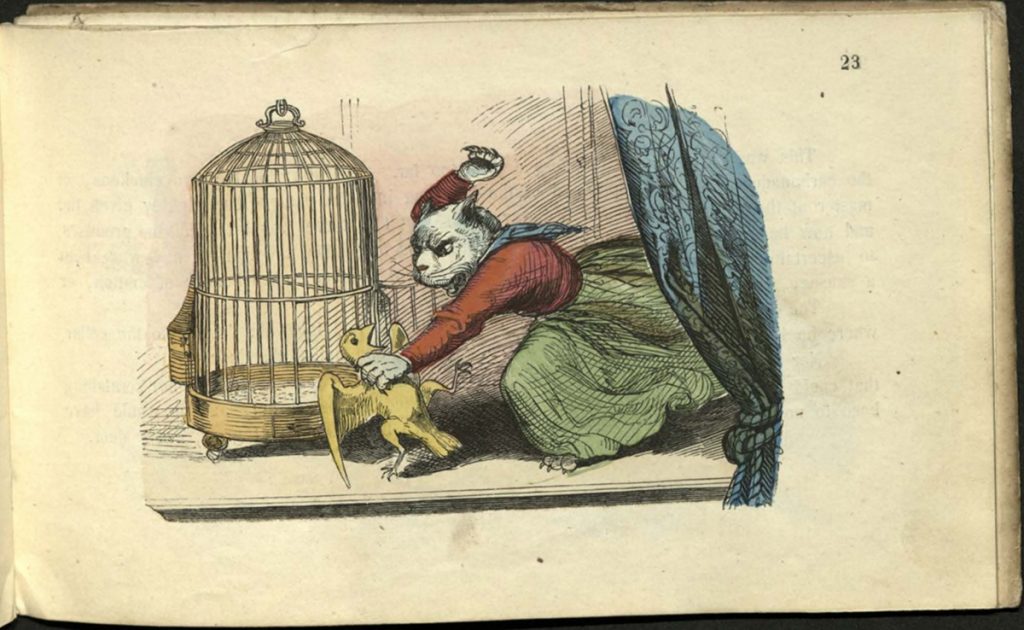 Of course, at this point the master of the house catches Pussy and incarcerates her in the cellar, where she is obliged to subsist on mice, rather than the fine food she has become accustomed to under the tuition of her deceiver. Grimalkin disappears, leaving Pussy to suffer her fate while he entices some other foolish young cat to do what she ought not.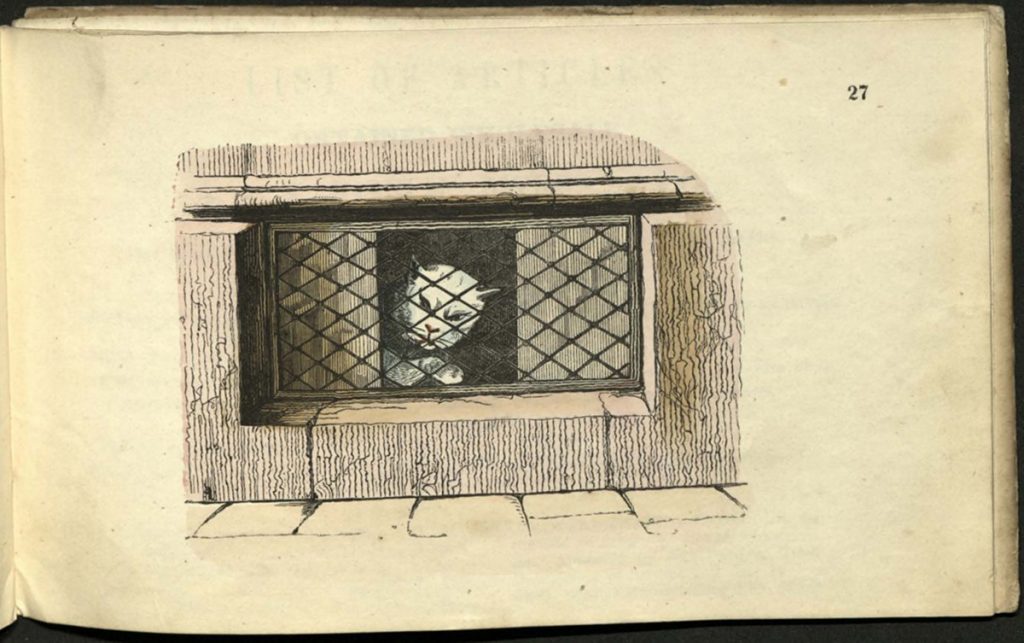 Thus Pussy reaps the certain fruits of having been too little guarded in her behavior towards the undeserving of the other sex. Whether this lesson can be learned by the juvenile reader – and whether she can translate the lesson about obedience into one of chastity – is left to the imagination.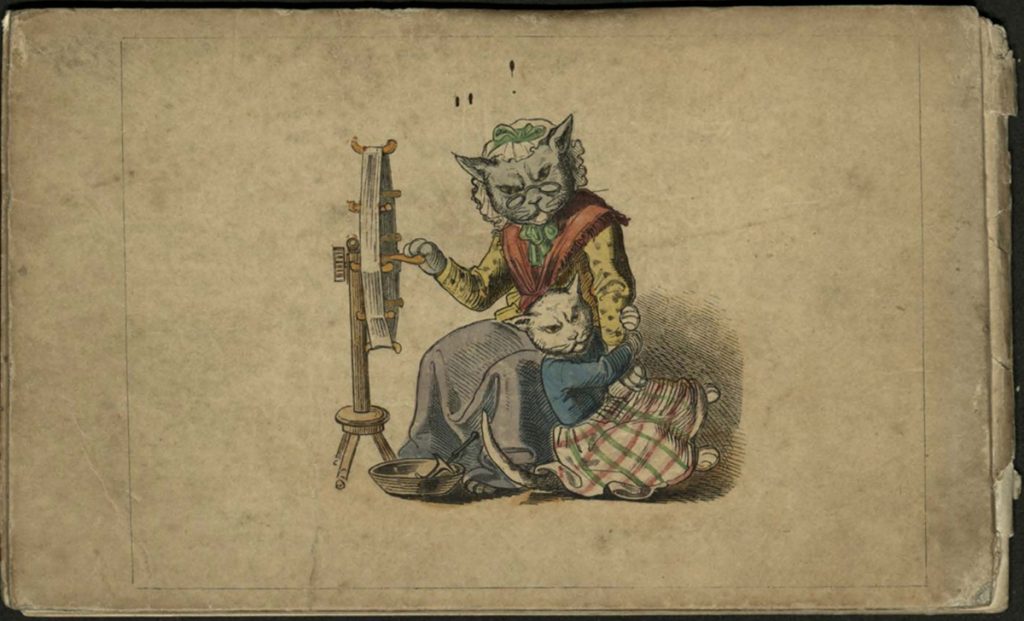 Our copy of Pussy's Road to Ruin can be read on the Internet Archive.
With the continuing closure of the Library, we are blogging regularly about books from the exhibition, The Girl's Own Book. Please follow us on Facebook or subscribe here for notices of new blog posts.
Clara de Chatelain. Pussy's Road to Ruin, or, Do as You are Bid. Leipzig: W. Engelmann; London: A. & S. Joseph Myers, 1840. 2nd ed.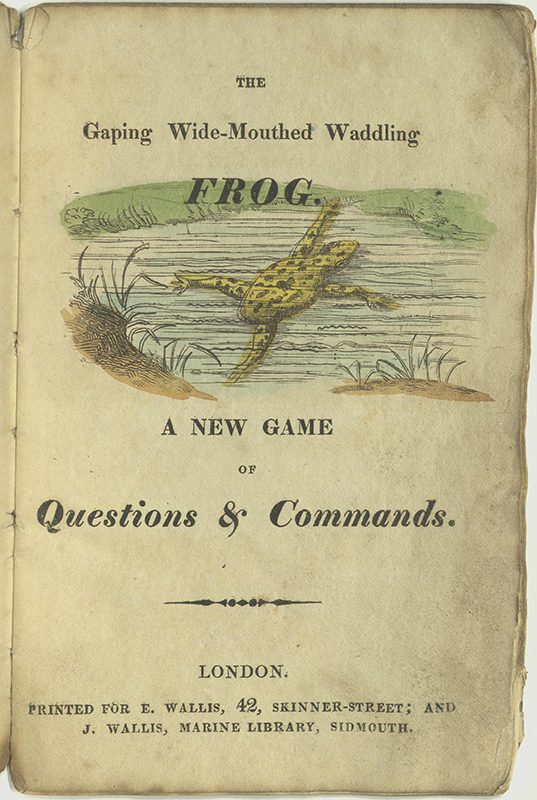 In April 1819, Mrs. Wake inscribed her gift to young John Challis – a copy of The Gaping Wide-Mouthed Waddling Frog: A New Game of Questions & Commands. John carefully wrote his name in pencil on the first illustrated page. These are facts. We have to imagine, though, what happened when John gathered friends and family to play the "new game."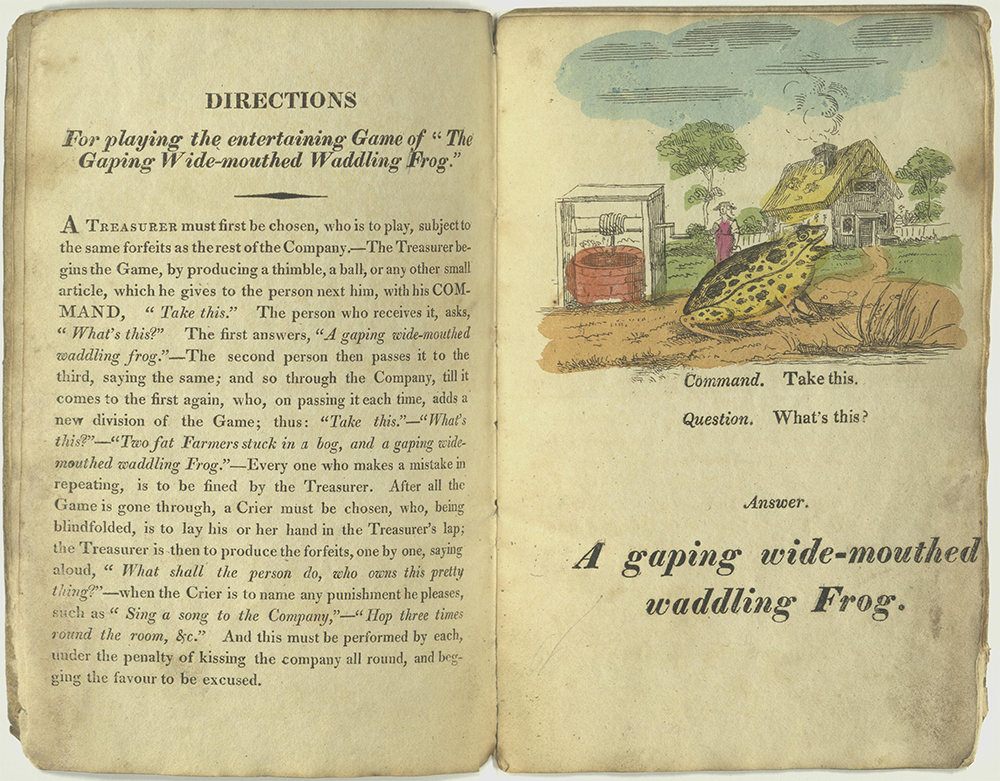 Following the instructions in the book, they chose a Treasurer, perhaps John's sister Lettice (who wrote her own name in the book sometime later). She took a thimble from her reticule, handed it to the child to her right and said, "Take this."
The little neighbor asked, "What's this?"
And Lettice replied, "A gaping wide-mouth, waddling Frog." Each player, in turn, passed the thimble to their right, and the same dialog was exchanged between each pair.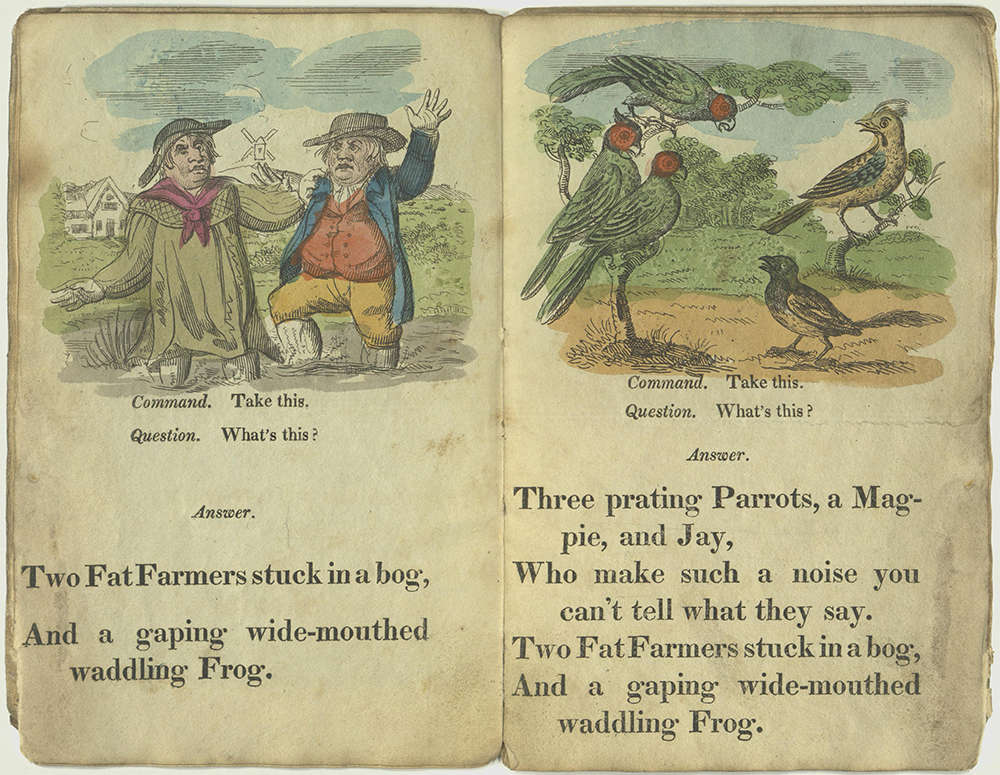 When the thimble got back to Lettice, she handed it to her neighbor again, but her response to "What's this?" was now "Two fat farmers stuck in a bog, and a gaping wide-mouth, waddling Frog." And the game proceeded round and round, adding a line or two with each repetition.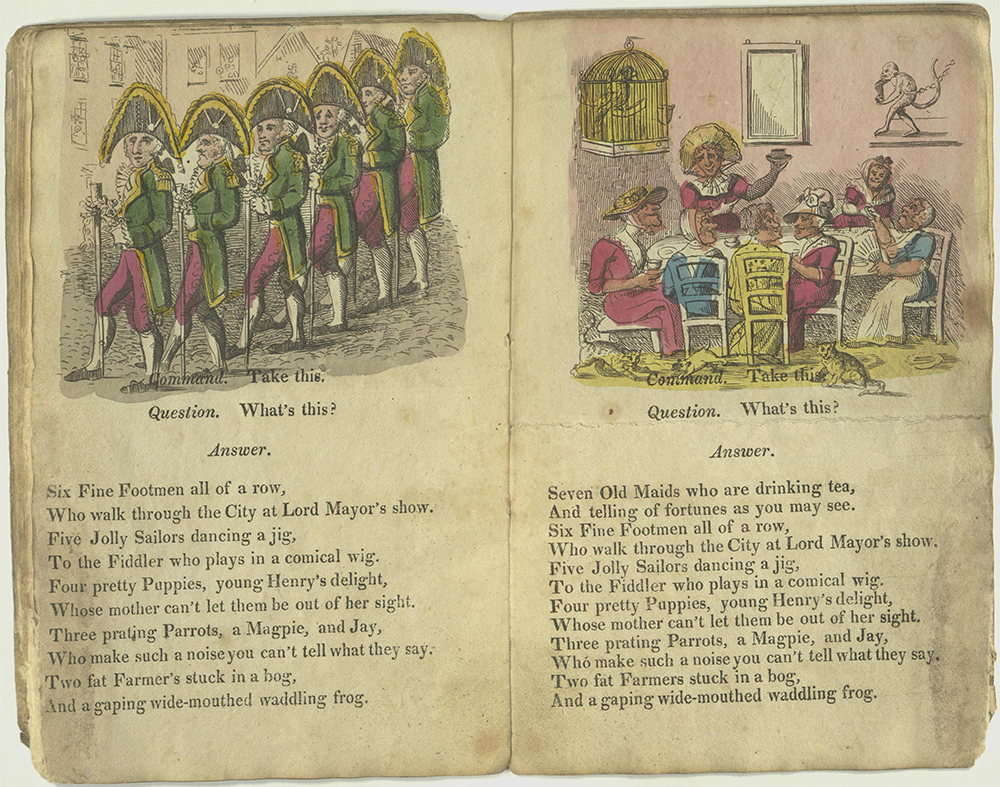 Every time a player made a mistake, they had to hand over some trifling item – a forfeit – to the Treasurer. When the memory part of the game finished, the forfeits began. A Crier was chosen, and blindfolded. Lettice picked one of the objects, a handkerchief or a ring perhaps, and asked the crier to name a punishment for the owner. The assigned tasks were supposed to provoke enjoyment for all; the person had to sing a song or hop around the room or recite a tongue twister in order to retrieve their possession.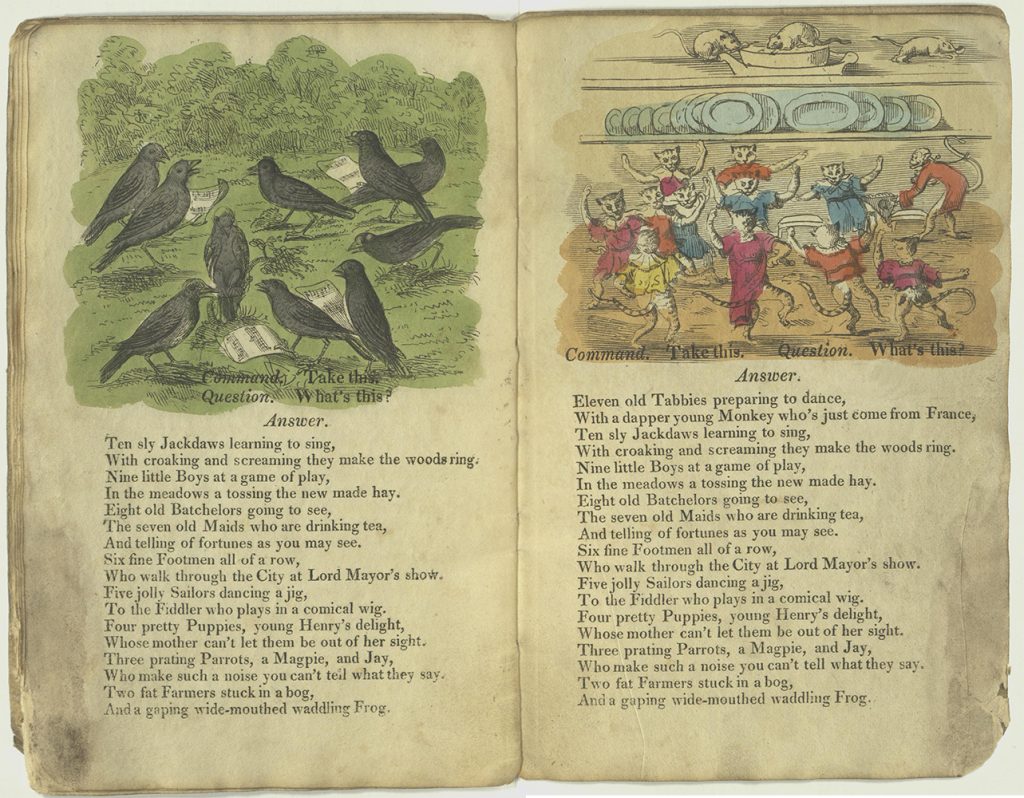 There was a fashion in the eighteen teens for children's books presenting cumulative rhymes as competitive games. Edward Wallis offered not just The Frog but also The Pretty, Young, Playful, Innocent Lamb and The House that Jack Built between 1815 and 1818. At the same time, John Marshall supplied The Hopping, Prating, Chatt'ring Magpie; The Pretty, Playful, Tortoise-Shell Cat; The Frisking, Barking, Lady's Lap-Dog; and The Noble, Prancing, Cantering Horse. All are subtitled A New Game of Questions and Commands.
This raises two questions: where did these poems suddenly come from, and why are they called a new game of questions and commands?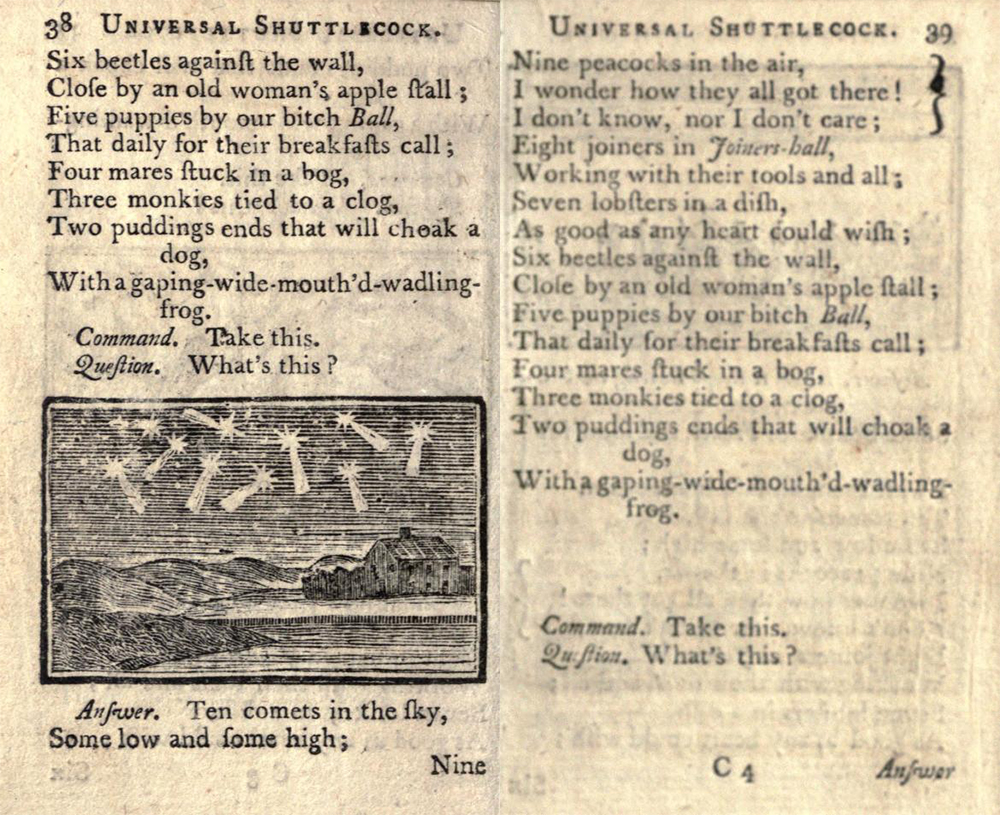 A poem called "The Gaping Wide-Mouthed Waddling Frog" first appeared in The Top Book of All, for Little Masters and Misses in 1760, then in 1790 in The Universal Shuttlecock, and around 1800 in Mirth Without Mischief. Surprisingly, the poem Wallis printed differs from the earlier texts. Both versions begin with the familiar frog, but then the texts diverge. Of course, Wallis (or whoever wrote the poem for him) knew the original verses, but chose not to use them. Likewise, all the other poems were original works created by Wallis or Marshall to offer variety for the market they had created. Only "The House that Jack Built" (first printed in 1755 as a poem, although not a game) contains a traditional text.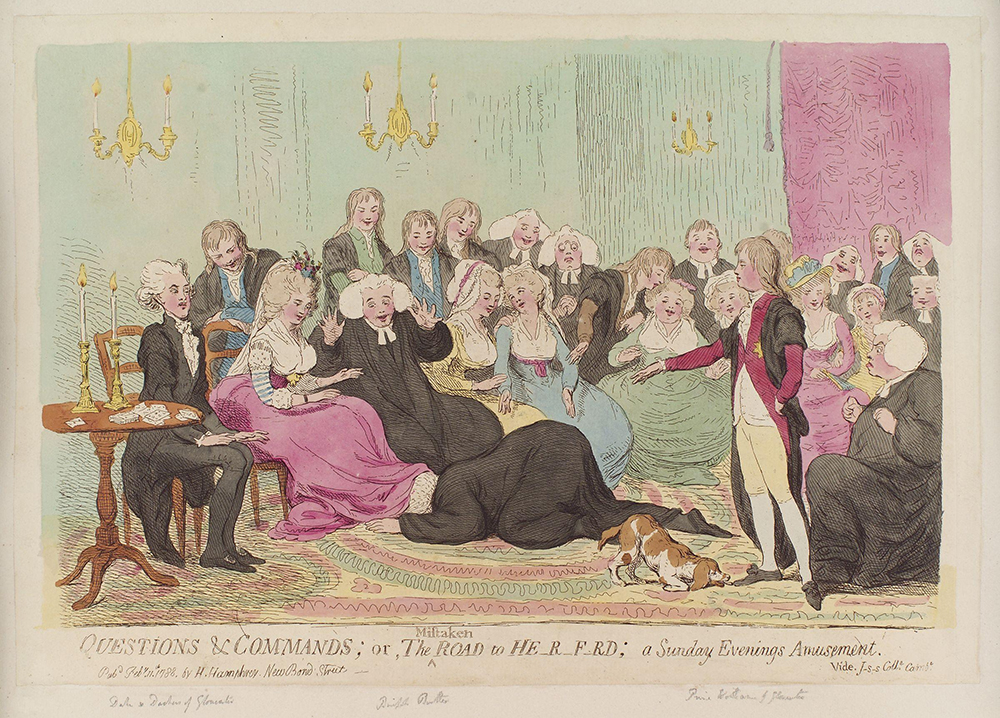 That leaves the issue of "Questions and Commands." In 1711, in an issue of The Spectator, Joseph Addison included the game among a list of innocent amusements for a winter night. And in The Vicar of Wakefield (1766), the family plays blind man's buff, hot cockles, hunt the slipper, and questions and commands at a Michaelmas Eve party. It turns out to be an 18th-century parlor game, played by adults as well as youngsters: A "commander" asks each player a question. If they refuse to respond, or if the answer does not satisfy the other players, the commander names a punishment. It is easy to see how, like the redemption of forfeits in our book, this game could lead to hilarity, but also to humiliation and ill will. A cartoon by James Gillray, from 1788, depicts a range of responses to a saucy forfeit requiring a gentleman to stick his head under a lady's dress, perhaps to kiss her foot.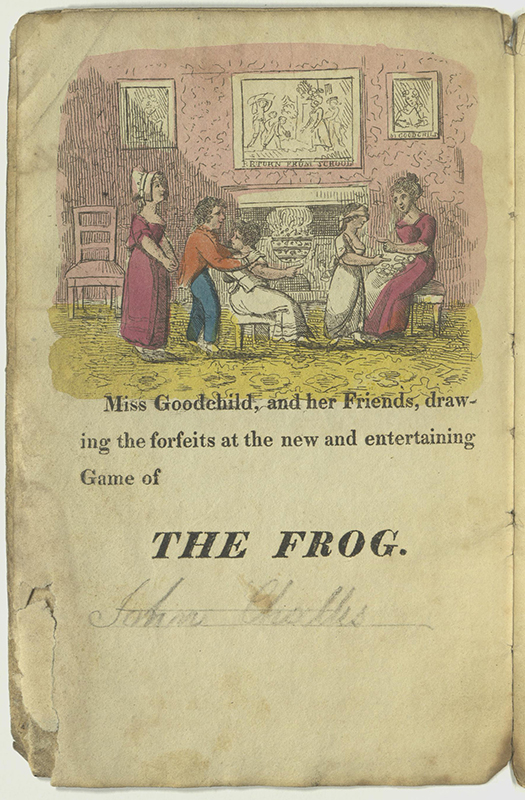 The forfeits are the essential feature, then, on which the subtitle New Game of Questions and Commands is based. We cannot tell if it was Wallis or Marshall who thought of linking back to an old-fashioned game that was not really very appropriate for their young customers, but it must have been a successful branding decision, since they both retained it in repeated printings of their books.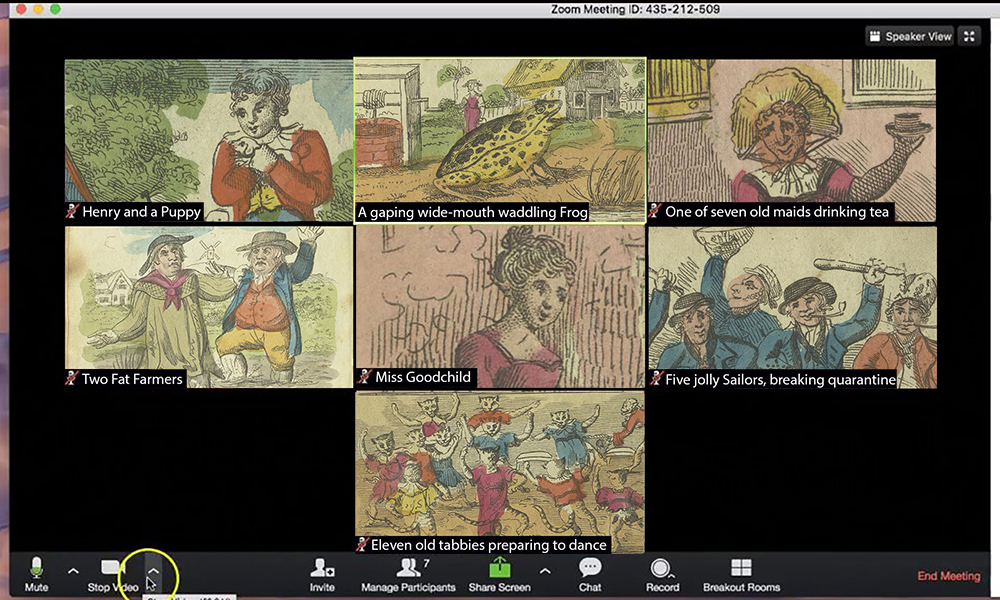 What about an even newer game of questions and commands? In this time of making one's own fun and remote socializing, I've been considering playing The Frog on Zoom. Can modern players learn the poem by hearing it repeated? Do I have to be able to recite it perfectly to lead the game? How many of my friends would google the poem, find our scanned book on the Internet Archive, and cheat? What are the forfeits like in a digital age – do you still command someone to sing, or should they cue up a karaoke video? (The host of a Zoom meeting can mute an attendee, so it couldn't be too bad.) Do they have to share the eighth picture from their camera roll or pictures folder? Must they say three times a tongue twister the host sends them by chat?
If you play the game, please report back!
Marianne Hansen, Curator of Rare Books and Manuscripts
The Gaping Wide-Mouthed Waddling Frog. A New Game of Questions & Commands. London: Printed for E. Wallis, and J. Wallis, 1817.
Read our copy on the Internet Archive.
With the continuing closure of the Library, we are blogging regularly about books from the exhibition, The Girl's Own Book. Please follow us on Facebook or subscribe here for notices of new blog posts.
Thanks to the work of our web services team, you can now subscribe by e-mail or RSS for musings, news, and updates from Bryn Mawr College Special Collections. Hit the link at the top of the page (just below the image), and never miss a post.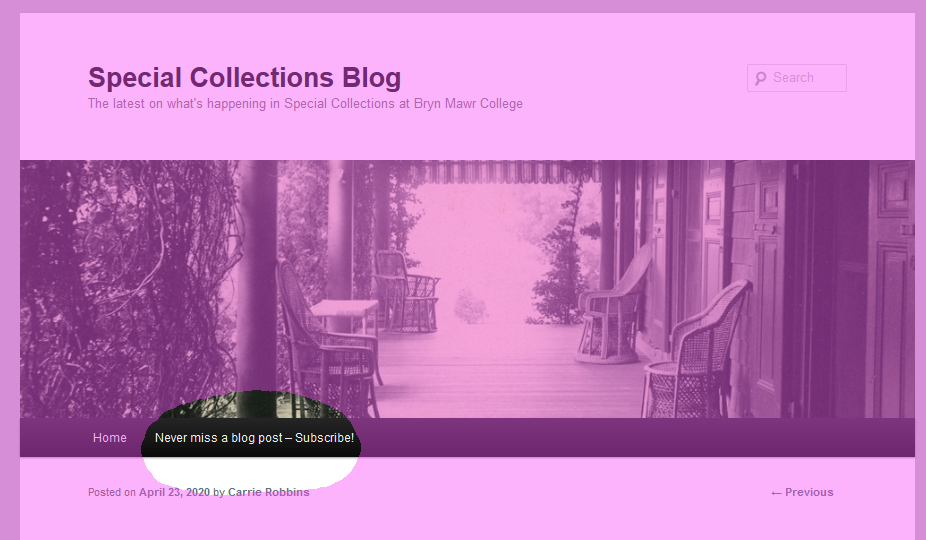 We are setting up a subscription button for this blog. Please excuse this temporary test.

Special Collections remembers Dr. Jane Martin (Class of 1953, MA 1958), the generous donor of a significant collection of African Art and related papers from her professional work in Liberia, who died on April 14. After graduating from Bryn Mawr with two degrees, Martin went on to earn her PhD in African History from Boston University in 1968. Her research focused on the Glebo of Eastern Liberia, and many of her interests there are reflected in the archives she donated to the College, including material on specific individuals in the Kru tribe, African women and their roles in education and society, and governmental and non-profit organizations in Africa.
Martin lived and worked in Africa for several years, teaching African History at the University of Calabar in Nigeria and the University of Liberia in the 1970s. Her papers demonstrate her careful thinking about how to teach history and what to teach, as well as research interviews she conducted during this time. From 1984 to 1989, she was Executive Director of the United States Educational and Cultural Foundation in Liberia, administering the Fulbright Program and other cultural exchange programs. She was a strong advocate for binationalism between the US and Liberia for all of her life, continuing this work at the African-American Institute in New York, when civil war forced Martin to leave Liberia in 1989.
Throughout her travels in Africa, Martin collected a wide variety of art and cultural objects, some 150 of which she donated to the Art & Artifacts Collection at Bryn Mawr. These include Ndoli jowei masks danced by women of Liberia's Sande society, Ashanti gold weights, baby carriers, toys made by the artist Saarenald T. S. Yaawaisan from recycled flip-flop sandals, and a Baule Chief's chair. She documented her collecting with various field notes, photographs, and correspondences, all of which serve to enrich the gift of objects immeasurably.
Works from Martin's Collection have been featured in exhibitions organized by students since their arrival at the College in 2016, including On Selecting: Profiles of Alumnae Donors to the African Art & Artifacts Collection (Spring 2017) and Mirrors & Masks: Reflections and Constructions of the Self (Spring 2017). These materials are regularly used in courses across a variety of fields at the College.
To learn more, visit:
The Jane Martin Papers Finding Aid in College Archives
Until the end of the eighteenth century, moral literature for the young focused primarily on religious instruction. But changing ideas about childhood resulted in new parenting styles, with increasing emphasis on empathy, reason, and psychological reward and punishment. Books for children began to speak openly of earthly as well as heavenly rewards for good behavior – happiness, parental love, social approbation, and gifts and treats. Naughtiness, similarly, resulted not only in eternal damnation but also in rebuke, deprivation, social isolation, corporal punishment, injury, and even death. Although many of these books also contained religious instruction, morality and behavior drove much of the narrative, rather than piety and belief.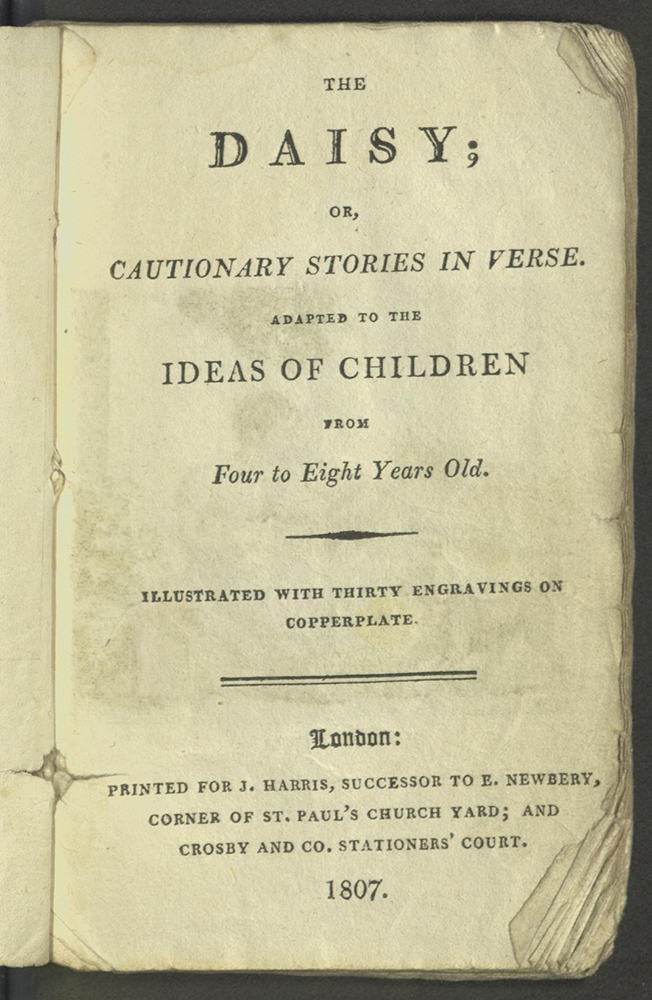 The most successful book of this sort was The Daisy, or, Cautionary Stories in Verse: Adapted to the Ideas of Children from Four to Eight Years Old, attributed to Elizabeth Turner. First published by John Harris in 1807, it was reprinted in England and America throughout the nineteenth century. Half the poems are about good children who are obedient, kind to their pets and their siblings, speak courteously, study hard at school, and are benefactors of the poor. But the more interesting narratives are driven by conflict, and the most memorable characters are ill-behaved. The Daisy is famous for bad things happening to barely naughty people – burned, poisoned, drowned. It is the epitome of the alarmist books that were parodied first by Hoffman's Struwwelpeter, and later by Gorey in the Gashlycrumb Tinies. To the 21st-century reader it seems absurd to have threatened such dire outcomes of typical childish misbehavior, especially for such a young audience.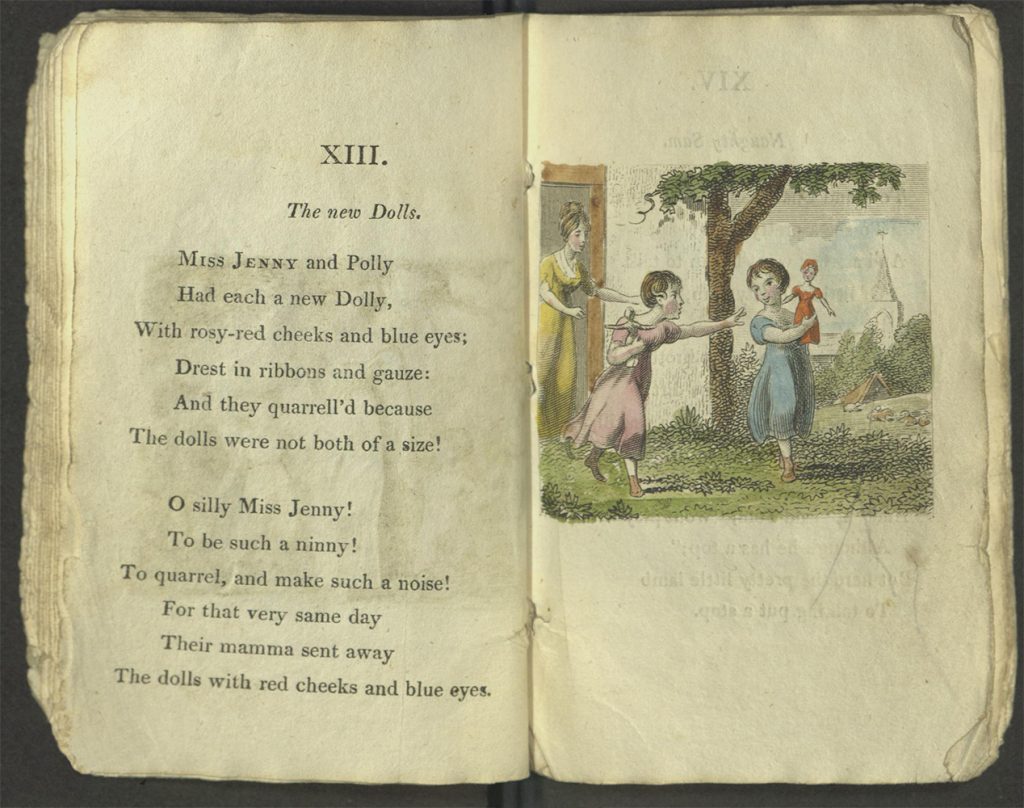 Some of the infractions and punishments do seem reasonable, even to modern feelings. Sisters Jenny and Polly fight over whose new doll is bigger – and their mother takes the dolls away from them.
Social pressure is another familiar motive for moral improvement. Miss Peggy is reformed from throwing tantrums by the humiliation of having a gentleman come into the house to learn what all the screaming is about.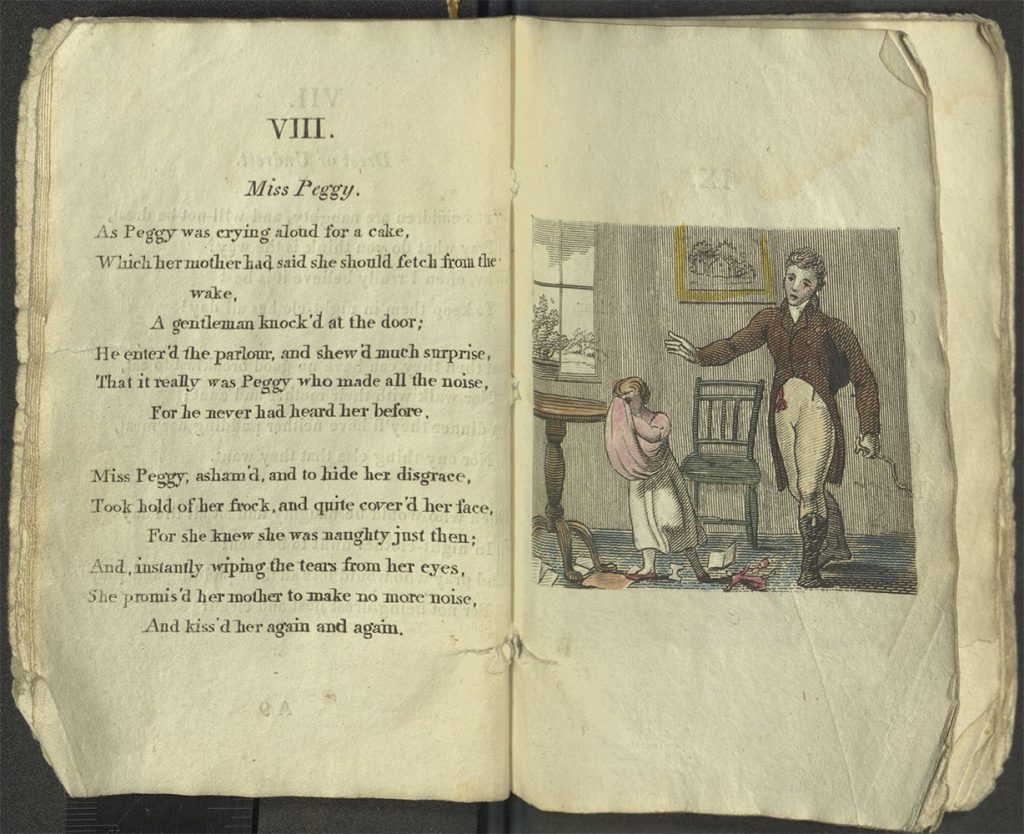 We are not, of course, always sympathetic to 19th-century sensibilities. In "Falsehood Corrected" Jacky ties a brick to the cat and drowns it. But he is punished for lying about it – and not for having murdered the family pet.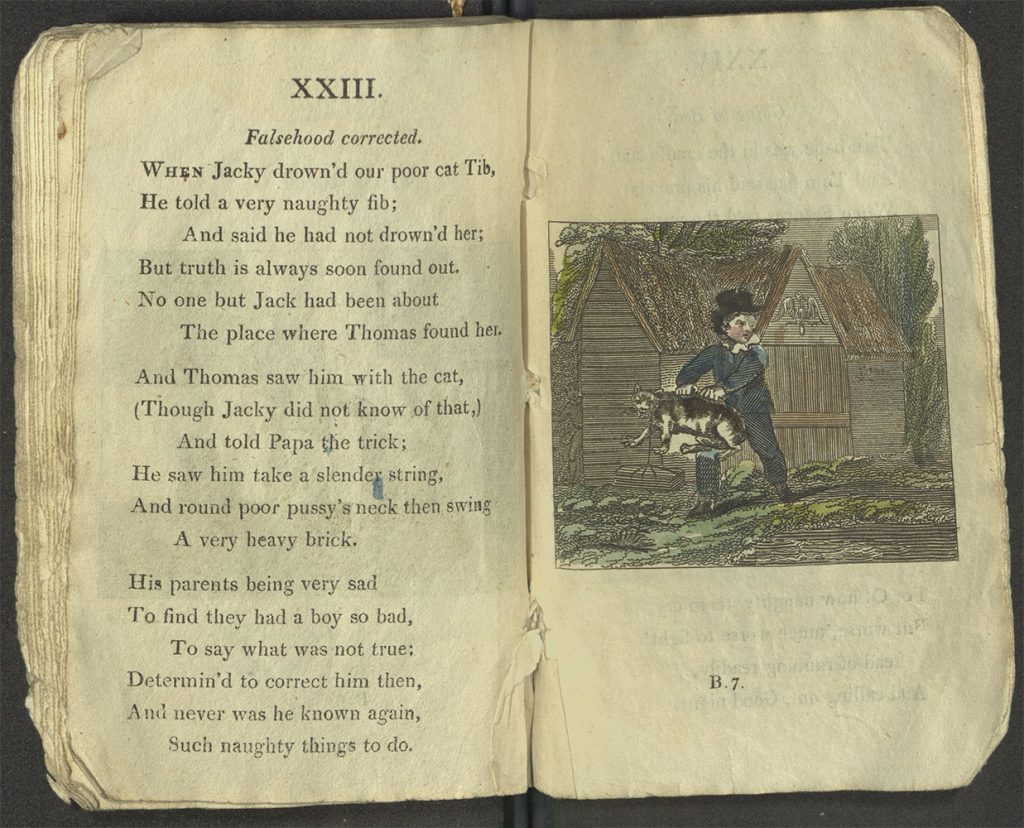 Strangest to us are the childish infractions which result in serious injury or death. Miss Sophia neglects her schoolwork and climbs a gate she knows she shouldn't – and is injured in falling from a gate "as high as any door."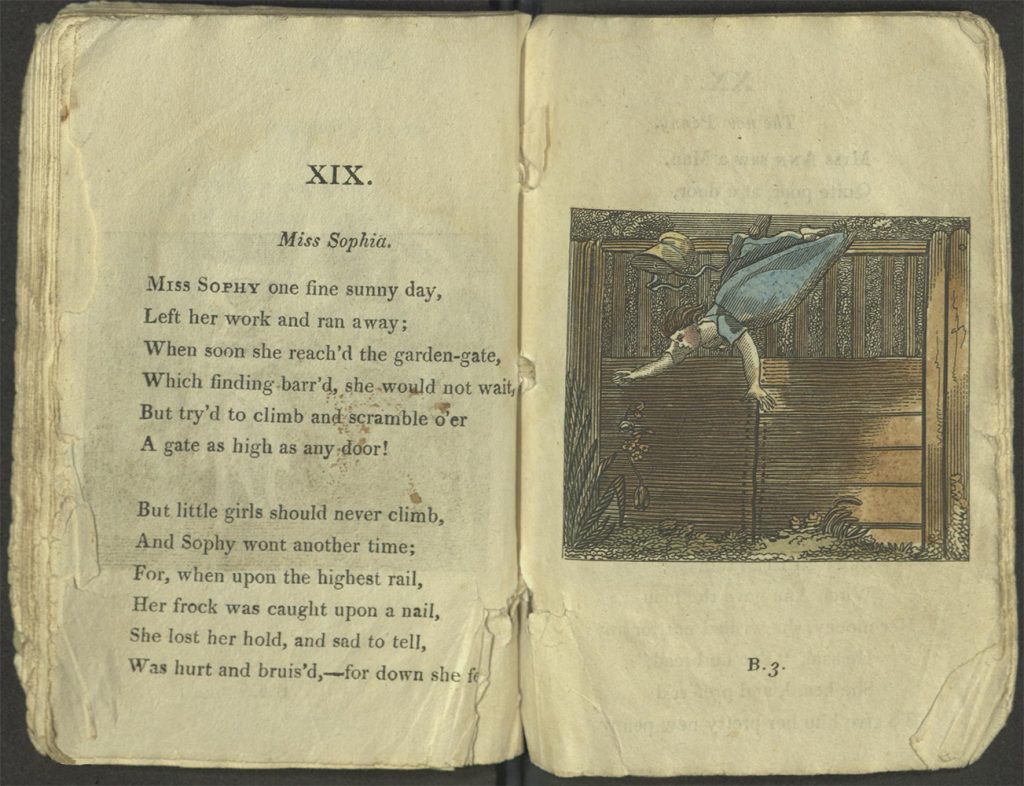 Meanwhile, Peter warmed a fireplace poker to red heat, and waved it around until he burned himself – but he would not have been injured if he had obeyed his mother. Disobedience is the greatest, and underlying, offense in most of these stories. Besides recording actions that are inconsiderate, bad-tempered, or foolhardy, the poems stress that the children are doing what they had expressly been told not to do. Even "modern" 19th-century parents, who sympathized, and empathized, and relied upon discussion and reason in correcting their children, felt that those children should obey them immediately and without question.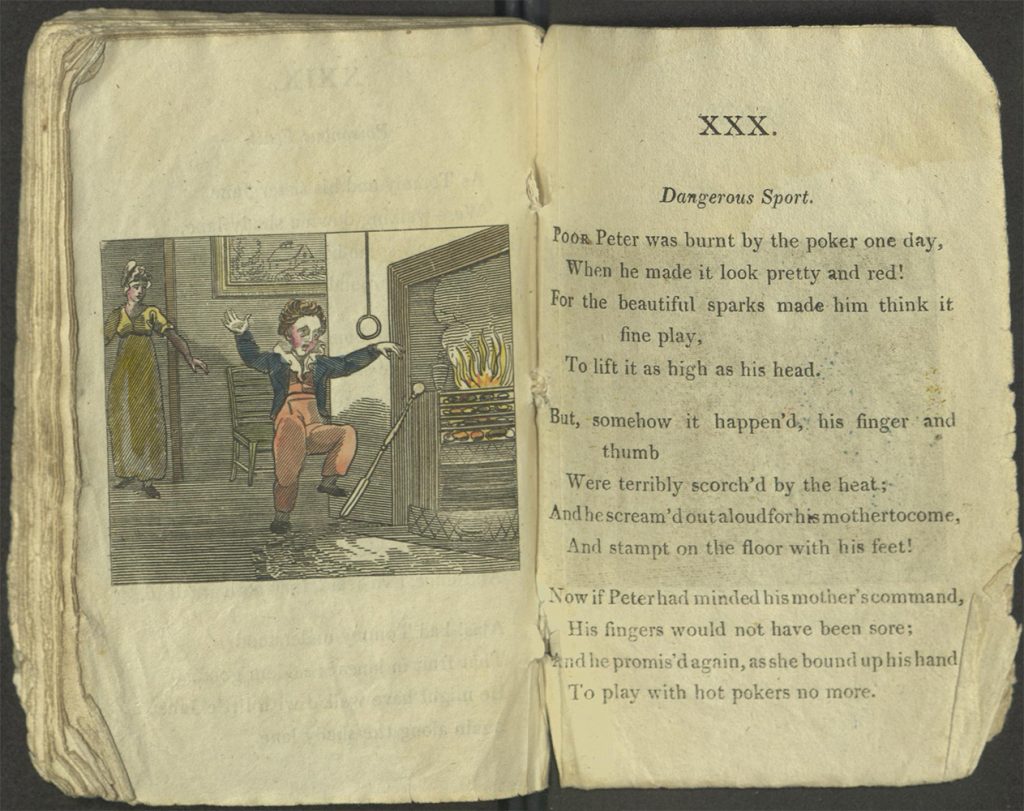 As the the result of disobedience, three children in The Daisy are injured – Peter (burned), Sophia (bruised), and Frances, who spins until she is dizzy and hurts herself when she falls. Three die. The fatalities are Tom and Jane, who eat poisonous berries they should have left alone, and Helen, who looks into a well every chance she gets until the day she slips and falls in.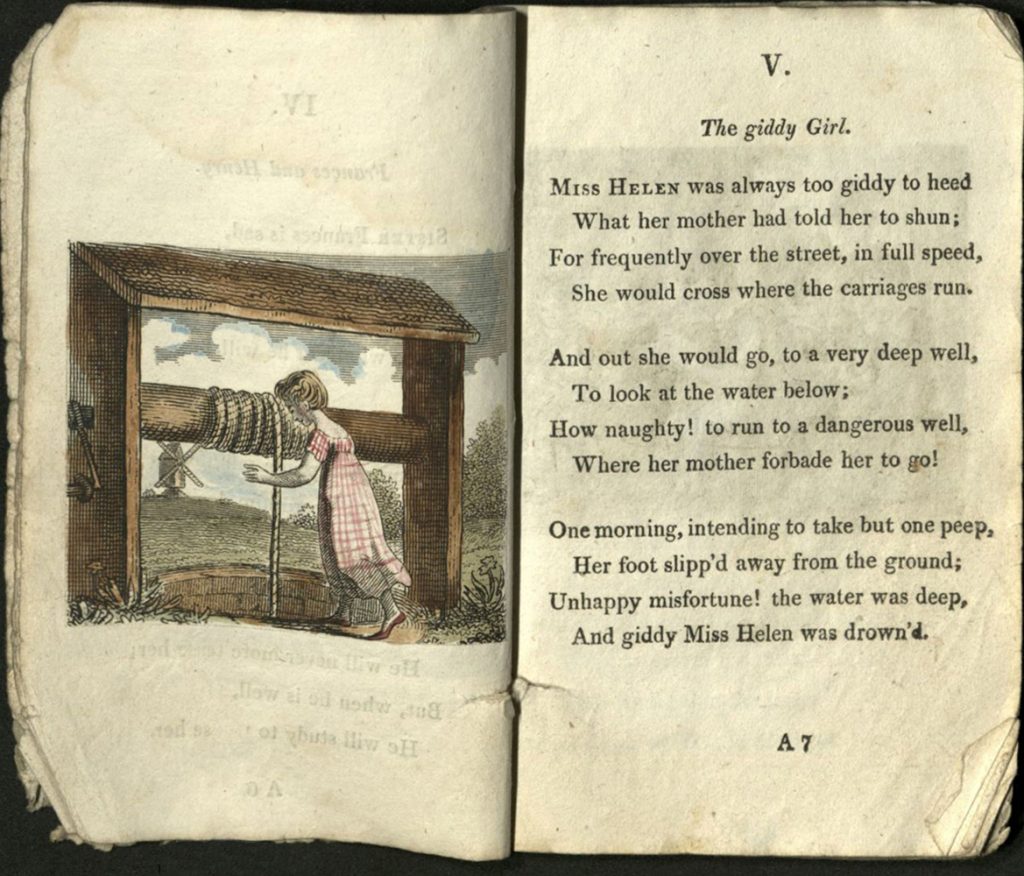 Helen also used to run across the street, disregarding the danger of carriages. And this gives us a hint that there might actually have been something reasonable about the urgency that drove Elizabeth Turner and contemporary writers to condemn so harshly what seems like simple disobedience and childish foolishness.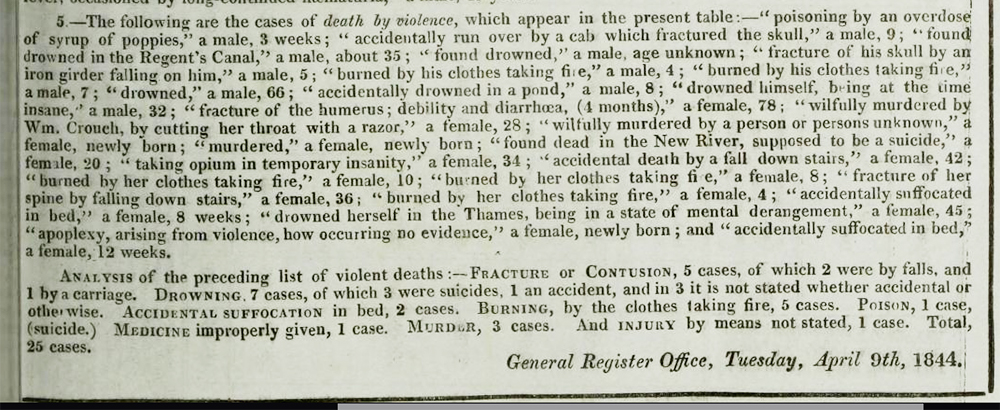 The General Register Office for England and Wales, in 1844, began publishing reports for deaths in London in a format that permits one to track causes of mortality for children. I took a quick sample – the first week of each month from that year. Of the 5350 persons between the ages of 0 and 15 who died in those twelve weeks, 102 suffered "Violent deaths" – something other than disease or an inherent medical condition killed them. 40 of those deaths resulted from the children's clothes catching fire (and 2 more were scalded). Thirteen of the young people drowned. Eleven were run over by carriages. Five fell to their deaths. Nearly 70% of these real children died of one of the causes through which the imaginary children in The Daisy endanger themselves.
I finished my short statistical foray with new sympathy for the "dreadful results" genre of moral literature for the young. It still sounds shrill to me. But I have more specific, evidence-based, ideas now about the perils of living in a time when people cooked with fire, drove horses at high speed through crowded streets, and maintained uncovered wells. The behaviors punished in the poems were demonstrably dangerous. One can hardly blame loving parents from trying what they might to keep their children from harm.
– Marianne Hansen, Curator of Rare Books and Manuscripts
Turner, Elizabeth, and John Harris. The Daisy, or, Cautionary Stories in Verse: Adapted to the Ideas of Children from Four to Eight Years Old. London: J. Harris, 1807. We have not yet digitized our copy of The Daisy, but you can get an idea of the book from the 1817 edition at the University of California.
Explore the Table of Mortality for the Metropolis for yourself on the Internet Archive
With the continuing closure of the Library, we are blogging regularly about books from the exhibition, The Girl's Own Book. Please subscribe or check back here, or follow us on Facebook for notices of new blog posts.
"A is for Apple. B is for Ball," we say these days. But for two hundred years, English children learning the alphabet grappled instead with apple pie, greed, and interpersonal conflict.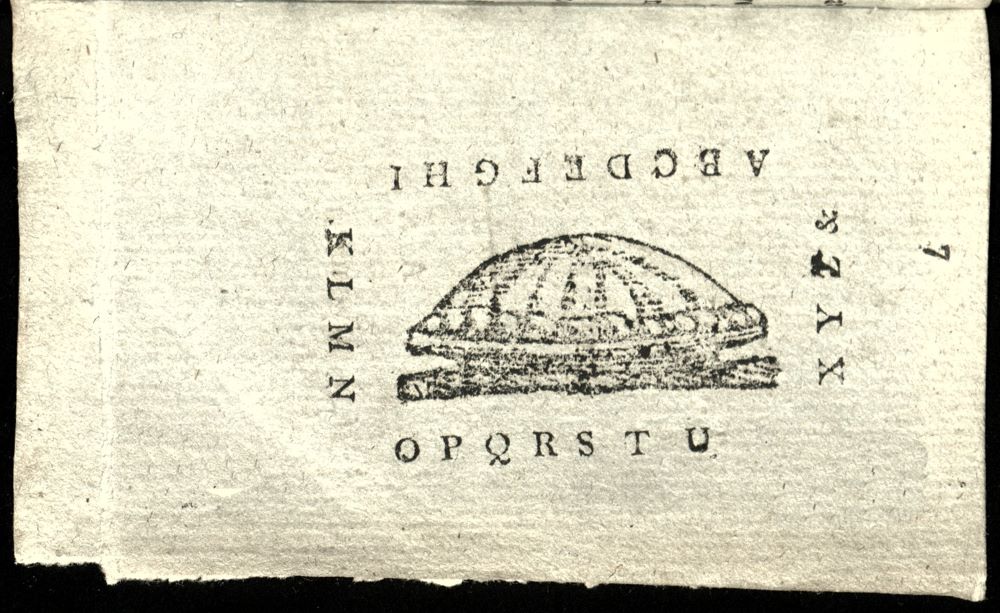 Hebrew, Greek and Latin sources provide ancient abecedarian poetry and texts, where the first letter of each line – or verse or stanza – starts with a letter in alphabetical order. Psalm 119 ("Blessed are the undefiled in the way, who walk in the law of the LORD. " KJV) is abecedarian in Hebrew. St. Augustine's Psalmus contra partem Donati sets the stanzas in alphabetical order, in Latin. Even Chaucer wrote a carmen secundum ordinem litterarum alphabeti, in English, in honor of the Virgin Mary.
No one knows when the first ABC poem meant for the youngest readers was created, but Apple Pie was current in England in the 17th century. John Eachard, satirist and doctor of divinity, published a humorous criticism of sermons in the Church in 1671. While abusing preachers who stretch their sermons by elaborating on each letter in a word (REPENT – Readily Earnestly, Presently, Effectually…) he says, "And also why not A Apple-pasty, B bak'd it, C cut it, D divided it, E eat it, F fought for it, G got it, &c. ?" The poem next appears in print in 1743, when it was included in The Child's New Play-thing, a spelling book that began with several alphabets and ABC poems. It was printed frequently after that in the frenzy of the new market for children's books.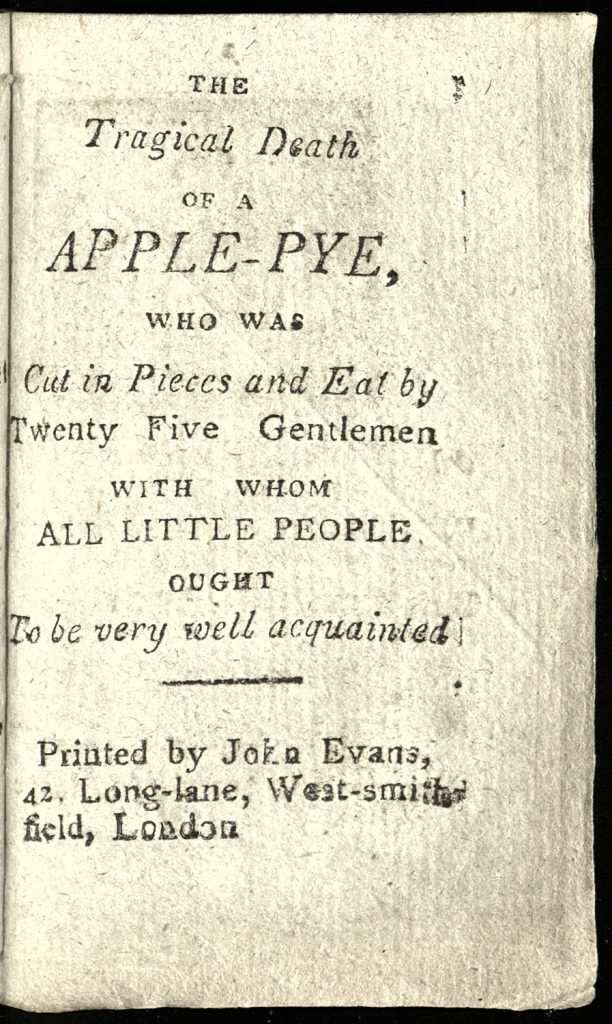 Many of those "books" were the tiny publications called chapbooks – a single sheet of paper printed on both sides, and folded to make a little sixteen-page pamphlet smaller than the palm of your hand. Our Apple Pye is one of these, roughly 3 1/2 inches tall and 2 1/4 inches wide. It was published around 1800 (it is undated) and the fragile miniature might not have survived, except that it was bound with 14 other chapbooks early on, probably in the eighteen teens.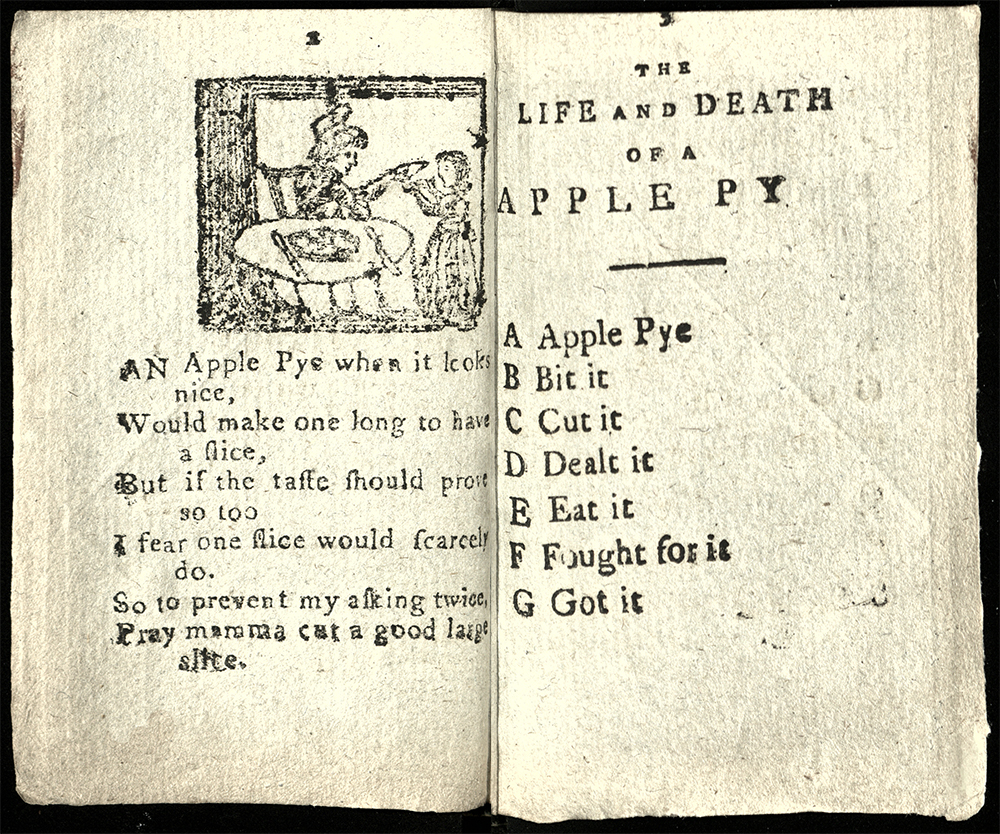 The book includes two alphabet poems, and it begins with a woodcut and a bit of doggerel where a canny child demands a large slice of pie, to save the trouble of asking for a second. The poem proper (The Tragical Death of A Apple-Pye, Who Was Cut in Pieces and Eat by Twenty Five Gentlemen) then begins, and each letter takes some action towards A, the apple pie itself.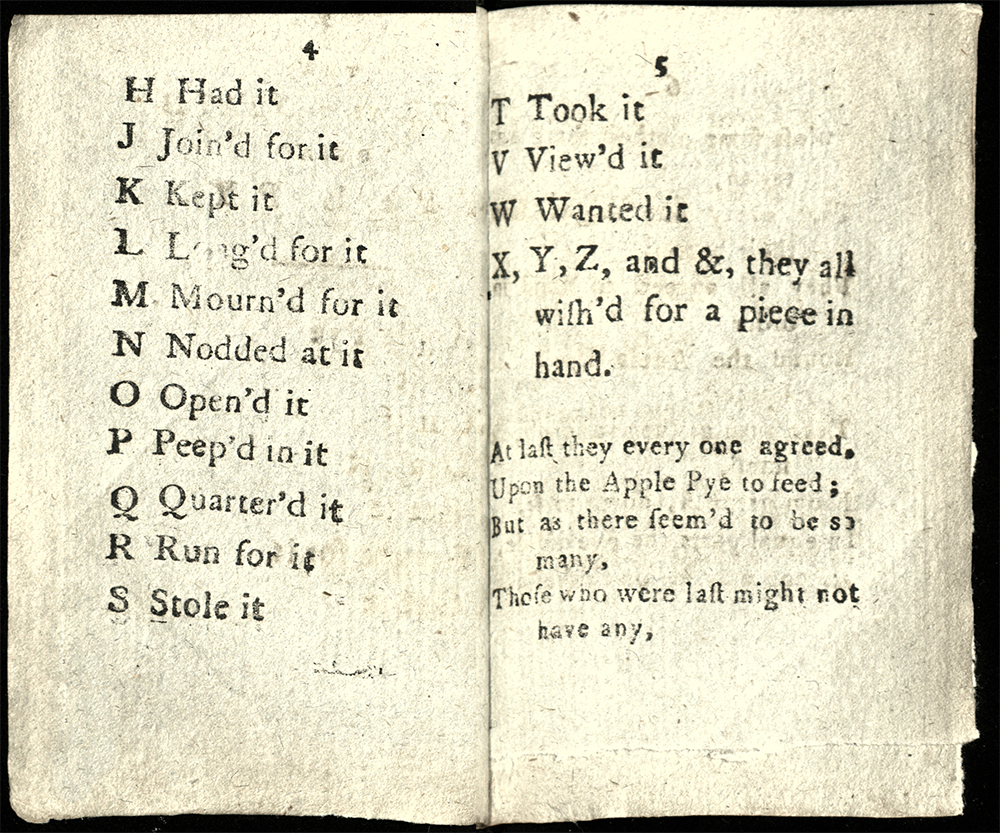 There is the usual trouble with choosing appropriate words at the end of the alphabet, and  X, Y, and Z have to collaborate with Ampersand. The "Twenty-five gentlemen" realize there may not be enough to go around, so they agree to stand in order around the pie and take turns.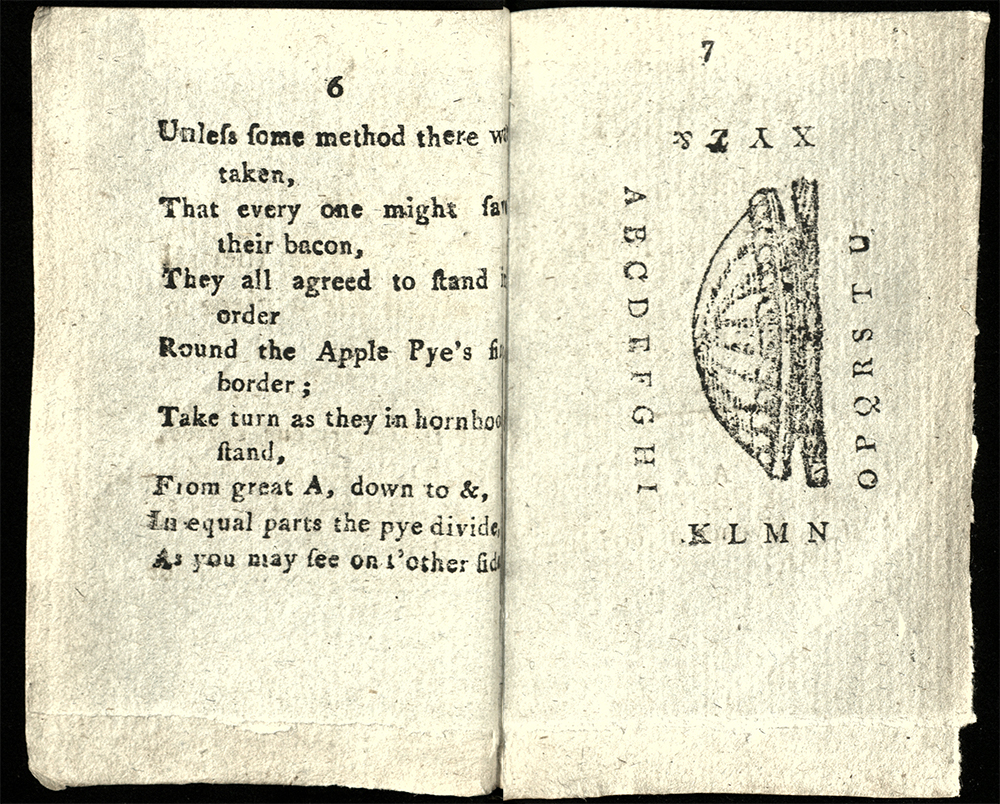 But they do not then all use their nicest manners to ensure a fair distribution of the meal. The second alphabet poem, A Curious Discourse that Passed Between the Twenty-five Letters at Dinner-Time, starts with A, like the little girl in the opening verse, asking for "a good, large slice."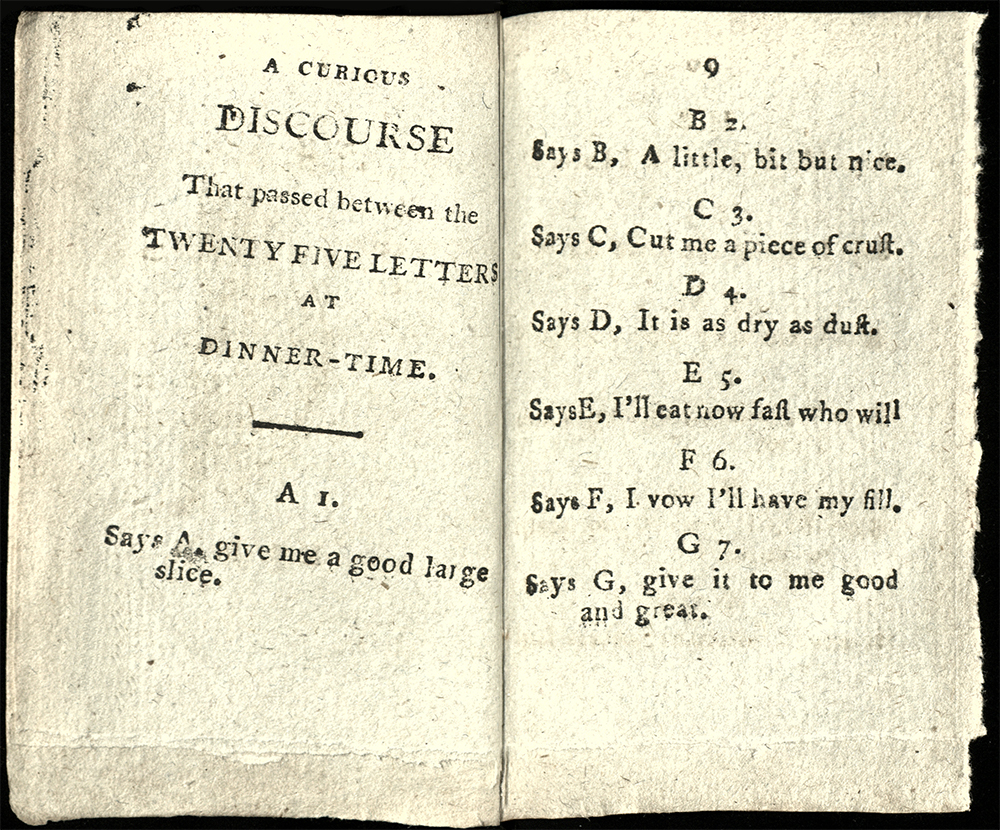 Every letter has its preferences, although most of them just want a lot of pie.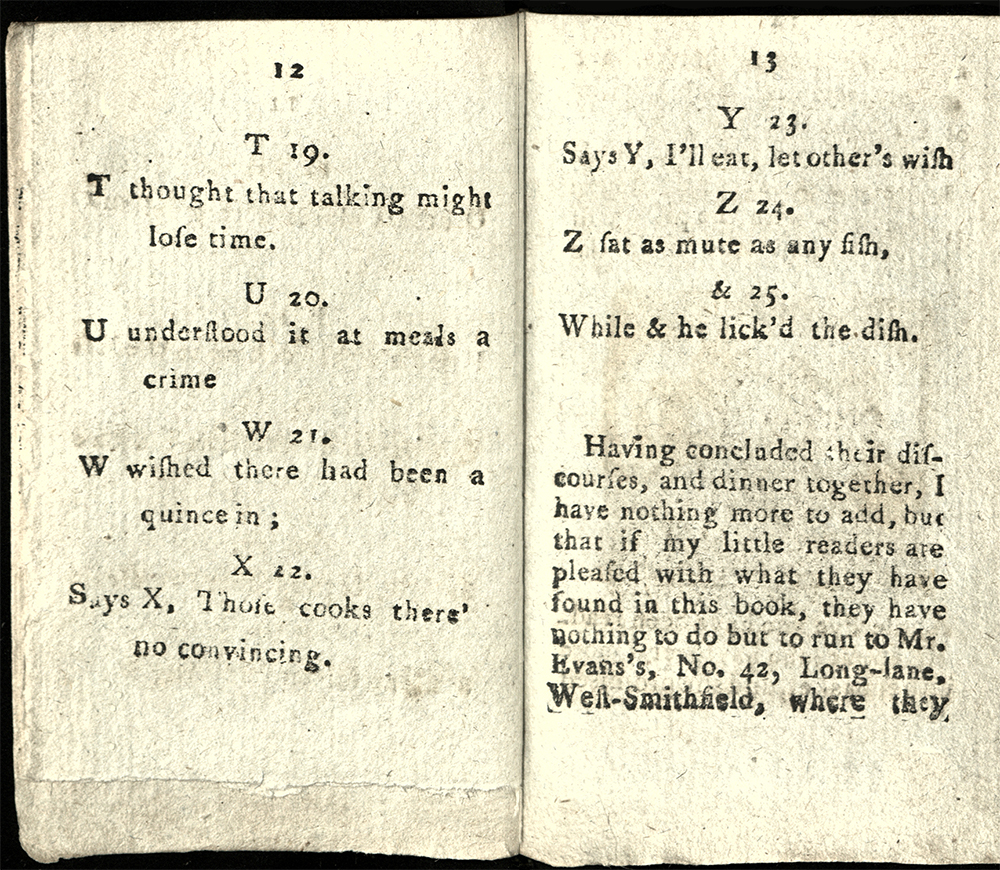 Predictably, by the time it is Y's turn, he eats the last piece, and Z and Ampersand have to lick the dish. John Evans, the printer/publisher, then inserted an advertisement for his other books for "little readers," complete with his shop address.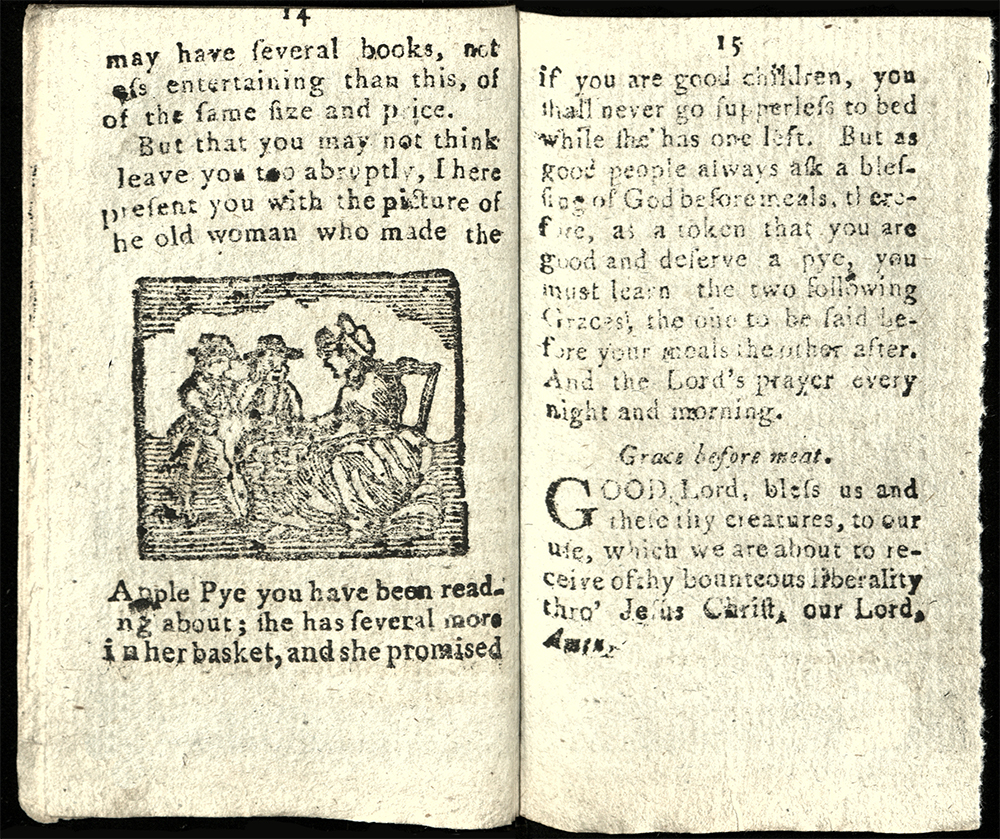 Evans still had three small pages to fill, so he added a woodcut of the imaginary old woman who made the pie in the poem, and stated she would supply a similar treat to good children. But since good people always pray before meals, he included a grace for the children to learn – to demonstrate that they deserved a pie. On the final page, he printed a postprandial grace and the Lord's Prayer.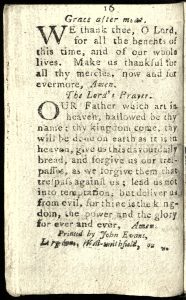 Our copy of The Tragical Death is part of the Ellery Yale Wood Collection of Books for Young Readers. It has been digitized and is available for your perusal on the Internet Archive.
The Tragical Death of a Apple-Pye, Who Was Cut in Pieces and Eat by Twenty Five Gentlemen: With Whom All Little People Ought to Be Very Well Acquainted. London: Printed by John Evans, 42, Long-lane, West-smithfield, c.1800.
With the continuing closure of the Library, we are blogging regularly about books from the exhibition, The Girl's Own Book. Please subscribe or check back here, or follow us on Facebook for notices of new blogs.
Dean & Co. was an early and prolific publisher of toy and movable books for children: pop-ups, pantomime books, "peepshow" or tunnel books. Their first line of novelty books was the series Dame Wonder's Transformations, books with a hole cut in each page through which the face of the main character appears, surrounded by the events of the story.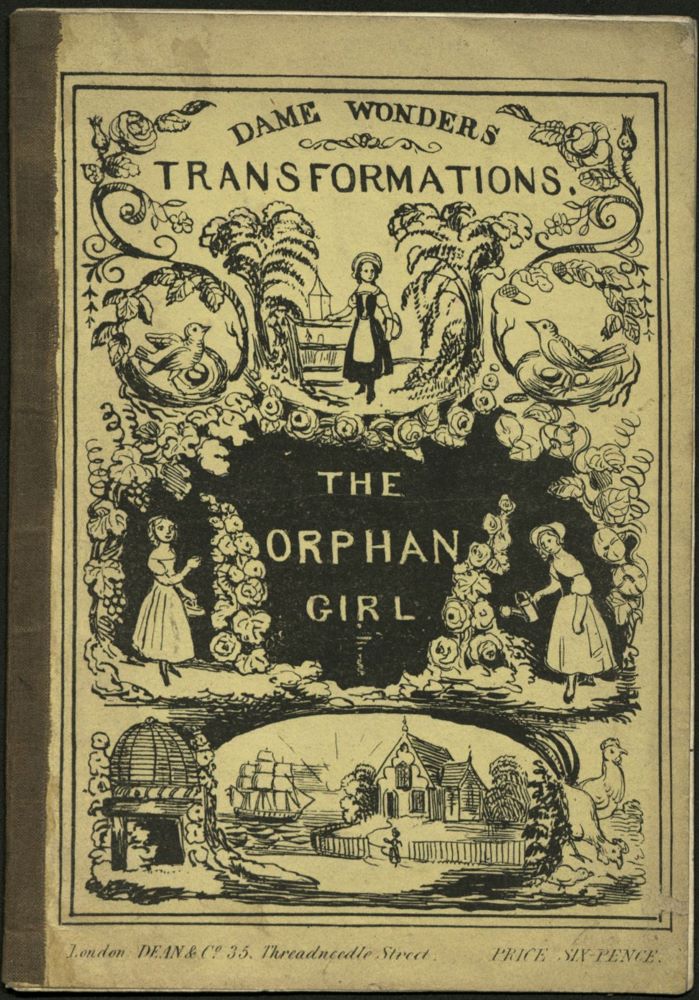 The Orphan Girl, published between 1843 and 1845, is a charming example of this technology.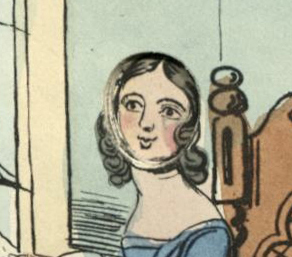 The story is told in the first person by the "orphan girl", who appears to be in her mid-to late teens at the beginning of the book. She is left alone, although in possession of a cottage, and she calls upon God to keep her from sin and to supply her needs.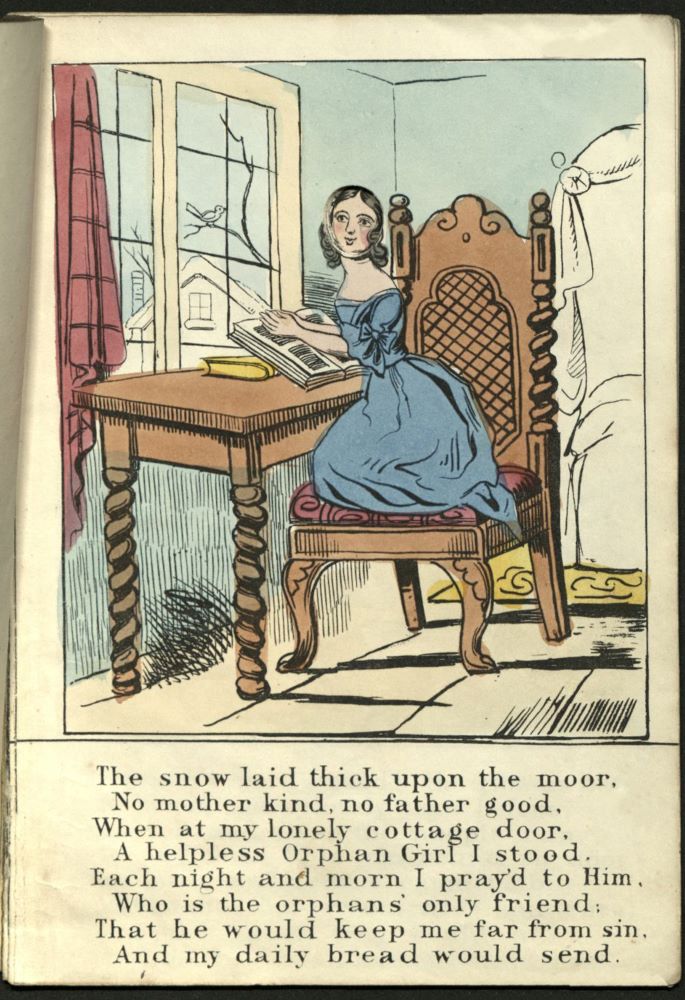 As a result of her earnest piety, her garden provides abundant bouquets which she sells to the wealthy.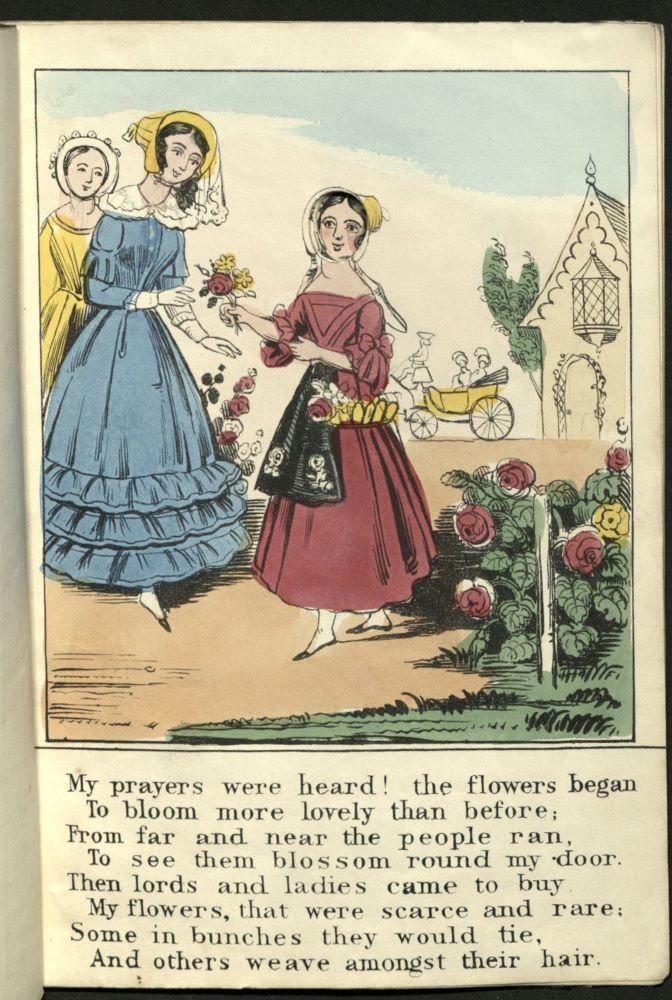 In addition, her domestic fowl and sheep increase prodigiously, bees swarm to her home, and her fruit trees and vines bear heavily.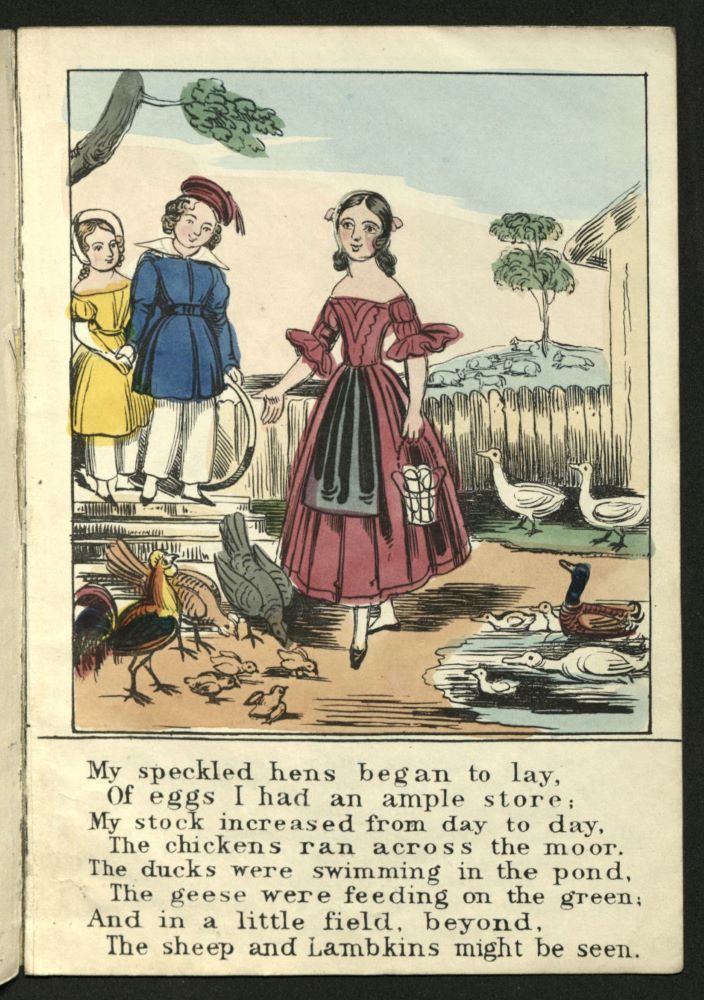 She occasionally teaches a neighbor's child to read, apparently as a leisure activity.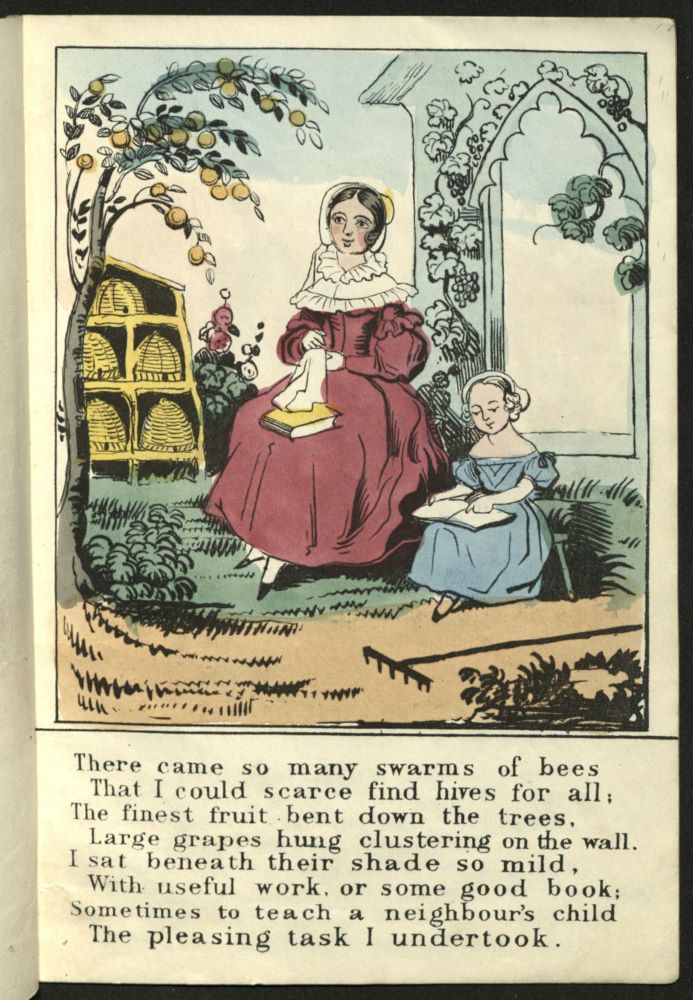 Suddenly, her brother returns from India, having made a fortune, and provides the means for the two of them to live comfortably in the cottage.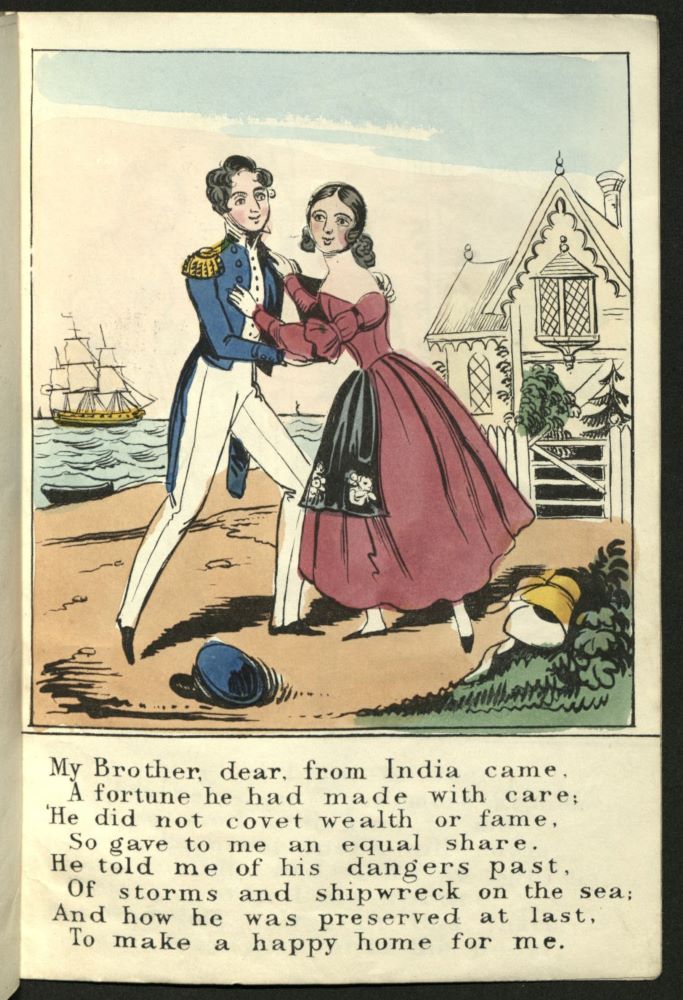 In the last scene, supplied abundantly herself, she gives bread and drink to an impoverished neighbor.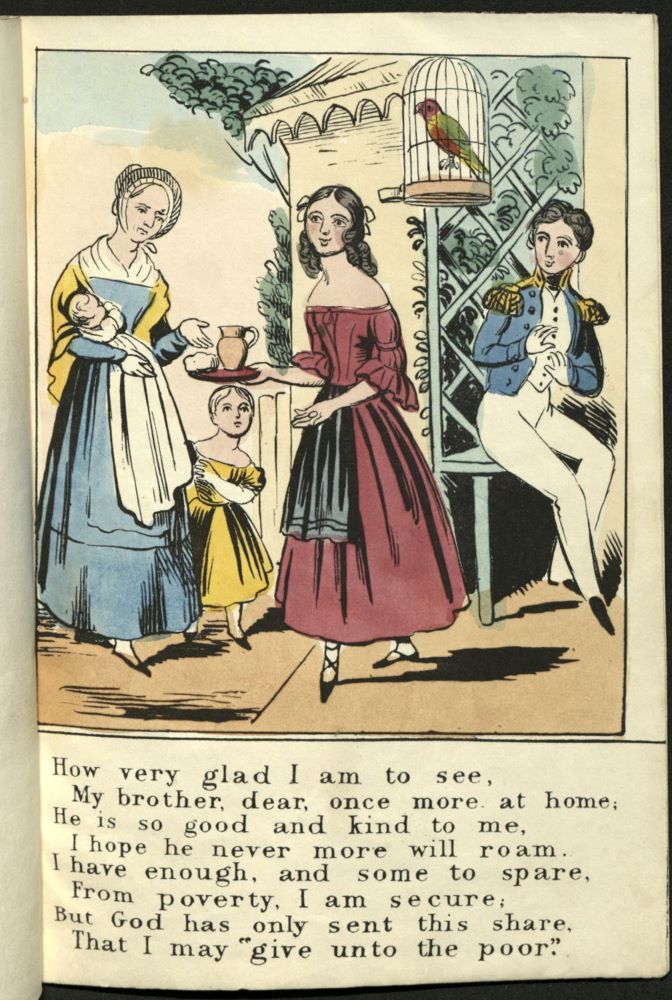 The narrative is related to the most famous children's book of the eighteenth century, Little Goody Two-Shoes, although in The Orphan Girl, the account is condensed to an extreme. The original, first published in 1765, tells the story of a sister and brother whose parent die when the children are small. They are separated, and the story follows the sister who lives at first in extreme poverty in the country, gradually gaining the respect and trust of her fellow villagers. By the time she is in her early teens she supports herself by going house to house daily, teaching younger children to read. When the schoolmistress retires, she is chosen to replace her. Her competence and kindness induce a local gentleman first to employ, then to woo her. Their wedding is enlivened by the return of her now wealthy brother, and she lives afterward as a model of prudence, piety, and effective charity. The Libraries do not, unfortunately, have an early copy of the book, but you can read it on the Internet Archive.
Of course, if you reduce a story from 100 plus pages to a bare six images you must simplify the narrative. Goody Two-Shoes appeared in dozens of later, shorter versions, many of which suggest that the reader was expected already to know the story. But the differences in these two accounts give us an opportunity to reflect on the lessons conveyed by books to their young readers. The "orphan girl" is devout and trusts God, and she is rewarded for her faith and piety by prosperity, without any effort beyond prayer. Although Goody Two-Shoes also conveyed numerous religious messages, it featured a protagonist who made her way in the world though dogged hard work, good nature, and intelligence. Both are historically acceptable role models – but what a difference in the influences the two might have on a young female reader.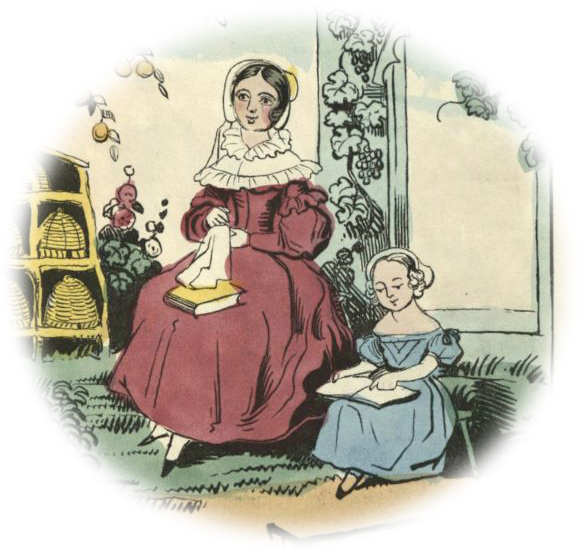 The Orphan Girl. London: Dean & Co., 35 Threadneedle Street, 1843-1845
The History of Little Fanny, Exemplified in a Series of Figures was offered in 1810 by the publisher S. and J. Fuller at their magnificent Temple of Fancy, a London emporium of artists' supplies, instruction books on drawing and painting, and printed toys. It was an expensive plaything, selling for 6 shillings, sixpence – roughly equivalent to $30 today. The set included a small storybook and paper dolls to illustrate each short chapter.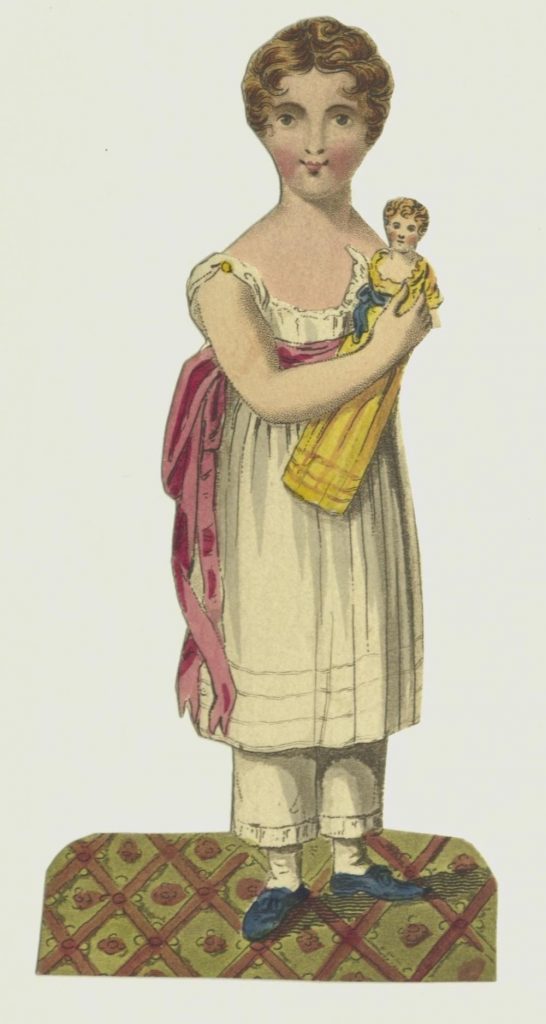 The copy of Little Fanny that came to the Library as part of the Ellery Yale Wood Collection of Books for Young Readers has been digitized and is available for your perusal on the Internet Archive. We have also put up a pdf that you can download to print out the dolls and make your own set to re-enact the events of the story.
There are brief instructions as part of the document, but we thought you might enjoy seeing the dolls being made.
How to Make Your Own Paper Dolls to Accompany The History of Little Fanny

Although the paper dolls that came with Little Fanny were already finished, you can make a set for yourself. The dolls are printed on heavy, stiff paper. A second layer of paper is glued to the back of the clothing to create pockets into which the head fits snugly. Unlike modern paper dolls, the head is moved from garment to garment. Fanny has one head, seven costumes, and four hats.
You will need: card stock to print the figures on; stiff paper to make the pockets for the head; scissors and/or a craft knife; and glue.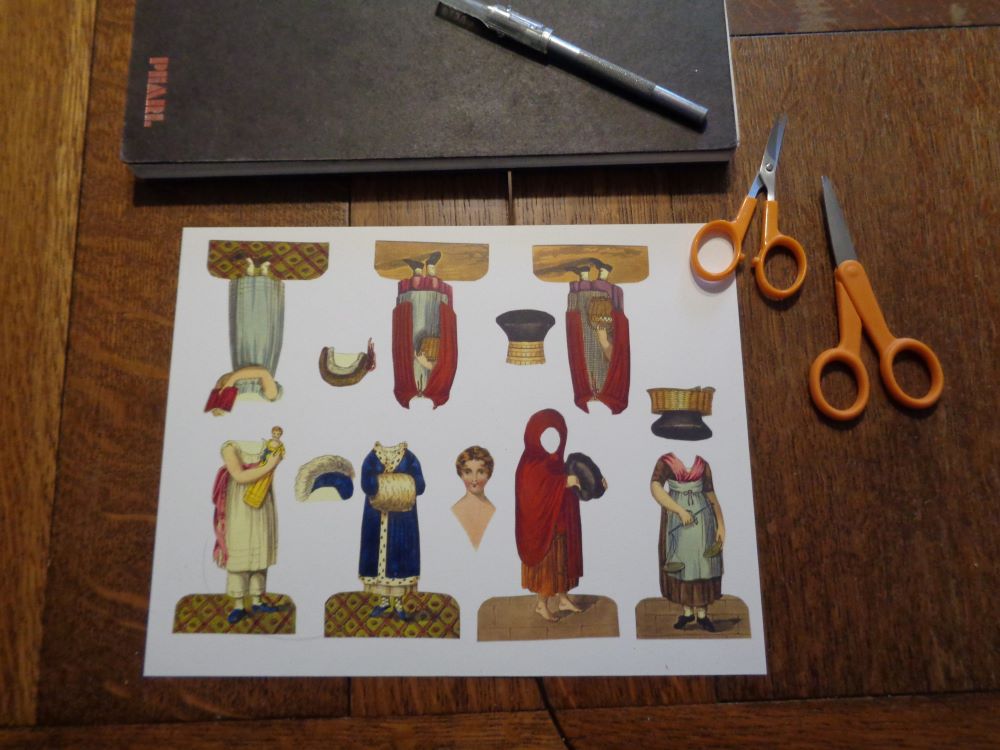 Print the paper dolls onto card stock or another heavy, stiff paper. [Alternative: Print onto office or stationery paper and paste heavier stock onto the back before cutting out the figures.]
Cut out the head and the costumes. Some figures are only partly cut out before attaching the backing paper, which will be pasted all the way past the edge, and cut away at the same time as the printed costume.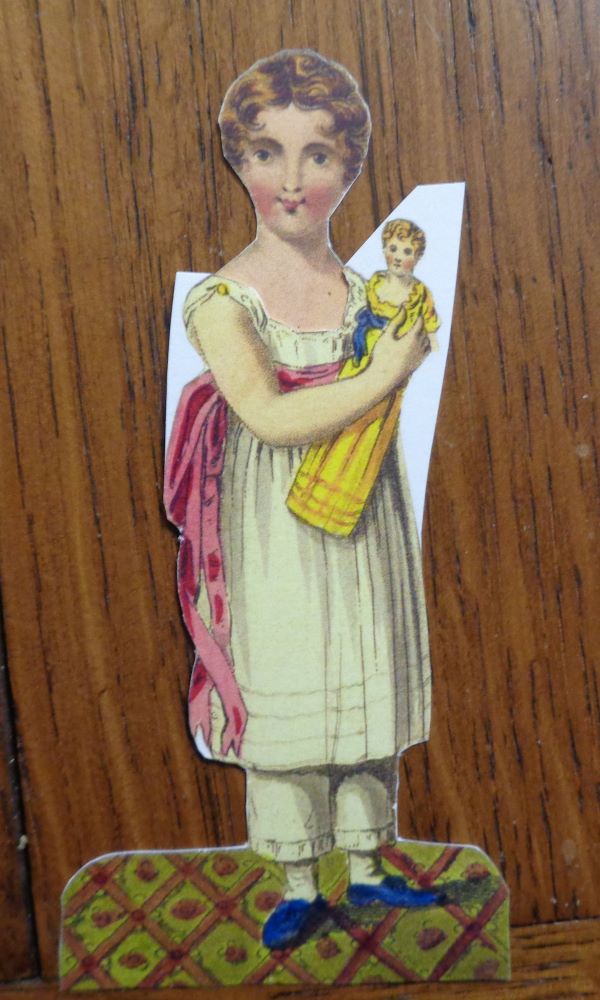 Check the backs of the original figures (Page 2 of the pdf), for guidance. If the backing paper stretches to the edge, it was cut off after gluing.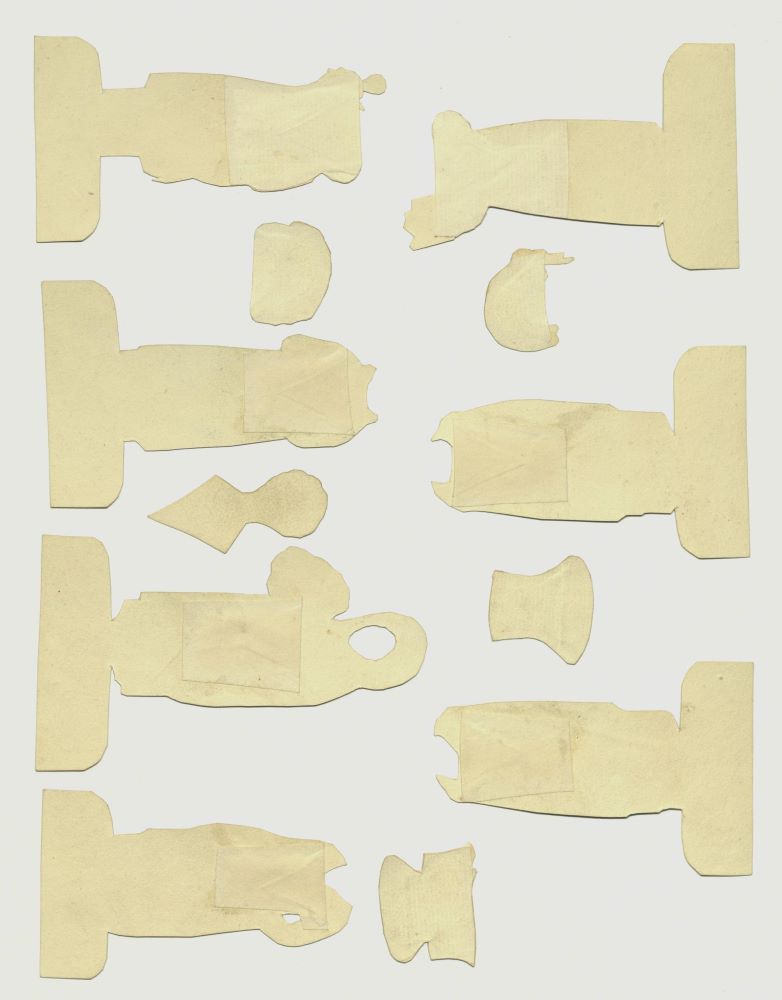 Line up the head behind each costume. On the back, trace the edges of the neck wedge.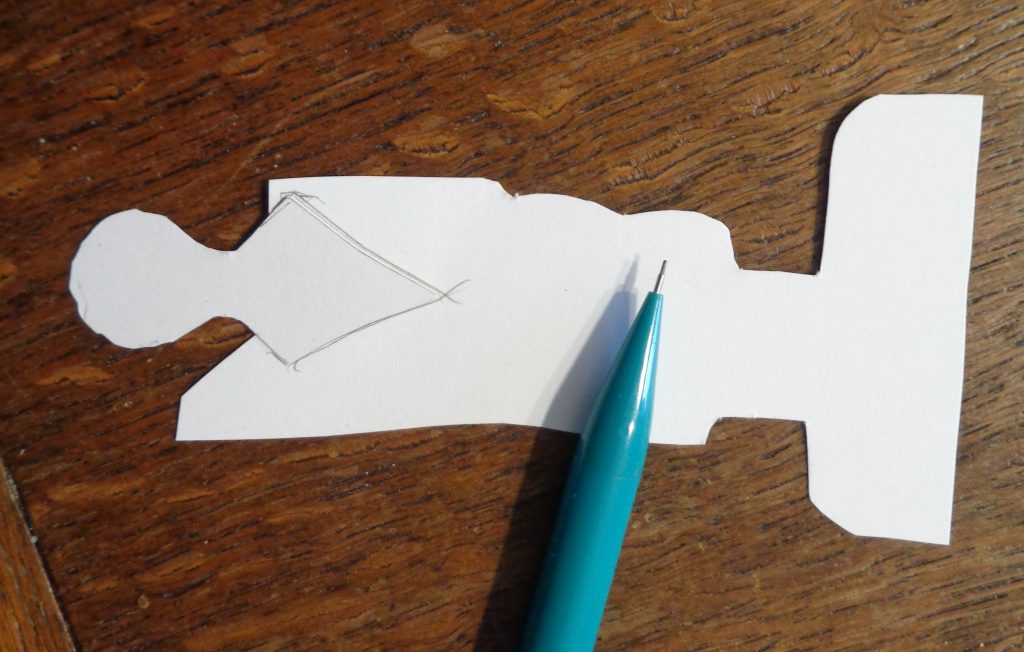 For the large hats (Figs. #4 and #5), cut a slit with a craft knife along the curved line for the head to fit through.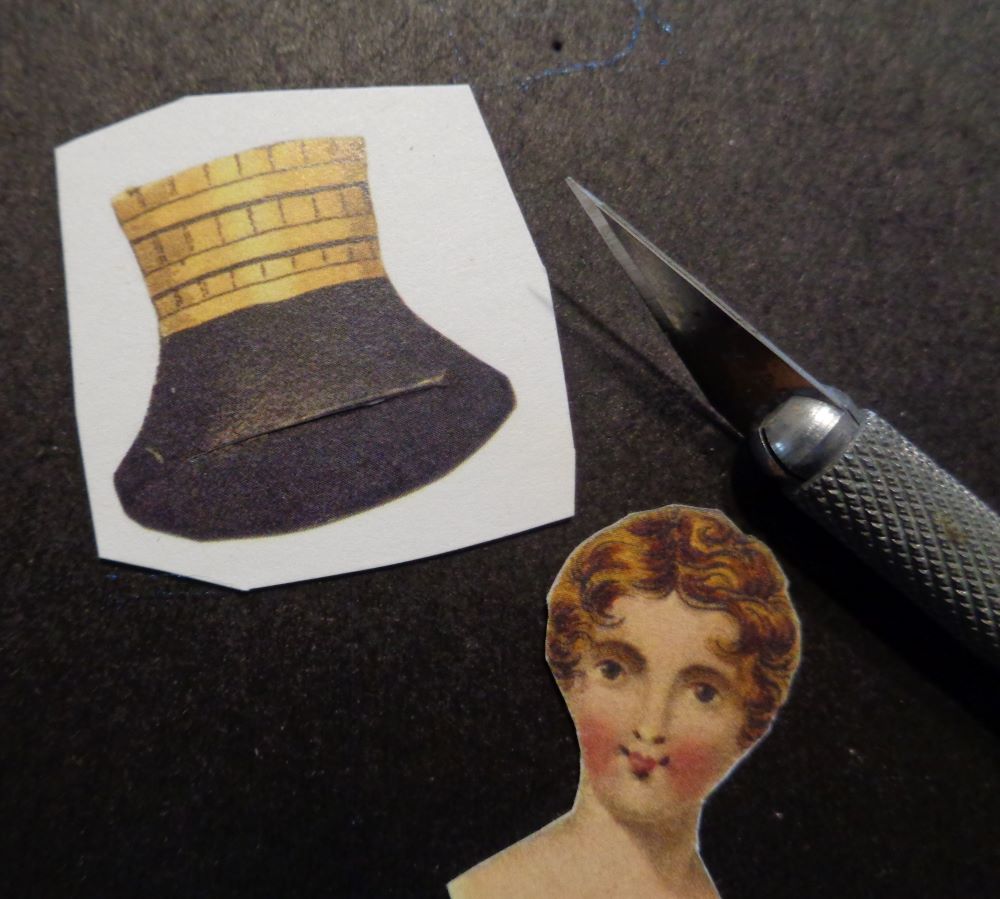 For all hats, on the back, trace the top of the head.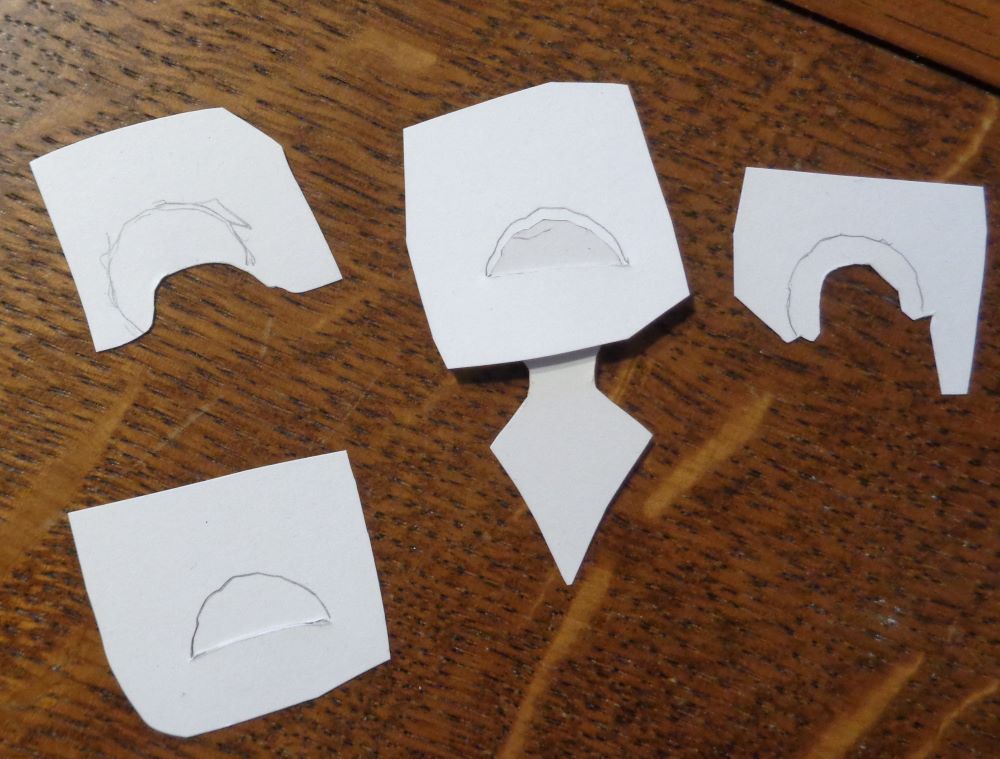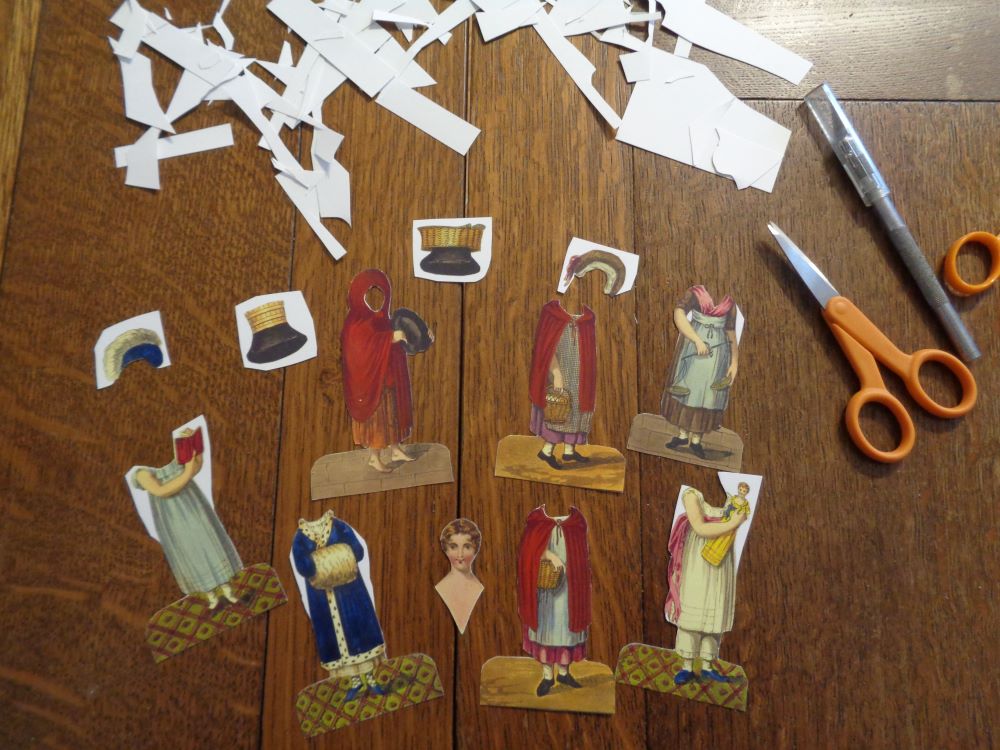 Make the pockets for the head and neck on the back of each costume or hat. Use stiff backing paper (try a manila / kraft paper envelope). This paper will be glued to the back of the costume, with an unglued wedge left open for the neck to fit into.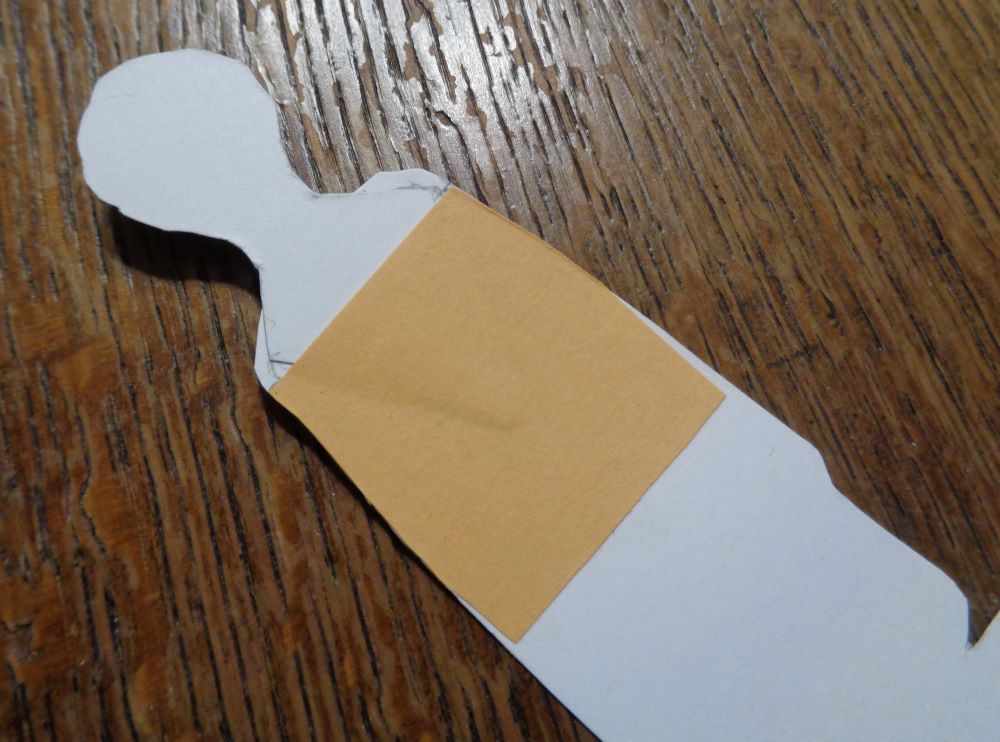 Look at the backs of the originals for shape and coverage. Apply glue to the backs of the costumes. (White glue applied with a paintbrush works well.) Do not put glue inside your traced neck lines and leave a narrow border (1/16" or 1.5mm) around the area free of glue also. [Optional: sketch your border and the edges of the backing paper on the costume before applying glue.]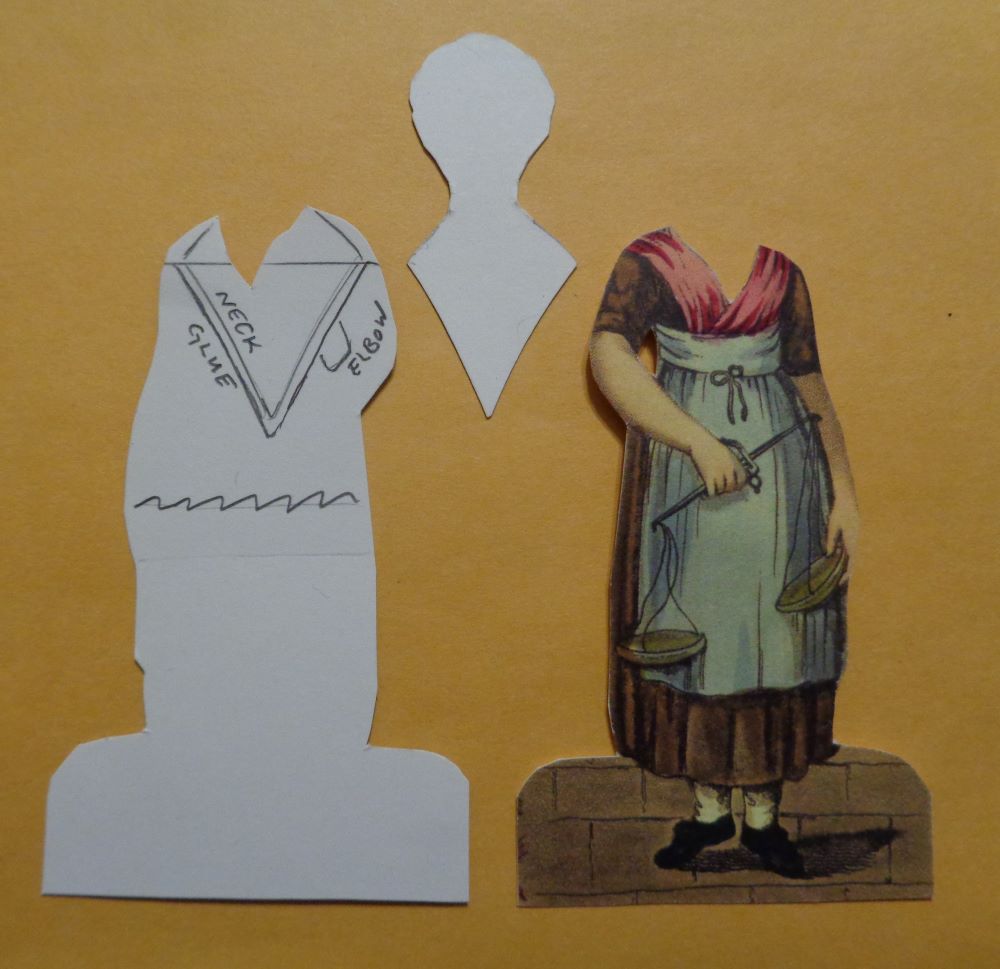 Press the assembled costumes flat until they are dry.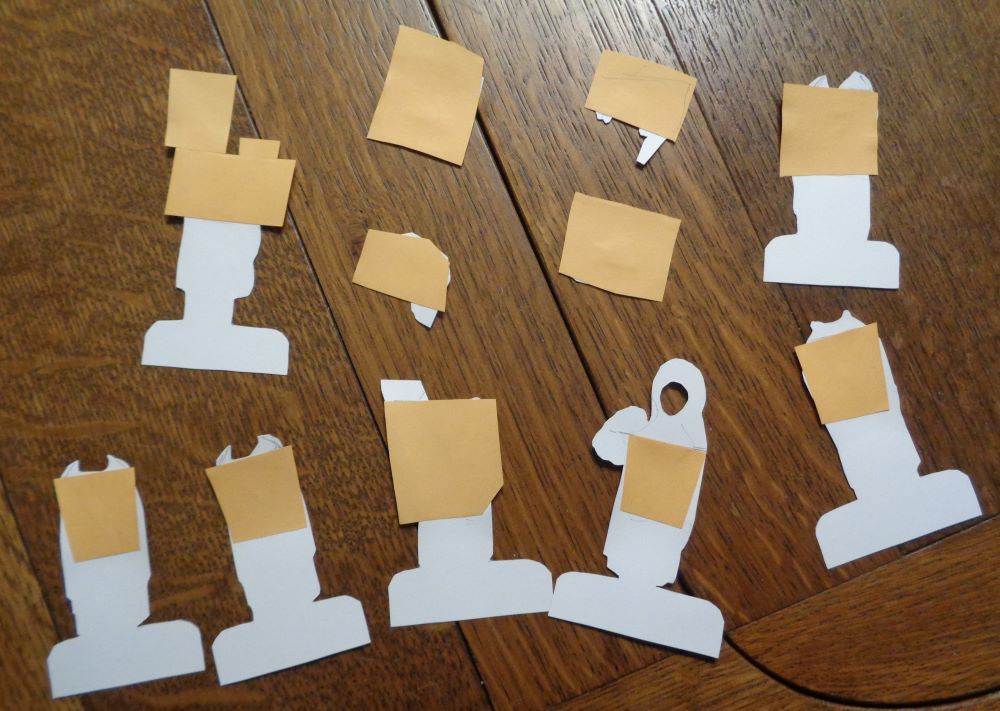 Finish cutting out the figures. Your doll is ready for you to play!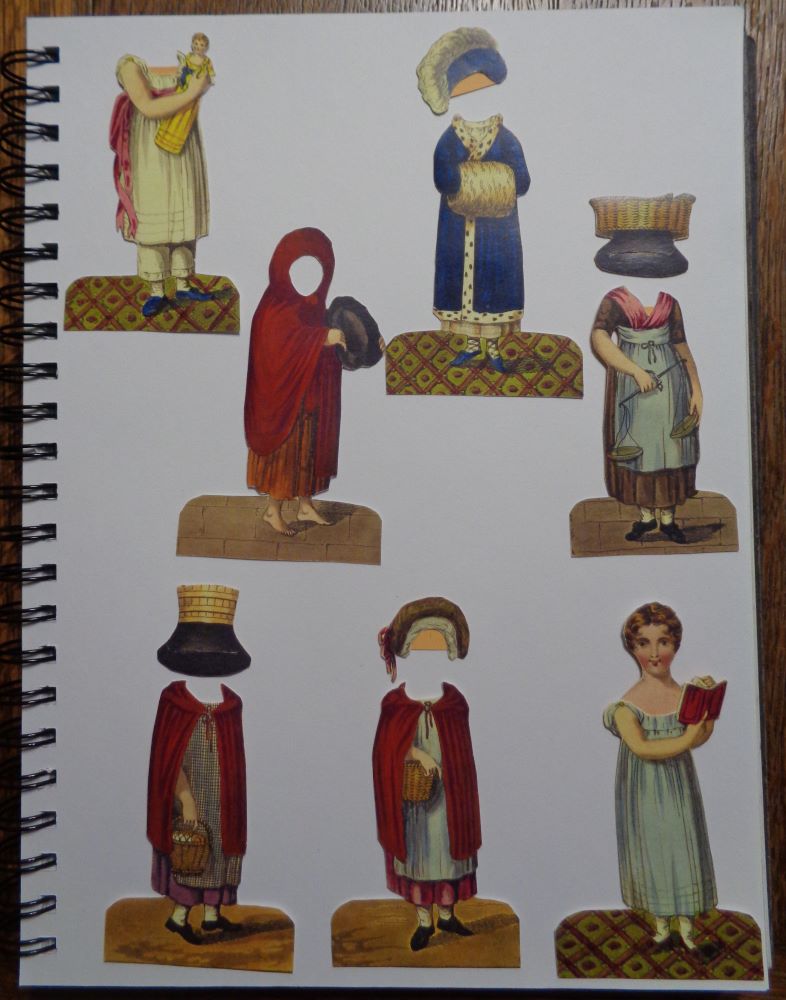 Additional Hints:
Hint 1 – In some costumes (Figs. 1, 4, and 7) and in the two hats that frame the face, the backing paper is visible as unpainted beige areas in the scanned image. Cut these areas away when you cut out the figures.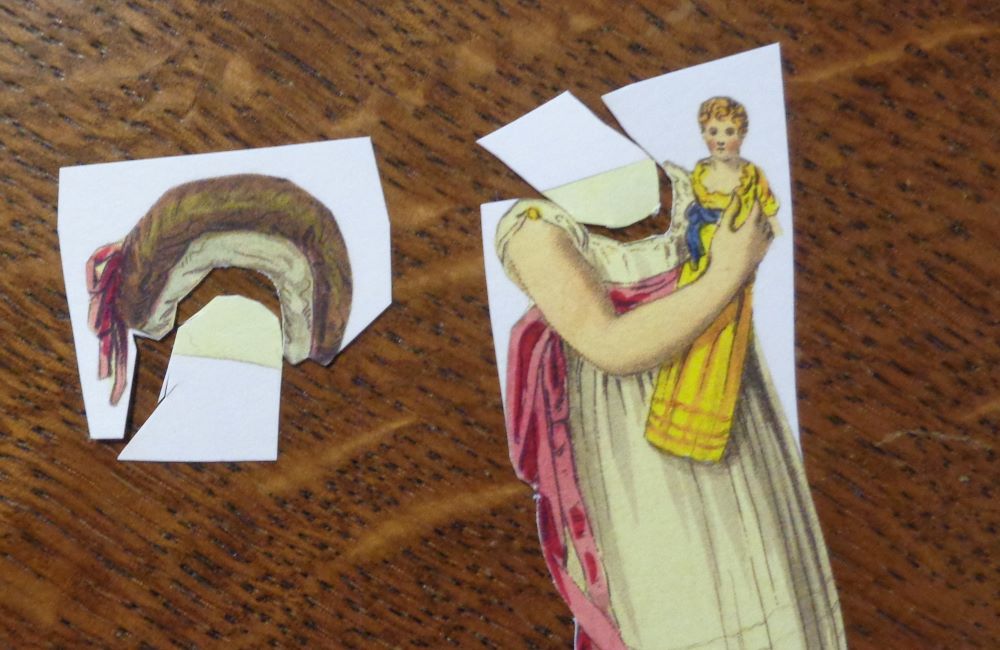 The backing paper will span these areas and will also show there in your dolls.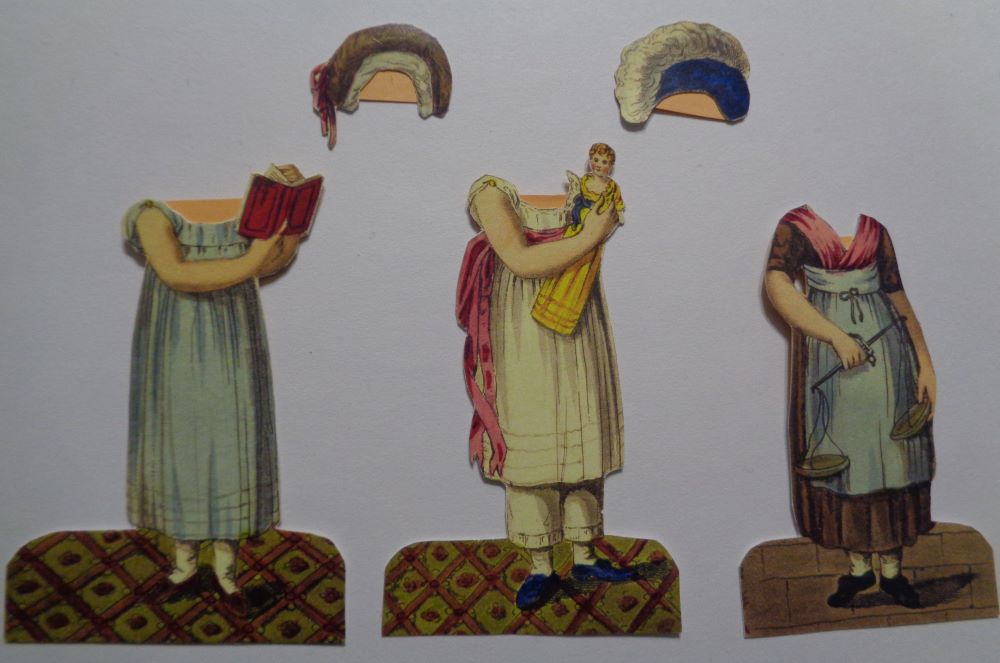 Hint 2 – In Fig.3, the beggar costume, the opening in the original is smaller than Fanny's face. Cut the hole larger if you prefer.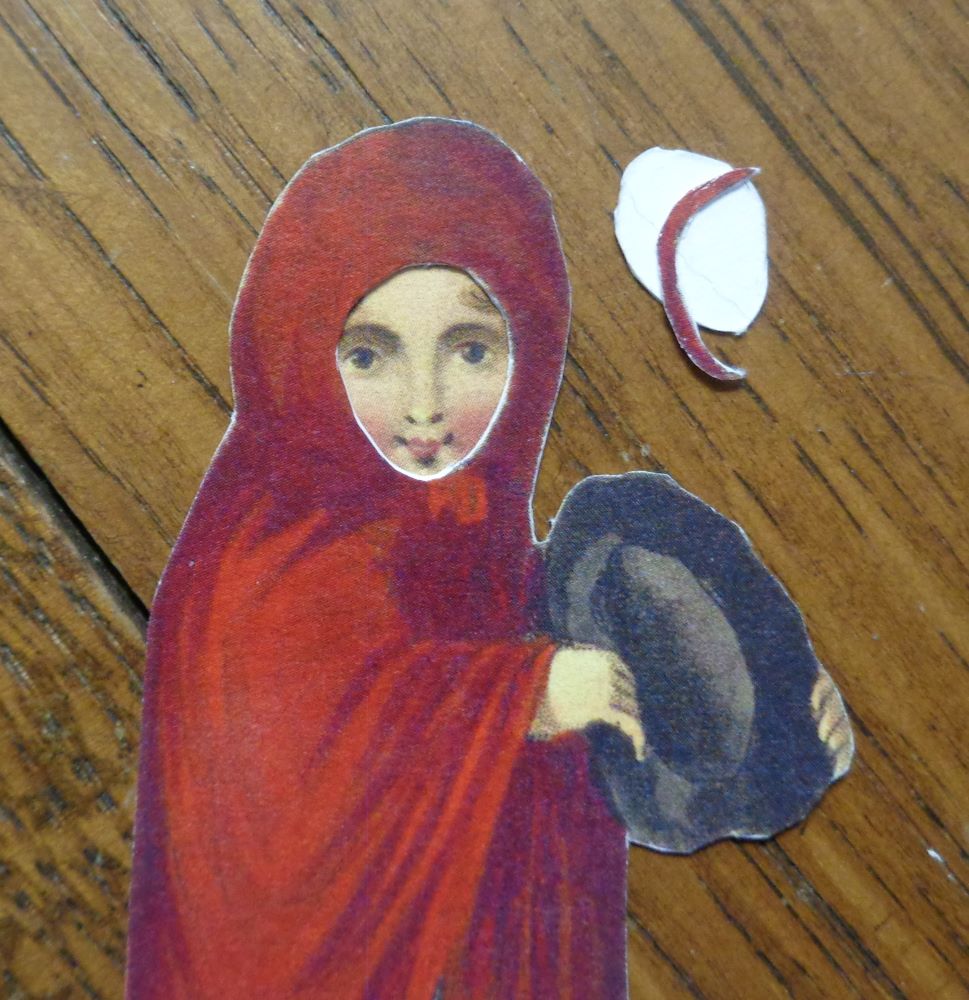 Hint 3 – If you want to, reinforce places that might get bent easily, like the neck or the doll in Fig. 1, with extra paper on the back of the figure.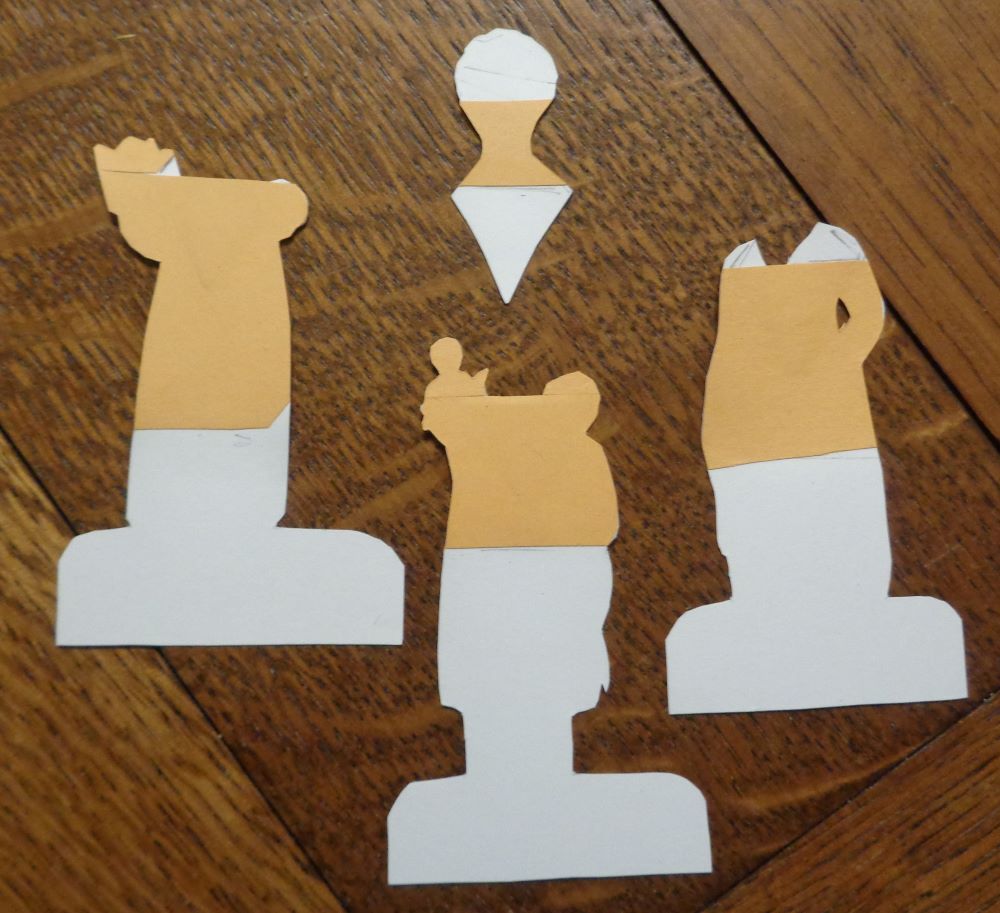 Enjoy!