Becky Ross
Senior Associate Director for Alumnae Career Services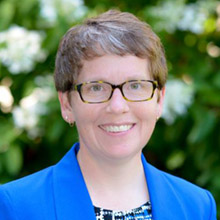 Contact
Location
Student Life & Wellness Bldg 159
Department/Subdepartment
Education
M.A., Counseling and Student Personnel Psychology, University of Minnesota
B.S., Psychology, Pennsylvania State University
Biography
Values/Strengths

Authenticity: I want to be in and create an environment in which individuals can be genuine, real and remain true to one's self and beliefs.

Respect: Professionally and personally, I endeavor to recognize and value the worth and dignity of all individuals.

Dependability: I pride myself on being a colleague others can rely upon. I honor commitments, deliver outcomes, and take responsibility.

Restorative: Problem-solving is helpful daily, from trouble-shooting a tech issue to helping an individual strategize differently in their career process.

Deliberative: A decision-making style that is measured and thoughtful, which helps me to identify, assess and reduce risks as well as increase quality and confidence in choices.

My first job after College was: graduate school. My decision to become a career counselor led me to pursue a master's degree immediately. After getting my B.S., I lived with my parents for the summer and worked for my mother's business; I started grad school in the fall. After grad school, my first job was as the Assistant Director for Career Development at the University of Florida.

My job during College was: an Engineering Co-op at Lockheed Aeronautical Systems Company. I started undergrad at Georgia Tech and participated in the Cooperative Education program.

One thing I enjoy outside of work is: movies! I could go to a new film every day of the week and truly enjoy talking about film, television, and pop culture.

A cause I am passionate about is: working with LGBTQIA+ clients and helping all individuals live authentic lives, personally and professionally.

I joined Bryn Mawr in December 2017 as Senior Associate Director for Alumnae/i Career Services. I have more than 25 years of experience and leadership in higher education career services.

I received a Master of Arts in Counseling and Student Personnel Psychology from the University of Minnesota and a Bachelor of Science in Psychology from The Pennsylvania State University. I started college at Georgia Tech, studying Aerospace Engineering, and later transferred to Penn State. My own academic and career journeys and transitions were the inspiration for my commitment to the field of career development.

Prior to Bryn Mawr, I worked at West Chester University of PA, Drexel University, Princeton University, University of Pennsylvania, and University of Florida.