Carolina Hausmann-Stabile
Assistant Professor of Social Work and Social Research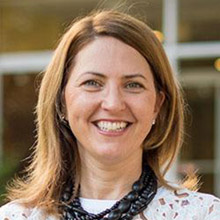 Department/Subdepartment
Education
M.S.W., Fordham University

Ph.D., Washington University
Areas of Focus
Latino mental health; Latina adolescents; health disparities across Latino sub-groups.
Biography
Carolina Hausmann-Stabile received her Ph.D. in Social Work in 2013 from Washington University in St. Louis. After that, she completed an NIMH Post-doctoral Fellow at the Institute for Health at Rutgers University in Health Care Policy and Aging Research. Hausmann-Stabile has more than a decade of experience working to improve Latinos health and mental health across the United States and Latin America, with a focus on reducing suicidal behaviors among adolescent girls. Hausmann-Stabile is an expert in qualitative research methods applied to studying suicidal girls receiving services in health and mental health settings in the United States. In the United States, Latina adolescents attempt suicide more often than their white or black counterparts. The rates of suicide attempts among adolescents across many Latin American countries are also elevated.   Her work has contributed research and conceptual developments to the study of Latina girls who attempt suicide, including identifying universal and group-specific issues that explain the suicidal behaviors of Latina teens; understanding the family dynamics relevant to suicidal behaviors among adolescents; explaining the role of acculturation and developmental issues in pediatric suicidal behaviors; and developing culturally competent services for Latina teens.
Research and Scholarly Interests: Pediatric suicidal behaviors Latina adolescents Minority youth Latin America Health disparities and social justice Mental Health Cultural competence Global Health
Substantive Specialization: Hausmann-Stabile is focused on the prevention and treatment of pediatric suicidal behaviors in the United States and Latin America.