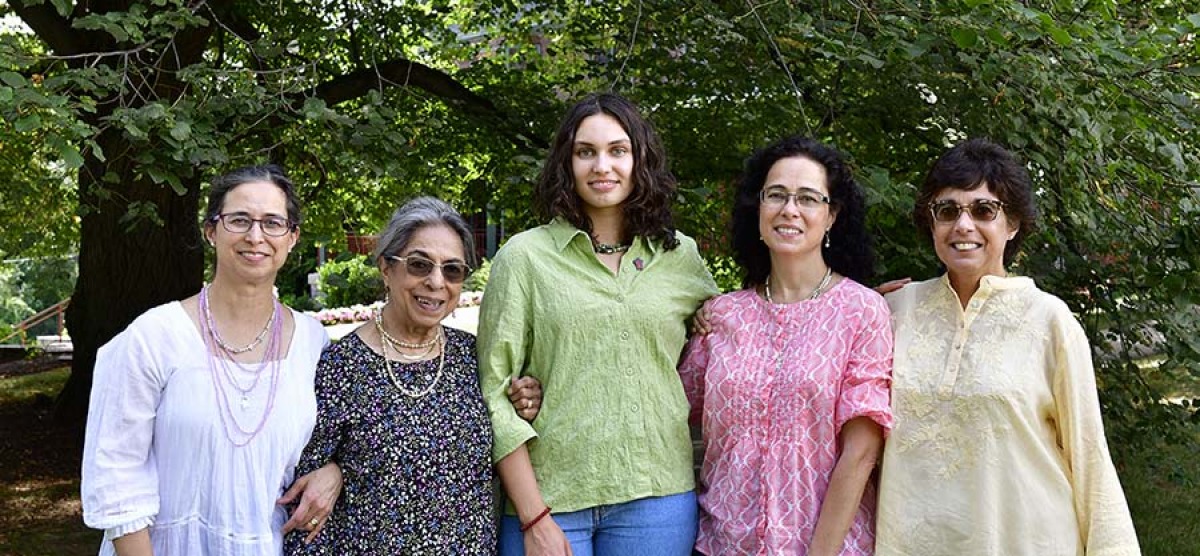 Three generations of the Taggart family reflect on their Bryn Mawr experience.
Where it all Began
Liela: I'm the grandma. My father came from India. When he saw the campus, he said the buildings reminded him of Oxford. So, he sent my sister Indra ('48) and I here.
Then I made all my girls come here too. If for no other reason than my convenience!
When I lived in Merion it had its own dining hall and maid service. The dorm was very much a home.If you didn't come down for breakfast, someone would come up and say, "What's wrong?" You knew all the upperclassmen, and they helped you out.
We had to sign out if we went anywhere. I was shocked that my girls didn't have to sign out. No one checked on their comings and goings. But they managed!
Traditions
Pia: We have all of our lanterns hanging in our sunroom so we can see them daily. Mom and I are green, Tina and Maya are red. Nina [their other sister, Nina Taggart '83] is green also. So, we have three greens and two red lanterns in the family.
I loved Lantern Night because it was like your acceptance into the school, into the sisterhood. When I got my lantern I had finally made it. But I also loved May Day and Garden Party. It was an extension of your school family blending with your family. To be honest, I haven't found a tradition that I haven't enjoyed.
Tina: And let's not forget Step Sing, because that tied every tradition together. It's so wonderful to sing those songs at reunion. Or even in a Zoom chat. We've been doing that since COVID started.
Maya: Step Sing is also my favorite tradition.
Pia: We have pictures of you in your stroller, Maya, at a Reunion Step Sing!
Pranks
PIa: Weren't you in the 100th class, Tina?
Tina: Yes, 1985 was the centennial class. We
had Katherine Hepburn at our graduation.
Pia: And pink flamingos.
Tina: I thought we weren't going to talk about the pink flamingos. Am I allowed to tell? You know there are often senior pranks. So, it was a new century, and I had a van. In the middle of the night, a couple of days before graduation, we redecorated Mary Pat McPherson's lawn with 20 flamingo lawn ornaments and a nice little banner that said, "New Century, New Bird?" We got an honorable mention at graduation, but obviously the bird did not change.
Life Lessons
Tina: As a woman working in a male-dominated field, the experience gave me strength to deal with whatever came my way. I always had my family behind me and my Bryn Mawr family telling me, "Yeah, you can do that." That still carries with me.
Maya: My mom's experience at Bryn Mawr was really influential for her and the experiences she had shaped her. That stuck with me, and being able to have the connection with my family and talk about our experiences here has been a nice way
for us to bond more.
Liela: You know what I took away from Bryn Mawr? If I have a project to tackle, it doesn't frighten me. I don't remember my subjects and what I wrote but I do know that my college experience gave me the confidence to handle a task no matter where I went. That is still a great feeling.
Tina: I think each of us felt very lucky to receive the acceptance letter and then to get through each year and actually graduate. It's a wonderful journey we've had with Bryn Mawr!