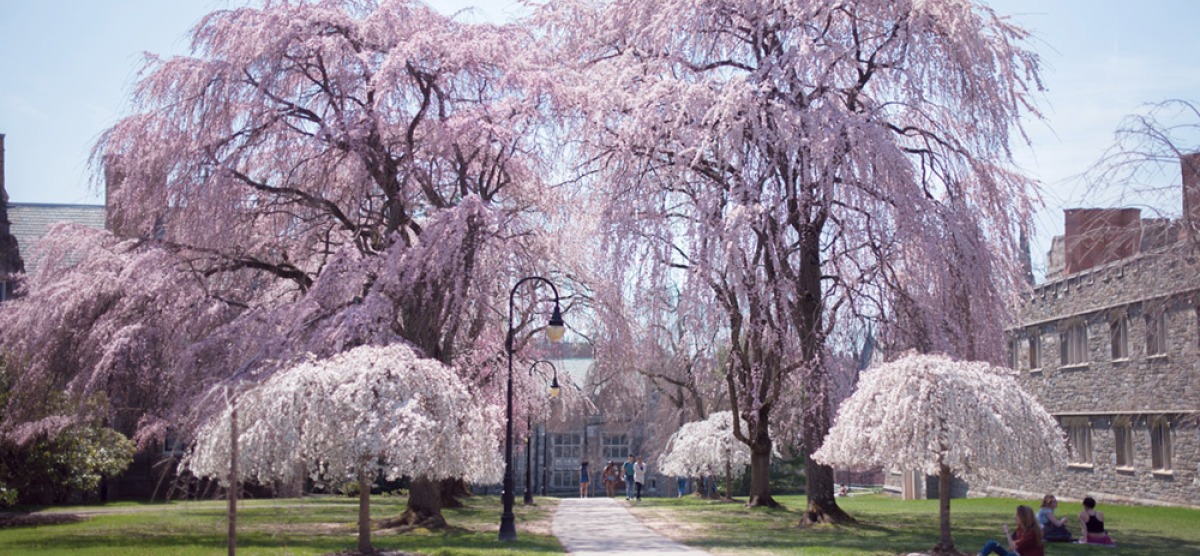 Beeches and Cherry Trees on Campus
How many, many things / They call to mind / These cherry-blossoms!
So wrote the Edo-era poet Matsuo Bashō. Native to Japan, the tree is a cultural icon. In full bloom for only a short, glorious moment, the blossoms—sakura in Japanese—speak to a key concept: mono no aware, an awareness of the transience of life. Even the common name of the weeping cherry, Higan, derives from Ohigan, a Buddhist memorial celebration centered around the spring and autumnal equinoxes. 
For Bryn Mawr, too, cherry trees have a special significance. Come spring, campus comes alive with an explosion of pink blossoms—the weeping Higan cherry trees that bloom in April and double-flowered Kwanzan shortly after. Their arrival signals the end of a long winter and the imminent arrival of spring, with its own celebratory event: May Day.
---
Son of a Beech
On the rise overlooking the athletic fields is a stand of majestic copper beeches that forms a secluded hideaway, complete with benches and Adirondack chairs. Among them is a particularly impressive specimen (GPS Coordinates: 40.02817, -75.315087). Planted in 1914, it is on Pennsylvania's State Championship Tree listing. 
A natural mutant of the common beech, the Copper Beech (Fagus sylvatica 'Atropunicea') emerged in Europe early in the 15th century. It didn't arrive in North America until the early 19th century. In 1807, Thomas Jefferson planted two specimens at Monticello; one survived into the 1950s and the other into the 1970s. 
---
It's a Family Affair
Along with beeches, oaks (Quercus) and chestnuts (Castanea) are members of the Fagaceae family—and generously represented on campus:
American Beech (Fagus grandifolia) | 40.02875, -75.314946 
Common Beech (Fagus sylvatica) | 40.02741, -75.312634 
Weeping Beech (Fagus sylvatica 'Pendula') | 40.02801, -75.314781 
Horse Chestnut (Aesculus hippocastanum) | 40.025613, -75.312664 near Wyndham  
Burr Oak (Quercus macrocarpa) | 40.02763, -75.314889  
Red Oak (Quercus rubra) | 40.02756, -75.313542    
White Oak (Quercus alba) | 40.02767, -75.313379 
Willow Oak (Quercus phellos) | 40.026254, -75.311949 near Cartref