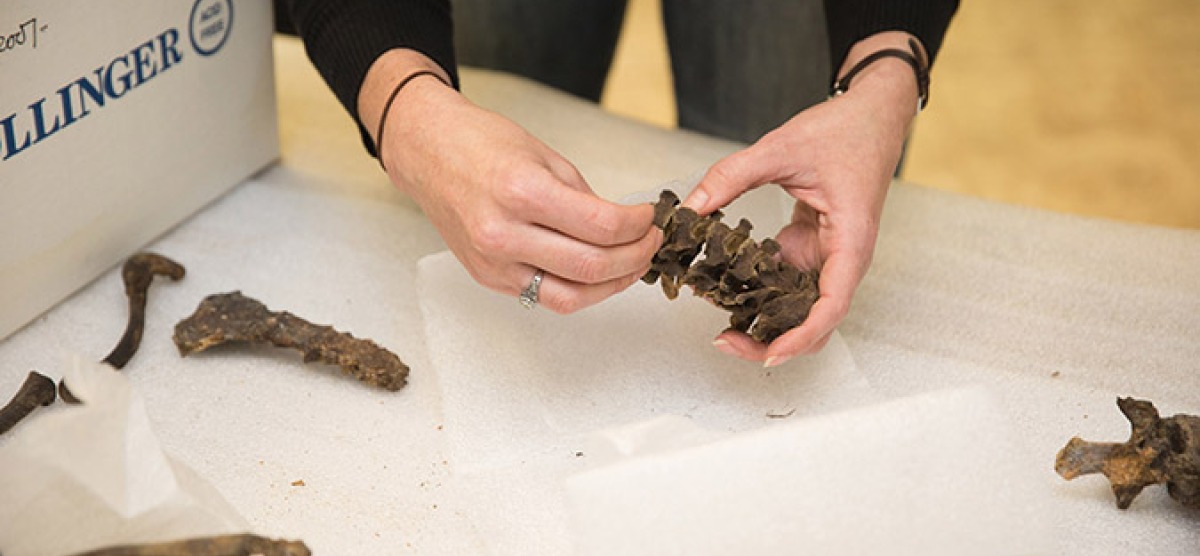 A salvage archaeology project delves into Philly's uncovered past.
In 2016, human remains were uncovered at a construction site in Old City Philadelphia. Over the next months, it emerged that the location was on the site of the historic cemetery associated with the First Baptist Church of Philadelphia. The congregation and cemetery closed in 1859, and the remains were supposed to have been relocated to Mount Moriah Cemetery in southwest Philadelphia.
Excavations of the site were conducted in early to mid-2017, and the researchers involved have until 2023, when the bones are to be re-interred at Mount Moriah, to finish the processing and analysis of the skeletal and material culture remains. The effort to catalog and finally move the remains has been dubbed "The Arch Street Project."
Six Bryn Mawr and Haverford anthropology majors (including myself) are currently involved in the Arch Street Project through the anthropology praxis seminar, Philadelphia's Buried Past.
"Having such a large sample size, around 500 burials, has allowed us to ask a diverse set of research questions," says Kimberlee Moran '00, Rutgers University-Camden professor and the leader of the project. "No one university or college has all the experts required to cover everything we want to learn, so cross-institutional, multidisciplinary collaborations are essential to maximize the research potential of the Arch Street Project."
Moran is joined by senior researchers George Leader (The College of New Jersey and University of Pennsylvania), Anna Dhody (Mütter Museum), Nicholas Bonneau (University of Notre Dame), and Jared Beatrice (The College of New Jersey), as well as local experts Allison Grunwald and Claire Gold.
Bryn Mawr Anthropology Professor Maja Šešelj, who has been involved with the project since last year, developed the course to assist the project and provide a hands-on opportunity for students interested in biological anthropology.
"As soon as I found out about the Arch Street Project, I knew I wanted to get involved," says Šešelj. "In addition to the students getting valuable hands-on experience, I wanted us to do right by the people who were recovered during the salvage portion of the excavation by telling their stories based on what's been preserved in their bones. As osteologists, we use our expertise in assessing skeletal remains to reconstruct people's identities during life and to speak for those who can no longer speak for themselves."
Each week, we travel to Rutgers' Camden campus to work with the commingled skeletal remains housed there. Currently, we are cleaning and documenting the remains and estimating how many individuals are represented among them. Next, we will estimate biological profiles (age, sex, geographic ancestry, stature, and assessments of trauma and pathology) of the individuals.
In addition to our work this semester, several Bryn Mawr anthropology majors have assisted with the analyses of material culture and osteological work at the Mütter Museum, another partner on the project.
"I have been able to work with both human remains and material artifacts over the past two semesters," says Caitlin Smith '19, "and those opportunities have not only reaffirmed my interest in giving a voice to people in the past, but they have also shown me the importance of a multidisciplinary approach in such a project as it enriches the fields that the project encompasses."