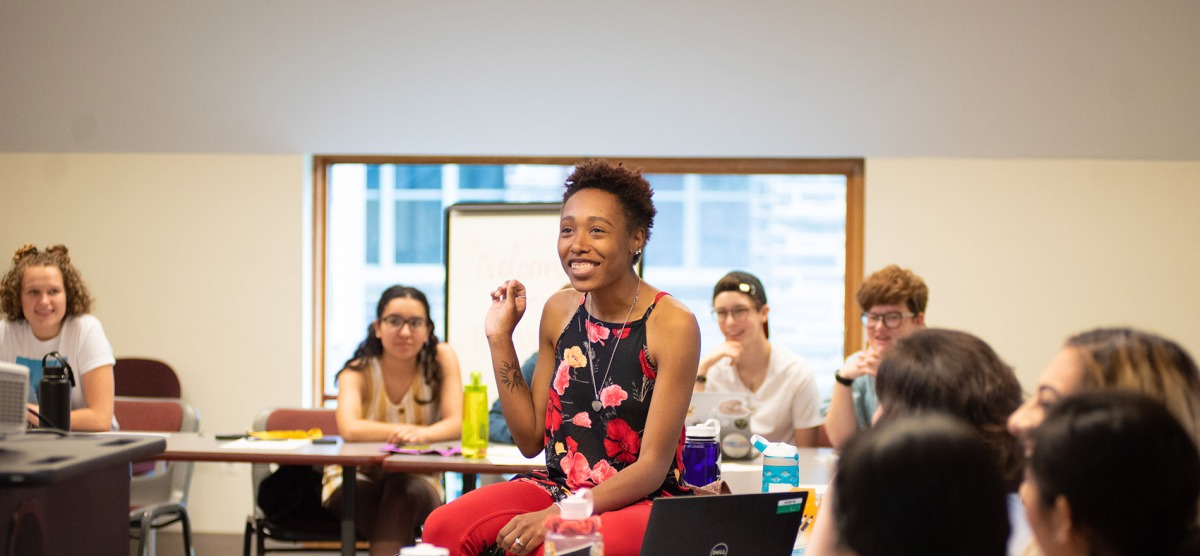 Helping first-year students in the transition to campus life.
Remember Customs Week? You went through the library and IT basics, met your dean, and learned all about the Honor Code. It was great! You learned the Bryn Mawr essentials and bonded with your Customs Group.
But then the first day of classes arrived, and you realized you weren't in high school anymore. The academics were different—less daily class time but more studying, no daily assignments but more reading—and so was the social life.
At Bryn Mawr these days, first-year students get another assist from a transition and life skills course called THRIVE.
Now in its third year, the 10-week course helps first-years get to know the Bryn Mawr community, their fellow Mawrters, and themselves. "This is their first time in college," says Tonja Nixon '15, the College's First-Year Experience Coordinator. "And everything is new—especially the resources available to them. And if nothing else, we make sure they know what the resources are."
And according to Dean of Studies Judy Balthazar, the benefits are tangible: "Because of the great conversations students are having in THRIVE—especially in the Finding My 'Why' workshop—they have more insights and more questions to bring to their one-on-one meetings with their deans in October and November." But THRIVE is far more than a simple college transition course. "We're giving students a toolkit," says Nixon. "We're teaching life skills that will be useful now but also in the next three and a half years.
"Especially at an institution that's so academically rigorous, balance is very important," she continues. "We want to be talking not just about what students need to do but also about what they want to do. So we're also talking about their passions, what they're interested in, what brings them joy."
That means a curriculum that includes practicalities such as time management and study skills as well as personal issues such as mental health, self-care, and diversity. And while not every topic answers every need, the range provides something for just about everyone.
In follow-up assessments, many students give high marks to sessions focusing on the offerings of the Career and Civic Engagement Center, with several asking for more. And one post-THRIVE evaluation was particularly appreciative of President Kim Cassidy's Positive Psychology session, which "explained why we need to care for ourselves and what we can do in our lives to live better. She also told us straight up to sleep more—which is something I needed to hear."  
That kind of feedback is invaluable for Nixon and her colleagues as they plan for next year. Joining Nixon in that task are Balthazar, Assistant Dean of the Undergraduate College Christina Rose, Director of Academic Support Services Rachel Heiser—all from the Dean's Office—and Mary Beth Horvath, the director of student activities and orientation.
Side Benefits
THRIVE's facilitators are all recruited from Bryn Mawr staff members who, says Dean Balthazar, get almost as much out of the program as the students. "THRIVE is, of course, all about the first-year students," she says. "But there's a real side benefit for the staff who get to serve as their facilitators. Even folks like me who work closely with students in their 'day jobs' develop different relationships with first-year students through THRIVE and come away with new insights into student culture and experience."