Improving our ability to examine complex ideas and and engage in open exchange is critical to our core mission.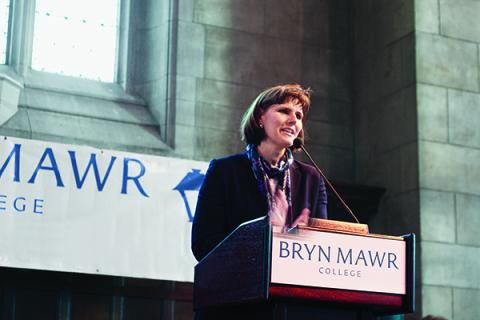 Dear Friends: Last January, I invited a small group of faculty and staff to collaborate with me in creating a program that would offer students, faculty, and staff an opportunity to build their capacities to listen actively, examine complex ideas and differing perspectives, and engage in open exchange. Building these skills is critical to our core educational and scholarly mission, as well as to our aspirations to be an inclusive academic and residential community where all viewpoints are heard and understood and where all members can thrive and feel that they belong.
Bryn Mawr is fortunate to have a remarkable variety of faculty and staff who are able to contribute expertise to developing such a program. The planning group included Professor and Emeritus Dean of Social Work Darlyne Bailey; Professor of Education Alison Cook-Sather; Associate Professor of Creative Writing Dee Matthews; Associate Dean for Equity, Inclusion, and Community Life A.T. Ortíz; then Dean of the Undergraduate College Jennifer Walters; and Interfaith Chaplain Rabbi Nora Woods. They brought varied professional expertise and approaches to this work while sharing the practice of careful thought about pedagogy—how the ways we learn and teach shape what is possible to learn and what kinds of learning communities we can form.
Through a series of dynamic discussions over the course of the spring semester, the group developed a program that we have named the Dialogue Project. The project is designed to engage small (12–20) groups of students, faculty, and staff in six sessions focused on:
Developing empathy and curiosity
Building self-awareness
Engaging with alternative perspectives by "calling in" (vs. calling out), and finding common ground
Radical listening
Reading situations (and texts) with both critique and care
The project seeks to offer participants skills for what Glenn Singleton describes as "courageous conversation" in their own interactions and to bring to other individuals, into classrooms, and other aspects of campus life.
Last May, the planning group piloted the Dialogue Project with 11 participants and incorporated their feedback in shaping the curriculum. The first full session was offered during the fall 2022 semester, and was facilitated by Dean Ortíz and Rabbi Woods. Four undergraduates, one graduate student, two faculty, and five staff took part. Dean Ortíz reported that the participants came eager to learn skills that would help them build connections, navigate conflict, and help others on campus do the same. The response was amazing, and participants even chose to meet informally with one another between scheduled sessions.
Dean Ortíz particularly emphasized how much group members learned about the skills of deep listening in working with each other and building community.  Such skills—becoming aware of what is said and unsaid, listening to understand rather than preparing what one will say next, deepening one's capacity for empathy, and understanding what can contribute to feeling unheard—are equally critical to our academic and community life on campus.
We have had a great initial response from community members to an invitation to join the spring semester cohort. The project is just beginning; I hope that we are able to offer multiple cohorts in future semesters and that its impact will spread as participants take new practices into classrooms and campus life.
With best wishes to all,
Kim Cassidy
President