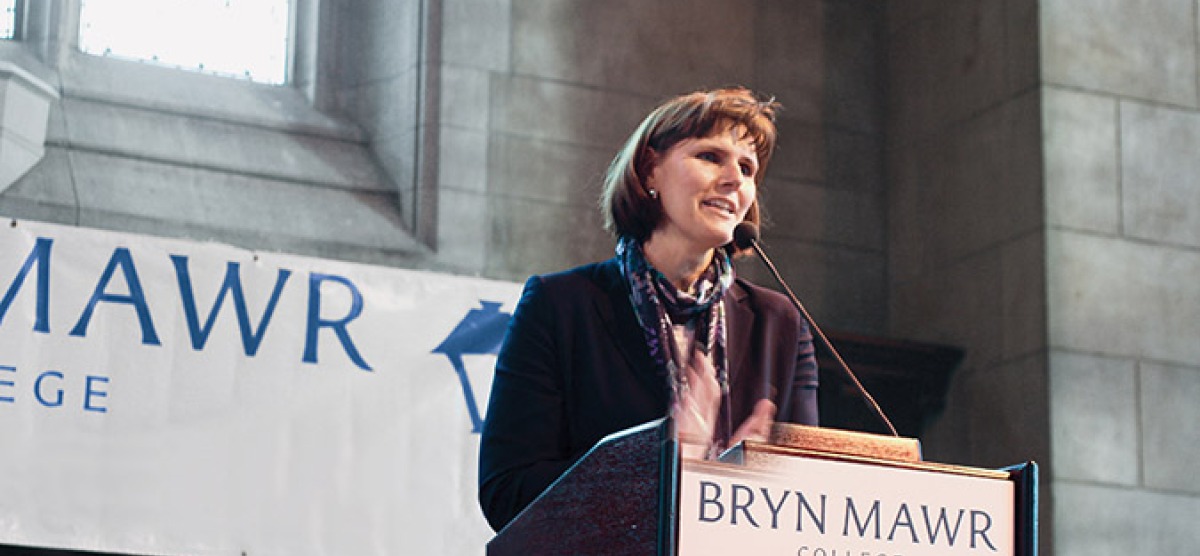 Dear Friends: This semester has brought excitement to campus with the opening of the Student Life and Wellness Building. This new building offers students a central place to access a wide variety of programs that foster health, belonging, growth, and community. This intentional gathering of departments aims to support students in thinking holistically about their education, well-being, and personal and professional development.
The appearance of a wholly new building is a rare event at Bryn Mawr: 70 percent of our campus facilities were originally constructed more than a century ago (from 1890-1920). The necessity of replacing the aging Health Center and the generosity of donors to the Defy Expectation Campaign created the unusual opportunity to add to our built landscape and to invest in vibrant and innovative programming that supports student development. I am especially grateful to Jennifer
Walters, dean of the Undergraduate College, for the vision that has informed this process.
Every aspect of this new building—philosophy, program location and planning, and architecture—is intended to strengthen connections across a student's college experience. Departments located in the new center support all aspects of student life, including medical services, counseling, personal and cultural identity, community engagement, professional exploration, and career and graduate school preparation. The three associate deans who lead these departments—Reggie Jones, Ann-Therese Ortíz, and Katie Krimmel—are using co-location to advance intentional, interconnected programming that helps students build a holistic experience of well-being, growth, and preparation through their years at Bryn Mawr—and beyond.
The building belongs to students as well as staff. Kitchens, meeting spaces, informal hang-out spaces, and an outdoor patio create opportunities for students to gather for clubs or for impromptu fun, especially in the evenings and on weekends. It will be exciting to watch how these spaces will shape and be shaped by students. I can envision Friday afternoon music on the patio or winter afternoon 'smores, but I know our students' imaginations are unlimited.
The architecture of the building is also informed by a focus on connection. The design process sought to reconcile what initially seemed like a conflict: a desire for a building that embraces light and one that is in dialogue with the Collegiate Gothic beauty of the older campus. Our team found a solution by understanding that broadly speaking, Bryn Mawr has been built in three phases- Collegiate Gothic, mid-century modern (notably Canaday, Erdman, Haffner), and the contemporary renovations and additions of the past 20 years. The final design solution for the Student Life and Wellness Building, offered by our own campus architect Joseph Marra, speaks to each of these eras in its four exterior elevations. Each elevation is visually in conversation with the buildings that surround it, and they are separated from one another by glass curtain walls. Inside, the building offers new ways of seeing the campus itself that delight me, as I hope they will you when you next come to campus. I will leave you one visual surprise for your visit, which you will encounter as you enter the contemporary glass two-story foyer.
I am excited to see the ways in which this new building and the programs it supports impact the lives of students and our experience of the campus in the coming years. I am deeply grateful to each of you whose support have made the center and its programs possible.
Sincerely,
Kim Cassidy
President