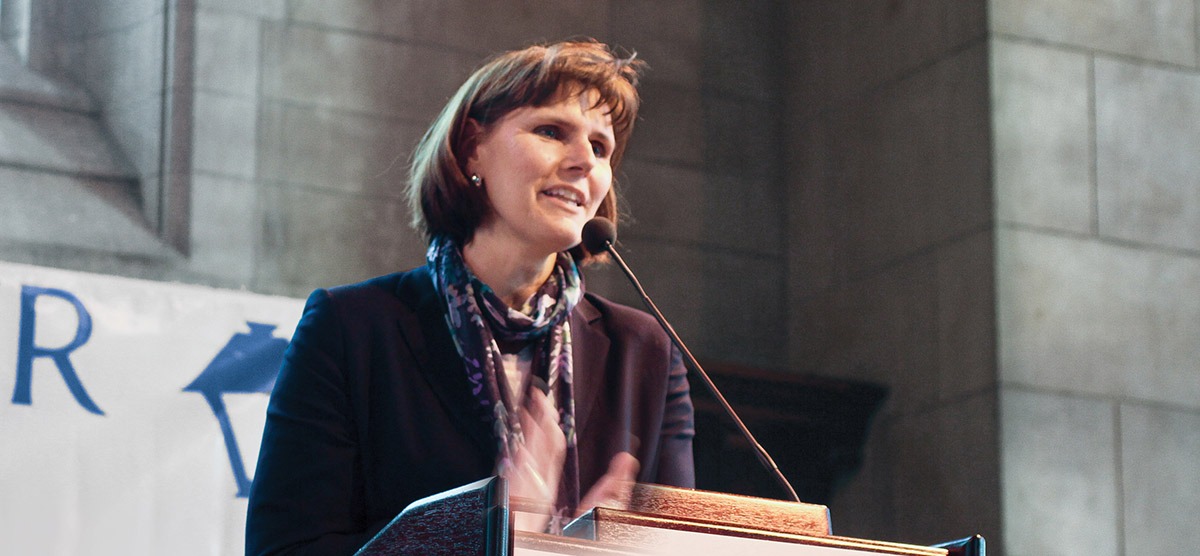 Challenge and Opportunity
Our current situation is extraordinary in its complexity, its urgency, and its opportunity for transformation.
Dear Friends:
At every gathering of college presidents that I attended (virtually) this summer, the discussion centered on the intersecting challenges for the nation and for higher education, including challenges of public health and of moral reckoning with structural racism. Our current situation is extraordinary in its complexity, its urgency, and its opportunity for transformation.
Working in a hybrid model this year—when some faculty, students, and staff will be on campus (but physically distanced) and some will be remote—has pushed us to think about how we can build the sense of community that has been so distinctive to residential liberal arts colleges in general and to Bryn Mawr in particular. Technologies like Zoom are invaluable to helping us connect and collaborate.
But we miss spontaneous connection and physical presence when we live and work together in more remote ways. This moment demands trust in each other, as our ability to continue to operate depends on our ability to follow our health guidelines. So our work to build community goes beyond our intellectual connection. Each of us—student, faculty, and staff—is responsible for the community's ability to thrive.
Many students, alumnae/i, faculty, and staff have been galvanized by the national uprising against racism to demand that Bryn Mawr intensify examination of structural and cultural racism within the institution. We must take responsibility for the pain and forms of exclusion that Black students, faculty, and staff (and other people of color) have experienced at Bryn Mawr and act to build anti-racist practices and deliver on the promise of equity. Our community has also asked us to think about Bryn Mawr's role in this larger national movement. This work is both urgent and will take time. And it similarly requires us to (re)build trust and connection in new ways.
This is a daunting moment to lead a college, and I have had my fair share of sleepless nights. We have an opportunity for transformation before us, and we can't squander it. However, along with those sleepless nights are my confidence—rooted in my knowledge of the strength of the College and the hard work of our faculty, staff, and students—and my hope that we have the courage to become a more fully just and inclusive institution whose mission speaks to the needs of our community and to the world and whose bonds can transcend the separations of time and space.
Sincerely,
Kim Cassidy, President