Commitments to a Global Bryn Mawr
International students make a leap of faith in deciding to come to Bryn Mawr.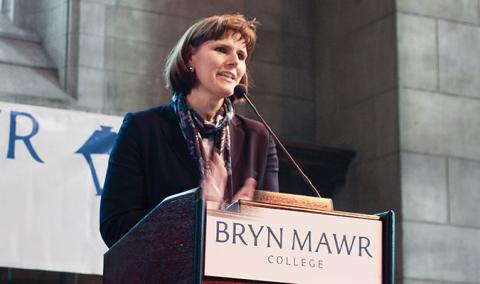 Dear Friends:
As you can read about later in this issue, the College hosted a virtual International Alumnae/i Forum in March, or rather one forum in two parts—one timed for those in European, Middle Eastern and African time zones and one for those in Asia. These events brought together more than 200 alumnae/i from around the world and the U.S. and were built around "fireside conversations" that I had with Baroness Lindsay Northover, M.A. '78, Ph.D. '81, a Liberal Democratic Party member of the U.K. House of Lords, and Amy Hsu '94, Global CEO of RSI and a trustee of the College. You will find excerpts from these conversations later in this issue, but here I want to reflect on one of the topics of our discussions: Bryn Mawr's commitment to an international student (and alumnae/i) body and to a curriculum informed by global perspectives.
The first international students and faculty at Bryn Mawr came from Europe. Undergraduate and graduate students from Japan and China also enrolled in the College's early decades, thanks in large part to Um ko Tsuda (special student, 1889-1992), who created the American Scholarship for Japanese Women while at Bryn Mawr (which in turn inspired the Chinese Scholarship Fund created in 1916). Refugee scholars escaping from 1930s Germany (such as mathematician Emmy Noether) made an enormous mark on the College, as did students who came to Bryn Mawr following massive postwar political changes in Eastern Europe, the Middle East, and East Asia. International student recruiting became intentional and expanded enormously beginning in the 1970s with the presidency of Harris Wofford and the commitment of Director of Admissions Emeritus Betty Vermey '58. Those decades were also the first to bring a significant number of students from Sub-Saharan Africa to the College. In the 21st century, the number of international students at Bryn Mawr has expanded yet again: since 2000, Bryn Mawr has enrolled 1,760 international undergraduates (including dual citizens) from 120 countries.
The past four and a half years have been challenging ones for international students. Many have had difficulty getting visas, experienced hostility off-campus, and faced threatened restrictions on internship and work opportunities in the U.S. Bryn Mawr has lobbied actively on our students' behalf, both with our Congressional delegation and through the Presidents Alliance on Higher Education and Immigration. The College has also increased support for students who remain on campus over breaks and summers, and in response to the fall 2020 student strike, have committed to pay taxes levied on international student scholarships.
The COVID-19 pandemic has added to the challenges facing international students. Some students have remained on campus since March 2020, as returning home (or returning back to Bryn Mawr) would be impossible. Some first-year international students have not yet stepped onto the campus, but are so committed to their educations here that they have reversed their day/night clocks in order to join their classes via Zoom. I look forward to meeting these remarkable students when they are able to join us in person.
International students make a leap of faith in deciding to come to Bryn Mawr. In turn Bryn Mawr makes a significant institutional commitment to remain a global institution, both through enrolling an international class and investing in the programs— language study, an International Studies major, global curricular perspectives, study abroad, international internships—that make global education possible for all students. This meeting of commitments forms a distinctive part of Bryn Mawr's identity that is central to our educational excellence and to our approach to a liberal arts education.
Sincerely,
Kim Cassidy
President