What are your favorite memories of winter on Bryn Mawr's campus?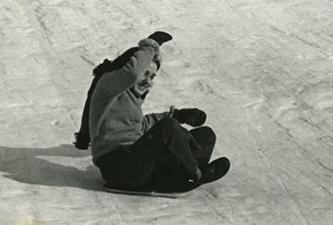 Susan Messina '86, MSS '91, MLSP '92
HUGE snowstorm the day of Hell Week "confinement" in 1983. Very, very memorable!
Rachel (Singer) Volodarsky '03
Definitely traying down Rhoads Beach!
Dara Picard '89
Traying with a shiny new blue tray from Erdman (yes, I returned it) down the hill behind Faculty Row. Roommate's lemon Pledge sprayed on the bottom for extra zip!
Marcia Cantarella '68
Dragging my Southern born roommate out of bed to go out to see the first snowfall on campus. She thought I was nuts but loved it.
Allyson Bailey '84
Making a snow megaron in the Cloisters!