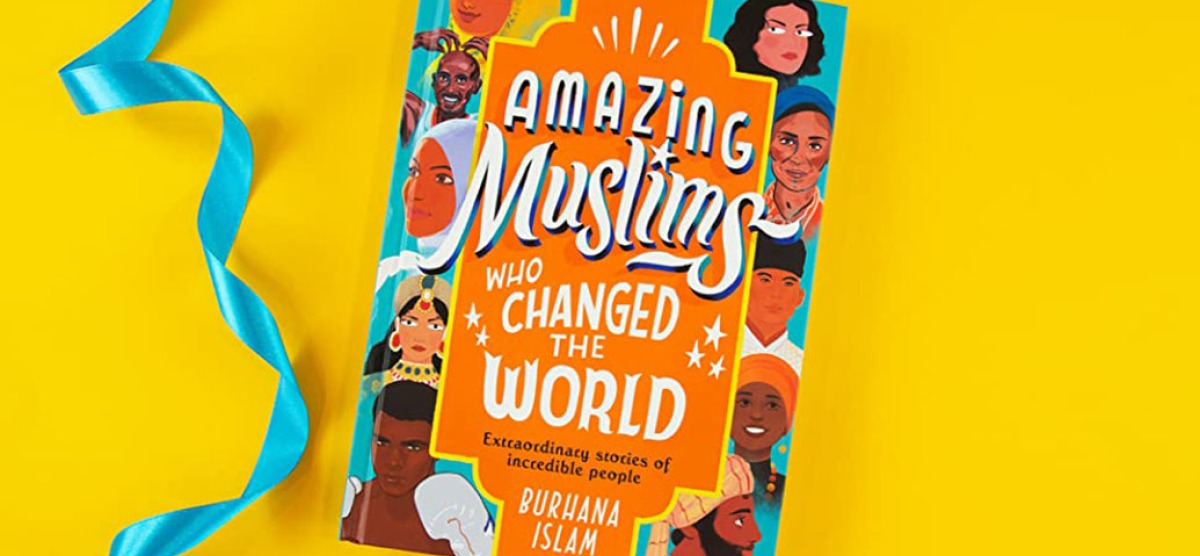 Deema Alawa '23 Illustrates 'Amazing Muslims'
She shares her experience in the book publishing world.
Earlier this year, Amazing Muslims Who Changed the World hit shelves. Recounting the lives of Muslim heroes past and present, the YA book is lavishly illustrated—by, among others, Bryn Mawr's own Deema Alawa '23. Below she shares her experience in the book publishing world and at Bryn Mawr.
---
Tell us a little about your design background.
My first step into a design career was premature: I was 16 when I took on a design fellowship with The Tempest, freelancing projects on the side. Since then, I've transitioned to creative director at the company, created visuals for magazines, media companies, and organizations, and published my art with Penguin Random House. A lot of my work draws from my dual Syrian-Danish heritage, underlining the connections between representation and contemporary illustration..
How did The Amazing Muslims project come about? 
I remember sitting in the dining hall—I think it was Erdman—and I got an email from Penguin Random House: "We have a book coming out and we would like you to illustrate it." Amazing Muslims was a work in progress at the time: where I was illustrating the opening chapters of the book, its stories were still being written. Being a part of the book's development and growth was a surreal experience in itself.
I was 12 when I set the goal to illustrate a book by 30. Six years later, getting the opportunity to illustrate for a top five publishing house—especially during my first year at college—wasn't something I'd anticipated in any context.
What was the process like?
In a word: new. Before beginning the illustration process, I was given chapter outlines and write-ups describing the scenes I was tasked with illustrating. Drafting chapters was a twofold process: research and plotting were just as important (if not even more so!) than illustrating the scenes. After months of drafting and researching illustrations, holding the final product was a surreal feeling.
What was the high point?
Growing up, it was difficult to find representation in history books and media. Being able to take part in this project meant creating an avenue for others to find themselves on paper—there's nothing as powerful as that.
The biggest challenge? 
Navigating illustration for a publishing conglomerate during my freshman year of college wasn't something I expected so early into my design career. As the youngest contributor to this project, balancing imposter syndrome and deadline stress was a challenge in itself. Being able to see the stories slowly come to life on paper kept me motivated and focused on the outcome in the long run.
Why Bryn Mawr?
When I first began the college search, I knew I would attend a historically women's college. Bryn Mawr's traditions, tight-knit campus culture, and architecture automatically pulled me in. Going into my freshman year, I was adamant that I knew what I'd major in, what career path I'd take; Bryn Mawr challenged that. Taking detour courses in STEM and anthropology have since pulled me into an entirely new path that I never imagined before college. While I'm undeclared at the moment, I've begun leaning towards biology and cultural anthropology more and more.
What has college life like been like during a pandemic? 
Challenging! The pandemic brought a new angle to college life and has since forced me to become more tech-savvy. My professors were largely empathetic to the transition, restructuring courses to fit everyone's needs, which aided in cushioning the transition to online lectures.
In 50 words or less, persuade us to read Amazing Muslims?
Amazing Muslims Who Changed the World represents Muslims in history and the present—from Muhammad Ali to Malala and beyond. From pirate queens and warriors, scientists and artists, these are the stories your history books haven't written yet.