Anassa Kata

Emma Wippermann '12
Emma Wippermann, author of the forthcoming Joan of Arkansas (Ugly Duckling Presse), has won a 2023 Whiting Award for poetry and drama. The Whiting Awards, established by the Whiting Foundation in 1985, are given to recognize early-career achievement and empower recipients to fulfill the promise of exceptional literary work to come. They are one of the most esteemed and largest monetary gifts ($50,000) for emerging writers.
The Whiting Award judges wrote of Wippermann's latest work, a queer drama about climate catastrophe and political divinity, that it is "a climate-anxious work marked not by didacticism but by sympathy; It conveys rapture even as it jokes with angels."
Wippermann, who lives in Brooklyn, is also the author of Pleasure as a Series of Objects (Patient Sounds, 2019) and has published work in jubilat, Omniverse, Second Factory, No, Dear, Oversound, Temporary Art Review, and Organism for Poetic Research.
Of this honor, Wippermann said, "Writing is such a slow and solitary thing. To be recognized in this way, to receive this kind of support—it's a dream. I'm so grateful to be able to devote more time to my upcoming projects."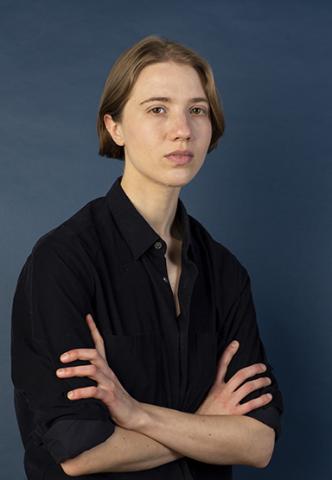 Emma Wippermann '12