Our admitted students bring rich diversity to the campus across many dimensions, as well as academic excellence.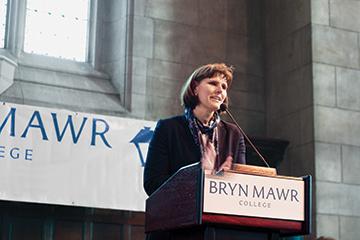 Dear Friends: As I write this column, students who have been admitted to the Class of 2027 are in the process of deciding on the college they will attend next fall.
Over the past four years, Bryn Mawr has experienced a substantial increase among applicants with stellar academic credentials, and in the past two years in particular, higher percentages of admitted students have accepted Bryn Mawr's offer of admission than we expected (good news indeed, although dorms are very full!). As a result, this spring's acceptance rate dropped to 29%—the lowest acceptance rate for which the College has reliable records.
Our admitted students bring rich diversity to the campus across many dimensions, as well as academic excellence. Among this year's cohort, 19% will be the first in their family to attend a four-year college, 16% are Pell Grant–eligible, 16% are members of underrepresented minority groups as defined by the U.S. Department of Education (African American, Latinx, Native
American/Pacific Islander), 15% identify as Asian American, 10% identify as multiracial, and 11% are international students. This class profile reflects a recruiting strategy informed by both the changing demographics of  the traditional college-age population and a focus on finding talented students in new and expansive ways.
Building recruiting pipelines to reach students from diverse communities requires sustained work. Bryn Mawr and other selective liberal arts colleges increasingly seek to build partnerships with community- based organizations (CBOs) that work with high-achieving
historically marginalized students (often as early as eighth grade), helping to prepare them for college and the college application process.
Our admission counselors are responsible for maintaining relationships with existing CBO partners in their regions and are tasked with forging new relationships within their recruiting territories. Relationships are built through regular recruitment practices, specialized workshop offerings for students of a particular CBO (e.g., how to write the college essay, mock interviews, women's college workshops), and—in the coming months—delivery of specialized print content designed with each audience's needs in mind.
Bryn Mawr has 16 core CBO partners serving diverse communities across the country, including Chicago Scholars, Palouse Pathways in rural Idaho, Esperanza Education Fund, and Princeton University Prep Program. Our newest CBO partner is College Horizons, which supports American Indian, Alaska Native, and Native Hawaiian students in the college search and application processes. Bryn Mawr will be part of two of College Horizons' summer programs, working directly with students on a variety of application-related topics.
The College is also seeking to build transfer pipelines with community college honors programs, as these are a gateway to higher education for many students who are first-generation or from limited- income families. Bryn Mawr is close to finalizing a memo of understanding with the honors program at Community College of Philadelphia (CCP) that will enable CCP students to
matriculate at Bryn Mawr and graduate within two years by mapping pathways from CCP courses to Bryn Mawr majors in biology, literatures in English, education studies, mathematics, philosophy, and psychology (with more to come). The Admissions Office hopes to build on this experience to reach out to such honors programs on a national basis and to work with the Residence and Student Life offices to help transfer students become part of the campus community.
I am so proud of the way Bryn Mawr is acting on its twinned commitments to excellence and access, and I am grateful to all whose financial support helps to make our aspirations a reality.
With best wishes to all,
Kim Cassidy
Bryn Mawr College President