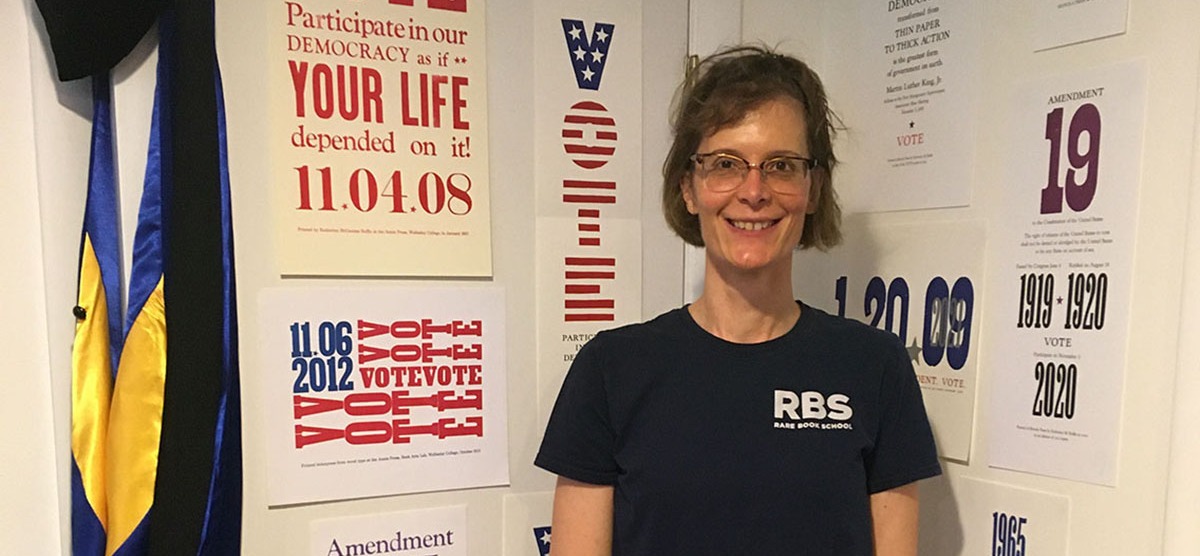 Katherine Ruffin '94 and the Fine Art of Voting
Creating Get Out the Vote posters.
Katherine Ruffin '94, director of Wellesley's Book Studies Program, has been publishing limited letterpress editions under her own imprint of Shinola Press since 1994. Lately, she's been sharing her series of Get Out The Vote posters, free, through her social networks. Below, she also shares the story behind the posters. 
---
The VOTE posters are a letterpress printing project I started in my personal studio, Shinola Press, in 2008. They are a non-partisan, non-commercial get-out-the vote series of prints produced in limited editions of 50 to 300 copies. I print the posters from hand-set wood and metal type and hard-carved linocuts on my personal Vandercook Universal One press which dates from the 1960s. 
When I was in high school, I did a lot of mail art—in fact, I sent mail art to Libby Mosier '84 when she was my admissions counselor at Bryn Mawr. After completing an A.B. at Bryn Mawr, where I majored in philosophy at Haverford and worked closely with Mark Lord in theater at Bryn Mawr, I earned an M.F.A. in the book arts at the University of Alabama. That is where I learned letterpress printing, hand papermaking, and bookbinding. 
The VOTE posters are an extension of my mail art practice and the tradition of distributing gifts that exists in the book arts and printmaking worlds. Over the years, I have distributed them through my social networks by either giving them to people in person or mailing them to people. I have often sent a number of posters to friends in swing states and asked them to distribute them to their friends. 
In 2020, when a free and fair election seems particularly important, and when the pandemic has reignited interest in mail art, the vote project has continued. This year, printing posters that reflect the amendments to the U.S. Constitution that pertain to voting rights, while at the same time I am mindful of the fact that voting, like so many things in our country, is administered at a local level. The feedback that I have been getting from recipients of the posters this fall is that the posters are bringing them hope.