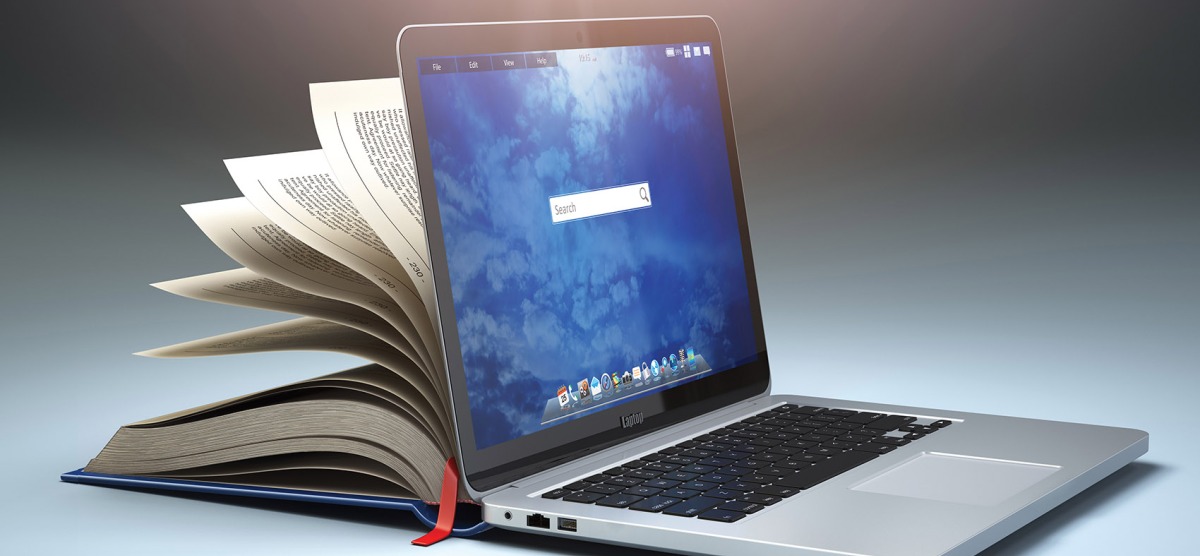 On Learning and Libraries
Mawrters navigate the new information landscape.
Digital natives, here's what you missed: we Mawrters once lugged scholarly sources home from stone repositories using our literal digits and, as Celeste Provost '89 fondly recalls, fed dimes to the library copier to duplicate non-circulating texts. Before images could be digitized, Heather Marks '91 worked in the old art and archaeology library cutting, mounting, and cataloguing slides. File sharing was a tactile task of folding papers lengthwise to fit a prof's mail slot or carting a floppy disk to the new computer lab in Guild to print a draft. 
Now, "I haven't handled books in almost 20 years," says Abigail Bordeaux '96, a systems librarian who manages digital projects at Harvard, from specialized preservation applications to vast library catalogues. Her professional path tracks the public debut of the World Wide Web in 1991 and the development of accessible browsers and search engines that, within the decade, changed the way we view, create, share, and store information. 
Though Bordeaux's first job after college was digitizing photographs in Bryn Mawr's special collections, she still thought her career would be cataloguing paper books, as she'd done as an undergrad working in Canaday. But by 1998, when she earned her master's degree, most U.S. library schools were hybrid programs teaching both traditional analog material management and computer-based information science. At this point, she's all in with IT—managing people and projects using the "agile methodology" of flexible, responsive, collaborative, and iterative practices adapted from the software development and technology sector. 
Recalling the print reference tomes and periodical indexes of her college years, Bordeaux says, "I don't really miss them—or the notion of having to plan work around a particular physical space that's only open until midnight. The convenience of having access to materials through a browser radically outweighs what we might have lost." 
Access is everything to Lillie Williams '12, a senior systems administrator at ECS Learning Systems, which produces educational software and test prep materials for K–12. In fact, online learning led her to educational technology—and to a job she does remotely while pursuing a master's degree in information science through the University of Arizona. 
Daughter of an early adopter, Williams grew up playing educational computer games in rural White Bluff, Tennessee. "Very few people in my school system were on the college path," she says, so her mother steered her to online resources that her school lacked. "Technology offered an advantage that helped me prepare for college and get into Bryn Mawr." By senior year, the English major was writing how-to articles for the libraries' web page as a transition assistant hired to train faculty on the learning management system called Moodle. "Helping my professors do something I could do a little more fluently made me more confident," she says. 
Though writers in the internet age are sometimes demeaned as "content providers," we are in essence teachers, conduits between ideas and learners. Roz Cummins '82 takes her role seriously—and takes care to consult reliable sources in an information landscape in which words travel fast. 
A freelance writer and developmental editor who apprenticed at print publications, Cummins likes the quick cycle of writing for the web but taps old-school training to produce accurate work for cyber media now run by skeleton crews. "Research is so much easier now, but I'm always careful to corroborate ideas from more than one source," she says. "A friend used to say, 'How are you always right? You must be a witch!' And I said, 'You can be a witch, too. Just check your facts!'" 
With a body of work behind her, Cummins's reputation—and her "platform" as a food writer concerned with sustainability—was built on her integrity. "I've never had to print a correction or retraction," she says, "since I've never published anything that I couldn't substantiate." Because she holds herself accountable, she welcomes the feedback online formats permit, encouraging dialogue with fans and critics by keeping her responses civil. "That's why I write," she says. 
As alumnae spoke about technology that has transformed the way they work, it struck me that we're all engaged in the creation and storage of data, starting with the collegiate scholarship that is part of the perpetual record of Bryn Mawr College. And that the preservation of our ideas requires both choosing what's worth keeping and updating as needed. As Abigail Bordeaux explains, a 500-year-old manuscript on the library shelf is more likely to last than data that's left alone. "There's a term for it: 'Bit rot,'" she says. "Things are apt to become corrupt if you don't actively manage them."