When the College needed a new lantern maker, an alumna made the case for finding a union-affiliated metalworker.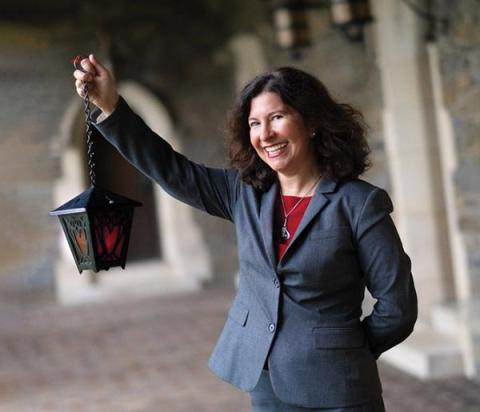 For many Mawrters, Lantern Night stands out among their first-semester memories for the sense of belonging it instills early in their Bryn Mawr experience. For decades, the lanterns that first-year students received at Lantern Night—and treasured for years to come—were produced in rural Pennsylvania by metal fabricator Kurt Schenk and family. Recently, Schenk stepped down from the annual lantern production, and the hunt was on for a new manufacturer.
When she heard about the search, Sarah Tarlow '97 had some ideas. "Wouldn't it be great," said Tarlow, a practicing union-side and benefits lawyer, "if we could get these made by a union?"
As it happens, Tarlow works at Spear Wilderman, P.C., in Philadelphia, and one of the firm's clients is Sheet Metal Workers Local 19. Before long Tarlow was hosting Zoom meetings with the union's business representatives and showing them photos of the lantern. "I asked, 'Is this something you do?'" she recalls, "and they immediately looked at it like a puzzle and started mentally taking it apart and figuring out how they could produce and improve it."
When Nova Industrial Arts, a Local 19 signatory company, was selected for the project, Tarlow was delighted. "This particular group of sheet metal workers make signs for banks, and they've done work in Atlantic City for the casinos," she says. "They're close by in South Jersey. It seemed to me a perfect opportunity for the College and for Local 19."
Lantern Night may not be a tradition Nova or Local 19 were familiar with, says Tarlow, but "they see the lantern as something they want to provide and a product
the College wants."
For Tarlow, Lantern Night remains a magical memory. "It felt like the point where I was really welcomed into the College. It was an opportunity to once and for all feel like I was part of the Bryn Mawr community," she says. "I love this idea of passing on the light of knowledge." In fact, says Tarlow, she loves her lantern so much she was tempted to walk down the aisle with it when she got married (she decided against it for practical reasons).
Tarlow's work as a union-side and benefits attorney has made her appreciate the significance of supporting unions, and she also has witnessed the care that union members bring to their work. "There's a commitment, so you get a better product," she says.
Now more than ever is a time to support a labor movement that's been "battered and beaten down," she says. "Labor unions provide pathways for people to have better pay, benefits, and working conditions that have really been eroded in this country. Unions, through collective bargaining and collective action, enable workers, regardless of the color of their collar, to use their voices to champion their rights and autonomy."
John Marshall, a metal worker at Nova Industrial Arts, bends and welds the body of the lantern with a spot welder.
There is a certain beauty also, she notes, about bringing this to Bryn Mawr. "It's sending a message to the student body that they're getting a product that's union made. How better to educate this group of women that there's something out there called a labor union, that they are committed to the work they do/products they generate, and we in turn need to support them, especially now as they fight for expansive legislative reform to give workers in today's economy the right to form a union in every industry and region, free from employer interference."
Tarlow says she remembers being on campus for May Day a couple of years ago when the class president referenced the labor movement and its connection to May Day. "I think for me that was a reminder that being part of a College that has nods such as that—and the fact that we sing 'Bread and Roses'—it seems most appropriate and important that not only are the lanterns manufactured by a union signatory company, but that the College is supporting unions."
---
(METAL) SHOP TALK
The College recently began a new partnership with Nova Industrial Arts, an architectural metal and sign company in Mount Holly, New Jersey, to produce the lanterns that are such an important part of Bryn Mawr tradition. We sat down with Nova's chief operating officer, Corey Kennedy, to talk about his new assignment.
What kind of work does your company typically do?
Corey Kennedy, Nova's chief operating officer.
A typical job for us would be something like the Jefferson Tower skyline signage, with 22-foot-high logos and 14-foot-high letters that are 500 feet up in the air. A lot of our work involves not only our signage expertise but our architectural metal expertise.
That's really where the mesh point was for this. This is a production item, which is different than a lot of what we do—we typically do ones or twos of an item—and it's a small-scale thing. But we have the equipment—lasers, routers, bending equipment, welding equipment—and we have the manpower. So yeah, it doesn't fit exactly what we do, but if we can do it here locally, I think it's a great opportunity for our community and for the Bryn Mawr community.
What were some of the challenges?
The owl itself used to be separate from the entire frame. The glass rattled around in there a little bit so it was tough to maintain durability. So, we incorporated the owl into the entire flat structure of the lantern. That was one of the tricky parts that needed improvement.
Another challenge was the way the candle is inserted into the bottom of the lantern. Traditionally it has been a little tricky to get it in there—putting a lit candle into the bottom of the lantern is a tough task. So we made some improvements there, too.
And it came together?
It did. We really have some fine craftsmen in our shop. I owe it to the tradesmen and women in our shop to be able to accomplish this stuff. I just handed it over to them and said, 'This is what we're making. Let's replicate this,' and let them get to work and got out of their way.