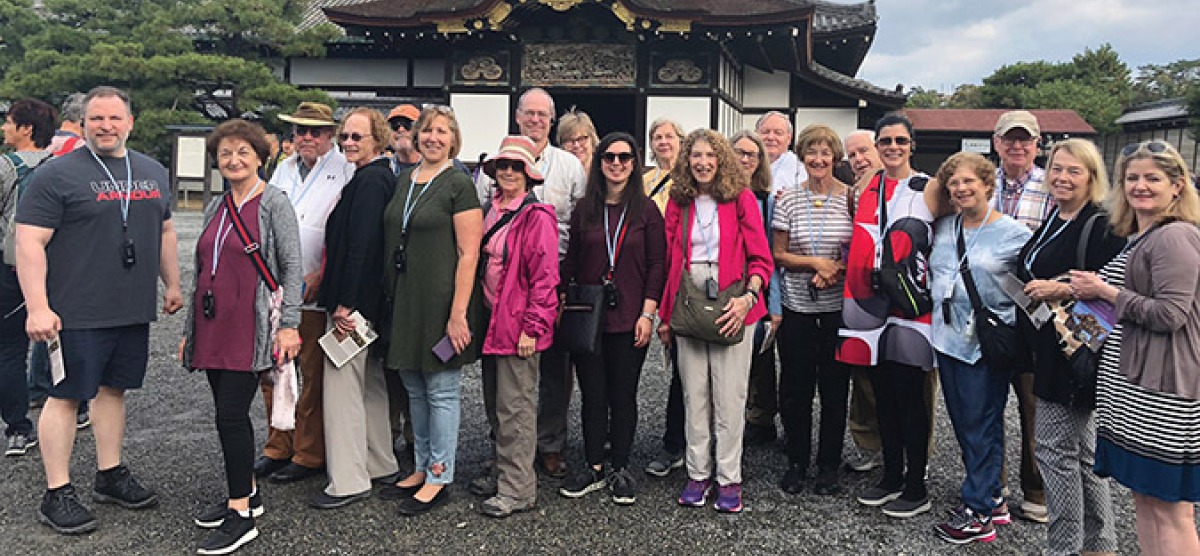 An Alumnae Association trip to Japan leaves travelers 'heto heto' but 'waku waku.'
This past October, we had the good fortune to tour Japan with Bryn Mawr's Travel Program. What a pleasure! The accommodations and meals were terrific; the itinerary was well-organized and included activities we might not otherwise have done; and our tour guide, Oka-san, made it her mission to provide the most authentic Japanese experience.
If this were an ad for a generic travel program, that recommendation alone ought to be enough. But what we truly want to convey is the Bryn Mawr-ness of our trip. Our group of fellow Mawrters and their guests spanned nearly 50 years in age, hailed from a variety of regions, and included an array of cultural backgrounds and professions.
More than half were alumnae/i representing classes from 1968 through 2000 as well as both graduate schools. We connected over mutual friends and dorm affiliations, discussed how the campus has changed over the years, and talked about our lives and work in the intervening years. It was like a mini-Reunion but with all new friends.
Partners, friends, and one Mawrter mom rounded out the group. We gelled immediately. Some of us were experienced world travelers, others less so. No matter. We were all eager to devour Japan in every sense.
Guided by the phenomenal Oka-san, we traveled from Tokyo to Mt. Fuji and Hakone, then Takayama and Kanazawa before heading to Kyoto. Some of us went on to Hiroshima for the optional tour extension.
Together, we strove for a "deep dive" into Japanese culture. We marveled at the organized chaos of Tokyo, experienced the quiet simplicity of a traditional ryokan, bathed in the ancient ritual of the onsen, learned the proper bow for a Shinto shrine versus a Buddhist temple, had a Q&A with a Buddhist monk, attended calligraphy and cooking classes, sang karaoke, explored the fish markets, and so much more.
Although we were heto heto (tired) at the end of each day, we were profoundly waku waku (happy) throughout the trip. In fact, toward the end of our journey, Oka-san took Saskia aside and told her that our Bryn Mawr group was unique among all the groups she has worked with over the years: up for every adventure, deeply curious, and extremely appreciative of the culture in which we were immersing ourselves.
And that's what sets Bryn Mawr's Travel Program apart—it caters to the voracious Mawrter appetite for knowledge and experience with an exciting lineup of destinations all over the world, and itineraries built for lifelong learners. Trips often include a Bryn Mawr faculty member who lectures along the way.
So, the next time you are planning a vacation, we urge you to consider a Bryn Mawr trip. It will be worth every penny of your travel dollar.  
—Sincerely, Saskia K. Subramanian '88, M.A. '89, President, Bryn Mawr Alumnae Association
—Nancy Schmucker '98 (McBride), Senior Associate Director of Communications