From the New Tapestry Co-Chairs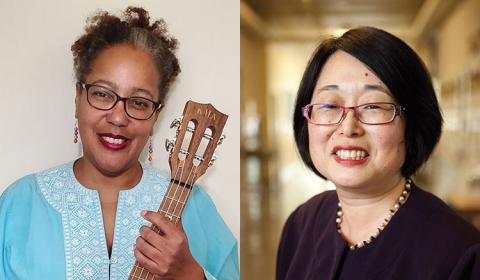 This August marked the transition from one set of Tapestry co-chairs to another. Like many moments at Bryn Mawr—walking down senior row or up Taylor steps for the first time—they can feel significant and routine at the same time. The work that Nupur Chaudhury '05 and Nicole Spencer '92 have done to help create and shape Tapestry was significant, and we are thankful for their leadership. We are grateful to them for creating a new formal alumnae/i affinity community where intergenerational conversations, community building, and history-sharing is possible. Nupur and Nicole, along with the Working Committee that supported them, have created a path for us to explore all that is possible for Tapestry.
Lori Perine '80: "I have been deeply impressed by how Tapestry has evolved under Nikki and Nupur's leadership. Tapestry is more than an alumnae network; it is a community that speaks to the needs and experiences of those of us who encountered life during and after Bryn Mawr via bodies and cultures that are not identified as 'white.' Observing how many Black alumnae/i of earlier generations, in particular, have been alienated by their Bryn Mawr experiences, I've long been drawn to volunteer opportunities at the College that contribute to greater engagement, acknowledgment, and support of alumnae who identify as BIPOC. In times of struggle and celebration, personal and professional, I have found community with other Bryn Mawr alumnae to be among my richest assets. I am very excited to see the vision and activism of Tapestry members, and I look forward to the opportunity to partner with them and Emily, as Tapestry co-chair, to forge new paths and engage more of our alumnae/i siblings over the next few years."
Emily Murase '87: "For me, this work builds on years of involvement with the Alumnae Association, first as class president, then as class collector, Reunion Committee member, and later vice president. I was particularly motivated to join Tapestry after conducting several informational interviews with current students this past January without meeting a single BIPOC student. As a once shy, reserved, and soft-spoken student of color who overcame cultural barriers to become the first Japanese-American woman elected to office in San Francisco, I fully understand the need to go the extra mile to engage BIPOC students."
The possibilities are endless for Tapestry, and we look forward to creating more opportunity for connection and engagement. Last year, Casual Corners, Take a Break, and other virtual programming brought us together. This year, we look forward to continuing these programs as well as expanding upon in-person opportunities with alumnae/i and students. We invite BIPOC alumnae/i to look for the bi-weekly Tapestry e-newsletter and to visit the Tapestry webpage to learn more about ways to get involved— supporting students and GOLD alumnae/i in STEM, hosting a Casual Corner event, participating in a career networking opportunity, attending Legacy Day, and so much more.
Sincerely, Tapestry Co-Chairs Lori Perine '80 and Emily Murase '87