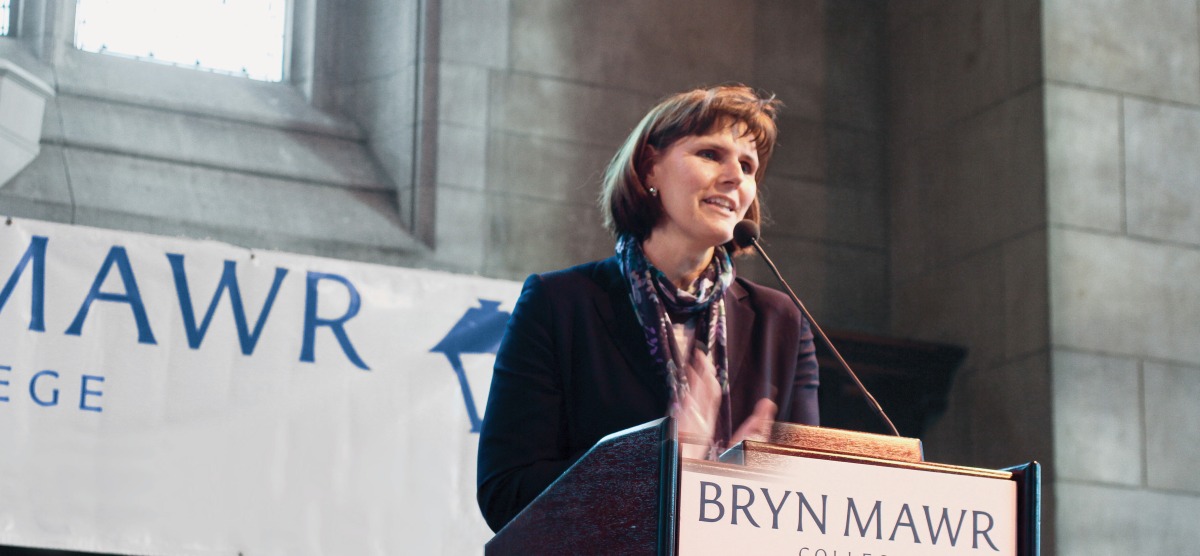 How Bryn Mawr became a trailblazer in digital scholarship and open access.
Dear Friends: When we think of Bryn Mawr, we immediately think of a small liberal arts college, but Bryn Mawr provides students with a fuller experience than many outwardly similar institutions because we cultivate scholarly research and international intellectual exchange and aspire to make an outsized impact on knowledge generation beyond the campus. Our world-class graduate programs are highly unusual for an institution of our size and type, and they enrich the academic experience of everyone in the community. Our faculty includes award-winning scholars whose publications and research receive international notice. In important respects we function like a university, even as we remain firmly grounded in the liberal arts college model and experience.
Bryn Mawr's scholarly impact also goes beyond the expected, even for a university. Bryn Mawr is home to the oldest continuously operating open access humanities journal in the world, and the second humanities journal ever published in electronic form (it missed being first by just a few weeks!). This fall we will celebrate its 30th anniversary with a conference on campus (delayed for two years by COVID-19).
The Bryn Mawr Classical Review, or BMCR, was founded by Richard Hamilton, the Paul Shorey Professor Emeritus of Greek, and former Assistant Professor of Classical Studies James J. O'Donnell. It began in 1990 as an 85-page booklet of 84 reviews written by a handful of friends, with a print run of about 50. It sought to address a pressing problem in the field of classics: reviews of scholarly books would often not appear in conventional journals until the books had gone out of print, reducing opportunities for both the authors and potential readers to benefit from the work and advance the field.
BMCR adopted a DIY approach to get reviews into the hands of scholars and interested members of the public in a timely fashion. Initially a year's subscription was $10—or subscribers could get an emailed version for free, a harbinger of things to come.
In the mid to late 1990s the journal was publishing nearly 800 reviews a year in both classical studies and classical archaeology and went up on the then-new World Wide Web. In 1999 the paper copy was discontinued, although the email version continued and has nearly 10,000 subscribers today. (If you'd like to receive BMCR in your inbox, you can sign up at bit.ly/3z929kZ.)
To date, BMCR has published more than 15,000 works (reviews, responses to reviews, and assorted other publications). Co-senior editors Camilla MacKay '91 (director of Bryn Mawr Library Research and Instructional Services) and Clifford Ando (professor, University of Chicago) head up a team of a dozen contributing editors and an 80-person editorial board, including six current BMC faculty, five emeritus faculty, a staff member, and three graduate students. The journal is published in five languages and its website records an average of 125,000 page views each month from every country in the world except North Korea.
Development of BMCR's online publishing platform has been supported at key junctures by the Andrew W. Mellon Foundation, including an early grant in 1994, when Mellon approached BMCR seeking to fund it so the foundation could learn about how electronic journals worked.
BMCR exemplifies Bryn Mawr's dedication to excellence in the humanities as a core of the liberal arts and our commitment to maximize the impact of the scholarly work that lies at the heart of our mission and purpose. BMCR's history as a global trailblazer in digital scholarship and open access also reminds us that Bryn Mawr has had, and can continue to have, an outsized influence in the world of letters and the world at large.
With gratitude and best wishes,
Kim Cassidy
President