Reunion in the Time of COVID-19
Reflecting on a very different, but still inspiring, gathering of Mawrters.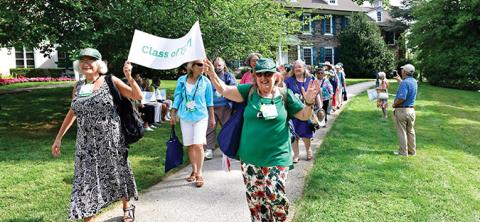 Donna Vogel '71 (left) leading her 1971 classmates at the Parade of Classes.
How long have I been looking forward to 50th Reunion? All these years, I have loved coming back to campus, and despite the pandemic, I bought my train ticket six months ahead. A month out, I started practicing the alto lines to "Sophias" and "Pallas Athena."
Donna Vogel '71
I've been a Reunion co-manager since our 40th. I made an Excel table of the timeline. But for a while we didn't even know if we would have a Reunion or if we did, what form it would take. Would it be live, virtual, or a hybrid? Uncertainty made it very hard to plan. Slowly, things came into focus. In February, we heard that Reunion was moved to August in hopes of our being able to be on campus. Ecstatic, we went ahead with all the Reunion planning—deciding on a memento (a lantern pin with green enamel), inviting honored guests (former director of admissions Betty Vermey '58 and retired president Pat McPherson, Ph.D. '69), and devising a class meeting agenda.
Of course, so much was different. So many adjustments had to be made. Classes ending in 0 and 5 joined those of us in 1 and 6. Because the dorms were being readied for incoming students, we had to stay off campus. Hospitality suites and other events were held outside under big tents on the green. We were inspired by President Kim Cassidy's words on how the College has met tremendous challenges with integrity and spirit. Step Sing was unspeakably stirring. Some events, like the beer garden, were essentially as before.
Nana Dawson-Andoh '01 (left) with Camille Sinclair '01 and Sinclair's daughter, Madison.
Parade of Classes took place on Saturday morning, and while there were no bagpipes, there were plenty of cheers and whoops as we marched with our banners along an abbreviated course. Strawberries and cream were individually packaged, but they were there.
Classmates at a distance or otherwise unable to travel could participate virtually—a silver lining. Student volunteers and staff contributed meaningfully to making Reunion the best it could be in these strange times.
After so much uncertainty, it was a thrill to be on campus and to share the experience with so many friends in person and online. Tradition prevailed, and the bonds that join us were strong. While I hope we never have such a Reunion again, I would never have missed it.