Social Work's Central Role
The GSSWSR embodies excellence of purpose.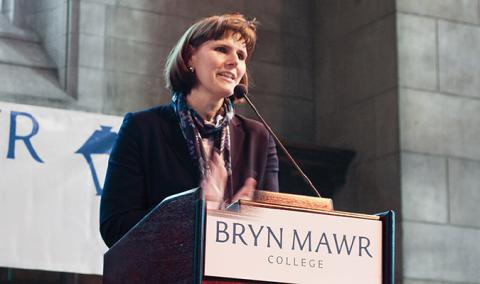 Dear Friends:
The COVID-19 pandemic upended expectations about graduate education at Bryn Mawr, which has historically offered only in-person instruction. At the Graduate School of Social Work and Social Research, where virtual classes began as a necessity, faculty quickly recognized the value of remote learning for the many students who are simultaneously working and/or caring for families. Going forward, GSSWSR students will now get to choose between virtual and in-person classes.
This flexibility raises some interesting questions. Where is an institution "located" when its activities and members are often dispersed? What are the critical components of belonging to the GSSWSR? The topic of location and identity is one that the GSSWSR has engaged in the past. In fact, some have interpreted the School's separate campus as signifying that the GSSWSR is not central to Bryn Mawr's identity. Nothing could be farther from the truth—pun intended.
Social work has been an integral part of Bryn Mawr's academic program for more than 100 years, and I would argue that those ties are closer than ever. They are formed from shared values and goals and are captured in the College's mission statement, which was revised in 2019. I also believe that these shared values form the basis of a strong Social Work community, whether students are studying virtually, in-person, or both.
The mission statement begins, "Bryn Mawr College educates students to the highest standard of excellence to prepare them for lives of purpose." The GSSWSR embodies excellence for purpose. Its faculty of teacher-scholars are committed to a research-based approach to addressing social issues and social problems. In 2018-2019 the faculty completed a thorough curriculum review and have adopted a traumainformed approach to social work education to prepare students to address contemporary psycho-social challenges.
Equipped with this education, GSSWSR graduates go on to pursue careers of impact—from clinical practice to agency leadership to policy development. The desire to make a meaningful difference in the world is deeply shared by our undergraduate students as they pursue their own career paths (sometimes in social work).
Our mission today is grounded in the belief that "equity and inclusion serve as the engine for excellence and innovation." Across its curriculum, the GSSWSR focuses on diversity, equity, and inclusion, with particular attention to structural inequity and inequality. Insights and expertise from GSSWSR students, faculty, and staff have benefitted the College as it has deepened its commitment to understanding and addressing racial justice in its academic program and in its operations. The GSSWSR has also been an active participant in and contributor to College-wide equity and inclusion initiatives.
Finally, Bryn Mawr aspires that "our graduates … lift up others as they make a meaningful difference in the world." This could not be a more apt description of the goal of social work education at Bryn Mawr. The GSSWSR builds partnerships with community-based agencies and organizations throughout the Philadelphia area—to inform the education students receive, to model the work students will do here and after they graduate, and to support and empower local communities. Partnerships originally formed by the GSSWSR also benefit programs across the College that incorporate fieldwork into classroom learning.
The GSSWSR may be literally down the road from the main campus—and its students may opt to take various courses remotely— but the School could not be more central to Bryn Mawr's mission of excellence, and the values expressed in our mission statement and shared by social work students and faculty create the foundation of a community existing in physical and digital space.
Sincerely,
Kim Cassidy, President