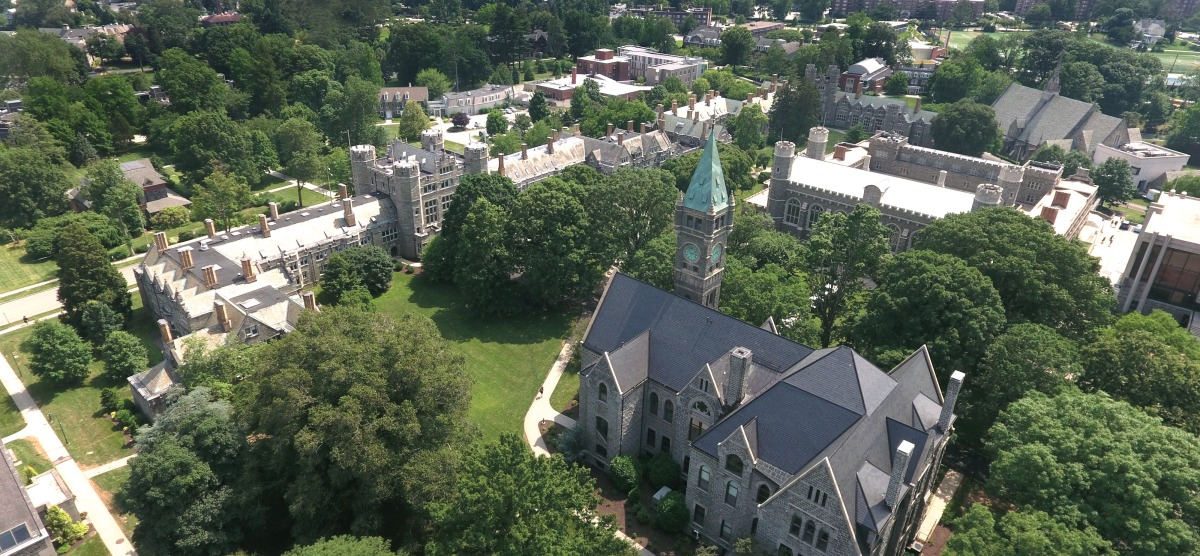 Chemistry. Bad feminist. SWARM. EDGE.
1. Who's the Fairest?  
According to College Magazine, Bryn Mawr tops the list of the country's most beautiful campuses. "This women's college, established in 1885, mixes the best of academics, architecture, and community," according to the magazine. "You'll feel like royalty stepping into buildings with architecture like that of an ancient castle—minus the fire-breathing dragon."
And the hippest? That would also be Bryn Mawr, cited as the "Best Arts in the Suburbs" in Philadelphia Magazine's annual Best of Philly rankings: "We see your alma mater's on-campus a cappella group and raise you this college's lineup of performances, which has included world-class gospel choirs, string quartets, hip-hop dancers—and John Waters."
2. The Art of Chemistry
After evaporating the solvent from reaction flasks, graduate student Cassie Gates noticed designs that resembled clouds on gaseous planets. The phenomenon was the result of stirring bars whipping solvent around as it bubbled up the flasks' sides while under vacuum. A student in Sharon Burgmayer's lab who studies the behavior of molybdenum cofactor—a complex used by a variety of enzymes found in almost every living organism—Cassie was so taken with the swirling designs that she snapped a set of photographs, which were featured in Chemical & Engineering News.
3. 4 Habits
In a recent issue of Forbes, President Kim Cassidy outlined four habits that will have a positive impact on students' academic performance and well-being. Turns out her advice works for the rest of us as well. 
Establish a growth mindset: "Those who believe that intelligence or ability is not finite or fixed, but rather can grow through hard work, learning experiences, and help from others are more likely to achieve at higher levels, seek challenges and get feedback, respond resiliently to setbacks, and showcase greater learning in the face of difficulty."
Cultivate friendships: "We all have a need for connection to other people and to broader communities…. Research has shown that improving college students' sense of belonging in school has positive impacts on their self-reported health and well-being, their achievement motivation, and in some cases their academic performance itself." 
Try to spend some time in nature: "Research has suggested that the experience of awe may expand our sense of available time and decrease our focus on ourselves, and that this may in turn cause us to be more social and generous, experience more connectedness to others, prefer experiences over material things, and may enhance our sense of well-being."
Get a good night's sleep: "Sleep deprivation has been linked to impairment in both performance of existing tasks, as well as a decline in the ability to learn new things. In addition to its effects on learning, reduced sleep has been linked to poorer mental health and higher rates of depression."
4. Bad Feminist on Campus
This year, the self-described bad feminist Roxane Gay was the featured Emily Balch Speaker. Gay's output includes fiction, memoir, essays, columns, television, and graphic novels, but she's best known for her blockbuster essay collection Bad Feminist, which she describes as
"a manual on how to be human." Other books include Hunger: A Memoir of (My) Body and, with Ta-Nehisi Coates and Yona Harvey, Marvel's Black Panther: World of Wakanda. Gay joins a distinguished list of Balch speakers—historian Jill Lepore, MacArthur "Genius" Fellow Karen Russell, graphic novelist Alison Bechdel, and Gay's own literary hero, novelist Zadie Smith.
5. It Takes Two
History of Art Ph.D. students Laurel McLaughlin and Mechella Yezernitskaya teamed up to curate SWARM, featuring Didier William and Cuban-American Nestor Armando Gil—two Haitian-born artists who use mixed media "to physically and intellectually 'swarm' ideas of colonialism, creating bodies of work that imagine and critique histories of immigration, dislocation, and relocation," McLaughlin and Yezernitskaya write in the exhibition catalogue. 
The work challenges viewers "to reflect upon and respond to oppressive histories, syncretic faith traditions, heterogeneous artistic processes, hybrid identities, and emotional experiences," the curators explain. 
For their second outing, the duo paired up with Temple University colleague Natalia Angeles Vieyra on Infinite Spaces, which considered how American artists have defined space. Both exhibitions appeared this summer at the Pennsylvania Academy of the Fine Arts. 
6. Center City
The College comes to Philly as Bryn Mawr, Haverford, and Swarthmore pilot Tri-Co Philly, a non-residential program designed to facilitate engagement with the diversity, complexity, innovation, and systems of the city.
For participating students, that means learning about the city in the city. The core course, Philadelphia: Inventing a City, explores Philadelphia through its writers, journalists, civic scribes, Quakers, and pamphleteers. In addition, students will choose between The Politics of the Creative Class in American Cities and Narrativity and Hip Hop. 
Plus, they'll hear from local speakers; explore the city through neighborhood tours and trips to museums, community-based organizations, archives, and arts and cultural organizations; and have the opportunity to attend talks and to engage with volunteer opportunities. 
Current sophomores, juniors, and seniors at any of the Tri-Co schools are eligible to participate in the program, which will be held at the Friends Center at 15th and Cherry Streets.
7. Leading EDGE 
The EDGE program founded by Professor Emeritus of Mathematics Rhonda Hughes and Spelman Professor Emerita Sylvia Bozeman has received the Presidential Award for Excellence in Science, Mathematics, and Engineering Mentoring. EDGE—it stands for Enhancing Diversity in Graduate Education—helps female students complete mathematics graduate programs and provides support for women in the field at critical stages of their career. The award is granted by the White House Office of Science and Technology Policy and the National Science Foundation.