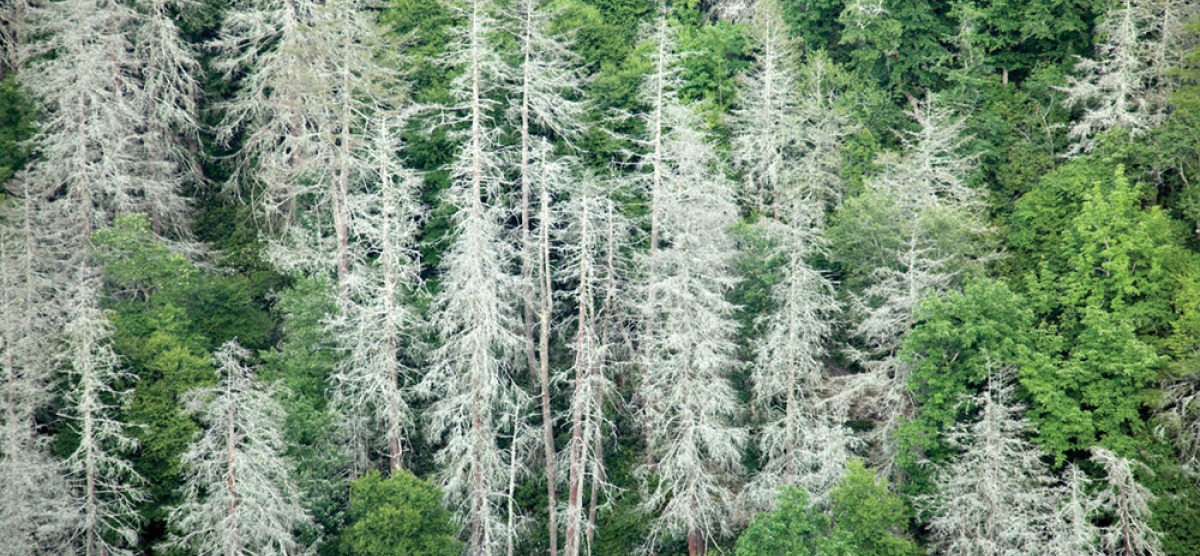 Woolly adelgids, Pulitzer Prize-winner, and smoke.
1. The Future of Forests
An invasive insect, the hemlock woolly adelgid, is literally sucking the sap out of the eastern hemlock, a major player in forests of the eastern U.S. Casting deep shade and promoting soil acidity, these trees have an outsize effect on the abundance, diversity, and mortality of understory plants. As hemlock die off, scientists are asking how the composition of the forest might change.
To explore this question, Nia Riggins '20 worked with Biology Professor Sydne Record at the Harvard Forest, an ecological research site in Massachusetts. Riggins surveyed 4,240 seedlings in a hemlock-dominated megaplot where adelgids were first found in 2009. With 2,557 seedlings counted, red maples dominated the site—by a wide margin. Hemlocks, by contrast, clocked in at only 604 hemlocks. There were also 333 red oaks and 218 white pines.  
2. Grantsmanship
The National Science Foundation has awarded research grants to two Bryn Mawr faculty members: Sydne Record (biology) and David Schaffner (physics). Record's award will fund research on the effect of natural and human-made factors on geographic patterns of biodiversity. The research aims to connect fine-grained measurements of individual organism traits, like body size, to cross-scale drivers of biodiversity from plot to continental scales.  
Schaffner has been awarded a grant through the National Science Foundation Cyberinfrastructure for Sustained Scientific Innovation program to develop a software infrastructure, called PlasmaPy, that aims to streamline and standardize analysis and modeling programming for the plasma physics community. The grant is a collaborative award with three other institutions (Harvard Smithsonian Astrophysical Observatory, UCLA, and the University of Delaware).
3. Strong Women
Cristi Bartlett, the latest addition to the Owls' coaching staff, comes to campus with a powerful background. A four-year Division I/II basketball player at Catawba College, the program's new assistant strength and conditioning coach has competed in powerlifting, Muay Thai, and jiujitsu. She holds a master's degree in clinical exercise physiology from UNC-Charlotte and worked previously in the University of Pennsylvania's athletics program.
Bartlett comes to Bryn Mawr thanks to a Tara VanDerveer Fund for the Advancement of Women in Coaching grant from the Women's Sports Foundation. Grants support collegiate female coaches on the rise by assisting with living expenses, professional development, and mentorship.
"Bryn Mawr is proud to be a member of the inaugural class of the Women's Sports Foundation VanDerveer Fund recipients," says Director of Athletics, Physical Education, and Recreation Kathy Tierney. "It is critical that we close the gender gap that exists in the coaching ranks and provide role models and mentors to inspire the next generation of women student-athletes."
4. The Balch Speaker
New York Review of Books editor Daniel Mendelsohn describes Adam Johnson's work as "vaguely Blade Runner-esque visions of a cluttered, anaerobic American culture." As this year's Emily Balch speaker, Johnson met with first-years in September. A Stanford University professor and founder of its Graphic Novel Project, Johnson teaches nonfiction research, visual storytelling, and narrative structure through the creation of graphic novels. His most recent book, Fortune Smiles, received the National Book Award in 2015; The Orphan Master's Son won the 2013 Pulitzer Prize for fiction. 
5. High Marks
In the 2019 Princeton Review College Guide, Bryn Mawr placed first for LGBTQ-Friendly and for Most Active Student Government. It also placed second for Most Beautiful Campus. Other Top 20 rankings are:
Most Liberal Students #4
Best College Dorms #6
Nobody Plays Intramural Sports #9
Best Quality of Life #14
Best Campus Food #17
Best Alumni Network #18
Rather than ranking colleges, the Princeton Review surveys students from across the country and reports 62 lists of top 20 schools in categories important to prospective applicants and their parents. 
6. Catching ZZZs
Poor sleep habits have been linked to poor academic performance, increased risk-taking, stress, poor decision-making, mood disruptions, and increased risks for cardiovascular diseases.
And according to a new, longitudinal research study led by Psychology Professor Heejung Park, sleep habits tend to worsen from the high school years to young adulthood.
For the study, 343 American people of various ethnic backgrounds wore sleep-monitoring watches on their wrists for eight nights—first at an average of 16 years of age and again at 18 and 20.
Looking at sleep duration, efficiency, and latency for both weekdays and weekends, the researchers found that the average hours of sleep went from highs of 7.43 on weekdays and 7.54 on the weekend for the 16-year-olds to 7.08 and 7.09, respectively, three years after high school.
Park's team also found nearly no association between poor sleep patterns in the earlier years of high school and later patterns.
"Overall the findings suggest developmental trends of worsening sleep during adolescents' transition to young adulthood," the researchers told the journal Sleep Medicine.
7. Up in Smoke
A rash of vaping-related illnesses has officials hunting for a culprit. One candidate, vitamin E acetate, has been found in samples of marijuana products used by people sickened in different parts of the country. To understand the science behind the news, The Washington Post turned to Chemistry Professor Michelle Francl.
Vitamin E acetate is basically grease, she explains. Its molecular structure means that, to get it to vaporize, "you have to heat it up pretty hot" (to 363° F). Once vaporized, the oil can decompose, and "now you're breathing in who-knows-what," she says. When the vapor then cools down in the lungs, it returns to its original state and "has now coated the inside of your lungs with that oil."