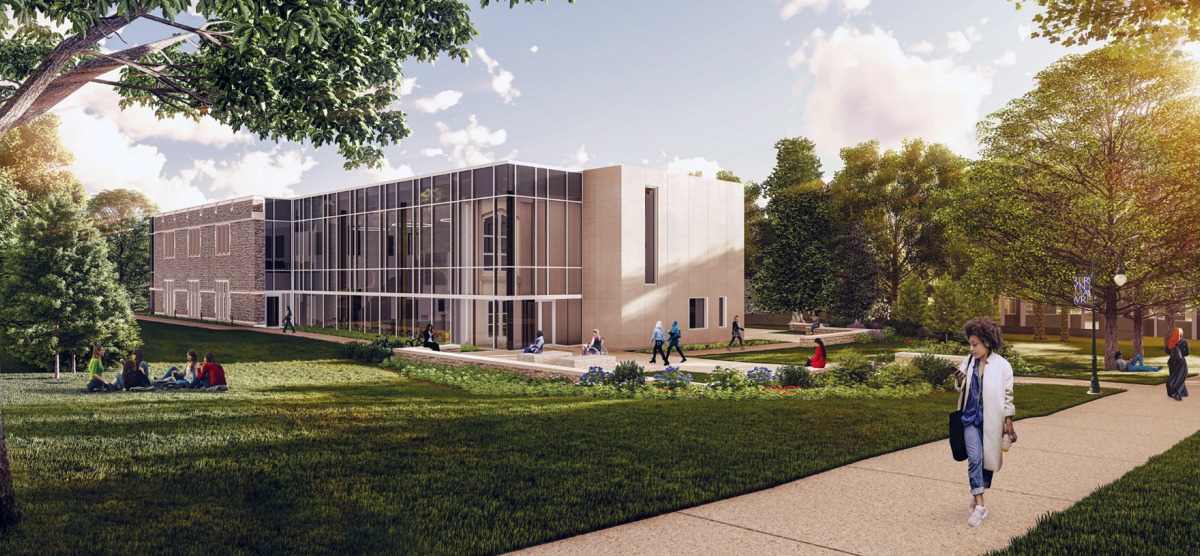 For Starters: Winter 2020
Wellness Center, BACaSO, Field Hockey, Bauhaus.
1. Bryn Mawr Builds
In early 2020, the College will break ground on a new Student Health and Wellness Center that will consolidate services currently provided at multiple campus locations. "The new center will include a wide variety of student support services, including medical and counseling services, religious life, and our Pensby Center for Community Development and Inclusion," says President Kim Cassidy. A generous gift from Jacqueline Badger Mars '61 provided funding for the new center, which will also include the Center for Career & Civic Engagement. It will be located between Erdman and Helfarian, adjacent to the current Health Center site.
2. I Am Because We Are
Joan Ndichu '21, Millicent Auma '21, and Lyncy Nyandoche '21 in Kenyan wedding attire.
Under the theme of Ubuntu: I Am Because We Are, Bryn Mawr's African and Caribbean Students Organization (BACaSO)'s cultural show celebrated community bonds and care for one another. One of the most highly anticipated and well attended events on campus, the annual show is filled with fashion, comedy, Afro beats, poetry, musical performances, and food.
3. In the Archives
Bryn Mawr's new archivist, Allison Mills, is revamping the College's records management policy to ensure that digital records remain accessible in the future. "I'm part of the Tri-Co team—led by Natalie Shilstut, the digital collections and metadata librarian here at Bryn Mawr—that is migrating our digital library assets to a new system that will help ensure they're preserved and accessible now and in the future," Mills says.
Mills came to Bryn Mawr from the University of British Columbia's Dialogue Centre, which is charged with continuing the work started by Canada's Truth and Reconciliation Commission. For more than 100 years, a system of residential schools in Canada removed Indigenous children from their families with the aim of extinguishing Indigenous cultures. "In my family," Mills says, "almost everyone in my grandfather's generation went to residential school." At the Centre, her work focused on researching records from archival institutions—the government, the Commission, church organizations—to make them more accessible.
4. A Storybook Season
A historic season for the Bryn Mawr field hockey team came to a bittersweet end as the Owls hosted Gettysburg in the first round of the Centennial Conference Championship tournament—the first-ever postseason game in program history. Playing in front of a packed house of Mawrters, the Owls threw everything they had at Gettysburg but were unable to prevail, and Gettysburg put an end to a storybook season with a 1-0 win.
The most impressive in program history, the season saw Bryn Mawr setting program records for wins and Centennial Conference wins, goals, and assists. And when the conference announced its 2019 All-Centennial Conference selections, Bryn Mawr earned a historic set of honors with Sara Rilatt '21 and Mary Cugini '20 named to the All-Centennial Conference First Team and Victor Brady named Coach of the Year.
5. Jhumpa Lahiri Comes to Campus
Pulitzer Prize–winning author Jhumpa Lahiri visited campus this fall to talk to students about her work editing The Penguin Book of Italian Short Stories. Offering a divergent perspective on Italian culture and literature at large, the book features new versions of canonical texts along with first translations of lesser-known works.
One of the most important voices in American literature, Lahiri won the 2000 Pulitzer Prize for Fiction for her debut book, Interpreter of Maladies. After falling in love with the Italian language, she started reading and writing only in Italian, a practice that gave birth to an auto-fiction memoir, a number of essays and stories, a book on book covers, and the novel Dove mi trovo.
6. Digital Dive
In a deep dive into Bryn Mawr's Digital Competencies program, The Chronicle of Higher Education recently highlighted the ingenuity of its design. The article featured Vinny Ong '22, who took a Library and Information Technology Services internship this summer—but more to pursue her academic interests than to gain digital skills. "Her experience illustrates something important about the college's approach," the article explains. "Some students may seek out training in digital skills. But even those who don't will encounter the competencies over and over again, because they're baked into courses, internships, and campus events."
At the professorial level, the program enabled Shiamin Kwa, a professor of East Asian Culture and Languages, to incorporate digital skills into her Chinese-literature course. The translation app Kwa uses would have been challenging to train all of her students on.
"But because of the support Bryn Mawr offers professors, Kwa doesn't have to figure out this kind of thing on her own,"the article explains. "She has applied for—and received—seed funding from the College to support the incorporation of digital elements into two of her courses."
Plus, on the day she deployed the app, a member of the College's IT-support staff was on hand to make sure it was smooth sailing.
7. Bauhaus at Bryn Mawr
For her Special Collections internship, Rachel Grand '21 curated an exhibition on the Bauhaus-trained designer Marcel Breuer. In 1937, when Rhoads Hall was built, the College commissioned Breuer to design a set of furniture for the new dorm rooms. He was responsible for the designs of the desk, chair, mirror, and hanging shelf that were featured in each dorm room from 1938 to 1999.