Toward Financial Accessibility
Kim Cassidy on what the College is doing to make it more affordable for students and families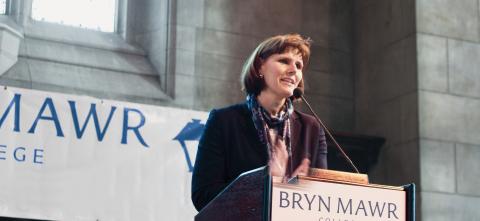 Dear Friends: Throughout my tenure as president, one of my highest priorities has been to increase our funding of student financial aid. As you all know, it is extremely expensive to provide the kind of education on offer at Bryn Mawr. Enrolling talented students from all socio-economic backgrounds requires that we prioritize scholarship aid within our budget as well as grow the College's endowment, which will provide the resources for educating current and future generations.
Since I became president in 2013, the senior staff has made increased scholarship aid a priority in the annual budget. In the current academic year, the College offered nearly $32 million in need-based financial aid and the average scholarship award for students with financial need is over $58,000 a year. The College also made support for scholarship a priority of the Defy Expectation campaign, and it is clearly a priority that many of you share. Through the course of the campaign, our donors contributed $60 million to the College's endowment for scholarships and financial aid, and in the process created 100 new endowed scholarship funds. Thank you for this support.
Because of the campaign's success and the overall growth of the College's endowment over the past decade, Bryn Mawr has been able to take significant steps in the past several years to increase grant support for all undergraduates receiving need-based aid.
For the 2022-2023 academic year, I am delighted to report that Bryn Mawr is eliminating student loans from financial aid packages of those with family incomes below $60,000 and replacing them with grants from the College. All other recipients of need-based aid will receive additional College grant funding to replace $2,000 of the student loans previously used to meet their full demonstrated need. These changes will reduce debt for all students receiving need-based aid and will apply to returning students as well as those enrolling in the class of 2026.
Previously, beginning in the 2020-2021 academic year, the College reduced savings expectations from students' summer jobs by $900 for all students receiving need-based aid, using additional grant funding from the College, and reduced loan expectations for students from low-income families. These shifts, along with the growth of College-funded internships (supported by the Defy Expectation campaign), have also enabled students to pursue career exploration opportunities without as much concern for the size of summer stipends.
These changes will make a Bryn Mawr education more financially accessible for more families. This is of course important to our current students and also sends a strong message to prospective students and families who are concerned about affordability and indebtedness. Data show that the issue of debt is a particular barrier for students from low-income families; these changes in our policies will help Bryn Mawr live its mission to enroll qualified students of all socioeconomic backgrounds. These policy changes also mean that students have greater ability to focus on their studies and to take fuller advantage of all that Bryn Mawr has to offer.
I am proud of what we—donors, College staff, those who manage the endowment—have accomplished . . . but we have more to do to achieve our aspirations. The growing income gap across U.S. families and the very high cost of offering a superb education at a small institution means that we must continue to create and direct resources toward this core value of our mission—to provide a financially accessible education for all our students in which all have opportunities to thrive.
With gratitude and best wishes,
Kim Cassidy
President