Where Work and Family Intersect
An alumna's new enterprise helps working parents thrive.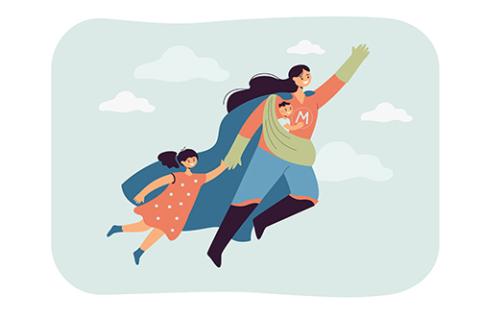 Recently, Jessica Wilen, Ph.D. '14, an assistant professor at Yale University, opened an executive coaching and consulting firm focused on meeting the unique needs of working parents.
The work, she says, has its roots in her Bryn Mawr experience, where she studied child and family development and also came to appreciate the importance of organizational dynamics and leadership.
How did the idea come about?
In addition to my faculty role, I serve as director of professional standards for Yale School of Medicine, where I provide in-house organizational development and leadership consulting.
A common theme in that work has been that personal and parental satisfaction are a major driver of professional satisfaction and performance. I'm also the mother of two young kids, so I appreciate the joys and struggles of working parenthood.
Has the pandemic played a role?
Absolutely. The media is filled with stories about how working parents, and particularly working mothers, are struggling with burnout and, in some cases, leaving the workforce altogether.
We keep hearing about the Great Resignation, but I wonder if it's really more of a Great Reprioritization. People are looking for jobs that align more closely with their values and provide greater flexibility.
Parents have sometimes had to act at work as if they didn't have kids.
Exactly. And that's really a huge loss, not just for individual employees who feel like they can't bring their authentic selves into the workplace but for organizations, too, because many of the same skills that make a good parent make a good leader. Fostering meaningful relationships, effectively transmitting values, resolving conflict, practicing emotional intelligence—these are skills that parents are using constantly both in and out of work.
Organizations would benefit from recognizing that the roles and responsibilities that employees hold outside the professional realm actually enhance and reinforce, rather than detract from, their 
professional skill set.
Describe a typical client.
My clients value professional success and being an involved parent. They are used to succeeding but find themselves feeling overwhelmed and undersupported. Their goals often include developing the transferrable skills I mentioned earlier, shifting from being reactive to proactive, setting better boundaries, and feeling more focused and present.
How does the coaching work?
All of my coaching engagement starts with a leadership assessment and a values inventory, because misalignment often happens when people make decisions that conflict with their values and strengths.
From there, we create a personalized development plan and have regular coaching sessions focused on cultivating insight and skills. At various points, I serve as a sounding board, cheerleader, strategist, and accountability partner.
Can you trace the line from your time at Bryn Mawr to starting your coaching endeavor?
Very early in my time as a doctoral student I connected with Darlyne Bailey.  I had always had an interest in leadership, but our work together allowed me to deeply study organizational dynamics, and we ended up developing a class in organizational behavior for master's-level GSSWSR students.
At the same time, I was working closely with Julia Littell and Janet Shapiro on my dissertation, which took a developmental lens, and was focused on child well-being.  My new endeavor unites these two threads that were the hallmarks of my Bryn Mawr education.