Discovering They Had the Right Stuff
When did you know that you'd made the right choice in coming to Bryn Mawr?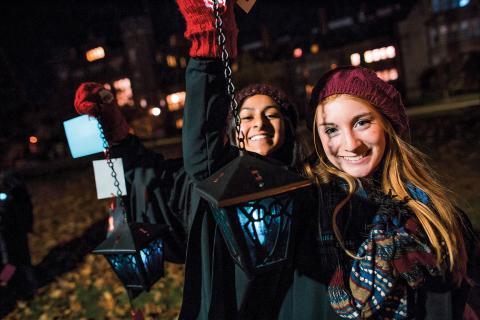 In Crowd Source, The Bulletin asks readers to answer a question related to their Bryn Mawr College experience. Here were your responses via social media.
---
@skarp0
When getting up for early intro German every day wasn't a drag. It instead meant a hilarity- filled hour with a bunch of smart ladies trying our darnedest to make learning a new language fun. Who knew you could find such camaraderie in textbook illustrations? I had found my people.
Sharon Rose '91
When I walked past dozens of happy women playing outside on a sunny Move-In Day, and they were playing games of catch with baseballs and Frisbees thrown skillfully and with ease. This was an extraordinary moment for me. It filled me with joy after having grown up seeing most girls, well, "throw like a girl." But I had finally found my people! Amazing, talented, gender-defying trailblazers all!
@veronica__walton
When my a cappella group accepted me, they came to my dorm common room and sang to me! I realized then that traditions such as this are what make Bryn Mawr so special.
@Steph@RedOwl05
Prospective students weekend—we had an hourlong philosophical discussion about jelly beans. I knew I had found my people.
@wendyhuangsy
Watching the lanterns flying toward us on Lantern Night. I saw there were lots of people on the roof and around the cloister, but it was completely silent and dark. Then the lanterns just started flying to us, carried by the runners. I burst into tears noticing our sisters, professors, and the whole campus just working together to create that precious memory for us, welcoming us home. Being away from home on the other side of the earth was tough, but I felt bonded and home that night and inherited wisdom and courage when I picked up mine.