The Hard Work of Engaging With Our Past
The College starts a conversation about the legacy of M. Carey Thomas.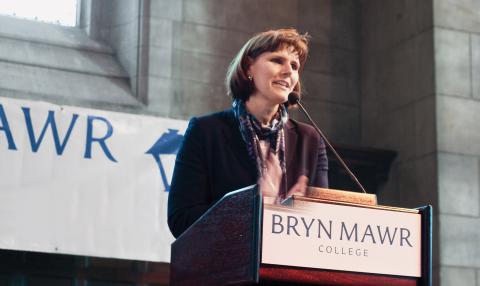 Drawn from President Kim Cassidy's remarks delivered on September 16, 2017, at Bryn Mawr College's Alumnae/i Volunteer Summit.
---
Bryn Mawr College's abiding work and core commitment is to sustain an educational community in which students study with rigor, embrace complexity, and pursue the excitement and challenge of discovery.
And this is the commitment we're putting at the center of our engagement with Bryn Mawr's past.
For several years, a series of discussions has taken place ... about the legacy and symbolism of M. Carey Thomas as Bryn Mawr's spiritual founder, because of renewed awareness of racist and anti-Semitic statements and actions during her tenure as president. Last spring the College ... announced the formation of a broadly focused Working Group to address issues of exclusion  and resistance across Bryn Mawr's rich history.
National events kicked this discussion into high gear, [and in the late summer], I declared a temporary moratorium on the use of her name to designate buildings and spaces on campus while we took up the question together in a full and thoughtful way.
For some ... that decision didn't sit right. It seemed like a capricious act of historical revisionism, a placating of loud voices in the passion of the moment.
But this temporary moratorium is not a rash move, nor is it about intolerance or political correctness run amok. Quite the contrary: by declaring a temporary moratorium while we assess the question, we have taken a concrete step to make it clear ... that the College rejects the racism and anti-Semitism that comprised part of the vision that shaped this institution. Sometimes remaining silent is not an option, because silence can be understood to speak volumes.
The temporary moratorium does not end a controversy, then, but rather starts a conversation where we can do what Bryn Mawr does best: engage in a free, honest, rigorous dialogue.
The temporary moratorium does not end a controversy, then, but rather starts a conversation where we can do what Bryn Mawr does best: engage in a free, honest, rigorous dialogue, in which all members of our diverse, global community can encounter each other, consider positions based on intellectual and ethical merit, and emerge with a set of solutions and actions that leave us better than we were before.
The Working Group will facilitate that dialogue, which will culminate in a set of concrete recommendations.
During this process, we will ask a lot of our students ... [and] they will ask a lot of us. We understand that if you're going to challenge young adults to push boundaries, analyze issues critically, and pursue their passions, then they're not going to do that only in the classroom. They're going to question their campus community, and its history, and push for change. 
This is by no means a sign that they are intolerant, fragile, or dismissive of our history. To the contrary, this is a sign that they're doing exactly what we hope and expect them to do.
... Our longest-serving president, Martha Carey Thomas ... created the organizational and academic structures that still guide us today. A living argument for the necessity and value of a world-class women's college, she persisted through the institutionalized sexism of three different graduate schools across two continents to earn her Ph.D., and she produced scholarship that remained highly regarded for nearly a century. She was a leader in the suffragette movement and an early advocate for an Equal Rights Amendment to the Constitution. She set the highest standards for Bryn Mawr.
... She also is distinctive because so few women helped to create institutes of higher education. Other places that educated women early on, even many of the Seven Sisters, were founded and guided by men. 
... M. Carey Thomas is a towering figure at Bryn Mawr and beyond, and nothing will or should change that. But a towering figure casts a large shadow, and it is time for us to deal with that shadow, fully and forthrightly.
Alongside the record of her accomplishments sits a record of explicit racism and anti-Semitism, in both word and deed. Deeply influenced by the scientific racism of the late 19th and early 20th centuries, she saw the world in eugenicist terms of superior and inferior races, and racialized nationalities and religions; and she wove that racism into her feminism. In her opening address for the 1916 academic year, she argued ... that "If the present intellectual supremacy of the white races is maintained, as I hope that it will be for centuries to come, I believe that it will be because they are the only races that have seriously begun to educate their women." 
She publicly fretted over the potential loss of America's and Bryn Mawr's "intellectual heritage" from the mixing of what she called "inferior" races with the "superior." ... She blocked the hiring of Jewish faculty and the admission of Jewish students. She argued that "beyond doubt," the "pure Negroes of Africa" had "never yet in the history of the world manifested any continuous mental activity," and she worked against the admission of African American students.
How do we weigh the facets of who she was and what she represents? I can imagine many possible responses, options, and outcomes that would enable us to honor the complexity of what M. Carey Thomas means to the diverse members of today's Bryn Mawr community. And that's what the Working Group will do: look at the issue from multiple perspectives, engage the community, and consider options for how to make the fullness of her legacy visible on campus moving forward ... a thorough, ethical process enriches us all, and produces outcomes we can respect.
I have faith in this process because it draws on the essence of what makes Bryn Mawr Bryn Mawr.
Kim Cassidy
President