Inauguration 1913, Marching in 2017
Then and now, Mawrters fighting for womens rights.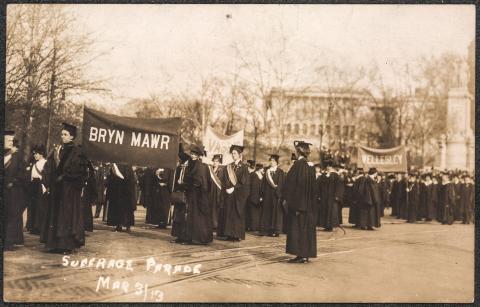 On March 4, 1913, Woodrow Wilson—the former president of Princeton University who began his teaching career at Bryn Mawr—was inaugurated as the 28th president of the United States in Washington, D.C.
One day earlier, students from his former academic home took to the capital's streets to demonstrate for women's suffrage. Dressed in academic regalia, the students were part of the collegiate contingent of what was officially known as the Woman Suffrage Procession. Organized by Alice Paul and the Woman Suffrage Association, the procession was undertaken, according to the official program, "in a spirit of protest against the present political organization of society, from which women are excluded."
Led by labor lawyer Inez Milholland, the march—
featuring mounted brigades, marching bands, 26 floats, and an estimated 8,000 marchers—proceeded down Pennsylvania Avenue from the Capitol to the Department of the Treasury.
After a promising start, the marchers were jeered, tripped, and shoved by angry crowds blocking their way. Some 200 people were treated for injuries. Still, most finished the parade and gathered to view an allegorical tableau featuring Columbia, Justice, Charity, Liberty, Peace, and Hope.
The hope would come in handy over the next few years: the 19th Amendment would 
not be passed until 1917.
Women's March 2017
More than 100 years later, Mawrters were on the march again. Lawral Wornek '04, at right, marched in Oakland, California, with Leia Casey. Although not a Mawrter, Casey cited Grace Lee Boggs, M.A. '37, Ph.D.  '40  with a sign reading "Love isn't about what we did yesterday. It's about what we do today and tomorrow and the day after." Wornek's sign depicts the suffrage activist Alison Turnbull Hopkins picketing the White House in 1917. Marching with Wornek were Nathan Gold '07 and Erika Merschrod '95.
Browse a photo gallery from the Washington, D.C., march.