It's a Small (Bryn Mawr) World
Bryn Mawr has always aspired to educate its students in world citizenship.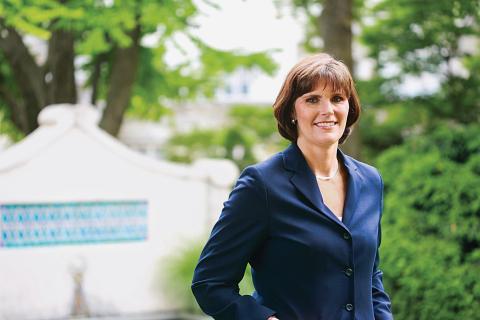 Dear Friends: In late June I had the opportunity to travel to China (my first visit!) and to Hong Kong. In the course of the week I had many productive meetings and wonderful conversations, but the highlights of my trip were several gatherings, large and small, with alumnae/i (and with current and incoming students). Across generations, I encountered entrepreneurial spirit, energy, and affection for the College. Alumnae/i asked thoughtful questions about Bryn Mawr today, about how international alumnae/i can help the College, and about how the College can remain meaningful in lives unfolding far away from campus.
Currently 1,496 of our alumnae/i live outside the U.S. Some are U.S. nationals, but most are citizens of other countries (and of course many international alumnae/i are currently living in the U.S. temporarily or permanently).
The College has aspired to educate its students in world citizenship since its beginnings and has enrolled international students throughout its history. Our international student population grew substantially in the 1970s during the presidency of Harris Wofford. A co-founder of the Peace Corps, President Wofford charged legendary Director of Admissions Emeritus Betty Vermey '58 with acting on Bryn Mawr's "special responsibility" to contribute to the global advancement of women. The College's international student population has increased again in the past 10 years, reflecting the increasing pace of globalization.
Following my trip to East Asia, I have been reflecting on how Bryn Mawr can sustain strong relationships with international alumnae/i—and in fact with all alumnae/i who are unable to visit the College regularly. Some of the young alumnae I met in China are pointing to one way we can achieve this. They have built a Bryn Mawr group on WeChat (a social media platform) that has 385 members (both alums and students). This virtual community provides career guidance and mentoring, college advice, and a place of social connection.
The College, too, is turning to digital tools to build resources for alumnae/i. Associate Dean and LILAC Director Katie Krimmel has created a LinkedIn Bryn Mawr Alumnae/Student group that I hope we can mobilize to provide professional connection and support for alumnae/i in the U.S. and around the world.
I invite all alumnae on LinkedIn to join this group and to both benefit from and contribute to LILAC's growing Alumnae/i Connections program. The College seeks to expand such opportunities for alumnae/i to engage wherever they may be. In particular, we hope to create new ways for alumnae/i to sample the current intellectual life of the College, whether online or in person.
In turn, I ask our alumnae/i, with a special invitation to international alumnae/i, to take Bryn Mawr out into the worlds in which you live and work. Mentioning Bryn Mawr to a talented young woman in Manila or Geneva or Nairobi or London (or Boston, Minneapolis, Seattle, or Phoenix) may bring us a wonderful new student. Talking about the impact of attending a liberal arts college can help educate companies about the value of hiring students who have received this distinctive form of university education. Offering an internship to a current student helps her build a pathway to her professional future. Even in this digital age, personal contact remains the most meaningful. We look to you as our best partners in building a vibrant Bryn Mawr network that supports students and alumnae/i around the country and around the world.
With best wishes,
Kim Cassidy
President