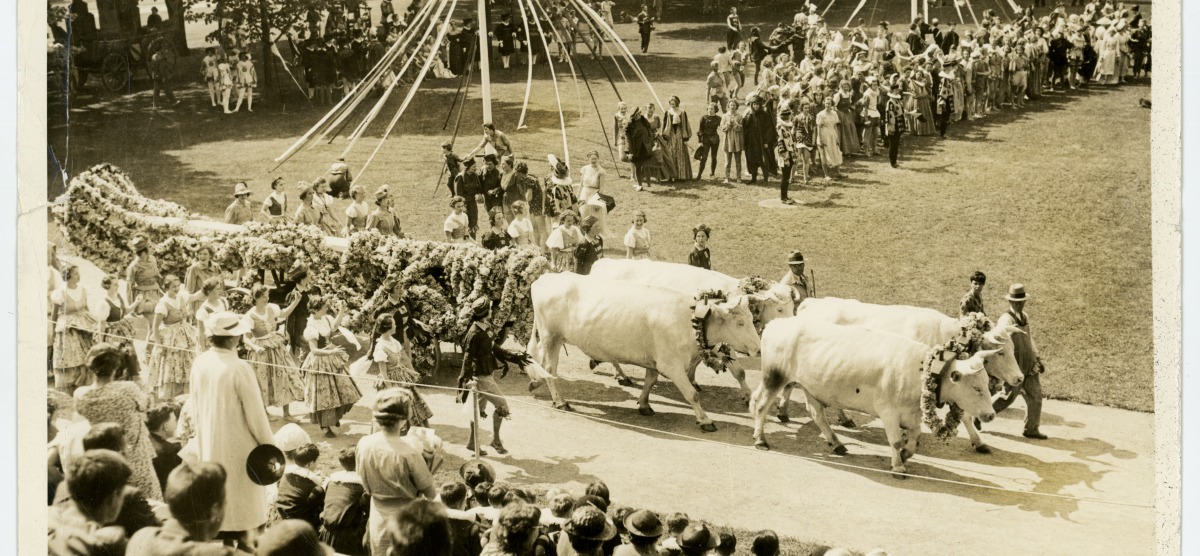 Animals once played important role in tradition.
Every May Day, the Grand Processional winds through campus, Morris dancers dance, and Mawrters frolic around the Maypole. There are plays, the last Step Sing of the year, and the now-traditional showing of The Philadelphia Story.
Back in 1936, the campus took on an even more rustic air. As reported in a College News article, "Animals Play Speechless but Important Part as Actors or Beasts of Burden."
In Robin Hood, Therese (a mule) carried Friar Tuck, Maid Marian rode the white horse named Eleanor B. (who apparently did double-duty as the May Queen's mount), and four additional horses carried other characters.
A Midsummer Night's Dream cast included non-speaking roles for Bocker (cairn terrier) and Sigurdson or Erindane (Great Dane), and in Masque of Flowers—staged in the Cloisters—the shepherds were accompanied by three little lambs, and the satyr Silenus was followed by a goat.
The queen's court welcomed a falcon sporting a gold-leaf-and-pheasant-feather hood, two Scotch fighting cocks, and even more horses.
As for the beasts of burden, the white oxen that hauled the Maypole to Merion Green were secured at the very last minute (April 29) to replace the original team that had broken ankles and "perishing hips and shoulders."