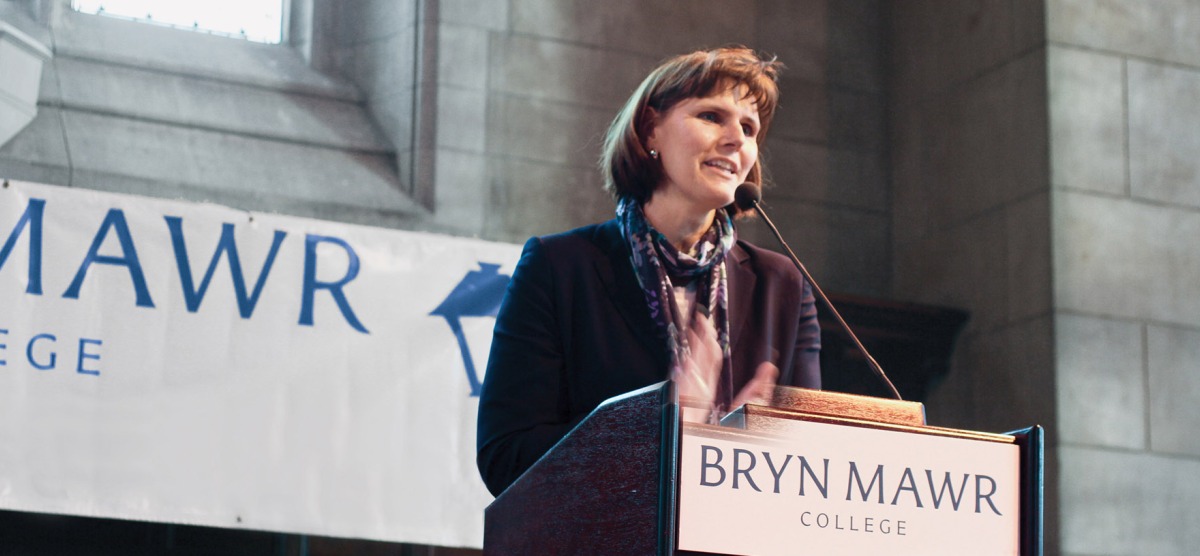 On the powerful impact of current faculty research on the classroom and on our students.
Dear Friends:
When I meet with alumnae/i, they will often recall extraordinary faculty who excited their imaginations and inspired their future pursuits. I love to hear these many stories—but I am not surprised by them. I believe that our faculty, and Bryn Mawr as an institution, are distinguished among liberal arts college peers in a twinned commitment to first-rate scholarship and teaching. I want to offer four snapshots of the powerful impact of current faculty research on the classroom and on our students.
Catherine Conybeare, Leslie Clark Professor in the Humanities and Professor of Classics, is a scholar of late antiquity, early Christianity, and, in particular, the work of Augustine of Hippo. In 2019, she received three major awards—a Guggenheim Fellowship, an ACLS Fellowship, and an appointment as a visiting fellow at All Souls College, Oxford—in support of her current work, Augustine the African. Her interests in critical theory and her research on new contexts for understanding canonical texts in turn inspire many of the classes she teaches—from the introductory-level Roman Africa and Feminism in Classics to the advanced seminar Forming the Classics: From Papyrus to Print.
Associate Professor Jennifer Harford Vargas studies transnational literatures of the Americas and Latinx literature and theory, and her research has brought new courses to both the English department and the Comparative Literature major. Her book, Forms of Dictatorship: Power, Narrative, and Authoritarianism in the Latina/o Novel, led to a course called The Dictator Novel in the Americas, and her continuing study of migration and culture across the Americas has helped shape the spring semester 360° course cluster Migrations, in which she will teach Latinx Culture and the Art of Undocumented Migration as well as join the 360° faculty and students in field study in Arizona and Tijuana, Mexico.
As is the case for Professor Harford Vargas, faculty research often has implications for addressing contemporary scientific, social, and humanistic issues—even when the focus of research is on the Paleozoic Era (542 to 251 million years ago!). Associate Professor of Geology Pedro Marenco pursues interdisciplinary approaches to paleobiology and paleoecology during a geologic age that saw both mass extinction and mass biodiversification. His insights into the biosphere across time excite students across disciplines, including those in the Bi-Co Environmental Studies program. Professor Marenco, fellow geologist Katherine Nicholson Marenco, and undergraduate students conduct field research in Utah that is expanding knowledge of the Great Ordovician Biodiversification Event and that is shared with students more broadly in courses such as Carbonate Environments, which links deep-time research on reefs with contemporary conditions in Belize.
With the arrival of Assistant Professor Laurel Peterson in 2014, the Psychology department curriculum has grown to include the field of health psychology. Peterson's research on behavioral health, in particular on health risk perception and the role of race and gender in health-related behaviors, informs her courses Health Psychology and Health Behavior and Context. Her teaching and research attract students majoring in psychology as well as those pursuing a Health Studies minor, considering medical school, or enrolled in our postbaccalaureate premedical program. Peterson also models for students the application of academic research to population health. She was recently selected as an NGO-member of the United Nations through the Society for the Psychological Study of Social Issues and is working with mission staff to identify opportunities to provide psychological expertise for health issues worldwide.
I hope these brief portraits convey the excitement I feel about the research and teaching that is taking place at Bryn Mawr today, its impact on the learning opportunities for students, and my pride in the great tradition of scholar-teachers that is the foundation of our academic excellence.
Sincerely,
Kim Cassidy, President