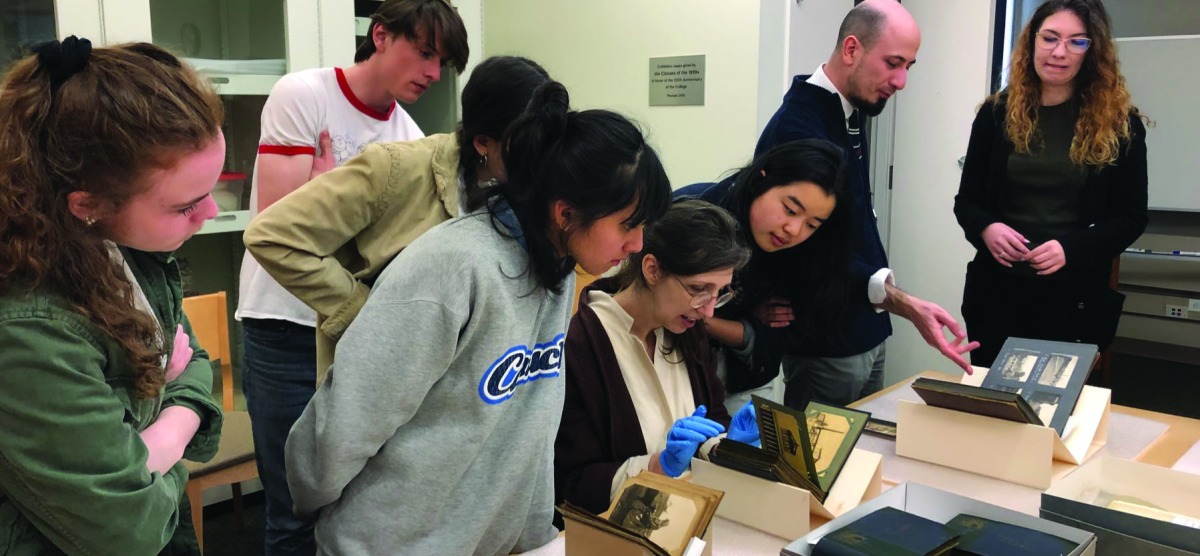 Primary Sources: Rome as Palimpsests
Students investigate, present on artifacts of Rome.
Alessandro Giammei
Assistant Professor of Italian
Course
ITAL 308: Rome as Palimpsests
After reading, writing, and discussing Renaissance, Baroque, and late-modern Rome, we devoted three weeks to a set of objects in Special Collections, found and analyzed with the help of Curator/Academic Liaison for Art & Artifacts Carrie Robbins. Unaccessioned, undated, and never studied, the objects (collections of photos, albums, and postcards) excited students' investigative fancy. To describe, research, and hypothesize their micro-histories, students used disparate tools, including College Archives, other objects in the collection, online databases, virtual galleries, scholarship, and even Google Maps and eBay.
Their work culminated in a symposium to present their results to the Bi-Co community. I guided them through the practical and intellectual aspects of both research and organization of a symposium, as if preparing a real academic conference. The result, titled O Roma o Mawrtyr: Conjuring Vestigia from Special Collections, celebrated the students' work and spread knowledge about the College's relationship with Rome.  
With this work, students felt "authorized" to dismiss the rhetoric of traditional papers and presentations. Instead, they narrated their own research. Their goal was clear and demanded actual legwork in the library, Special Collections, and archives. And the excitement of an authentic investigation made their work joyful and academically sound.
Plus, the project clarified what we had been discussing theoretically: What does Rome mean for visitors? What is the meaning of objects such as spolia and relics? How should portabilia and memorabilia be understood? What are the risks and pleasures of nostalgia?