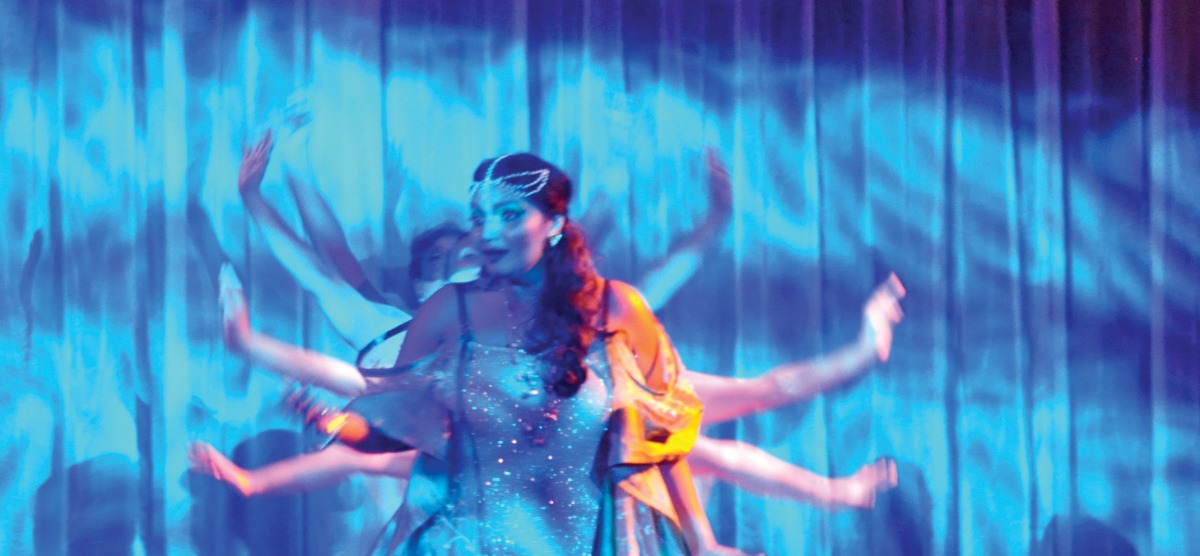 This music-lover pivoted from a career in high-tech to become an opera impresaria at 76.
It's never too late to pursue your passion.
At the age of 76, lifelong music-lover Martha Birnbaum '62 founded her own opera company in Cambridge, Massachusetts, to produce lesser-known opera gems, often by famous composers, that deserve more attention.
In the past year, her Cambridge Chamber Ensemble has staged two operas: Venus & Adonis by the 17th-century English Baroque composer John Blow, and Savitri, which is based on a Hindu folk tale, by Gustav Holst—far better-known for his orchestral suite The Planets.
Birnbaum's days are filled with the endless duties of an impresaria. A former research scientist in the high-tech speech processing field, Birnbaum, 81, hires both seasoned professionals and emerging artists, including music and stage directors, orchestra musicians, costume and lighting designers, and a choreographer. She searches for venues to rent for rehearsal space and productions, fundraises grants and donations for her nonprofit troupe, and researches suitable operas to produce. That's not all. She even translates the librettos from German and Italian—her B.A. in German language and literature from Bryn Mawr and Ph.D. in linguistics from Brown come in handy—so the operas can be sung in English.
As to why she's producing operas at a stage in life when most people are, for lack of a better word, relaxing, she explains: "I have to be engaged with something intellectually stimulating, and it must be in the arts. I thought, 'Opera: I can do it; let's go for it!' I'm an energetic person, and quite creative, so I was able to pivot from high-tech to my other love, music, which was always simmering in the background." Unburdened by children (she has none), she funded her troupe's launch through her savings, friends, family, and grants. Says Birnbaum: "I was in a position to do this, so I did."
For 20 years before launching her opera company, and long before Groupmuse—the online platform that connects classical musicians to local audiences through house concerts—began, Birnbaum had been holding concert salons in her Cambridge home. Birnbaum often sang at her house concerts, thanks to studying voice with noted mezzosoprano Pamela Dellal, who teaches at Boston Conservatory of Music, and taking performance classes in Bach and Handel at New England Conservatory of Music. She also sang classical works in the Cambridge Community Chorus and founded Performance Workshops, a monthly salon-style series where singers hone their performance skills in a supportive environment with a professional pianist. A board member of the New England Gilbert & Sullivan Society, she also served as stage director at Mass Theatrica, a Boston-area performing arts company for operas.
Music runs in Birnbaum's family. Her father had his own jazz/swing band, The Crimsonians, composed of fellow Harvard alumni, and was a soloist and arranger at Emmanuel Music, the ensemble-in- residence at Emmanuel Church in Boston. His great-uncle, distinguished tenor Joseph Tomars, taught at the St. Petersburg Conservatory in Russia. Tchaikovsky and Prokofiev were students, and Rimsky-Korsakov and Shostakovich were professors at the famous music school.
A life-changing event came during her junior year abroad in Munich, when she saw her first opera, Mozart's The Magic Flute. "I heard glorious music and knew at some point my life would be dedicated to it," she says.
First came a long career in speech recognition and text-to-speech software, working for companies like AT&T Bell Laboratories and Comverse. Birnbaum retired in 2001 and formed her own consulting firm, NetaRose.
In her career transition, which melds her passion and knowledge of music with her leadership and linguistic skills and a heaping dose of moxie, she relishes the demands of the performing arts world.
"This has all the challenges a CEO has—you have to ride herd on the whole thing, musical challenges, financial, people. Being artists, they're emotional— some drop out at the last minute, since they're sick, or just ghost you," notes Birnbaum. "I was CEO of my own speech consulting company for years, but this is magnified by 100. It's incredibly exhausting but incredibly rewarding."
Out of the Living Room
The setting was so intimate for the one-act operas by Mozart (The Impresario) and Caldara (A Game of Whist),
accompanied only by a baby grand piano, that "you could see the performers' vocal chords vibrating," Birnbaum says. The performance was a resounding success and the enthusiasm of the small audience encouraged Birnbaum to think bigger and apply for a grant from the Mass Cultural Council.
In June 2022, she staged Venus & Adonis, a three-act opera featuring a cast of 15, four dancers  plus 11 baroque chamber musicians, including a harpsichordist, in the Cambridge, Multicultural Arts Center, located in a historic 1889 Victorian-style former courthouse. It was quite a contrast to the venue for her first operas back in 2017, her living room.
Digging into the Repertoire
Birnbaum works with Stephanie Beatrice, her music director, to develop themes, choose the operas, and hold auditions. Beatrice then assembles a professional orchestra, runs music rehearsals for singers and orchestra, and conducts the performances. This past year, they chose to tackle Holst's  Savitri, the story of a Hindu princess whose beloved husband is claimed by Death, and to open the opera with a prologue featuring an ornately costumed Indian dancer performing to a recorded narration and Indian classical music, to offer cultural context. Beatrice had previous experience with Holst's other Indian-themed works; the English composer was fascinated by folk epics like the Ramayana and even read Sanskrit.
"Martha really respects my artistry and vision and gives me the artistic freedom to pick the music I want." says Beatrice, who has a degree in choral conducting from the New England Conservatory. "It's an opportunity for me to dig into the rich opera repertoire over hundreds of years to find under-appreciated gems. Generally, the same 10 to 15 operas are performed over and over." Her stage director, David Gammons, who has also directed for the Commonwealth Shakespeare Company and Boston Playwrights' Theatre, is a graduate of Harvard's ART Institute directing program.
Inclusive and Diverse
Birnbaum strives to make her opera company inclusive and ethnically diverse for singers, directors, and crew. She also aims to make it an affordable, communal experience for attendees. Tickets are $45 ($35 for seniors and students). For Venus & Adonis, Adonis was performed by Junhan Choi, a South Korean-born baritone and prize winner in many international music competitions, from the Berliner International Music Competition to MassOpera's Vocal Competition. (In Savitri, he also played the role of Death.) The role of Cupid, who wounds his mother, Venus, with an arrow, causing her to fall in love with young Adonis, was performed by Wei En Chan, a Singaporean-born countertenor. Soprano Kate Wood, who has performed with the New York Philharmonic and Philadelphia Orchestra, performed the role of Venus. All three are New England Conservatory graduates. Several children also danced and sang as Little Cupids.
In fall of 2023, Birnbaum's next opera, Handel's Samson, will feature her biggest cast to date (about 20 people) and largest orchestra (about 15 musicians). "This is the most exciting thing I've ever done," says Birnbaum of her life's second act. "I didn't have a career in music, but this was the next closest thing."