For Starters: Summer 2018
K-books. Red Planet. The Wright Stuff.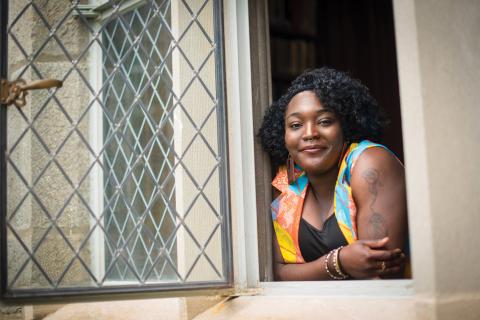 1. The Awards Season
Two graduating seniors are spending their post-graduate year as globe-trotting Thomas J. Watson Fellows. Fatoumata Sylla '18 (above) is studying the use of nonmedical treatments for maternal depression in marginalized communities in Senegal, Germany, and South Africa. Meanwhile, Sanam Sheriff '18 is exploring the healing power of writing workshops for women who have suffered trauma in Trinidad and Tobago, South Africa, Mauritius, Italy, Scotland, and The Netherlands. Other award-winners this year: Barry M. Goldwater Scholar Haley Varnum '19 (chemistry and math) spent her summer in Chemistry Professor Sharon Burgmayer's lab. Her plans: currently pursuing a combined B.S./M.S. degree, Varnum plans to enroll in a combined M.D./Ph.D. program. "I plan on doing basic biochemical research that has a significant application to human health, preferably women's health," she says. Marie Mach '18, 2018 Boren Scholar, is studying Russian at Al Farabi Kazakh National University in Kazakhstan for her capstone year in the Bryn Mawr Russian Language Flagship Program. Her plans: with her Russian language skills, she hopes to work for the government (and also do graduate studies in history or linguistics).
2. Follow the Research
Research on adolescent brain development provides a potent argument for the value of a traditional college education, writes President Kim Cassidy in a recent issue of Forbes. "In this period, learning is faster and the capacity for new ways of thinking is enhanced," she writes. Politicians, she cautions, should take note. But provisions in the new tax bill and proposed changes to the Higher Education Act threaten to make college less accessible. "Prioritizing higher education legislation that safeguards students and our institutions," she writes, "should be at the top of our leaders' priorities—not just for the benefits of the individuals who receive these degrees, but for the long-term productivity, capacity for innovation, and health of our society." 
3. K-books
A Buddhist text from 1547—the Shurangama Sutra—and a 1610 collection of literary texts printed with movable type are among the 42 books featured in The Helen Chapin Korean Book Collection in the Bryn Mawr College Library, published by the National Library of Korea.
Helen Chapin, Class of 1915, an independent scholar who worked in East Asia beginning in the 1920s, amassed a trove of books, scrolls, and artifacts from Korea, China, and Japan. Most of the Korean books were acquired after World War II when Chapin worked for the U.S. Army surveying cultural monuments in Korea. She donated her collection to the College in 1950.
Edited by Hye-Eun Lee, of Sookmyung Women's University, and Jihee Han, of the National Library of Korea, the new book includes an essay by Eric Pumroy, Seymour Adelman Director of Special Collections at Bryn Mawr. The catalog, which is mostly in Korean, is available in the Bryn Mawr respository.
4. A Decision
This summer, the Bryn Mawr College Board of Trustees engaged in a process of research, consultation, and discussion to affirm the College's mission and determine how the campus will recognize its founding dean and second president, M. Carey Thomas.
The Board offered an account of the decision in an announcement sent to all community members after this magazine went to press.
5. The Red Planet
Earth and its neighbors—Mars, Venus, and Mercury—were forged from the same material in the early days of the solar system but developed radically different environments. "It's baffling why we should get such different outcomes," Bryn Mawr's resident planetary scientist, Selby Cull-Hearth, explained to The Christian Science Monitor.
"There are some deep existential questions that looking at the comparative histories of the planets can help answer," she continued. "One of the great driving questions of our existence is, why are we here? How did this happen?" 
6. Nasty Women
This summer, academics gathered at Bryn Mawr for a weeklong research session on Women's Bodies as Sites of Social Navigation: The Cultivation, Display, and Consumption of Female Beauty and Sexuality.
Described by History of Art Professor Alicia Walker '94 as more of an "intellectual retreat" than a traditional conference, the session was codirected by Walker and Grace An '93, a professor of French and Cinema Studies at Oberlin College. "This project started when I saw Grace post something on Facebook about French movie stars, and I realized that we were working on many of the same issues, only in different contexts," says Walker.
"We are especially interested in women who lived as social outliers because of the real and/or perceived sexualized nature of their professional and personal conduct," Walker explains. "Such women might include mistresses, courtesans, prostitutes, movie stars, and pagan mythological and epic characters."
Walker's research focuses on mistresses in the ninth- to 13th-century Byzantine court. Other participants are looking at LGBT representation in film and media, prostitutes in 19th-century Paris, early-modern and modern witches, and Spartan women.
7. The Wright Stuff
This spring, James Wright, Ph.D. '78, was feted at a symposium that showcased his influence on the study of Aegean prehistory. His research surfaced ideas on the social praxis of space, human agency, and architecture, and through his students, his ideas have been widely adopted in the field.
Organized by former students—Susan Allen, M.A. '98; Mireille Lee, M.A. '94, Ph.D. '99; Robert Schon, M.A. '95, Ph.D. '02; and R. Angus Smith, M.A. '94, Ph.D. '03—the event was supported by the Classical and Near Eastern Archaeology department, the Institute for Aegean Prehistory, and the Philadelphia Society of the Archaeological Institute of America.