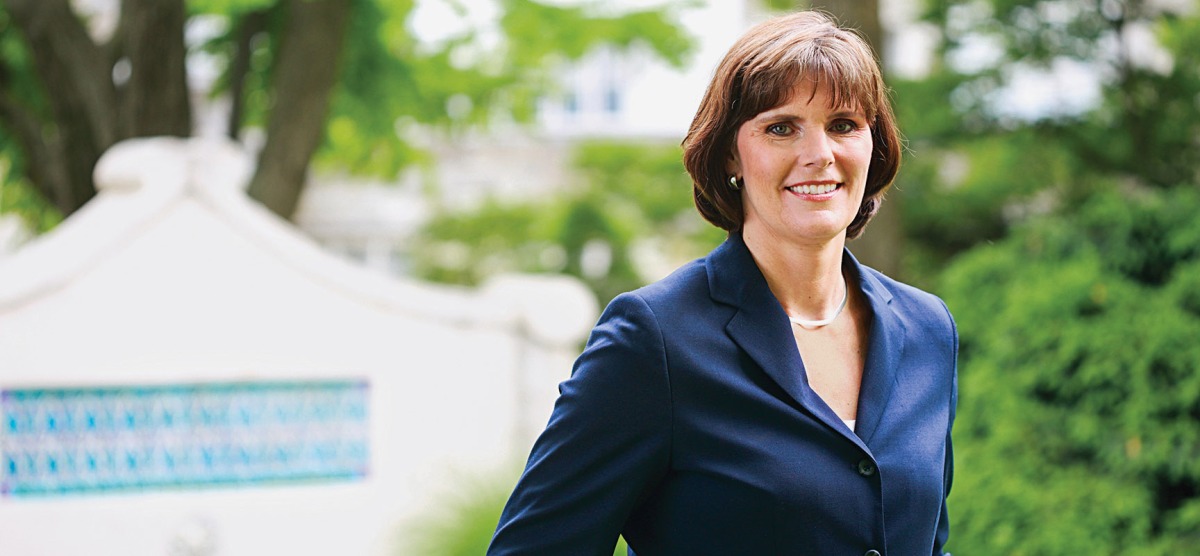 Study of Languages in Limbo?
Framework of approach, requirements at Bryn Mawr have evolved over time.
Dear Friends: In December, a report from the American Academy of Arts and Sciences outlined the continuing and indeed growing neglect of language learning in the U.S. at every level. Only 58 percent of middle schools offer world languages, and only a small minority of high school students are taking intermediate- or advanced-level language courses. The number of undergraduate degrees awarded in languages other than English declined from 2010 to 2014—including in Spanish—and the number of degrees in European languages other than Spanish has declined by a third since the early 1990s.
Throughout its history, Bryn Mawr has required students to study other languages. These requirements have, of course, evolved over time to reflect changed expectations for skills needed in the workplace. For example, in the 1970s, students could choose to pursue more extensive language study as an alternative to mathematics, while today both quantitative and language skills are required. In the Graduate School of Arts and Sciences, demonstrated language proficiency in two foreign languages is still required for the Ph.D. in the Graduate Group in the Humanities but not in the sciences and mathematics.
The faculty modified the undergraduate language requirement most recently as part of a curricular review that took place between 2008 and 2010. At present, all undergraduates, no matter what their pre-college preparation, must take two semesters of study of a foreign language. In changing the requirement, faculty wanted to ensure that all students have the valuable experience of thinking and learning in another language. Thus no student can place out of the requirement but can, of course, place into higher-level courses to reflect previous study.*
Over the past 10 years, the percentage of Bryn Mawr undergraduates completing language majors has dropped slightly but remains well above the national average. On average, 10.3 percent completed a language major from 2007 to 2011; this compares to 7.7 percent from 2012 to 2016 (real numbers have remained quite constant, as entering classes have grown slightly during this period). Recent percentages of language majors at most peer liberal arts colleges are slightly lower than at Bryn Mawr.
The AAAS report makes particular note of the very small number of students studying languages for which there is a "critical need" in global economic and political life, including Russian, Chinese, Japanese, and Arabic. Bryn Mawr is the only liberal arts college in the U.S. to host a national Language Flagship program (in our case, one of the four Russian Flagship programs); these programs allow students to achieve high-level proficiency through intensive undergraduate study as well as immersion abroad. Bryn Mawr offers instruction in Chinese, Japanese, and Arabic (each program benefits from Tri-College collaboration), and students may take introductory courses in Hebrew and Swahili (with access to upper-level courses at Penn).
Even at an institution with a strong commitment to global learning, the future of language study faces a variety of real challenges. As we negotiate these challenges, Bryn Mawr will remain committed to the value of language study. Our faculty see language as a critical part of a liberal arts education and important for substantive engagement with a wide variety of fields. We will build upon our distinctive international orientation and strengths—strong language/culture/literature programs, our highly international curriculum, faculty scholars deeply committed to global study, an internationally and domestically diverse student body, and opportunities for study and work across the globe—to provide our students with the knowledge, skills, and experiences they need to succeed in a globally networked world.
Sincerely,
Kim Cassidy
President
*International students who are non-native English speakers can meet the requirement by taking two literature courses in English.