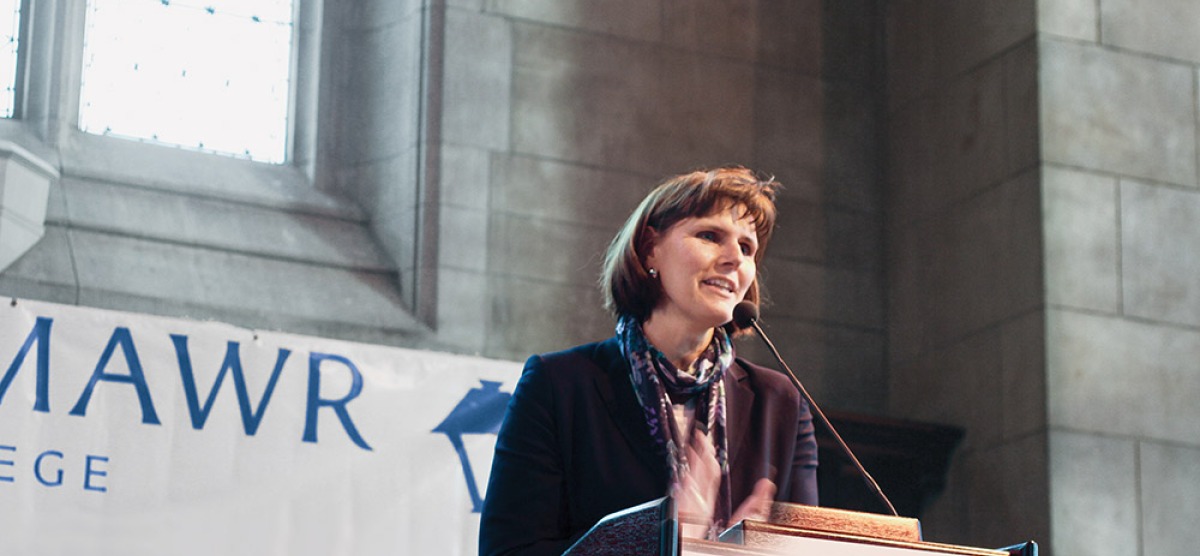 The World Turned Upside-Down
Bryn Mawr Responds to the Pandemic
Dear Friends,
As I sit down to write this message to you, our worlds have been turned upside-down by the COVID-19 virus and its impact on our lives, our economy, and, of course, on Bryn Mawr. Although this crisis was not in anyone's plans for this academic year, our faculty, staff, students, families, and alumnae/i have been focused and creative in carrying out our core functions and sustaining our community. Through all of the fear, hardship, and challenge, our community has been steadfast in our commitment to sustain learning.
I begin with our faculty. In early March, Bryn Mawr, in coordination with Haverford and Swarthmore, initially announced that we would move to remote learning for three weeks following spring break. We offered a "soft launch" of teaching during the first week to allow faculty time to rework syllabi and get up to speed on some technologies for remote teaching. The response from faculty was extraordinary. Many spent their spring break time taking advantage of coordinated resources, remote training sessions, and personal consultations offered by Library and Information Technology Services (LITS) staff. Some faculty even recruited volunteers to practice new technologies so that they could be sure they were able to meet students' needs on the first day of virtual class. LITS staff (some of whom retrained to provide additional support) worked long hours testing infrastructure, teaching, troubleshooting, and cheerleading.
Thanks to their efforts, many of our classes were already online during the soft launch week, and students in turn demonstrated their own resolve and flexibility. Students were doing Baby Greek at 10 a.m. Eastern (and 7 a.m. Pacific!), collaborating in mathematics problem-solving via Zoom, holding discussions via Microsoft Teams, and attending virtual office hours. The beginning was rough: students and faculty were sometimes emotionally exhausted, some were studying or teaching in less-than-optimal conditions, and others lacked some of the resources we are ordinarily able to provide. With patience, care, and infinite nimbleness, however, the work of the semester continued. We experienced surprises: for example, faculty noticed new patterns of participation, as formerly quiet students found their voices in this different format. And we drew upon our culture of teaching and learning: we recognize that remote learning doesn't offer the same experience that we are fortunate enough to experience when we are on campus, but we drew upon those experiences and expectations to animate our distance classrooms. Rather than mourn what was lost, students and faculty focused on what was possible.
In the midst of all this chaos, we also had an inspiring reminder of the power of Bryn Mawr's mission to turn academic passions into lives of purpose. Three current students were awarded Watson Fellowships, at least three were awarded Fulbright Fellowships (one in research and two in teaching), and one was awarded a Goldwater Scholarship. A "legacy of excellence" took on new meaning as one of the Fulbright recipients is a third-generation Mawrter!
And, of course, our alumnae/i have supported us through it all. I am so grateful to those of you who have reached out to students, who have joined the Facebook senior thesis support group, and/or who have made a gift to the Bryn Mawr Fund to help us deal with the financial impact of the pandemic. And I thank you for reminding me of the power of our community, expressed through a virtual Step Sing in March that gathered nearly 1,000 of you. You are indeed a "gracious inspiration" who are helping us to meet this challenge.
With best wishes,

Kim Cassidy, President