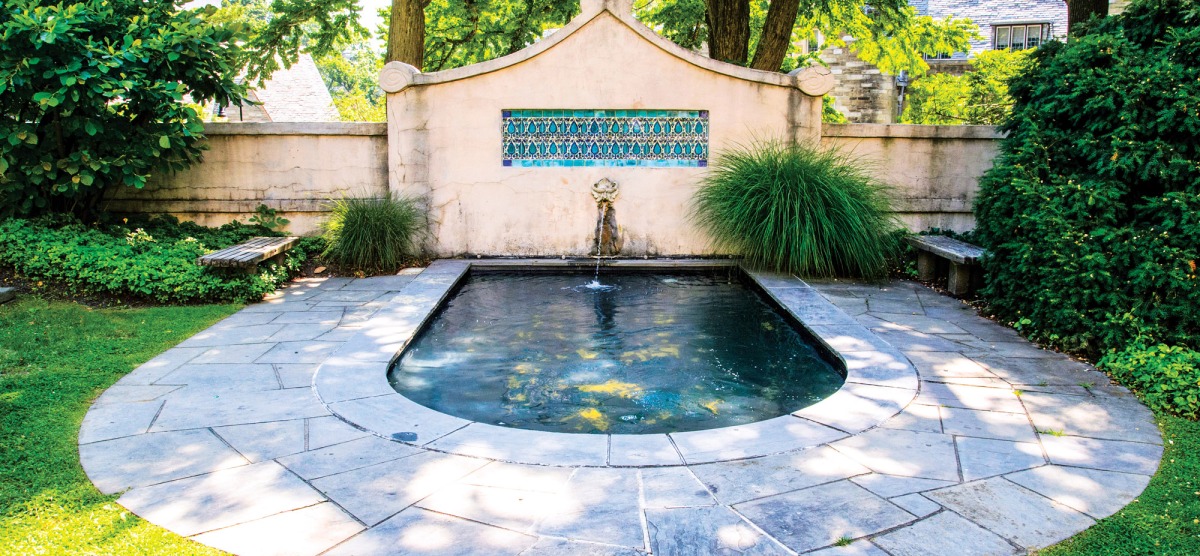 Your Bryn Mawr Happy Place
The College is celebrated for the beauty of its campus. What's your favorite spot?
In Crowd Source, the Bulletin asks readers to answer a question related to their Bryn Mawr College experience. Here were your responses via social media.
---
@mattiewex
If you're standing in Taft garden, facing the fountain with your back to Canaday, then there is a bench off to the left, or at least there used to be, that is tucked beneath a short tree with somewhat weeping limbs. And that is my favorite spot on campus because it's where I asked @thingshannahdid to marry me and she said yes!
Alex Solomon '08
When it was free, I used to love going to Goodhart Music Room to play the grand piano in there. The acoustics were amazing, and I could easily lose a couple hours in there practicing. I also used to attend a lot of rehearsals and performances in that space so it always felt particularly conducive to creative pursuits!
Shannon Leigh Broughton-Smith '80
The Cloisters. My dad tells of being a faculty brat and fishing for change (a forbidden undertaking) when he reached too far and fell in. He was a goner, drowned before his time because he did not listen to his elders—Oh! Wait. Nevermind. He could stand up. I remember peeking on tiptoe with great trepidation into the sarcophagus as a preschooler, half expecting a corpse to reprimand my impertinence, but finding, alas!, only dry leaves. The lanterns are so beautiful in the dark of Lantern Night. I got married there.
Mashka Mitiuriev '20
The Cloisters, the garden, English House, the woods in the back of it, the Duck Pond, the mirror in Rock. Too many places to pick!
@achirmule
Pembroke dance studio. I spent the majority of my time at BMC there in class, rehearsals, and so much other time. Winter in those windows was so beautiful!!