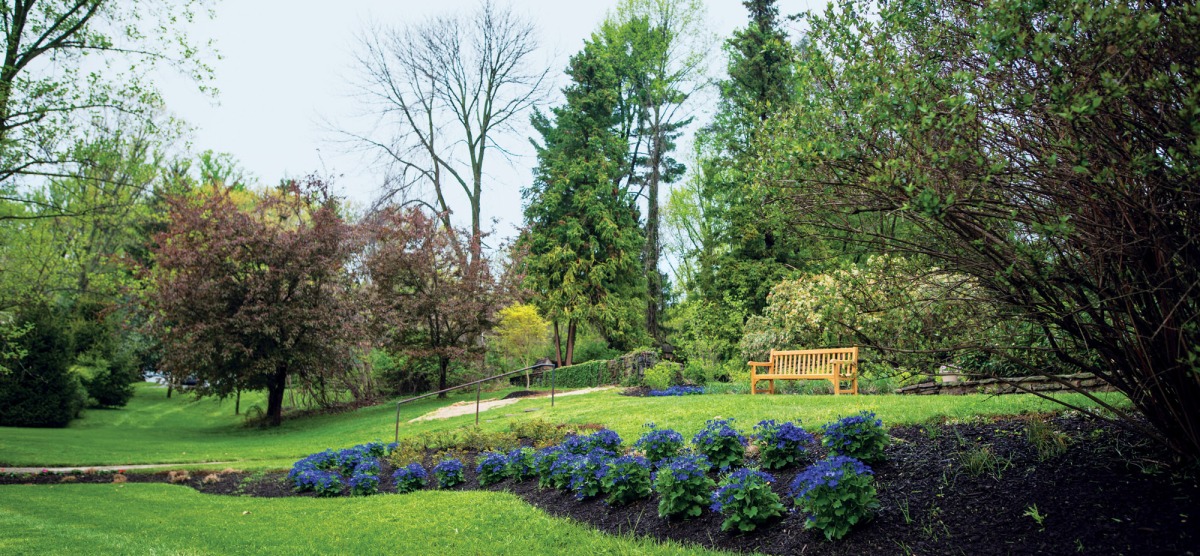 For Starters: Summer 2017
An unveiling. Achievement. Exploration. And a vital campaign.
1. A Garden Spot
Occupying the site of Perry House, the new Perry Garden preserves its outlines. At the official unveiling in April, Dani Cadet '17 said, "Perry Garden provides an excellent opportunity for our community to develop a healthy relationship with our past—one filled with contemplation and healing."
Perry House served as the Black Cultural Center from the 1970s until its closure in 2012. In 2015, the Enid Cook '31 Center opened; it serves as a residential space and the Black Cultural Center.
2. Doctor, Lawyer, ... Firefighter?
Members of the Class of 2017 have set out for the future, and true to their Bryn Mawr spirit, their choices are impressive—and eclectic. As many pursue advanced study in professional and academic fields, their classmates have ventured out in the workaday world in just about every field of endeavor, including finance, business, government, education, nonprofits, engineering, and research.
Samantha Heyrich is working in the U.S. Senate, Muhui Chen is in Estée Lauder's research and development program, Hanna Fields has landed a gig as a software engineer, Hannah Rifkin is a paralegal at a California law firm, Ellen Cohn spent the summer studying acting at the Stella Adler conservatory, and Ariana Hall is on a teaching Fulbright in Colombia.
And then there's Alison Spain, who spent the summer as a trails technician for the Caribou-Targhee National Forest. At the same time, she was enrolled in fire school and wildfire chainsaw classes to qualify for dispatch to wildfires throughout the region.
3. Owls Get Some Strokes
It started with a bronze at the Murphy Cup Regatta in March, and the winning streak continued with a victory in the Kerr Cup's Dill Varsity Eight Grand Final in April.
The wins didn't go unnoticed. In April, Bryn Mawr cracked the top 15 in the College Rowing Coaches Association's weekly poll—the first-ever national ranking for Bryn Mawr crew. In their next showing, the team proved their mettle as the Owls took second in the grand final of the Women's Varsity Eight event at the Mid-Atlantic Rowing Conference Championships.
4. Study Abroad
The federal Boren Scholarship program has sent four Mawrters abroad this year to study less commonly taught languages in regions critical to U.S. interests.
For Caroline Cosby '17, that means a year in Dakar learning the Wolof language and studying Senegal, a stable democracy in a volatile region. "If the U.S. wants to be a productive partner against extremism in the region," she says, "Washington has to maintain respectful and amicable relations with partners like Senegal." Cosby is also a winner of the 2017 McPherson Undergraduate Award for Excellence.
Meanwhile, three of her classmates have landed in Kazakhstan. Zahabya Mama '17, who hopes to become a Russian/Eurasian specialist for the U.S., is interested in Kazakhstan's extensive links to the U.S. "Just because a country isn't on a warning list," she says, "doesn't mean that it isn't critical to U.S. security."
Sydney Stotter '17 is looking at how Russian media cover news (including the recent American presidential election). "I couldn't have anticipated how U.S.-Russian relations would develop and lead to the situation today, but it has been extremely interesting to follow," she says.
Lindsey Marinello '17, who's aiming for a career with NASA, is honing her Russian and studying physics and engineering. "The collaborative U.S.-Russian partnership in space persists in spite of political tension and conflict," she observes.
5. Still In
President Kim Cassidy was among those pledging to remain committed to the goals laid out in the 2015 Paris Climate Agreement. Cassidy joined more than 250 college and university presidents, nearly 180 mayors, more than 1,300 businesses and investors, and nine states. The letter, directed to the international community, was released in response to the Trump administration's announcement in May that the U.S. would withdraw from the Paris agreement.
"In the absence of leadership from Washington, states, cities, colleges and universities, and businesses representing a sizable percentage of the U.S. economy will pursue ambitious climate goals," the pledge states.
6. Work Has Begun
The first phase of a major renovation to Park Science Center is underway. The $21-million project includes a 10,000-square-foot addition and renovation of existing square footage to create new collaborative learning spaces, technology-rich classrooms, and student study areas.
The project's most visible aspect is a glass-enclosed addition and entry plaza that, combined, will transform the character of the building. The existing courtyard will be redesigned—to provide a more intimate outdoor gathering and learning space—and will include a pollinator garden.
Also on the drawing board are updates for classrooms, teaching and research labs, and the science library. 
7. How We Defy
Thanks to more than 6,200 donors, The Bryn Mawr Fund contributed $6.3 million to the College's operating budget in fiscal year 2017 in support of essentials such as financial aid and academic programming—$1 million over the Fund's goal and the largest total in the history of the annual fund.
"The Bryn Mawr Fund provides support that the College can use immediately to meet student needs, to support faculty innovation, and to steward the campus," says Campaign Chair Denise Lee Hurley '82. "That's why annual giving is a priority of Defy Expectation, The Campaign for Bryn Mawr. In addition to the vital current funding it provides, we see it as a clear measure of alumnae pride."
Gifts of every size meant that alumnae/i were collectively responsible for $5.5 million of The Bryn Mawr Fund's chart-topping total. Both the Archways (giving for three or more consecutive years) and Slade (leadership giving) Societies saw a boost in membership.
8. In the Summertime
This year, more than 100 students took part in the Leadership, Innovation, and Liberal Arts Center (LILAC) summer internship program that helps students connect summer work to their personal, intellectual, and professional goals.
Hannah Griggs '18 studied at the Max Planck Institut für Gravitationsphysik in Germany, Sydney Huff '18 learned organic farming with Grow Ohio Valley in West Virginia, and others worked in the on-campus Summer of Science program, in Philadelphia's city planning office, at TV news station in Utah, in a rural school in China