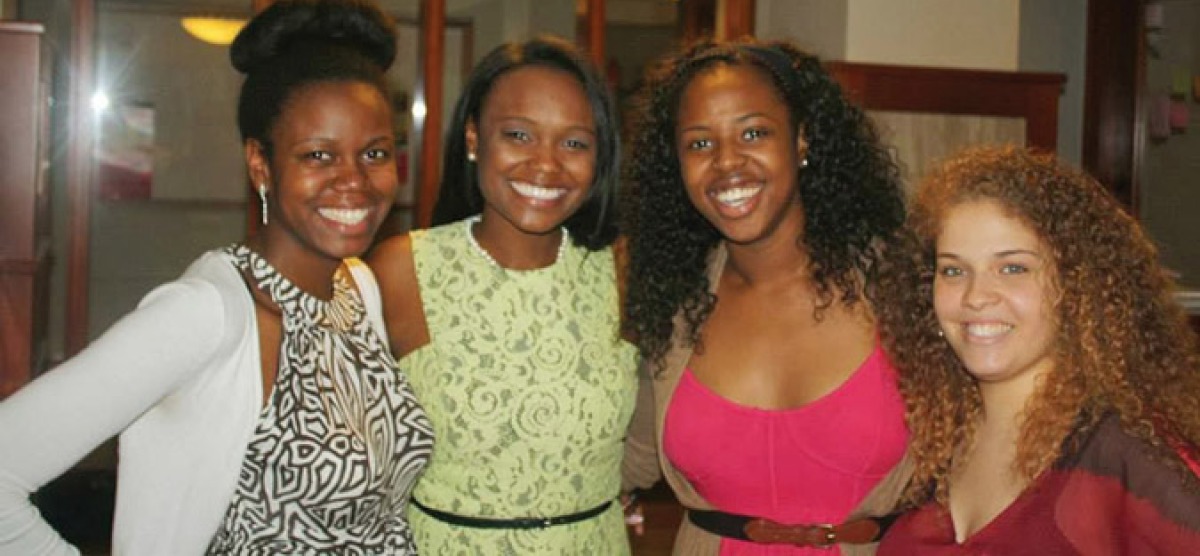 Alumnae/i from across generations share evolving stories of being Black at BMC.
From the Editors: Taytiana Welch-McLure '13 and Jacqueline Handy '14
Bryn Mawr can feel like a magical place where smart womxn gather to realize their potential, and while that is true for many today, the diversity of students on campus through the years has produced a wealth of stories, lessons learned, and unique experiences. To that end, this winter 2021 Bulletin will revisit issues and topics originally discussed in the spring 1969 Bulletin, which highlighted the diversity of Black voices at Bryn Mawr. Many original contributors have returned to reflect on their original pieces, joined by many new alumnae/i from the past 50 years; they have graciously contributed their experiences and reflections on being Black at Bryn Mawr. While Black students and alums may share an ethnic identity, lived experience, thoughts, and viewpoints vary greatly. We are thankful to have an opportunity to highlight that diversity and dispel the myth of Black as a monolith. We thank everyone who has contributed not only to this Bulletin but also to the conversation on being Black at Bryn Mawr in the 1969 Bulletin—those whose courageous lived experiences made it possible for Black voices to be heard at Bryn Mawr. We thank the porters, maids, dining hall staff, housekeepers, and other staff members who have created safe spaces of belonging for Black students through the decades; and we thank those who will continue the fight for equity in the future.
---
From Taytiana Welch-McClure '13: I fell in love with Bryn Mawr's campus as a child, before I understood the many requirements for admittance, from grades to tuition costs. All I knew was that I was determined to make it back. When my dream was realized and I entered as a freshmxn in 2009, Bryn Mawr quickly felt like home, a bubble of safety, and a place to try new things. When I look back, I realize how much I was lacking by way of life skills and critical examination of the world around me. But my four years at Bryn Mawr afforded me opportunities that the Black women in my family never had: freedom; a chance to learn about myself, to experiment, to travel; and the confidence to begin to question the world around me. I recognize that the Black experience at BMC is varied and complicated; being asked to edit this Bulletin was an honor because it offered me the opportunity to collect and share the stories of others, with the hope of highlighting that the Black experience is not singular and merits explicit consideration by the College, specifically by those who will steward BMC into the future.
From Jacqueline Handy '14: My two sisters went to Smith, and I always wanted to be just like them—but better, so Bryn Mawr was the obvious choice. I fell deep into traditions, theater, and sports and fell even more in love with the mission of the school; I was being groomed for a "life of purpose." I have found that my purpose is to bring people together, and this special edition does just that. The resounding sentiment across this edition is that Bryn Mawr was like home for many of us, and as with any home, we need to assess and modernize the foundation to make sure the folks living there feel safe.
---
This issue of the Alumnae Bulletin presents reflections from Black alumnae/i and students spanning 65 years in the life of the College.