Michael H. Allen
Associate Provost and Professor of Political Science on the Harvey Wexler Chair in Political Science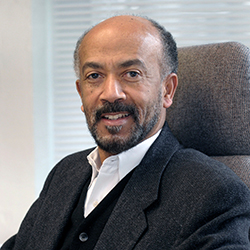 Department/Subdepartment
Education
Ph.D., London School of Economics and Political Science.
M.S., University of the West Indies.
B.A., University of the West Indies.
Areas of Focus
International studies with specializations in international political economy and international law; globalization; African and Caribbean regions
Biography
Michael H. Allen is Professor of Political Science on the Harvey Wexler Chair at Bryn Mawr College. He is a former Chair of the Department of Political Science and immediate former Co-Director of the Center for International Studies at that institution. Allen has been an International Relations Consultant at the Overseas Development Institute in London, a Visiting Fellow at the Center for International Affairs at Harvard University, Lecturer in the Department of Government at the University of the West Indies, and a Trade Officer in the Ministry of Foreign Affairs of Jamaica. He studied at the University of the West Indies, and later at the London School of Economics, as Rhodes Scholar from Jamaica.
Allen's teaching interests at Bryn Mawr center upon International Studies, with specialization in International Political Economy and International Law. His research and publications have focused upon the international political economy of African and Caribbean regions, as well as the challenges of governance at both national and multilateral institutional levels. An ongoing question in his research is that of the implications of an expanding global mode of production in manufactures, services and knowledge, for democracy at different levels and dimensions of articulation, from sub-national institutions, to national governments to regional and global markets and cognitive domains.
Some of these themes are explored in Allen's 2006 book, Globalization, Negotiation and the Failure of Transformation in South Africa (Palgrave/Macmillan). This book specifically examines the impacts of conflicting and converging global, national and local forces upon the construction and consolidation of democratic practices and habits of thought, along dimensions of class, market, ethnicity, gender and mode of production. Other aspects of this broad problematique are explored in Allen's contributions to scholarly journals. Thus, for example, the philosophical and psychological roots of such political agency as would shape the course of global politics, are explored in "Human Motivations and Political Action: Transforming Responses to the Challenge of Globalization", International Journal of the Humanities, Volume 3, Fall, 2006. The interplay of norms, formal rules and power, and the implications for governance in global institutions are explored in "Globalization and Peremptory Norms in International Law: From Westphalian to Global Constitutionalism?" in International Politics, September 2004.
Michael Allen has taught Introduction to International Politics over several years at Bryn Mawr. This 100 level course has served as one of the gateways to the Major in Political Science, to the Concentration in Peace Studies as well as to the Minor in International Studies which Allen helped to institutionalize at Bryn Mawr. The 200 level Politics of International Law and Institutions has helped prepare students for more rigorous political analysis and given them an introduction to legal studies. His 300 level International Political Economy immerses students in the advanced debates and research questions in International Politics, Economics and Development Studies. Through its demanding research and debate requirements, this course offers students a solid footing for graduate studies or the start of careers. In alternate years, Allen has also offered the course, African and Caribbean Perspectives in World Politics. This course contributes both to International Studies and to Africana Studies at Bryn Mawr. It engages students in the history and contexts of the contribution of African and Caribbean peoples to world political economy, and the development challenges they face in contemporary settings.
Besides teaching and research, Allen has been active in college governance, particularly in Bryn Mawr's Study Abroad program, and was a founding participant in the establishment of the International Human Rights Exchange, involving colleges and universities in the United States and Southern Africa.
Beyond Bryn Mawr, Michael Allen is active in civic and charitable organizations, serving on several boards, including that of Edu-Tourism, a non-governmental organization focusing on Caribbean development.