Michael T. Rock
Samuel and Etta Wexler Professor Emeritus of Economic History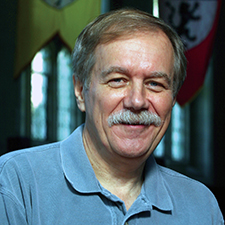 Department/Subdepartment
Education
Ph.D., University of Pittsburgh.
M.A., University of Pittsburgh.
B.S., Duquesne University.
Areas of Focus
International economics in Asia, with a focus on the environment, development, democracy, and industrial policy
Biography
Michael T. Rock is the Samuel and Etta Wexler Professor of Economic History at Bryn Mawr College, USA. His published research focuses on the environment and development in East Asia, democracy and development in Northeast and Southeast Asia, and the role of industrial policy in the second tier newly industrializing economies of Southeast Asia.
His work has appeared in numerous journals including Journal of East Asian Studies, World Development, Development Policy Review, Ecological Economics, Journal of Environment and Development, Local Environment, Journal of Industrial Ecology, Journal of International Development, Journal of Development Studies, Bulletin of Indonesian Economic Studies, Competition and Change, American Behavioral Scientist, and Studies in Comparative International Development.
His most recent books include two published by Oxford University Press. The first published in 2017 is titled Dictators, Democrats and Development in Southeast Asia: Lessons for the Rest. A description of the book can be found here: https://www.brynmawr.edu/news/professor-economics-michael-rock-dictators-democrats-and-development-southeast-asia. It focuses on how dictators and democrats in three Southeast Asian countries, Indonesia, Malaysia and Thailand, fashioned unique development strategies that enabled them to achieve and sustain rapid shared growth..  The second published in 2015 is titled China's Technological Catch Up Strategy: Industrial Development, Energy Efficiency and CO2 Emissions and it focuses on the impact of high speed technological learning in China's energy intensive industries on CO2 emissions. A third book published in 2005 by Oxford University Press and titled Industrial Transformation in the Developing World focuses on policy integration in developing East Asia or the integration of industrial technological upgrading policies with industrial environmental improvement policies. An earlier book, titled Pollution Control in East Asia (2002), and published jointly by Resources for the Future and the Institute for Southeast Asian Studies examines the degree to which governments in north and southeast Asia have built effective command and control environmental agencies and integrated them with the institutions of industrial policy.
Rock's research has been funded by Resources for the Future, the MacArthur Foundation, the U.S. National Science Foundation, the Development Research Group of the World Bank, the U.S. Agency for International Development, the Asian Development Bank, the United Nations Industrial Development Organization, and the New Energy and Industrial Technology Development Organization (NEDO) of the Government of Japan.
Rock is currently working on a new book tentatively titled Democracy, Development and Islam. The book focuses on the relationships between democracy, development and Islam in a number of majority Muslim countries in Southeast Asia and the Middle East and North Africa.
Rock has taught at Mount Holyoke College, Bennington College, the University of Denver, and Hood College.