Carol Hager
Professor of Environmental Studies and Political Science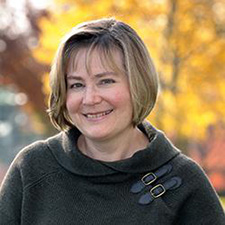 Department/Subdepartment
Education
Ph.D., University of California, San Diego.
M.A., University of California, San Diego.
B.A., University of Nevada, Las Vegas.
Areas of Focus
Comparative politics and public policy; environmental politics; technology and politics; social movements; German/European politics
Biography
Professor Carol Hager is interested in grassroots citizen participation in environmental politics.
In her 1995 book, Technological Democracy: Bureaucracy and Citizenry in the German Energy Debate, she analyzed the evolution of citizen participation in Germany from mass protest to the formation of green parties and voting lists. Her subsequent publications have dealt with different forms of community involvement in land use planning and energy policy making in the U.S., Great Britain, and Germany, with a focus on processes of conflict and collaboration.
      - Her book, NIMBY is Beautiful: Local Activism and Environmental Innovation Around the World (Berghahn, co-edited with Mary Alice Haddad), was published in 2015 (hardback) and 2017 (paperback).
      - Her book, Germany's Energy Transition: A Comparative Perspective (Palgrave, co-edited with Christoph Stefes), was published in 2016.
      - Her new book, Becoming TransGerman: Cultural Identity Beyond Geography (Peter Lang, co-edited with Thomas O. Haakenson, Tirza True Latimer, and Deborah Barton), was published in February 2019.
Prof. Hager teaches courses in comparative politics, environmental politics and policy, comparative public policy, technology and politics, comparative social movements, and German/European politics. A founding member of the bi-co Environmental Studies Department, she also co-founded BMC's New Media Project and served from 2010 to 2017 as Director of the Center for Social Sciences.