Catherine Conybeare
Leslie Clark Professor in the Humanities and Chair of Greek, Latin and Classical Studies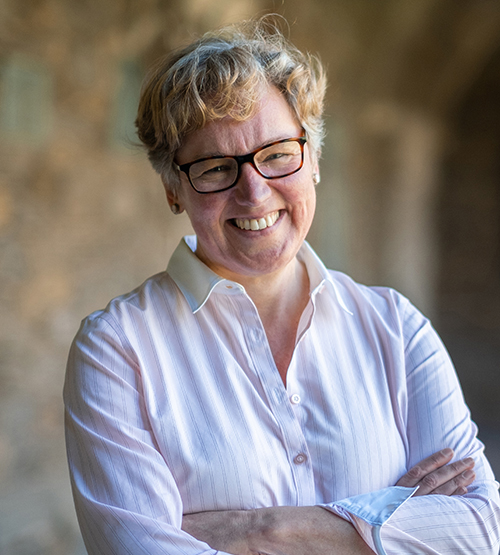 Education
Ph.D., University of Toronto
Areas of Focus
Latin, and the different ways we read it.
Biography
Catherine Conybeare was educated in Classics at Oxford and in Medieval Studies at Toronto; she has been at Bryn Mawr since 2002. She is fascinated by cultures of Latin over the longue durée, and has recently started a book series on that theme with Cambridge University Press. Her teaching ranges from Cicero and Lucretius to Abelard and Petrarch. Her research centres on late antiquity, and especially the writings of Augustine of Hippo. She has written four monographs, including The Irrational Augustine (2006) and The Laughter of Sarah (2013), and more than seventy articles and reviews on such topics as aurality, touch, violence, and the self. Conybeare is currently working on her next monograph, Augustine the African, under contract to Liveright (North America) and Profile (UK). She has been the recipient of a number of awards and fellowships, including from the Guggenheim Foundation, the American Council of Learned Societies, and the NEH.
Select Publications:
Books:
Recent Articles:
'Peregrinationes in Psalmos', in Empire and Religion in the Roman World ed. Harriet I. Flower (Cambridge 2021), 212-231. 
'Augustine's Marginalia Contra Julianum', in The Late (Wild) Augustine ed. Susanna Elm and Christopher Blunda (Augustinus- Werk und Wirkung: Paderborn 2021), 83-97.
'Playfulness, Pedagogy, and Patrician Values,' response essay, Journal of Latin Cosmopolitanism and European Literatures 4 (2020), 81-87. 
 'Virgil, Creator of the World', in Classical Philology and Theology: Entanglement, Disavowal, and the Godlike Scholar ed. Catherine Conybeare and Simon Goldhill (Cambridge 2020), 180-198. 
'Correcting a Heretic: Augustine's Conlatio cum Maximino', in Fide non Ficta: Essays in Memory of Paul B. Harvey Jr. ed. John Muccigrosso and Celia Schultz (Como 2020), 115-127.
'The Creation of Eve', in Augustinian Studies 49 (Fall 2018), 181-198.
'mundus totus exsilium est: On Being Out of Place', in Reading Late Antiquity ed. Sigrid Schottenius Cullhed and Mats Malm (Heidelberg 2018), 239-252.