Cindy Sousa
Professor of Social Work on the Rosabeth Moss Kantor Change Master Fund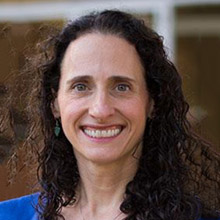 Department/Subdepartment
Education
M.S.W., Portland State University

M.P.H., University of Washington

Ph.D., University of Washington
Biography
Cindy Sousa, PhD, MSW, MPH is an Associate Professor and the Director of the Doctoral Program at the Graduate School of Social Work and Social Research at Bryn Mawr College, where she teaches throughout the macro concentration and teaches social theory, social welfare policy, qualitative research, and global public health. Cindy is also the co-director of the Center for Child and Family Wellbeing at Bryn Mawr College. In her work, Cindy promotes understanding about the conditions underlying health, using a lens informed by feminist and critical race theories that prioritize the social, environmental, and political contexts of well-being. She also focuses on the importance of anti-oppressive practice and reflexivity, using deep understandings of power and positionality from an intersectional lens.
Cindy's scholarship highlights the mental health implications of violations to the lived environment; the effects of violence and oppression on parenting (particularly mothering); the importance of culture, place, and social and organizational supports in responding to the health effects of adversity; and professional responsibility in the face of collective suffering. Cindy has authored or co-authored over 30 publications in peer-reviewed journals. Her latest projects focus on the lived experience of parenting within adversity, and the varied ways parents protect themselves, their children, cultures, and communities.
Cindy is a Research Affiliate at two international labs: the Global Adversity and Wellbeing Research Group at Wilfred Laurier University in Ontario, Canada and the Health, Conflict, and Psychology Lab at The University of Milano-Bicocca in Milan, Italy. Cindy serves as a representative to the Joint Policy Committee, a 12-member board that oversees the annual policy statement development process for the American Public Health Association (2022-2023), and serves as Cluster Co-Chair for the International Social Work and Global Issues cluster, Society for Social Work Research (SSWR) (2020-2023).
Research & Scholarly Interests: health; political violence; community and historical trauma; parental resilience and family well-being; place; individual and collective resilience
Substantive Specialization: The political contexts and health effects of individual and collective violence and resilience; critical perspectives on mothering; professional responsibility in the face of collective suffering