David S. Byers
Assistant Professor of Social Work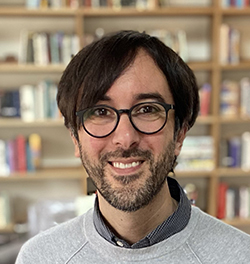 Department/Subdepartment
Education
B.A., Sarah Lawrence College

M.S.W., New York University

Ph.D., Smith College School for Social Work

Postdoctoral Associate, Bronfenbrenner Center for Translational Research, Cornell University
Biography
David S. Byers is an assistant professor at the Graduate School of Social Work and Social Research. David's research focuses on community and clinical ethics, especially related to care and allyship in settings of stigma, precarity, bullying, and political and intersectional oppression. He is presently investigating these issues through two main projects: The first is a large-scale qualitative study of clinical supervision in the Palestinian West Bank, with particular focus on treatment and support related to substance use, intimate partner violence, and state violence. The second is a national oral history study about LGBTQ+ affirmative psychotherapy and social service programs in the United States from the 1960s to the 1980s. In both projects, David examines how social workers and other clinicians organize themselves ethically and improvise tactics for stigmatized care—what he is calling "clinical activism." More broadly, David is interested in how critical and reflexive case conceptualization and peer consultation can build on relational and localized approaches to care and inform translational research. 
David's research and writing has been published in the journals Social Work, American Psychologist, Journal of Diversity in Higher Education, Journal of Social Work Education, and Clinical Social Work, among others. He has also written guest essays for The New York Times, Slate, and Time related to queer and trans affirmative social work and psychotherapy. In 2020, David was awarded the Rosabeth Moss Kanter Change Master Research Fund Award.
David has more than a decade of direct practice experience as a clinical social worker and supervisor, with particular expertise in psychodynamic and developmental theory and psychotherapy; gender and sexuality, especially LGBTQIA+ issues; trauma, bystanders, and allyship in peer groups; and bullying and cyberbullying in adolescence and emerging adulthood. David teaches classes on clinical practice in the MSS program and research methodology and developmental theory in the Ph.D. program. David is also Co-Chair of the Ethics Track for the CSWE Annual Program Meeting.
Research and Scholarly Interests: Clinical theory, ethics, practice, and research; Translational research; LGBTQIA+ studies; Psychoanalytic theory; Adolescence and emerging adulthood; Social identity and intersectionality; Restorative justice; Social work education; International social work; Qualitative methodology