Jane Hedley
K. Laurence Stapleton Professor Emeritus of English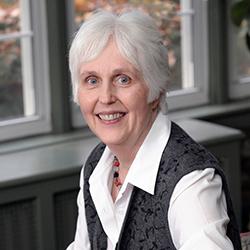 Contact
Location
English House 214
Department/Subdepartment
Education
Ph.D., Bryn Mawr College.
M.A., Bryn Mawr College.
B.A., University of Victoria.
Areas of Focus
Literature of English Renaissance, poetry of all periods, literature and the visual arts
Biography
Jane Hedley is K. Laurence Stapleton Professor of English. Her teaching specialties are Renaissance literature and poetry of all periods. She has publishedPower in Verse, a study of English lyric poetry form Wyatt to Donne, as well as a number of essays on single poets including Gascoigne, Shakespeare, Adrienne Rich and Sylvia Plath. Her most recent book contrasts the poetic stances of four women poets who came of age in circa 1950: Anne Sexton, Adrienne Rich, Sylvia Plath and Gwendolyn Brooks. She has also co-edited a volume of essays on women's ekphrastic poetry (poems whose subject is a work of art).
Professor Hedley's current research interest is lyric sequences whose topic is marriage. She regularly offers a course on Women's Poets, subtitled "Giving Eurydice a Voice," whose focus changes every couple of years. She also teaches regularly in the Emily Balch Seminar Program. 
Publications:
Power in Verse: Metaphor and Metonymy in the Renaissance Lyric (Penn State Press, 1988)
"Shakespeare's Sonnets and the Poetics of Narcissism," Style, 28 (Spring 1994): 1-30.
" 'I'll tell you something': Reader Address in Louise Glück's Ararat Sequence." Literature Compass 2 (2005): AM 164, 1-7.
"I Made You to Find Me": The Coming of Age of the Woman Poet and the Politics of Poetic Address (Ohio State University Press, 2009).
In the Frame: Women's Ekphrastic Poetry from Marianne Moore to Susan Wheeler, ed. Jane Hedley, Nick Halpern, and Willard Spiegelman (University of Delaware Press, 2009).
Courses Taught:
202 - Understanding Poetry
210 - Renaissance Literature: Performances of Gender 
284 - Women Poets (cross listed with Feminist & Gender Studies)
361 - Transformations of the Sonnet from Petrarch to Marilyn Hacker
316 - Spenserian Allegory
Also on BMC Web:
A review of Rey Chow, Ethics After Idealism: Theory--Culture--Ethnicity--Reading, in BRYN MAWR REVIEW OF COMPARATIVE LITERATURE