Jennifer Harford Vargas
Associate Professor of Literatures in English on the Dorothy Nepper Marshall Professorship of Hispanic and Hispanic-American Studies and Co-Director of Latin American, Iberian, and Latina/o Studies
Co-Director of LAILS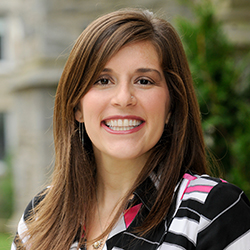 Contact
Location
English House 205
Department/Subdepartment
Education
Ph.D., Stanford University.
Areas of Focus
Latina/o literary and cultural productions; contemporary U.S. literatures; trans-national American studies
Biography
Jennifer Harford Vargas (PhD, Stanford University) researches and teaches on Latina/o cultural production, hemispheric American studies, race and ethnicity, theories of the novel, decolonial imaginaries, narratives of undocumented migration, and testimonio forms in the Americas.
She is the author of Forms of Dictatorship: Power, Narrative, and Authoritarianism in the Latina/o Novel (Oxford University Press, 2017). 
She is also the co-editor of Junot Díaz and the Decolonial Imagination (Duke University Press, 2016).
Additional publications include:
"The 

Undocumented Subjects of 

el Hueco

: Theorizing a Colombian Metaphor for Migration." 

Symbolism: An International Annual of Critical Aesthetics.

Special issue edited by Patricia M. García and John Morán González. (forthcoming, Fall 2017)

"Transnational Forms." Co-authored with Monica Hanna. Latina/o Literature in the Classroom: 21stCentury Approaches to Teaching. Ed. Frederick Aladama. Routledge, 2015.
"Novel Testimony: Alternative Archives in Edwidge Danticat's The Farming of Bones." Callaloo. 37.5 (Fall 2014): 1162-1180.
"Dictating a Zafa: The Power of Narrative Form in Junot Díaz's The Brief Wondrous Life of Oscar Wao." MELUS: Multi-Ethnic Literature of the United States. 39.3 (Fall 2014): 8-30.
"Critical Realisms in the Global South: Narrative Transculturation in Senapati's Six Acres and a Third and García Márquez's One Hundred Years of Solitude." Ed. Satya Mohanty. Colonialism, Modernity, and the Study of Literature: A View from India. New York: Palgrave Macmillan, 2011.
Courses Taught
ESEM 008: "Borders."
ENGL 217: "Narratives of Latinidad"
ENGL 236: "Latina/o Culture and the Art of Undocumented Migration"
ENGL 237: "The Dictator Novel in the Americas"
ENGL 250: "Methods of Literary Study"
ENGL 276: "Transnational American Literature"
ENGL 345: "Theories of the Ethnic Novel